HOW TO LOOK YOUNGER WITH MAKEUP
I'm that friend that's going to give it to you straight. If you ask me a question I'll tell you my honest thought BUT in a nice way. I would never be rude about it. For years I was doing my makeup the exact same way I did it when I was a teen. Then I got into my 40's and I looked at photos and thought wow I look old! I noticed that it was my lack my makeup skills and application that was aging me! I had beautiful skin, hardly any lines or wrinkles as I always have taken good care of my skin but I was looking old. Let me share my secrets on how to look younger with makeup. I'm going to give you a few tips and each week I'll incorporate more.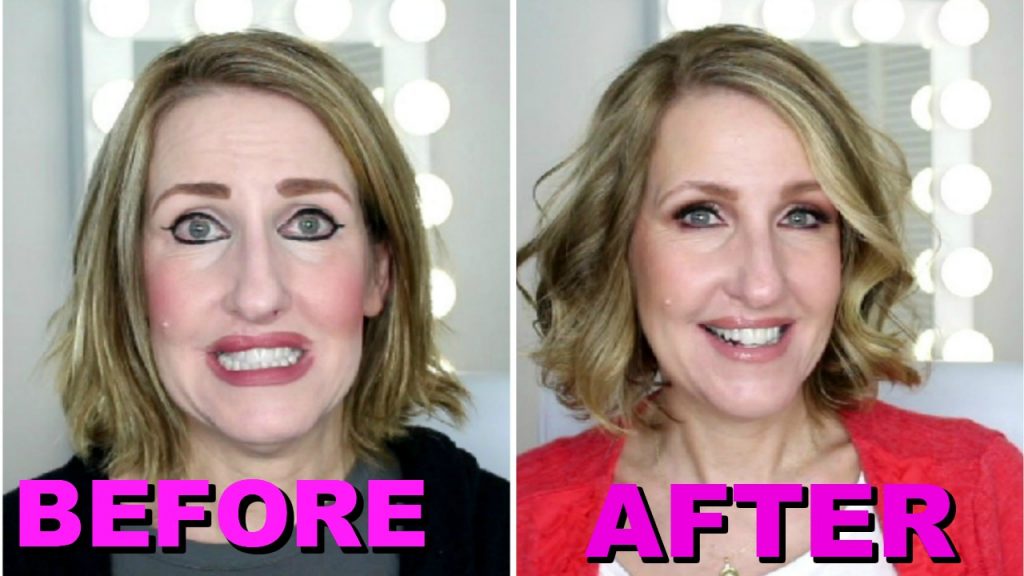 EYELINER
On the left is scary me. This is an example of what not to do and I've actually seen this look. By over drawing the line with your eyeliner it doesn't make eyes look big it actually looks aging and if you have bags or lines under your eyes you just made them look worse. Instead lightly line the lower lash line and blend it well. Don't make it look too thick or it will age you. If you want to add a liner above your upper lash line use a thin liner. This will make your eyes pop without over doing it.
EYE BROWS
When doing your brows you want them to look as soft and natural as possible. If they're over drawn that's all you will see. Yes it's true that brows frame the face but over doing this will most definitely age you. Use a brow color that similar to your hair color or a little lighter. Then apply it gently and blend, blend, blend.
BLUSH
Blush is important because it gives us color and brightens our face. As we age our skin tone changes and can look drab so we need to add some color. You don't want to apply your blush as you did when you're younger. If you smile and apply it as soon as you stop smiling your cheeks look like they just fell. Apply it slightly higher on your face for a more flattering look.
For more tips you can watch my latest video where I share a demo on how to look younger with makeup. This is going to be a weekly series so please make sure you subscribe to my channel so you won't miss out on any content.