Many people remark about my skin and I'm often told how youthful I look for my age. Part of the reason why I think I look youthful is I have very good family genes. On my Father's side my family has always aged well. I also think the reason that I look youthful is that I've always taken good care of my skin. Even in my earlier years I used what I thought was good skincare. As I've reached the mature age of almost 51 years old I started stepping up my skincare. Even though a product says it's anti-aging that doesn't mean that it is. I look for real ingredients that are proven to help skin at any age.
I was contacted by Angela Caglia and they asked if I was interested in trying out the skincare line. I'm always looking for new skincare to add to my regimen. This is not a sponsored post. I was sent product to try out and review. I will be giving my honest opinion as I do whether a product is sent to me or not. What I liked about her skincare is that she uses real ingredients.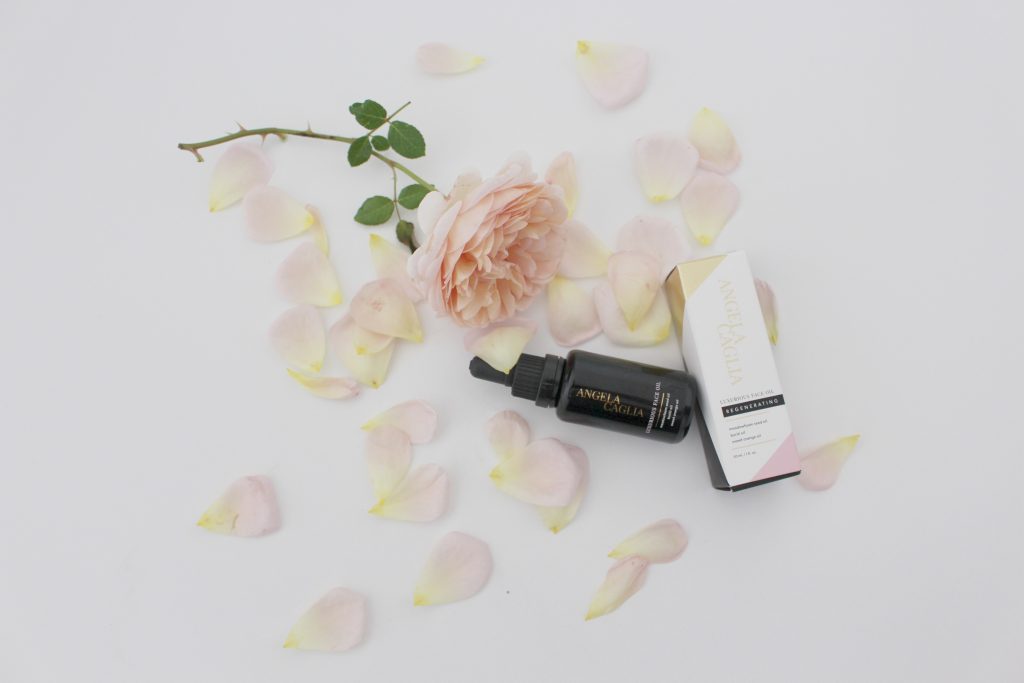 Before I share more I thought you would be interested in knowing a little more about Angela and her pholosphy. Angela is a leading celebrity esthetician. She's had years of experience and has had formal training with French anti-aging experts. She believes in the latest technologies and breakthroughs in her skincare. Her facials are her specialty and secret weapon to A-list celebrities. She believes in real results as do I. And that's why I was excited to try her Luxurious face oil.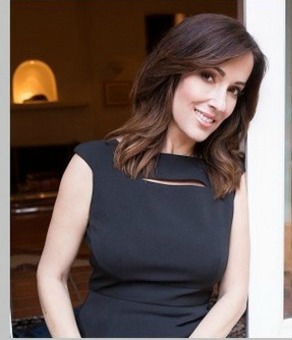 The ingrediants are as follows:
Carthamus Tinctorius (Safflower) Seed Oil- A lubricant for the skin surface for a smooth and soft appearance. Safflower seed oil is edible as it's used in salad dressings.
Mauritia Flexuosa (Buriti) Fruit Oil- Not only does this contain essential fatty acids but also, Vitamins E & C, beta carotene which are so important for skin at any age. Especially as we age..  Essential fatty acids make the skin firm and tight. Vitamin E and C are both an antioxidant. Beta carotene is an antioxident that helps prevent premature aging. It's also effective for dry skin and helps protect the skin against damage.
Limnanthes Alba (Meadowfoam) Seed Oil- Filled with super antioxidants. It provides a barrier to lock in the skins natural moisture.
Persea Gratissima (Avocado) Oil- Avocado has vitamins A,D and E. Omega 9 fatty acids to help promote healing along with skin regeneration. It also helps protect the skin against UV light and pollution.
Borago Officinalis (Borage) Seed Oil-Contains fatty acids and helps to restore in dry skin.
Simmondsia Chinensis (Jojoba) Seed Oil- Is easily absorbed into the skin and helps to hydrate and moisturize the skin. It also contains vitamins E and B.It's also anti-aging as it helps reduce the appearance of fine lines and wrinkles.
Tocopheryl Acetate (Vitamin E)- Is a form of vitamin E that is an antioxidant, anti-aging, anti-infamatory as well as moisturizing. It enhances the effectiveness of suncreen.
Pelargonium Graveolens (Rose Geranium) Oil- Helps treat acne, inflammation,. It also aids in congested skin, dermatitis, and eczema. It mimimizes the look of wrinkles as it tightens the skin as it slows down the effects of aging.
Citrus Aurantium Dulcis (Orange) Peel Oil- Antibacterial and antiseptic to help against blemishes. It helps clear away excess oil from skin as it delivers antioxidants.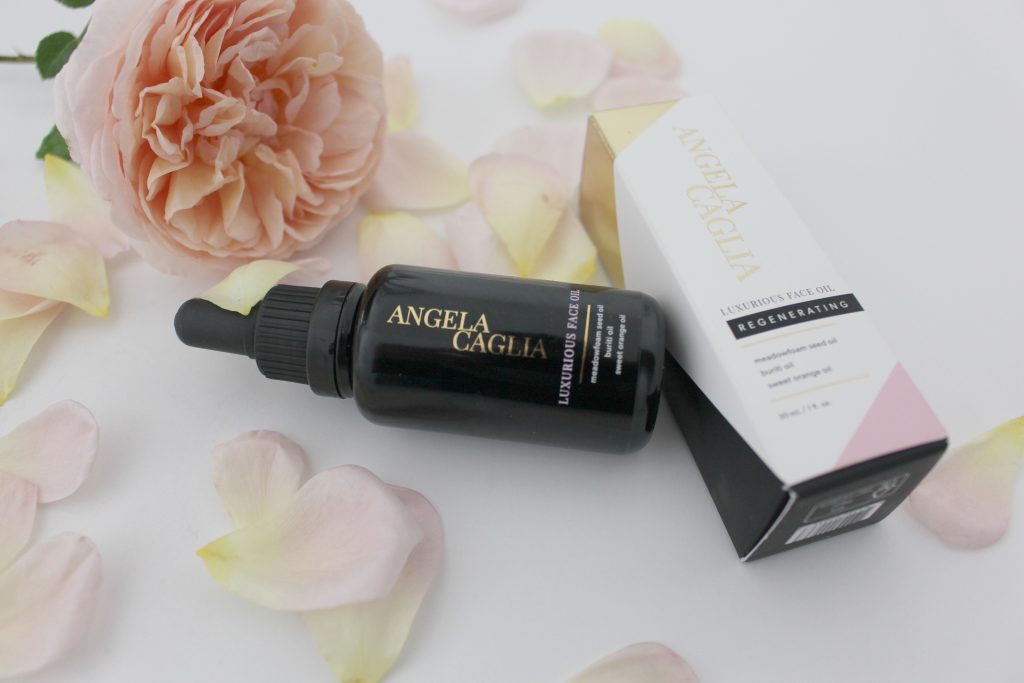 Whenever you start using any new skincare I truly believe you have to use it for awhile to see results. I've only been using this for a short time so I'll give you my thoughts on what I think about it now. But I will follow up once I finish this bottle with an update. First let me share how to use this. After cleansing my skin before I add my moisturizer I apply this to my face. I place three drops on the tips of my fingers. I lightly rub my finger tips together then in a pressing motion I apply it to my skin. On the directions it says to massage in. But at my age I try to do the least amount of pulling and tugging on my skin that I can. I use this in the morning and evening.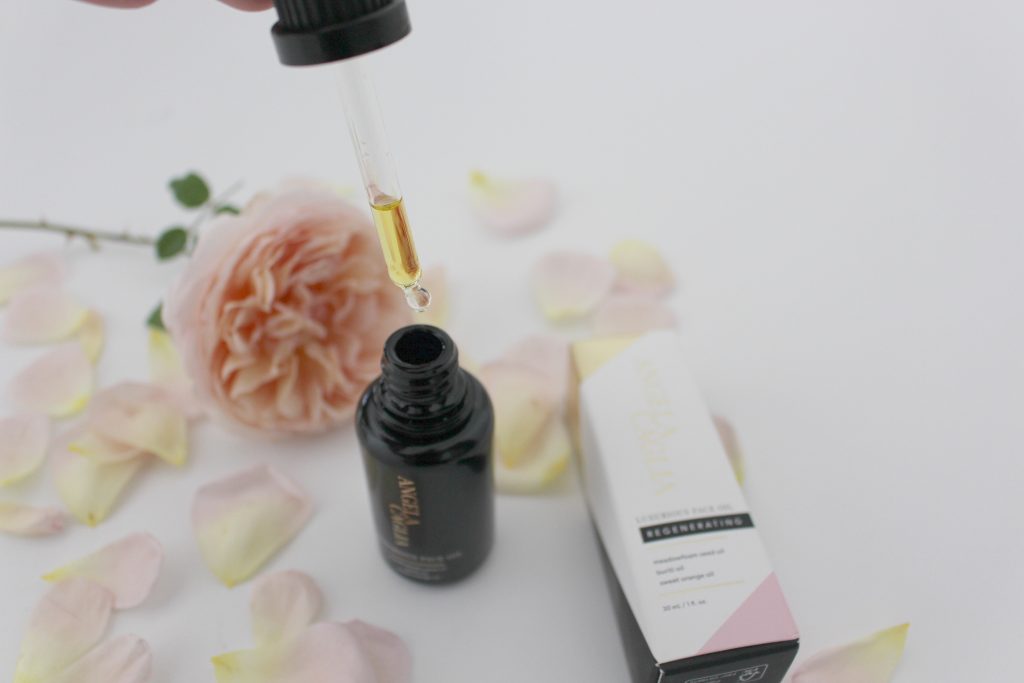 So what are my thoughts?
I love the fact that her skincare is made in small batches. This ensures that as I am using this luxurious face oil it won't spoil before I use it up and it's cruelty free. The dark glass containers keep the sunlight out again keep this fresh. This oil feels wonderful on my skin. I've been using Retin-A for several months now and have been battling with dry skin. Lately my chin has been very dry which is unusual. After using this a few times I can already see the difference in my skin. It's not flaky and dry but looking clearer and smoother. As I said I've only used this for a short time so I can only tell you at this time what I think. The smell is amazing as it has a light citrus scent that's not overpowering at all and dissipates after it's absorbed into the skin. Speaking of absorbing into the skin, this does a great job of doing just that. I apply this in the morning after my skincare routine and also at night before going to bed. It's been working great under my makeup. I will continue using this and will update you once again on my skin.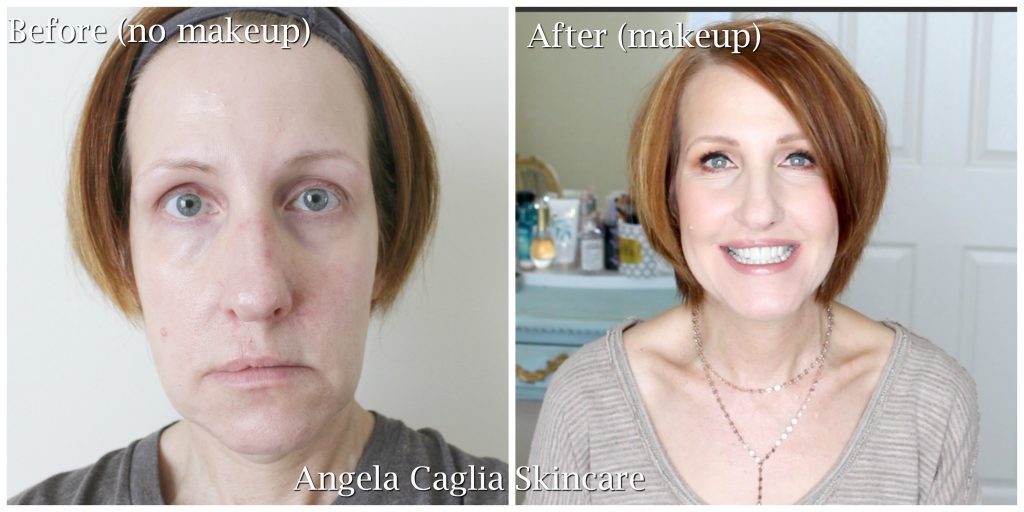 Here's a photo of my skin with no makeup on and after. I wanted you to really see my skin as it's hard to see it with makeup on. Sorry that my no makeup looks like a mug shot. But I wanted you to see the plumpness of my skin even when I'm not smiling.
This oil is $160.00 for 1 fl oz. But you have to remember a few things.
This is not filled with water or any other filler. It's filled 100% of vitamins and other ingredients that are good for your skin. Every ingredient was thoughtfully planned to make this work for any skin type. Whether you have oily or dry skin you can use this and it will be beneficial to your skin.
It's made it small batches so it stays fresh. It's not going to expire sitting on a shelf in a warehouse. It's also going to last a long time because you use very little of this.
To see more on Anglia Caglia's line click HERE.
Save
Save
Save
Save
Save
Save