Media Cabinet DIY Makeover
Many years ago we purchased this media cabinet. Over the years my taste has changed and I've grown tired of the orange stain. After consulting with my husband I got the okay to paint this media cabinet. But painting it wasn't going to be enough. I needed to add details and hide all the components that were behind the glass. Here's my solution. (This post contains affiliate links please see disclosure policy)
I began this project by painting this media cabinet with White Lace one of my signature paint colors from Heirloom Traditions paint. I started using a brush and then went on to using a foam roller so I could get as smooth of a finish as possible. This paint doesn't require a primer. I also didn't sand this before I started. It was a tedious job because the speakers and the television needed to remain on my cabinet. Since the paint is so light and the cabinet is on the dark side this took 2 coats of paint.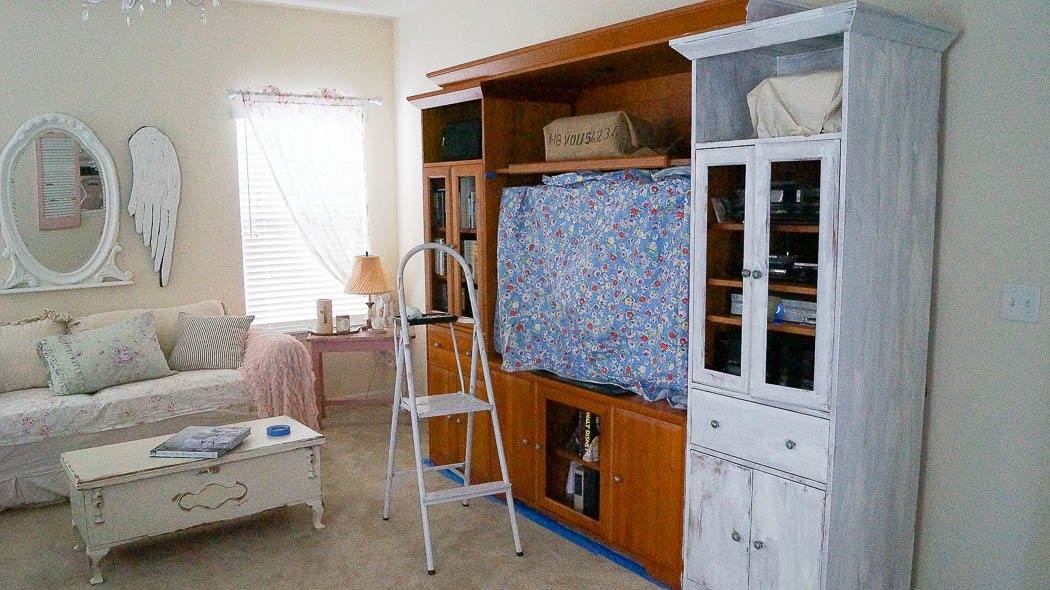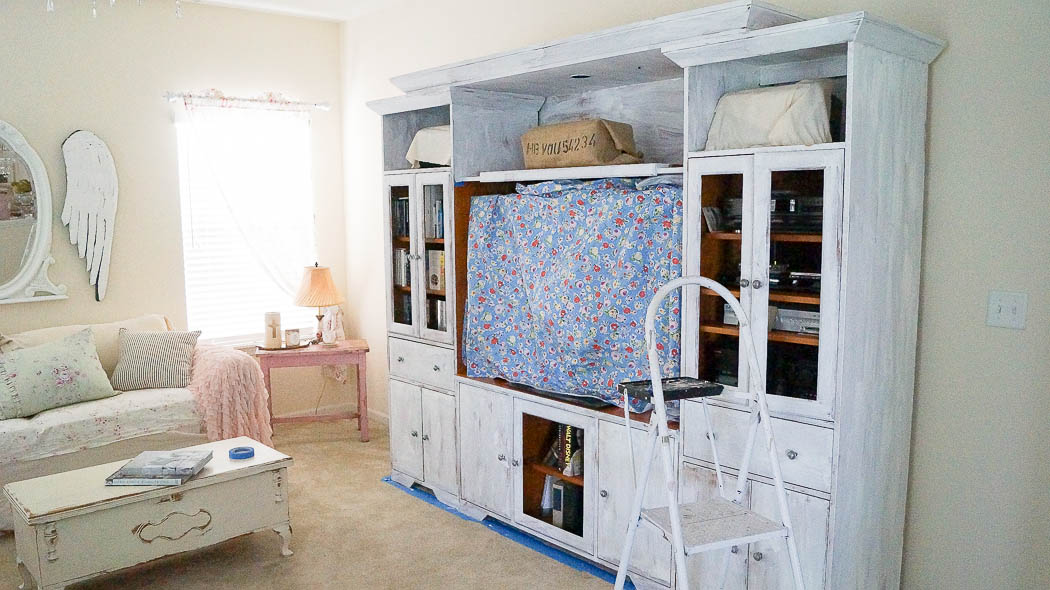 Once the cabinet was painted it was time to add the details. To do this I decided to use Efex appliques. I've used these before as I added a few Efex appliques to my kitchen cabinets. I shared a step by step tutorial on how to apply these appliques on my post adding Efex appliques to my cabinets.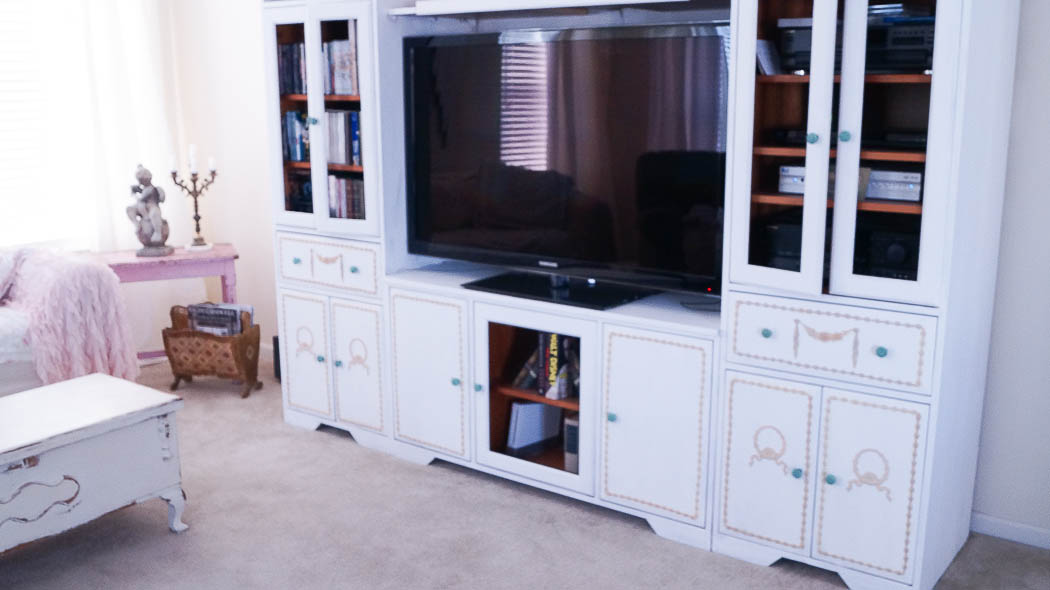 Before I started gluing these appliques to my media cabinet I created the design I wanted on the floor. Then I slowly started gluing the appliques on. Once the glue was dry I added another coat of paint on my entire piece. To finish it off I added a clear sealer coat. You can see in the photo below my kitchen cabinets with appliques.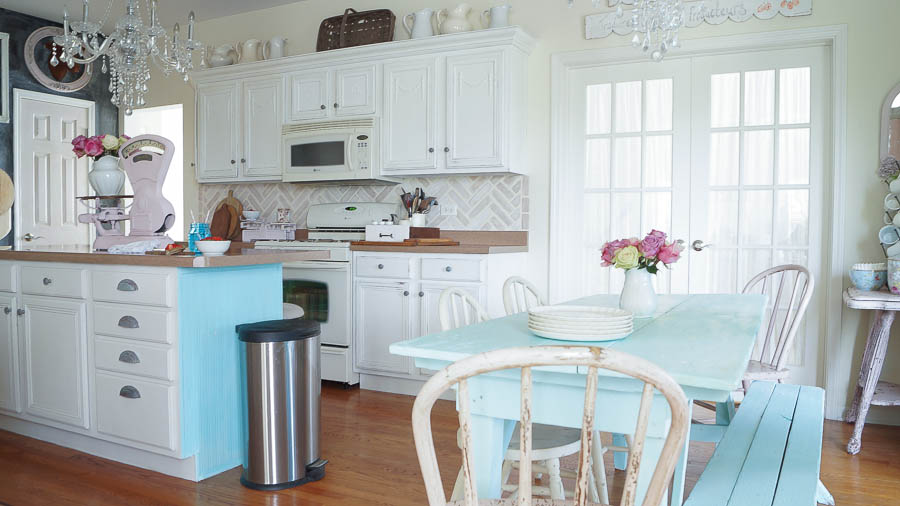 I still needed to address those doors. I didn't want to see the components and boxed movies inside of my media cabinet doors. I decided to remove the glass from the doors and add fabric in place of the glass. Here's how I did it. First I measured my doors from the inside then cut out pieces of cardboard to fit on the inside of the door.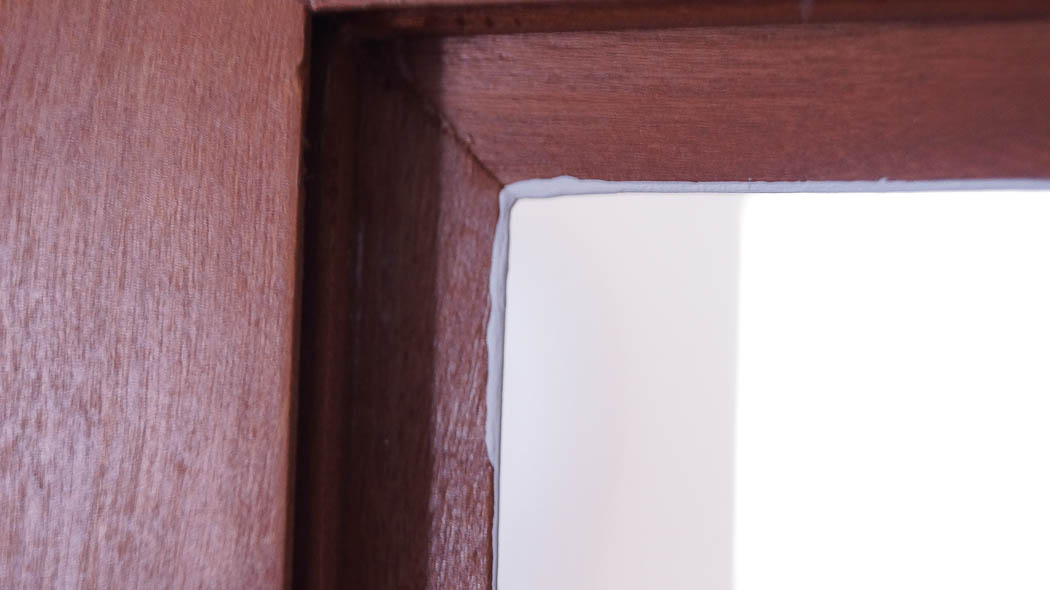 Then I placed the cardboard on top of quilt batting and used my hot glue gun to attach the batting to the cardboard.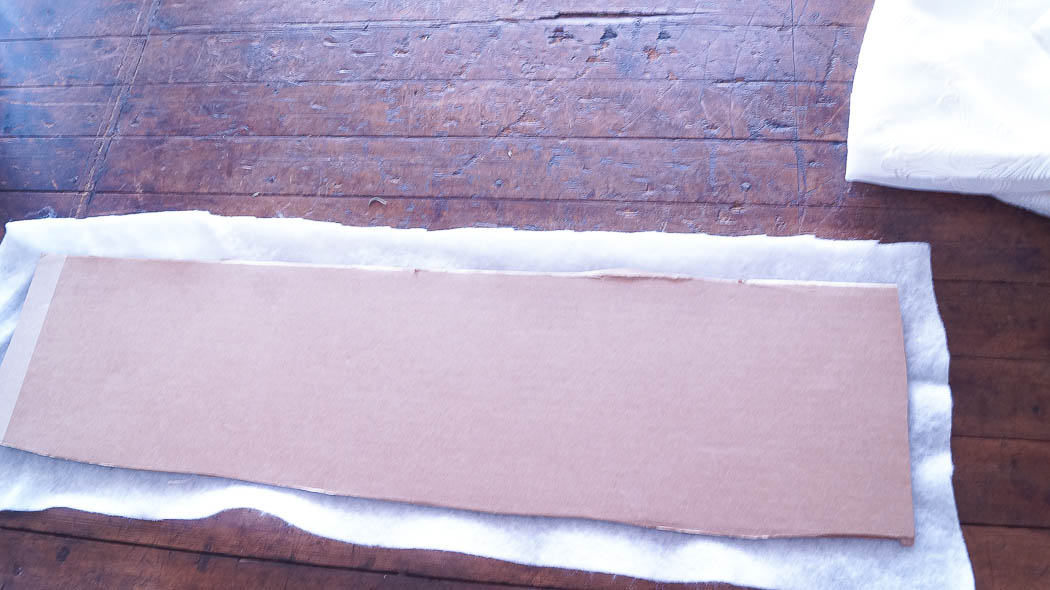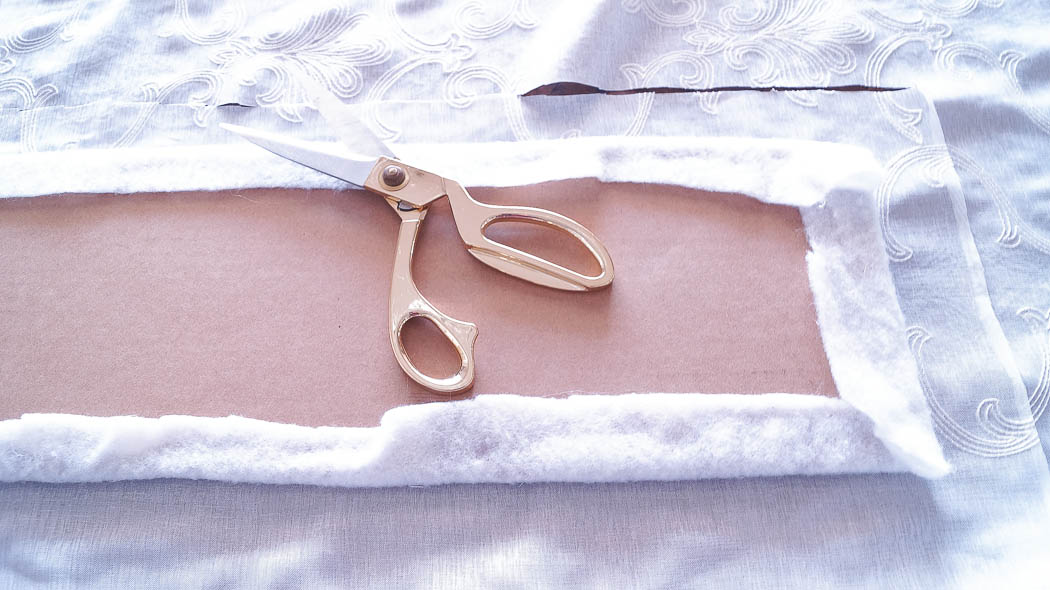 Once the glue was dry I placed my cardboard and quilt batting on top of my fabric. But before gluing I checked to make sure that the pattern would looked straight and in the correct direction.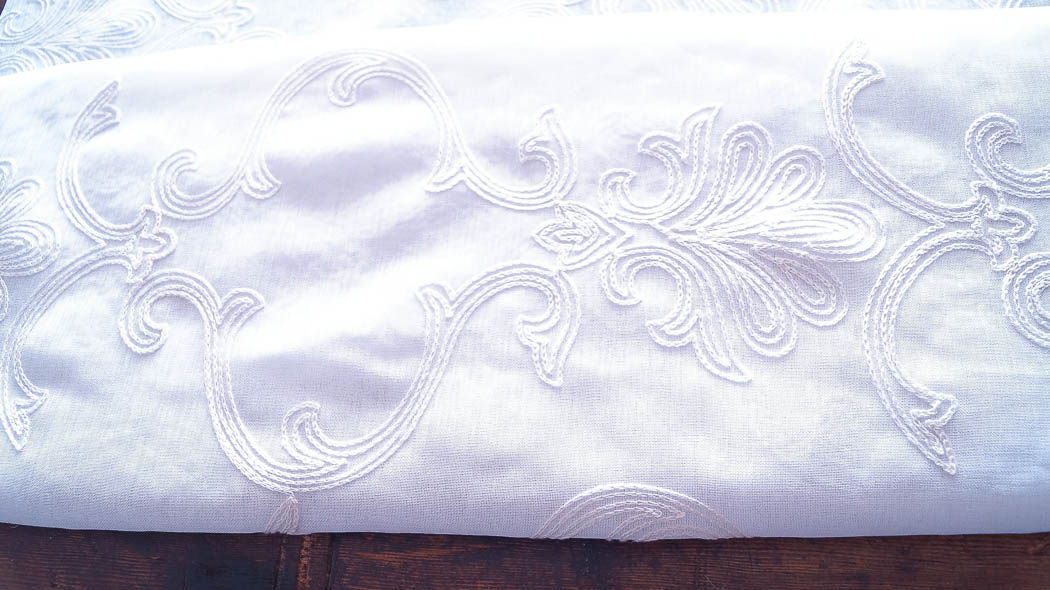 Next I glued the fabric on to the cardboard. I had to be careful not to stretch the fabric too much. If I did it wouldn't have been even. Because this is not going to be seen by anyone I wasn't really picky about how perfect it looked from the other side. To finish it I added a piece of fabric I already had in my stash. I just folded the fabric and glued it on.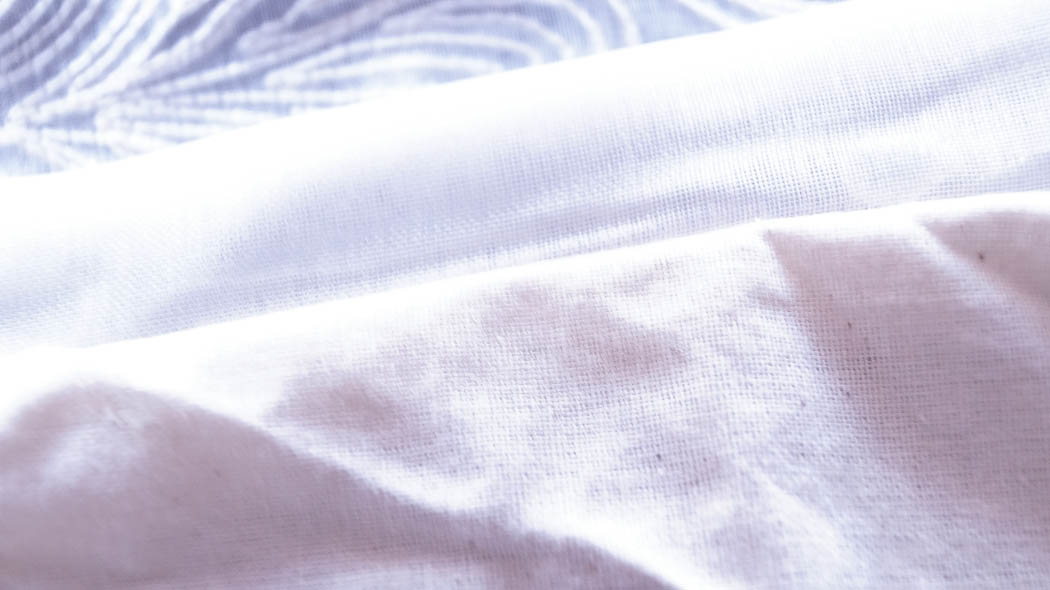 You can see my fabric is wrinkled. But as I said no one is going to see this. If I wanted to be really picky I would have made sure the fabric was ironed then glued it on. But I'm not Martha Stewart. For a finishing touch I added some fancy trim. As I placed these on the doors I made sure that each panel matched exactly. I didn't want the patterns on each piece to look different. That would have drove me nuts! Once I was finished with each panel I used my hot glue and placed them inside each door panel. Here's what my media cabinet looks like now.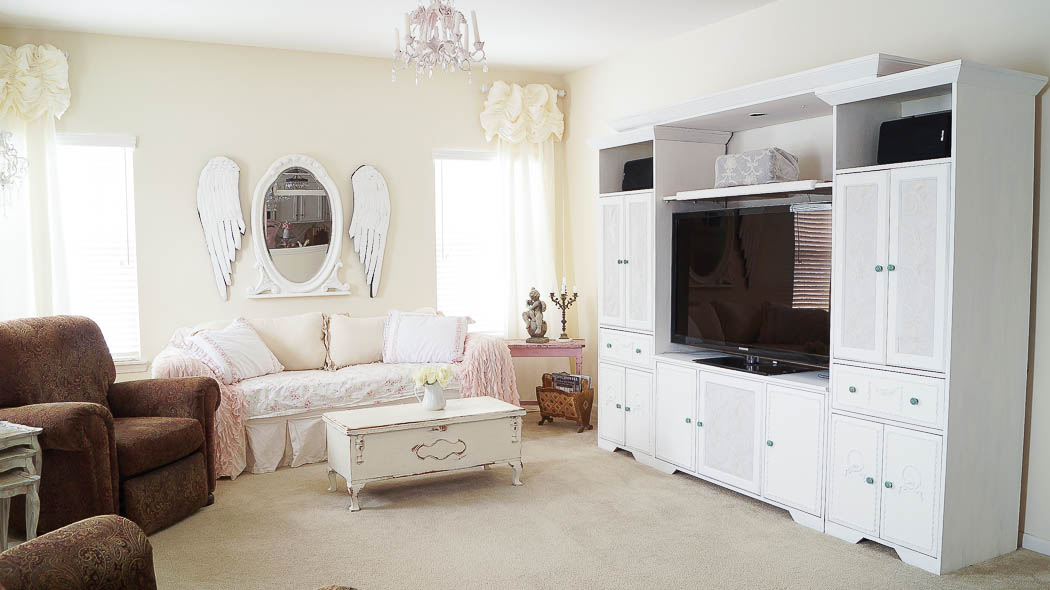 I found the fabric and hardware at Hobby Lobby. Always wait until the fabric and hardware goes on sale. If you're in a pinch they always offer 40% off coupons. But you can't use those on sale items.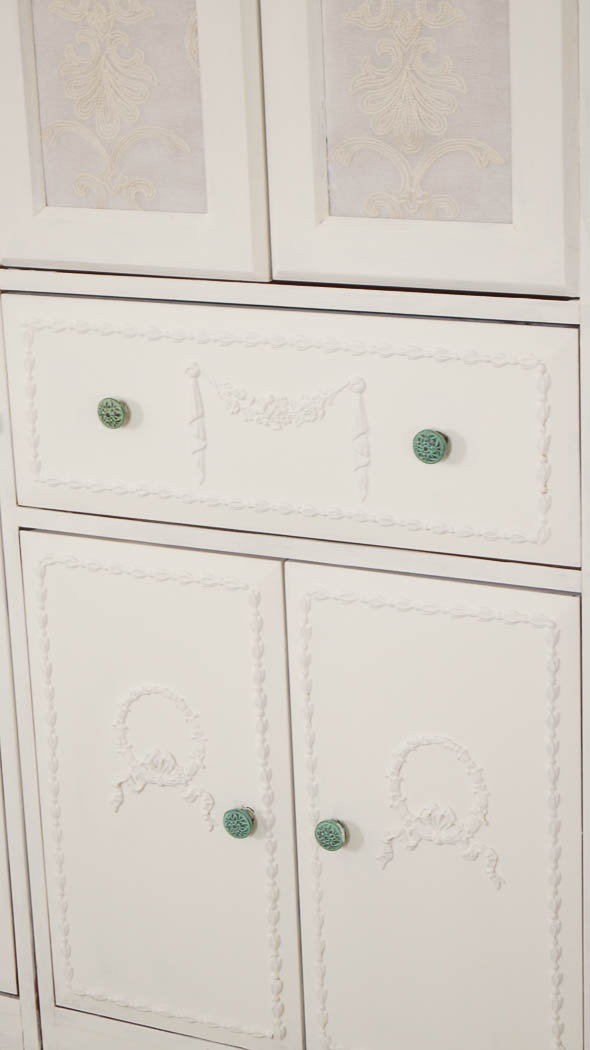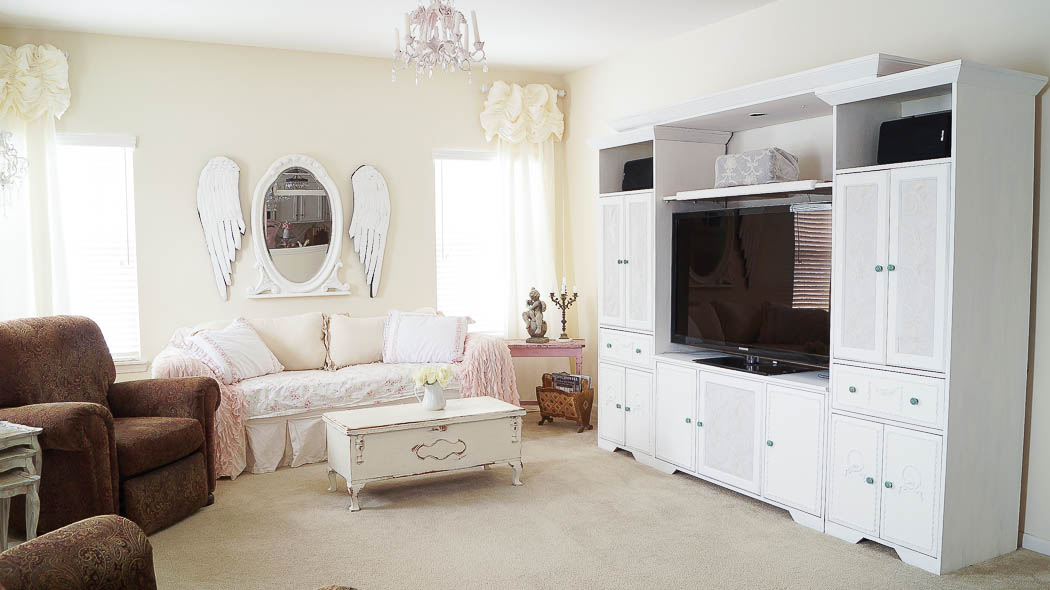 Do you have any pieces of furniture that you would like to update? Why not paint it? So let's compare before and after.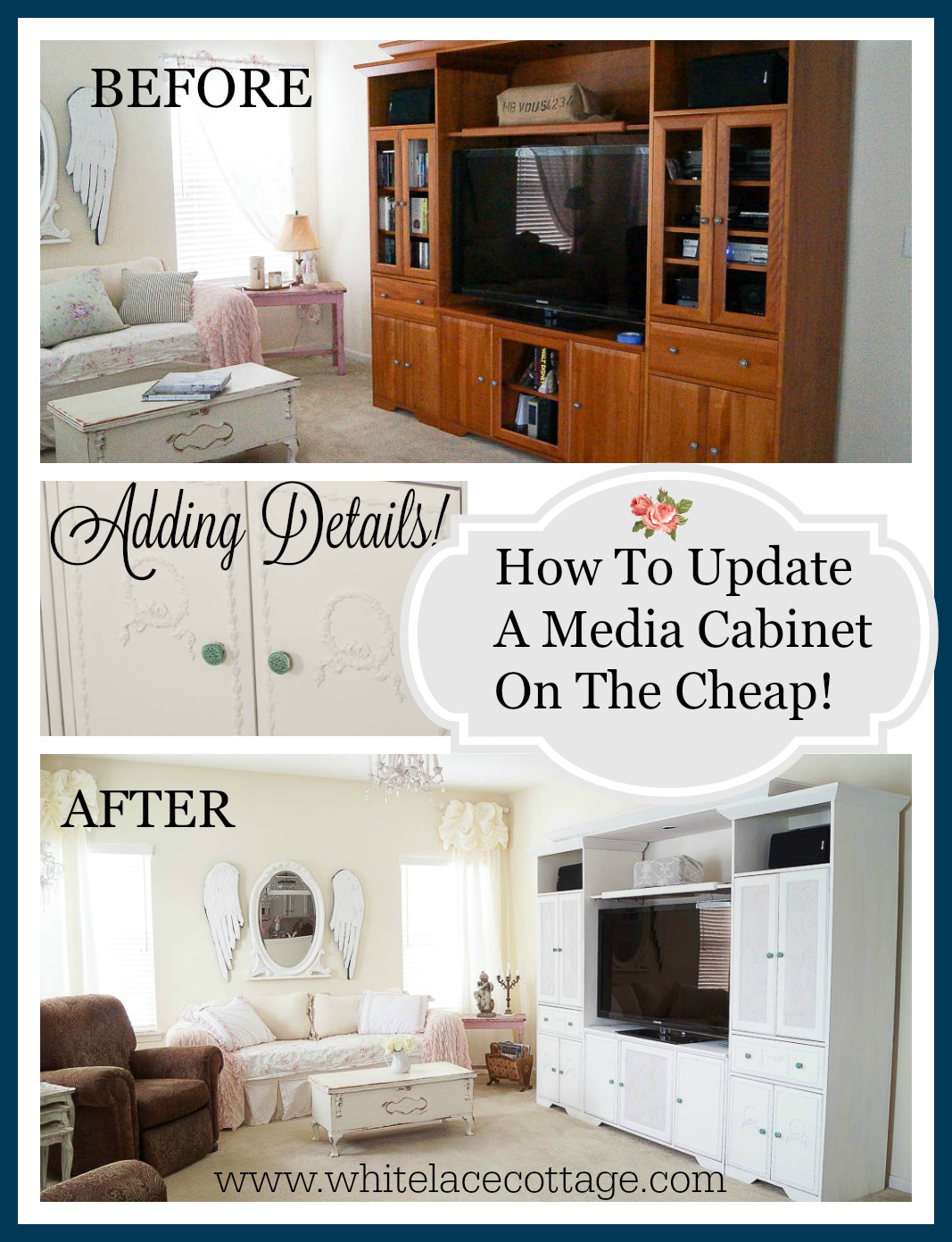 Resources:
Heirloom Traditions paint White Lace
Heirloom Traditions paint Aqua Clear
Save
Save
Save
Save