My head is spinning, I have been working hard as in over time trying to set up the paint in my shop.
I know many of you have been excited with anticipation waiting, and I really appreciate your patience.
I am sure there will be a few hiccups along the way, but I hope you will be understanding as this is all very new for me.
I am still waiting on two other colors, my labels will be on the cans, but I didn't get them in time for photo purposes.
Also you will notice that my vintage items are showing up with an added cost for shipping.
Please ignore that, shipping for my vintage items is always free.
I am working on getting that fixed.
But please know if you purchase something from the shop, I will refund you for the shipping cost before your package is sent out.
I apologize for any inconvenience this may cause.
See what I mean by my head spinning.
So let's get on with it!
 I am here to announce that you can now purchase White Lace Cottage's signature line of paint, yay!
Let me introduce you to each of these lovely colors again.
This is Chippy blue.
When I was creating this color I thought of the chippy blue pieces that attract me when I am treasure hunting at the flea markets.
You know how much I love chippy painted pieces.
I especially love old chippy tables and chairs.
Chippy blue is a soft pale blue.
It's the perfect combination with white.
And looks beautiful on any piece of furniture.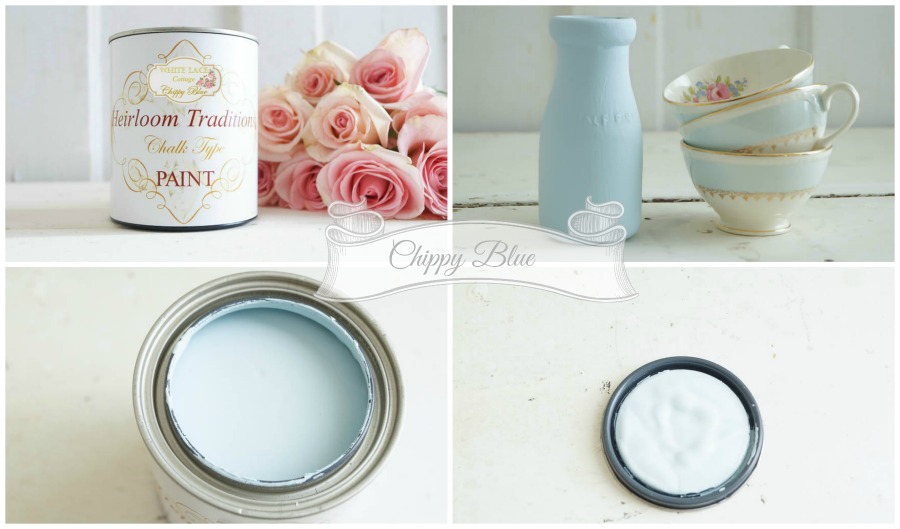 French Butter was created with the thought of pretty bouquet of soft creamy off white yellow roses.
Yes it really is the color of butter.
It looks good enough to eat….if you like butter.
And since this paint goes on like butter it's really the perfect name.
I love this soft tone, it's not overstated at all, but very pleasing to the eye.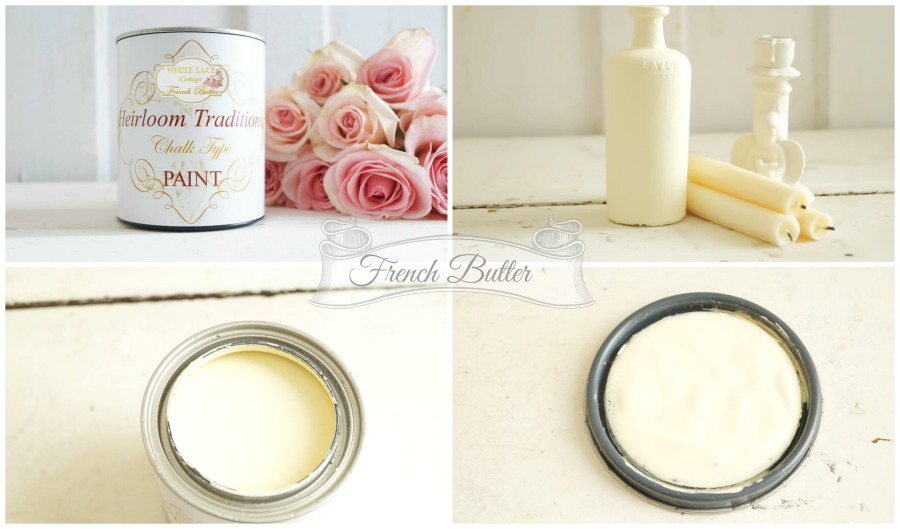 Vintage Green is one of the most sought out colors to find when searching for vintage furniture.
I am especially drawn to the soft faded chippy green colors.
Vintage green is very similar to a Robbins egg blue.
It's green with blue undertones.
Vintage green goes well with so many other colors, and my perfect color combination with this color is pink.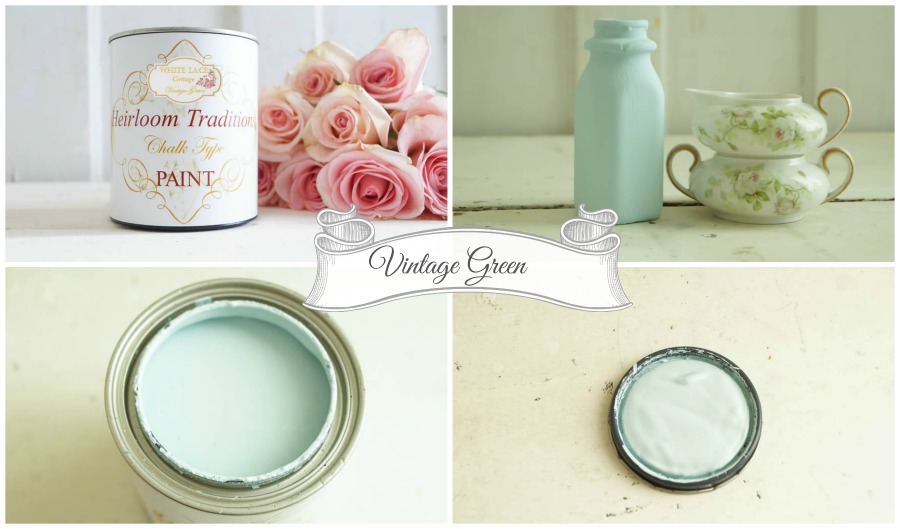 Yes pink is my favorite color, but I must admit I am drawn to the soft faded pink colors.
This lovely color is inspired by my love of roses, especially pink.
In a Shabby inspired home pink is the perfect accent color.
Especially if you are a romantic at heart as I am.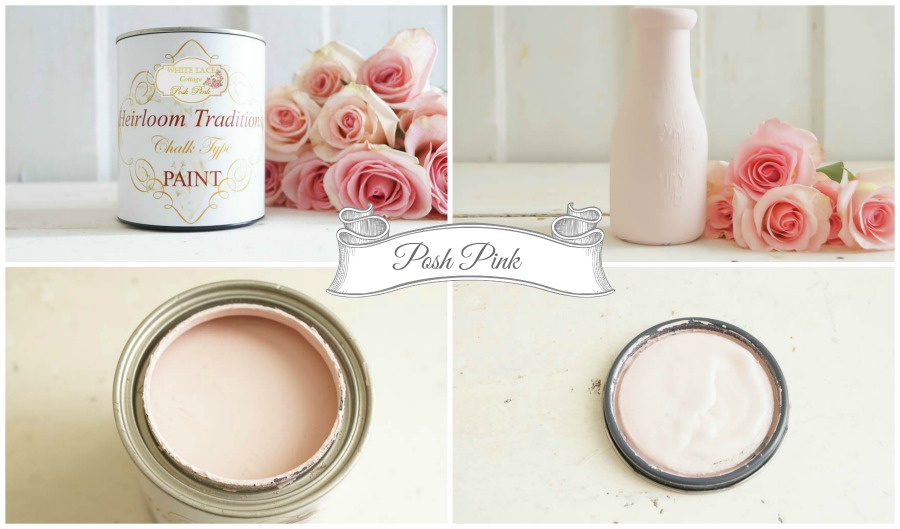 Speaking of romance, lace is a must in a shabby romantic home.
I love lace, and I am especially drawn to it when I see it draped in windows.
It's such a soft color perfect in any room on any piece of furniture.
Some may think that white is a colorless color but I disagree.
White can brighten up any room.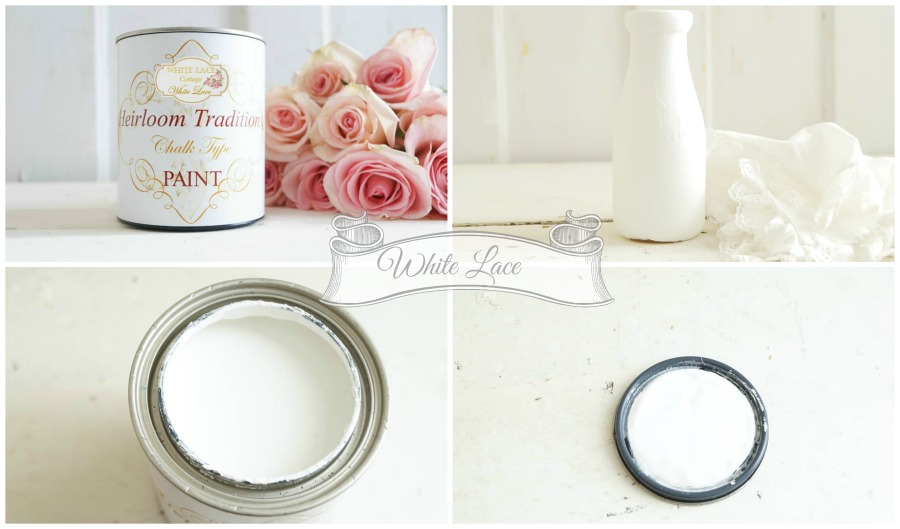 I am thrilled to announce that these are all now available in the shop.
**If purchasing these from my shop they can be shipped to US only.
If you would like to purchase these paints but live outside of the US, they will be available for purchase tomorrow on Heirloom Traditions site. You can access that on my sidebar.

  Just click on the link that says Heirloom Traditions on my sidebar to purchase.**
This may only be temporary.
As I said we are still working out the kinks.
I can't wait to share the projects I am working on with this fabulous paint!
As you can see I painted old bottles with this.
They make beautiful vases don't you think 🙂