Here we go again,yes a few more changes in my home my new motto less is more,and since it's feeling like fall with a season change I felt the need to tweak things around here just a bit.
Let's start out with my favorite room of my home,my kitchen.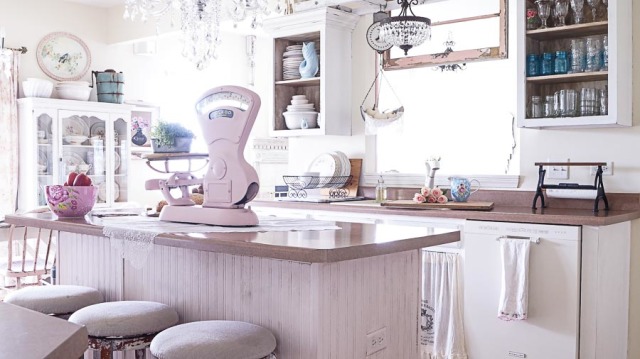 Ah…. okay you are looking at this photo and saying to yourself….what changes I don't see any changes.
Yes I know most is the same in this photo,and see I am not putting my pinks away just because it's almost fall.
My coffee maker was in that spot that my paper towel holder is now at.
Yes it's a small change but it is a change.
Let's look at the other side and above my cabinets because that is where some of  new changes are.
Oh and by the way see my scale,I added a few baby boos inside.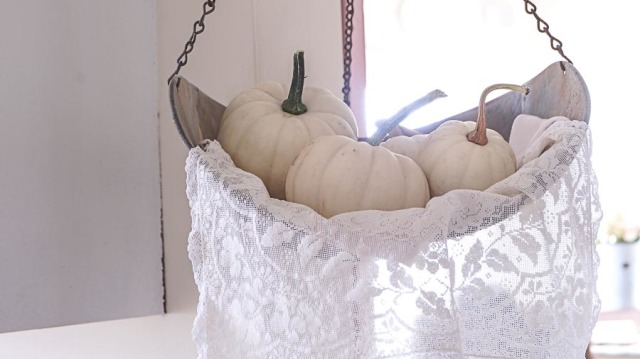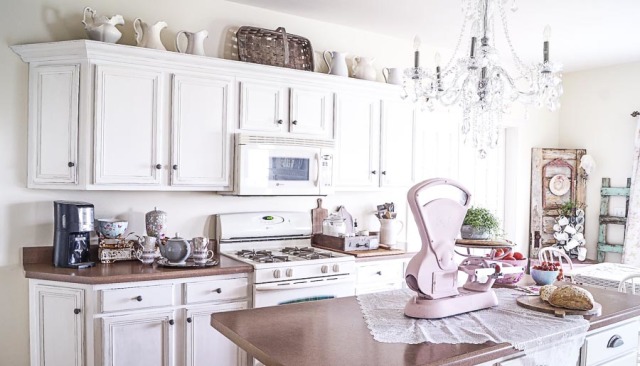 I really felt that I needed to keep something above my cabinets since our ceilings are 9ft tall  and our cabinets are a little short.
The pitchers were already on top,but I took the silver platters down that were previously there,and I added that gathering basket.
Very,very simple look but pretty.
And you can see I added my coffee maker to the opposite side of my kitchen.
You will notice that I use pieces in my home that are not only decorative but also functional.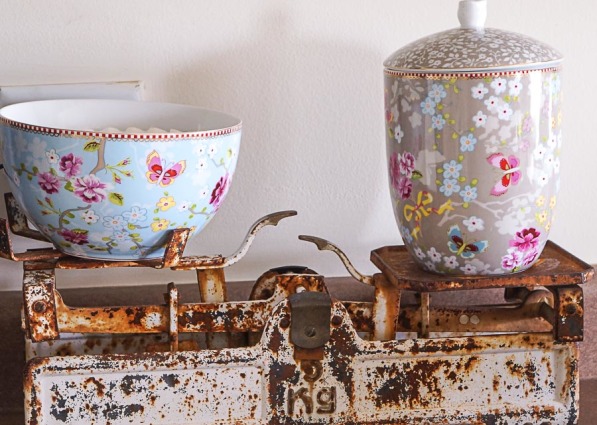 A close up of this old rusty scale,decorative and it also holds my jar that stores my coffee and the bowl holds my coffee filters.
More on these pieces tomorrow!
Above my refrigerator is a cut out which I dislike very much.
I have had so many people tell me that they like it,but I always have to decorate it and it's really hard thinking of ideas because I don't like clutter.
I tried leaving it blank but it really needs something.
I decided to add one of my scales to the top,I added a little lace,a stack of plates and a sweet little rose pitcher.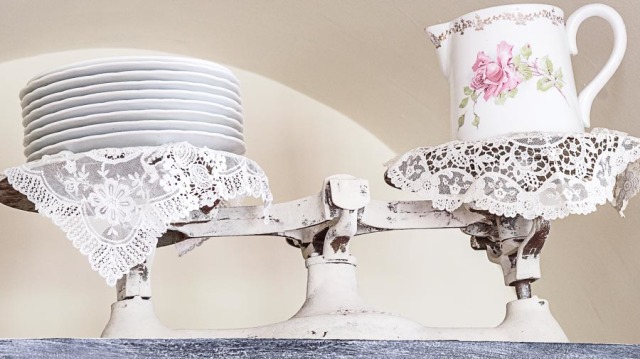 Above my desk I just added this old  Firkin bucket with a few dried hydrangeas.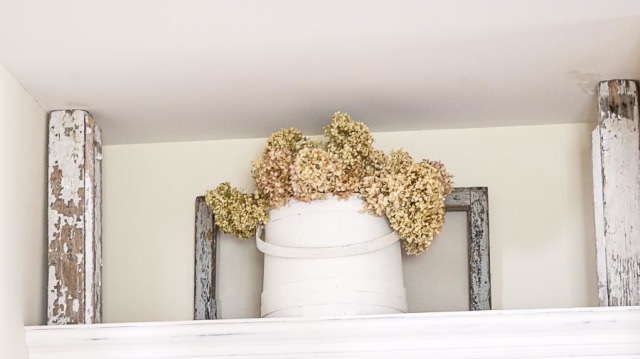 With the exception of the above decor on my cabinets,everything decorative that I have on my counters is also used.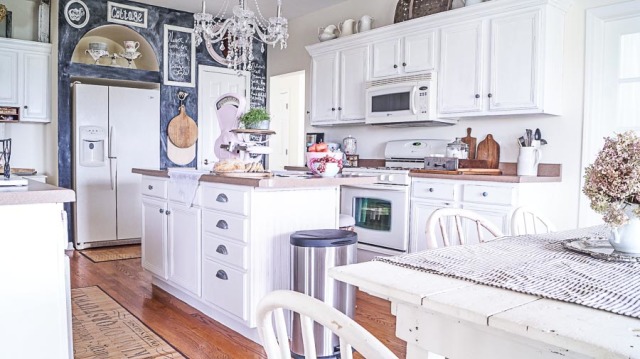 Bread boards are decoative,but functional,pitchers become holders for my utensils.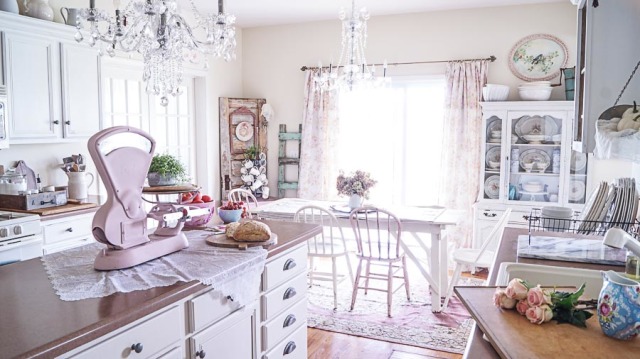 My French bottle rack is decorative but also holds my coffee mugs.
And my wire plate rack holds some of my extra dishes that don't fit in my cabinet but we use these on a daily basis.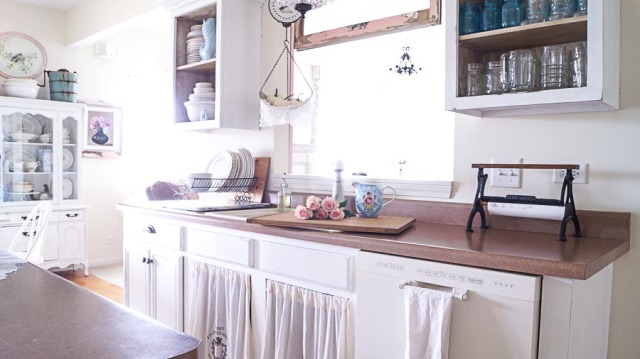 Yes even plates and cups are decorative once you take those doors off of the cabinets.
I know this is nothing new but just sharing how you can have a function and a decorative kitchen as well.
Let's go into my family room for a few changes too.
Oh before I forget I changed my rug in my kitchen.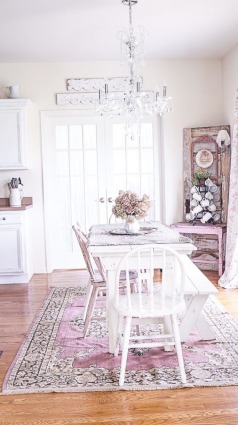 I love my Decor Steals bamboo tattoo mat,but I wanted to make a change and use this vintage rug I bought last spring.
I know it's a little short on the ends,but I love it anyway.
I don't follow rules I do what I like 😉
Let's go into the family room.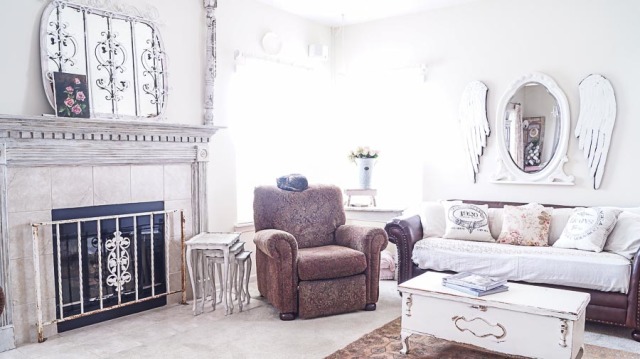 A few little changes,I added that old gate infront of my firelace.
I was not happy with the lace piece I had,and yes it you look closely you will still see my glass doors are all taped up.
I won't be removing that until the beginning of November when the yellow jackets are done for the season.
I also added that small painting in front of my gate on my fireplace just for a little pop of color.
And see that sweet cat I added her too for effects…….just kidding.
That's her favorite spot to sleep when she is not snuggling on my daughters bed.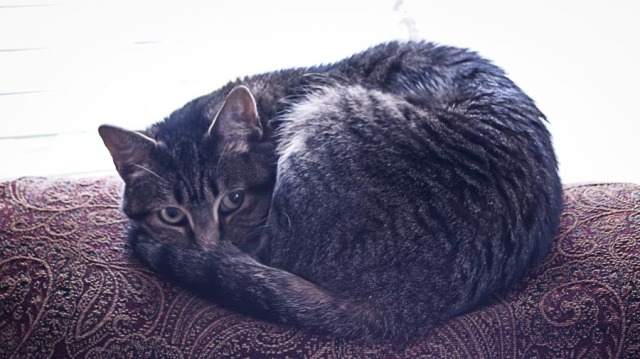 Don't you love the look she is giving me.
Okay caption this photo.
What do you think she is thinking?
I bet you noticed I added a new rug in here.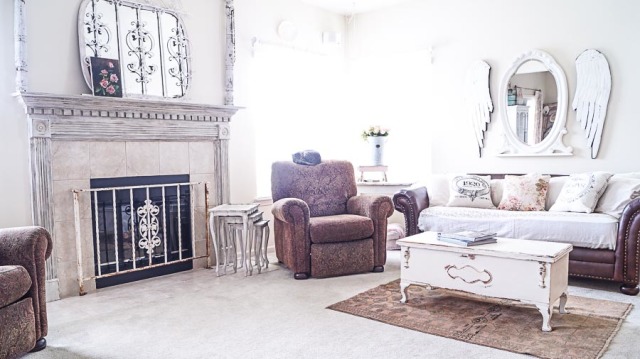 I love the soft muted faded colors on this rug.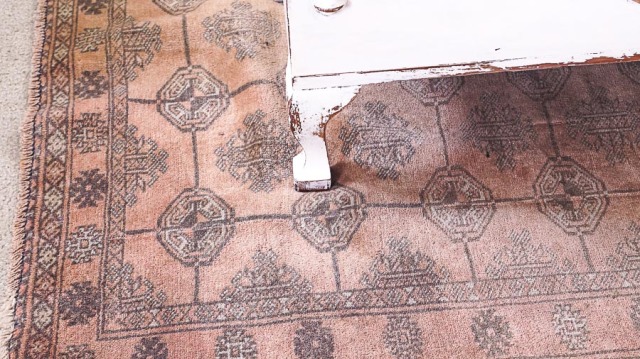 It's in amazing condition for it's age!
I also added a few new pillows on my sofa too,I will share the source tomorrow.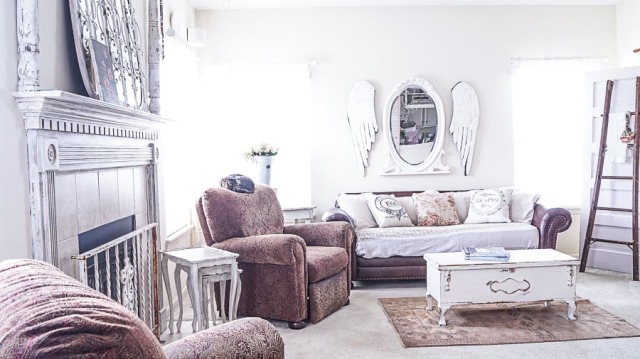 Come back tomorrow,I am hosting a giveaway!

Joining: