Today I am sharing my home as part of the Festival of Fall tour.
Hello come on in,take your shoes off and stay awhile.
I am sure you noticed that I don't have a fall wreath,it's because my fall decor is very simplistic.
Our home is very relaxed,and cozy.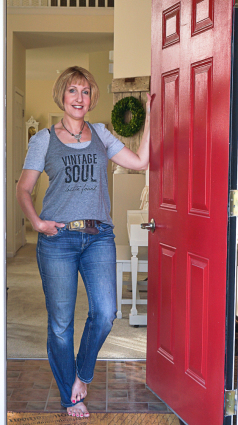 Let me show you around.
Here in my living room I added a few heirloom pumpkins.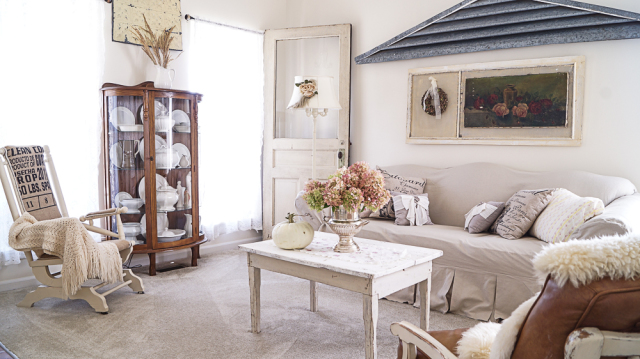 I replaced my dried flowers that were hung on my old wood screen hanging on the wall.
Just simply added an acorn wreath bought at Decor Steals a year ago.
A few sprigs of wheat grass are in my white ironstone pitcher.
I like keeping things simple in my home,so I don't go out of my way to decorate for the seasons.
My style has a shabby chic flare too it,and adding orange in my home just doesn't work.
I love my hydrangeas from my garden this time of the year,the color is breathtaking!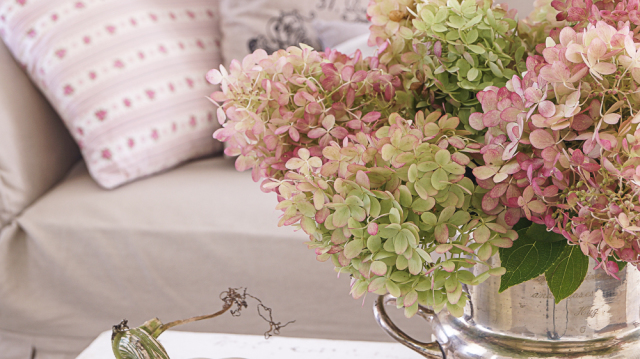 Aren't they lovely!
These colors of pinks and greens work perfectly in my shabby home.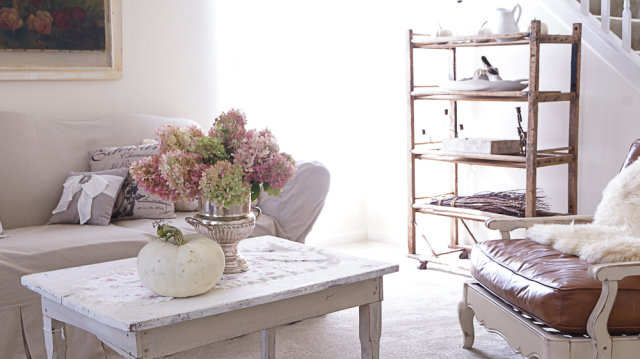 I added that wonderful imperfect white heirloom pumpkin to my table.
I love using fresh pumpkins,each one is unique with the colors and shapes.
As I take you into our other rooms you will see how cool the selection of pumpkins are,especially if your style is a bit shabby like mine.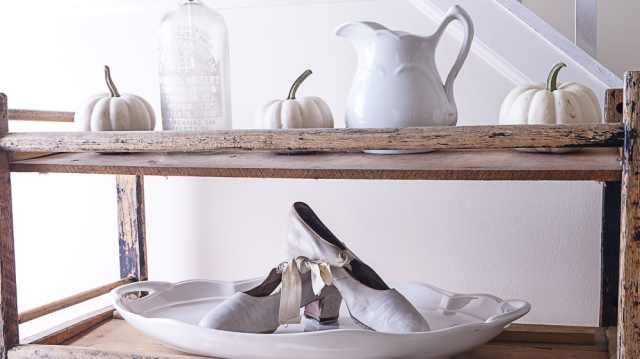 I have many of these sweet little baby boos scattered around my home.
Isn't this grey pumpkin sweet,love the stripes.
It reminds me of a French grain sack.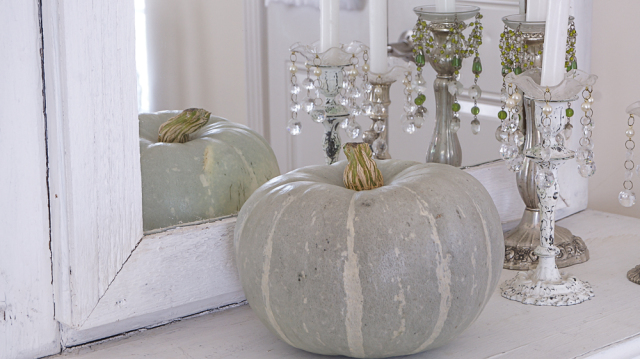 Let's go into my dining room.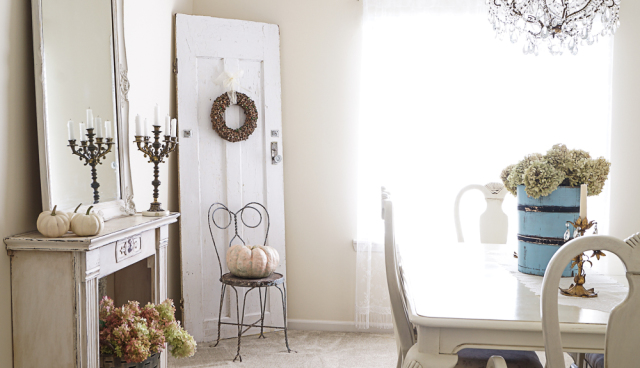 I added another acorn wreath to this old chippy door,and that chair was a recent thrifty find.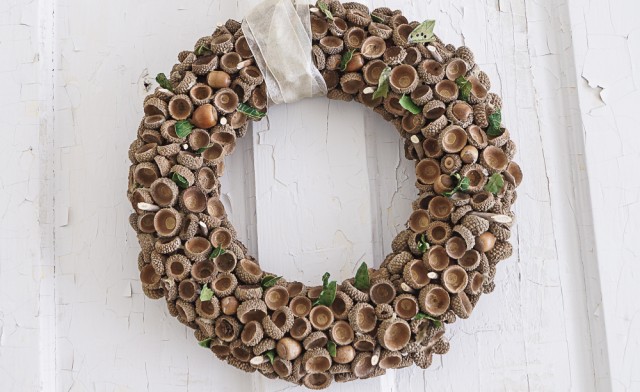 Do you see the pumpkin on the chair?
Let's take a closer look.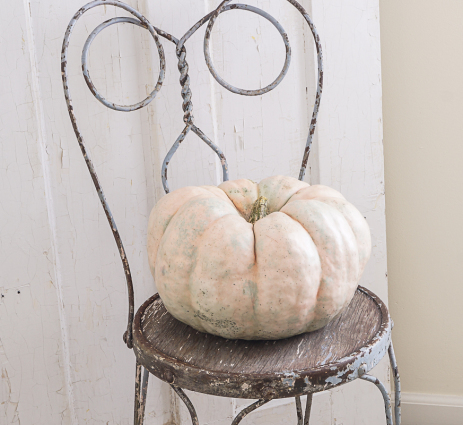 Let me tell you a little something about this pumpkin.
One night as I was on the computer I thought,hmmm wonder if they sell pink pumpkins?
I mean they have,green,blue,grey,and white…why not pink.
I stumbled upon a photo of a pink pumpkin that is called a pink porcelain doll pumpkin.
Really…..a pink pumpkin….no way!
I searched on line and found out that Walmart sells these.
Not all of them do,I guess I was lucky to find them.
This one is really cool because it is pink and green and actually looks like chippy paint!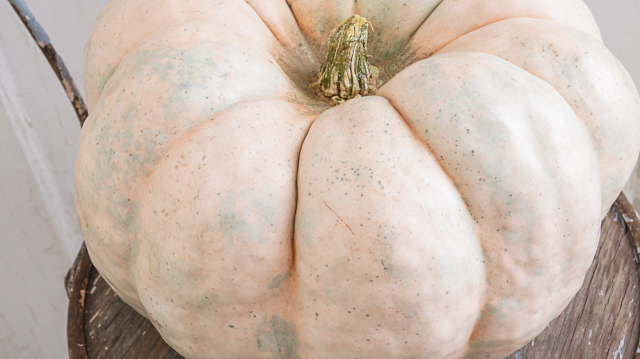 In my olive bucket that is also from Decor Steals I decided to add a bunch of my hydrangeas.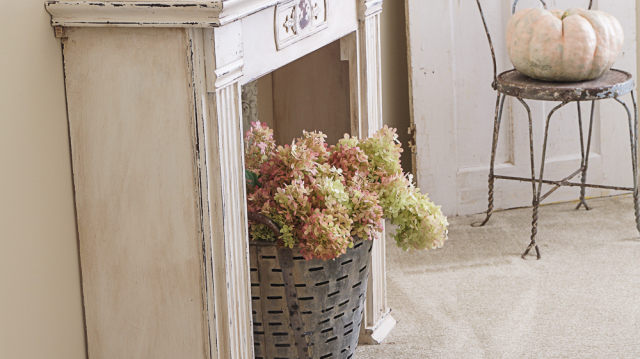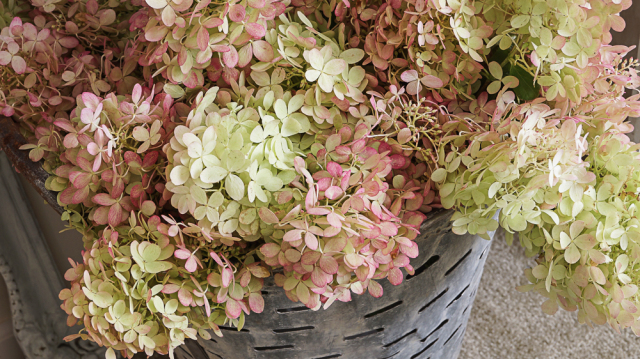 I always have something on the center of my table.
For now I added this lovely ice cream bucket,it's actually for sale in my online shop.
But until it sells I am enjoying it a bit on my table.
The blue color works perfectly with my chair cushion fabric.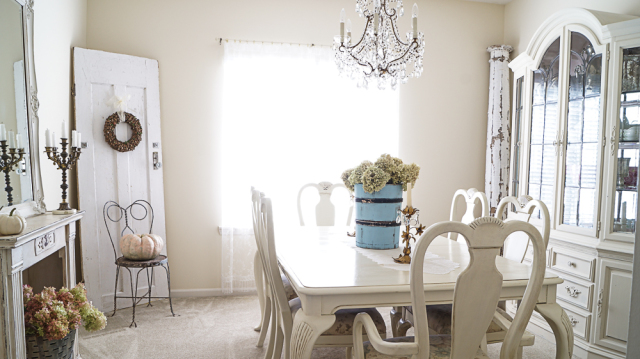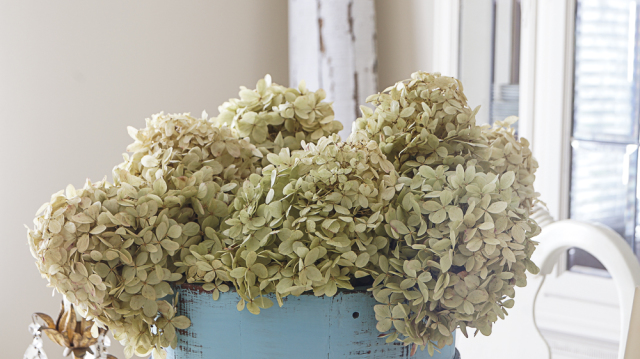 Let me show you the kitchen.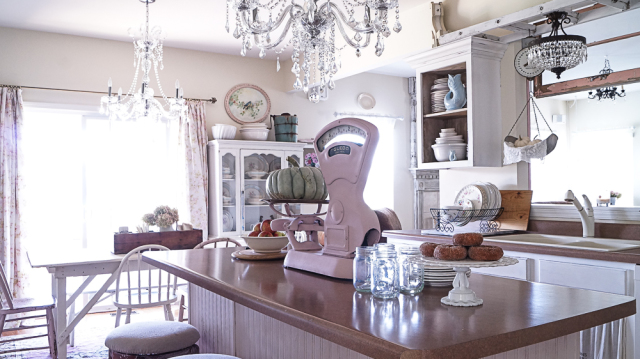 I thought you might like a apple cider donut so I bought a few at our farmers market,these are a pretty hot item around here this time of the year.
We live out in the country and with that we are close to many apple orchards.
Fresh apples are plenty around here!
Grab one if you like,you can munch on an apple or donut as we continue our tour.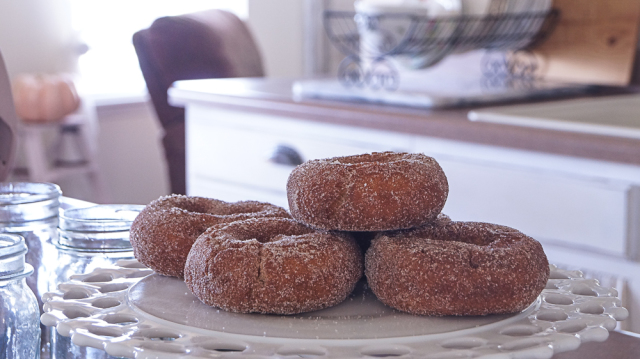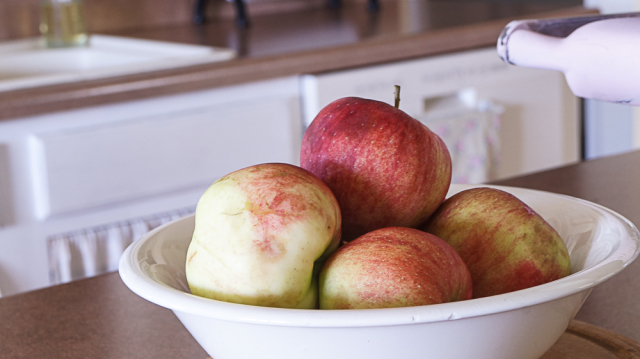 Instead of placing flowers on my vintage pink scale I decided to add this cool green heirloom pumpkin.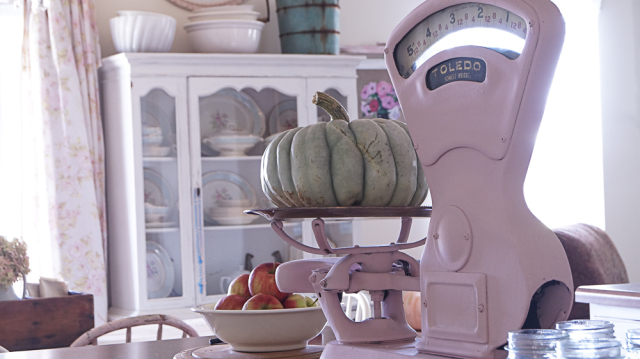 I absolutely love the shape,colors and imperfections on this pumpkin.
On my hanging scale I added a few baby boos,but I am sure they soon will be replaced with apples and I will move the baby boos somewhere else.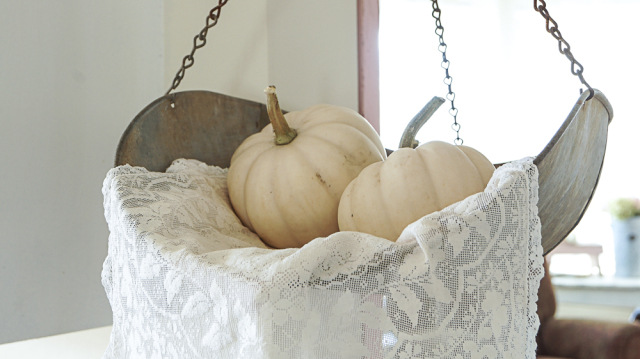 I am sure you noticed that my home looks the same,I just added pumpkins,flowers,and acorns to my decor.
But it shows you that you don't have to rearrange your home to add a little fall flare to your home.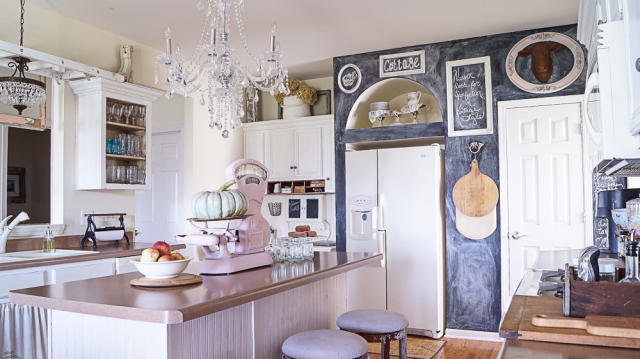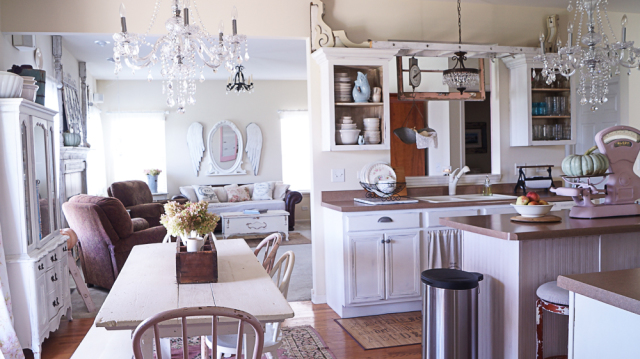 I added that wood tote,I have had it for several years,and this time of the year is my favorite time to bring it out.
I love the warm wood tones with a soft white.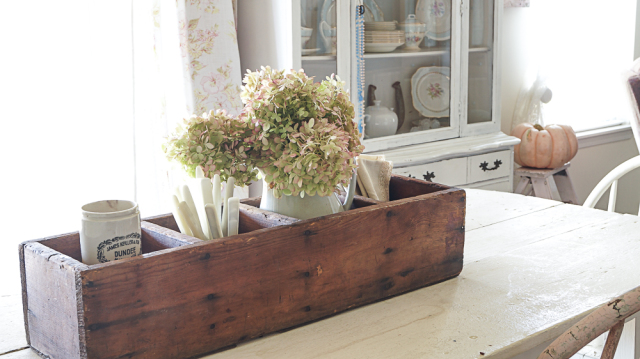 Yes more hydrangeas from my garden,just added some napkins,and utensils inside this tote.
And that old marmalade jar,it's propped up with a few small dishes because this tote is a bit deep.
Do you see that pumpkin on the side?
That's another pink porcelain doll pumpkin that I found at Walmart of all places!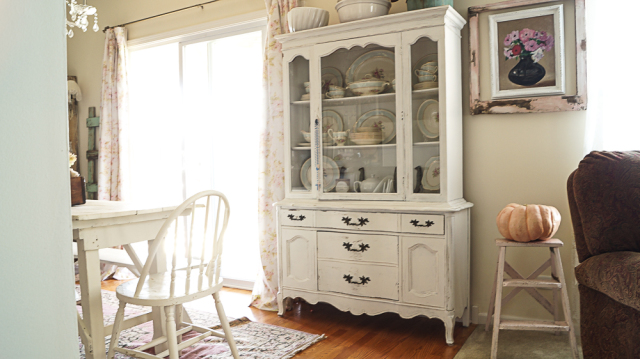 The shape is not perfect at all,but that's why I love it!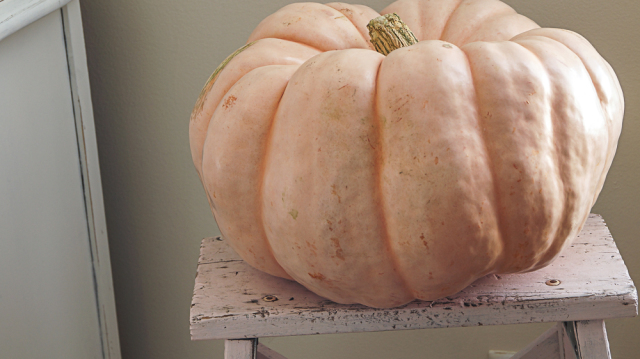 And why I love using real pumpkins each one is unique with the shape and color.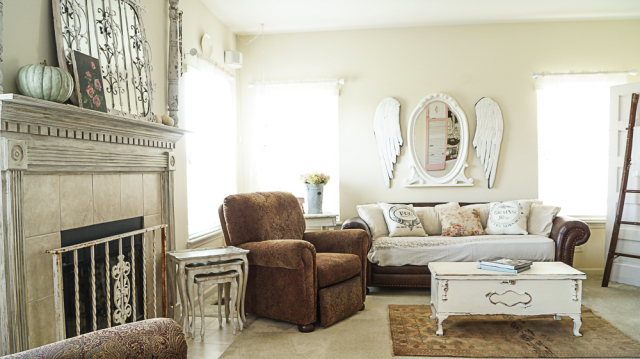 And here we are in the family room.
Another green pumpkin placed on my mantle with a few more baby boos.
I added some rose's and hydrangea's to a sap bucket a week ago,and kept them in this room as part of my fall decor.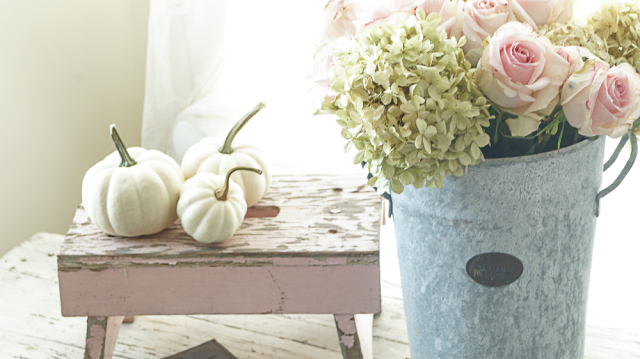 See no big changes but enough to celebrate the beauty of fall.
Let's go out on the porch,we can sit and chat for a bit,hope your not in a hurry.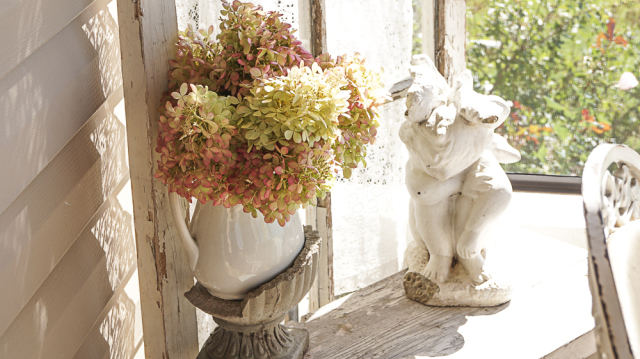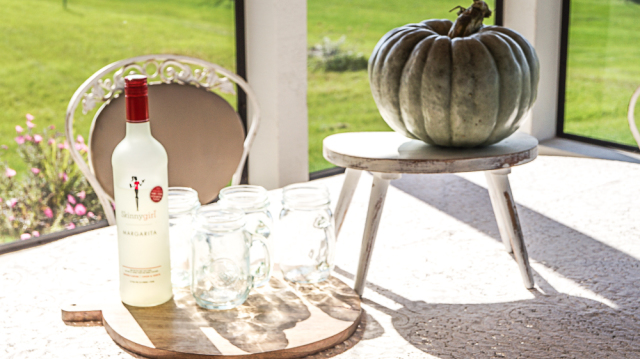 Yes another pumpkin,this one propped up on an old milking stool.
Oh I bet you noticed I brought those jar mugs that I had on the counter here outside.
Thought you might enjoy a margarita while we chat.
If not, I could warm up a little apple cider.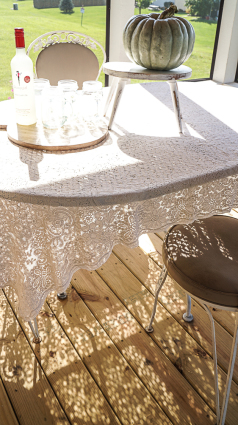 Thanks for stopping by!
Make sure you stop by and tour the other homes featured as part of the Festival of Fall.
I just added new items in the shop,I invite you to stop in the shop of White Lace Cottage.
You can shop HERE.

Monday- Fall Crafts
Tuesday- Fall Recipes
Wednesday- Fall DIY
Thursday- Fall Decor
Friday- Fall Home Tour