You may want to sit down with a cup of coffee or tea. I am sharing lots of photos with you all today.
Where do I begin????
These photos I am about to share show a room on a PERFECT day.
Let's just say Mom's dream day.
This is not the way the room looks everyday.
There were things my daughter still wanted in her room. But I don't think they make a pretty picture. So for today I am sharing my dream bedroom on a good day.
I will share in another post what her room looks like on an average good day.
I thought it would be fun to re-decorate my daughters room.
Her walls needed a fresh coat of paint. And I thought why not make a change.
She gave me carte blanche to do what ever I wanted.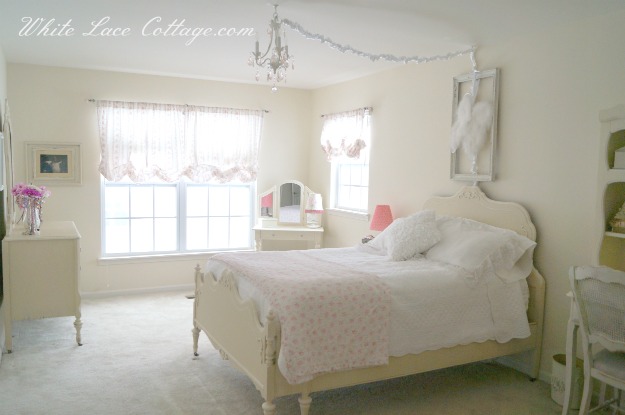 Yes she let me chose the color.
I decided to use the same warm white I have used in my home.
I had paint left over from painting my other rooms so no need for more paint.
The curtains are the same. They work well with her room and still look great!
The bed and dresser are new.
Originally I bought these to sell. But once I had them home I had to do allot of convincing to my daughter that after painting this bed and dresser this would look amazing!She trusted me 🙂 .
I used old white and old ochre (Annie Sloan paint)on the dresser and bed.
Old ochre is the all over color and just highlighted the details with old white.
I love the softness of the colors used together.
I already had the bedspread.
I was using it on the end of my bed. It is a  Rachel ashwell quilt I found last winter on clearance for 10.00 at target.
That pretty roses blanket at the end of the bed was found years ago at a flea market.
That fringe pillow was found at homegoods for 16.00.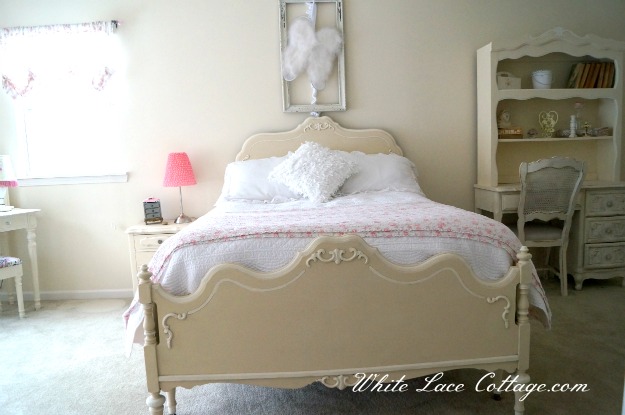 Another shot of the bed.
Isn't this beautiful!I love the details !
That desk and chair were in my creative space I swapped her desk and chair for mine.
I think this desk looks better in here.
Now I have to repaint that desk.
Oh the painting never ends in this home!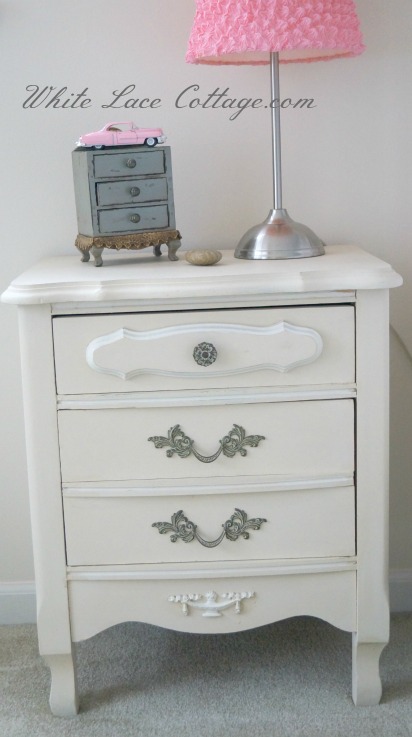 This sweet little french side table was found at the thrift store.
Again originally I was not going to use this in here but sell it.
But I think it works really well.
I painted this the same colors at the bed and dresser.
This had stickers all over it.
I had to do lots of cleaning on this before I painted it.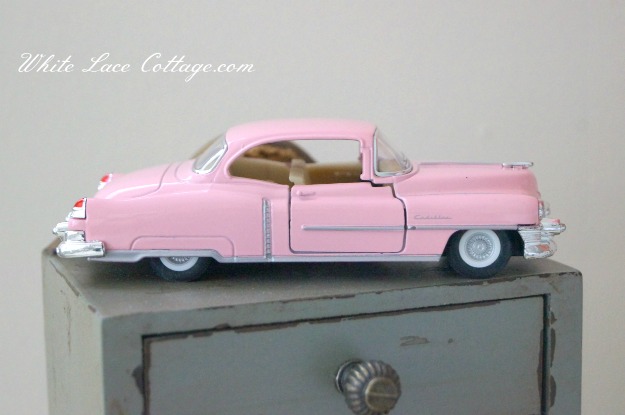 This sweet little pink car was found at CVS pharmacy.
My daughters dream car someday.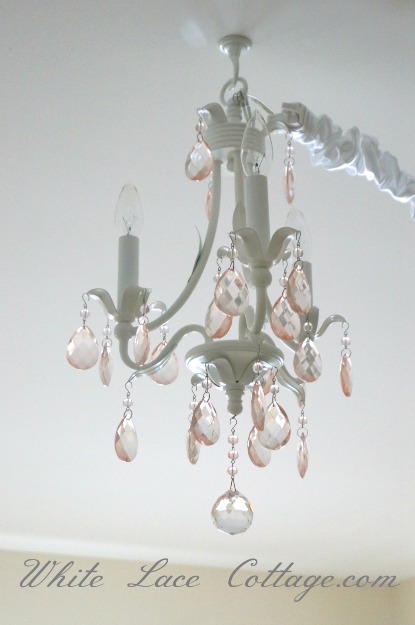 This chandelier was found at Menards on clearance for 60.00.
She needed more light in her room.
Her room is quite large and those table lamps she has are not enough light for reading or doing homework.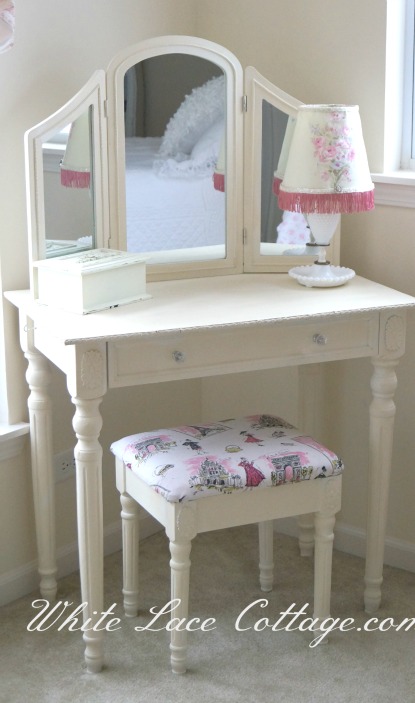 She already had this Rachel ashwell vanity. I found it at a antique mall a few years ago. I can't remember what I paid but it was much less than it was brand new.
I just added some new fabric to the bench.
I wanted to change that lampshade that I made. But she wanted to keep it just as it is.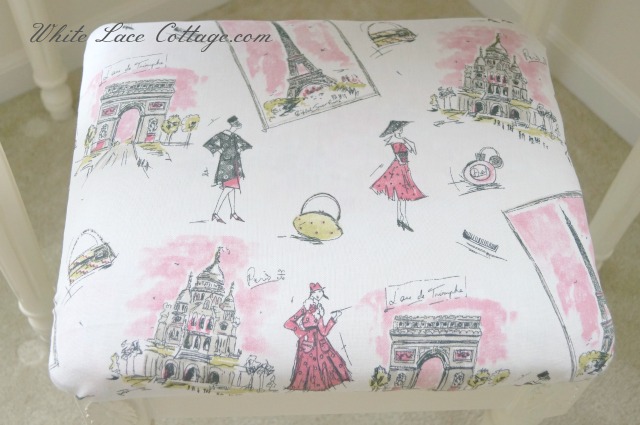 This fabric is so pretty and retro looking. I found this at hobby lobby. It was just a scrap piece for 1.15. I still have a bit more I can use on another project.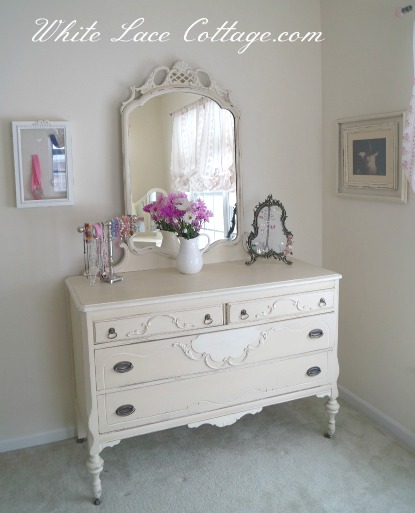 Oh how I love this dresser! The details are so sweet!I added some fresh flowers on her dresser for the photos.
I really love the color of those daisies.
That is a towel bar I am using for her jewelry and an idea I got from a friend on how to  display her earrings.
That was a table mirror.I just took the glass out and  glued screen found at the hardware store to the back.
It is very pretty and makes getting her earrings very easy.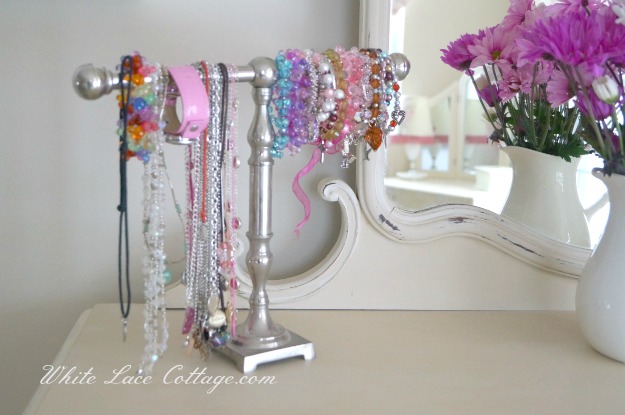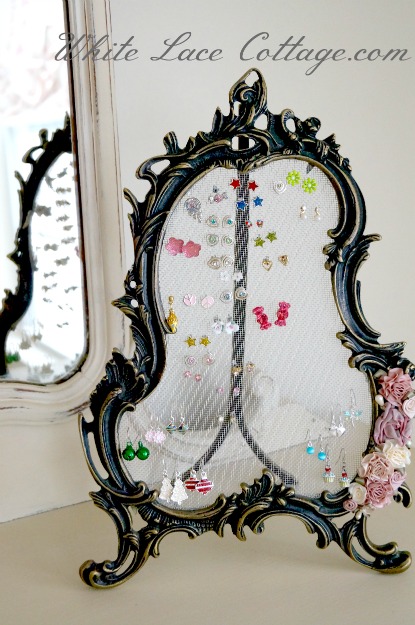 The roses were already on this.
I think it works great in her room!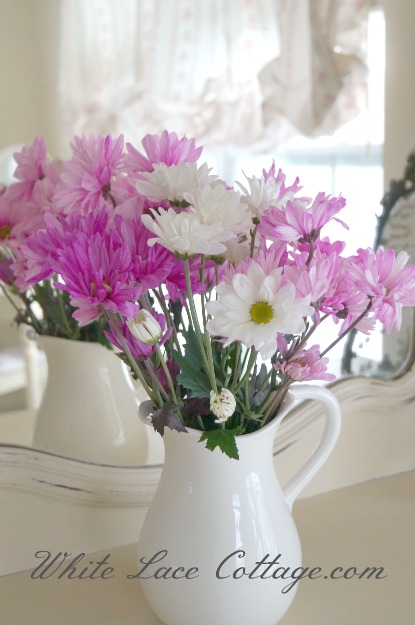 Aren't these sweet!
Perfect colors for her room!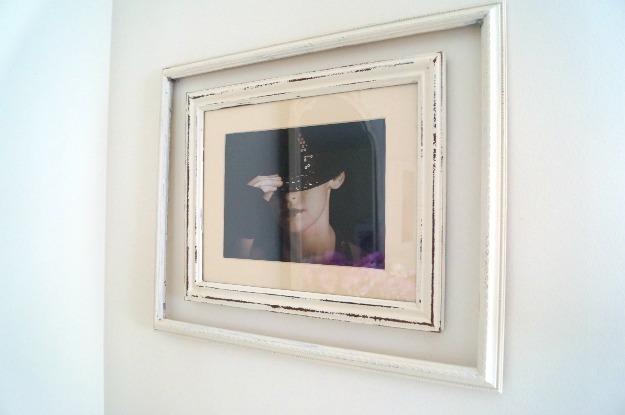 One of my favorite photos!
It was taken a few years ago.
She takes Jazz dance this was her recital photo.
Both frames were found at the thrift store.
I just painted these with old white and sanded them a bit.
I hung the larger frame over the smaller photo.
I love this look and use frames this way allot.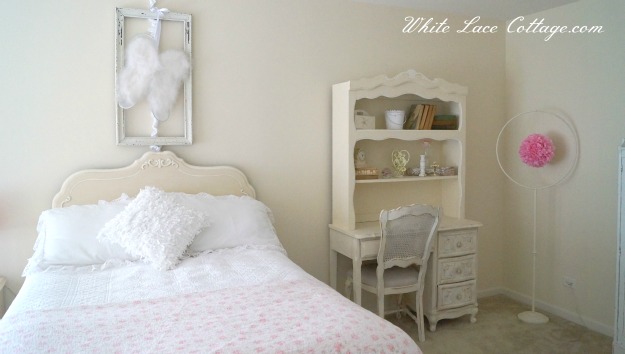 Because I am on a budget having a electrician come to our home to add a box to hang the chandelier is not an option.
I just added a plug and used an extension cord. And a cord cover to hide the ugly cord.
I also needed some art.
So I decided to use my angel wings and frame I was displaying in my hall landing.
And yes that is a vintage bird cage stand.
Originally I was going to hang her chandelier from that hook. But decided she needed to have this hung higher for more light.
I found a flower ball at hobby lobby and decided to hang it from here using it as art too.
I want to make a banner that reads dream and add it to this.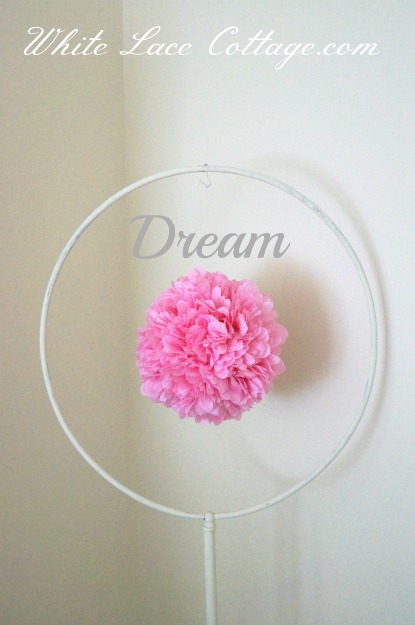 Won't that look cute!
And yes this was painted with Annie Sloan old white chalk paint.
I found this stand for 4.99 at the thrift store.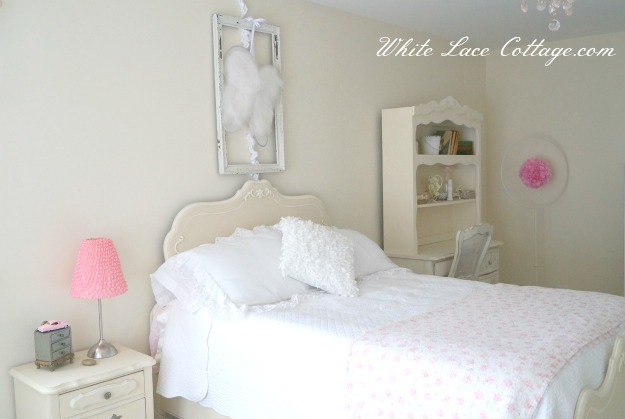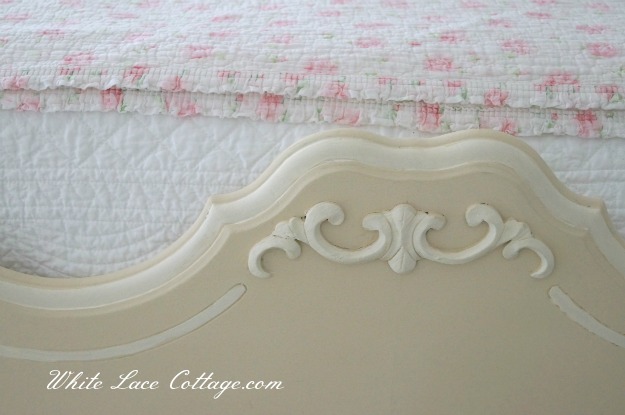 Love the details and curves of the bed!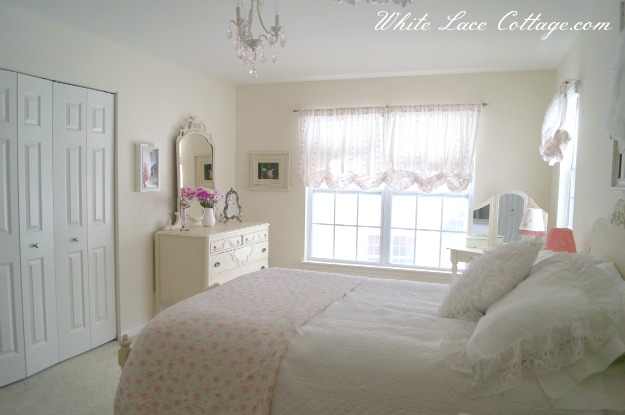 Are you ready to see what this looked like before???
My daughter was appalled that I was going to share photos of her messy room.
Funny how they seem to suddenly care what there room looks like when you are about to share it with others!
I am just keeping it real!
Oh and this is after she cleaned it.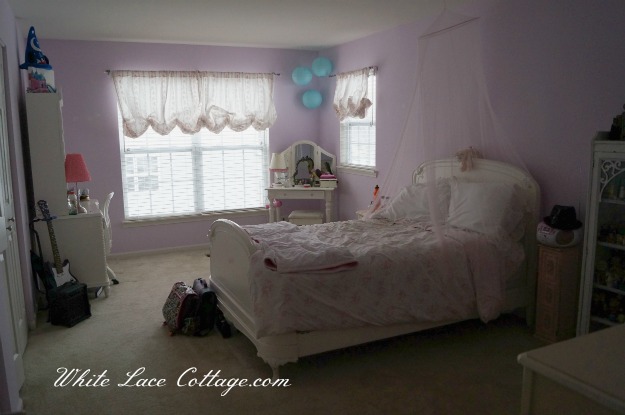 Some things never made it back into the room.And some did soon!
The big splurge was her light fixture.
With the exception of  some small supplies for her earring holder,fabric,and flower art I used what I already had in my home.
Her old bed and dresser are going to the shop to be sold. So the cost of those pieces will be a wash.
She is very happy with her French chic  room. As I am too!

Joining:
Miss Mustard Seed
My Romantic Home
French Country Cottage
Savvy Southern Style
Shabby Art Boutique
Jennifer Rizzo
From My Front Porch to yours
Craftberry Bush
Under The Table and Dreaming
Between Naps On The Porch
Cedar Hill Ranch Cowgirl Up
Coastal Charm