Oh my what do I see shining in the sky today??
Ah  it's the sun.How refreshing to see the sun shining!
Makes me want to start decorating for spring.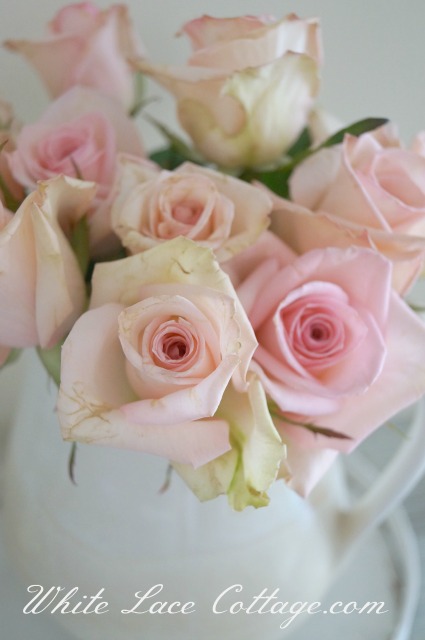 I am sure you are longing for spring too!
Since nothing grows here in the winter I often pick up flowers from the store.
I need something fresh and pretty in my home.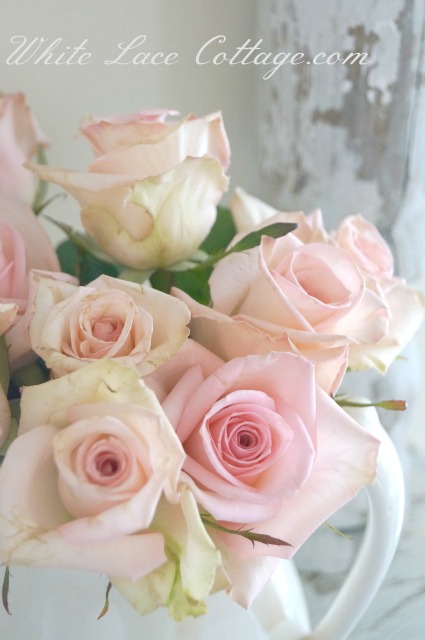 And now that we are past Valentines day I can afford buy them again.
They were very over priced a week ago.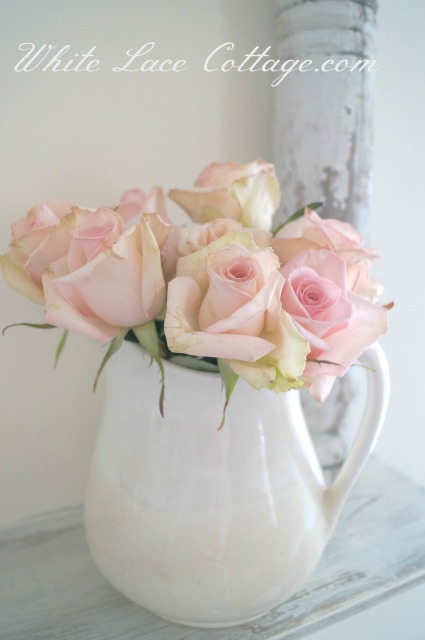 I made some changes to my mantle.
Added some fresh roses to my white ironstone pitcher.
I don't know if you know this but I LOVE taking photos of roses.
Yes flowers in general.
But roses are a favorite of mine.
Especially pink roses!
I used to paint roses……on everything.
Really I did!
I need to pick up my paint brush and start painting them again!
Back to the mantle.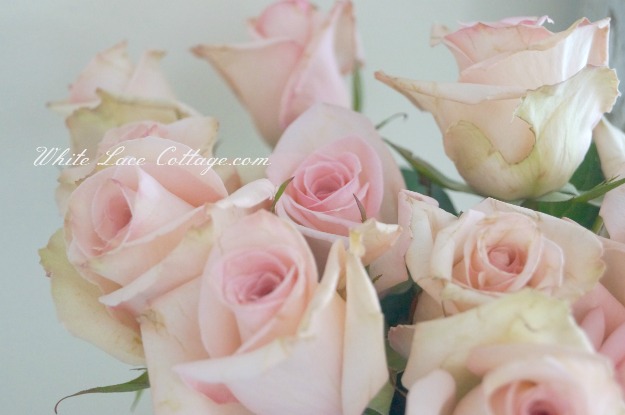 I had an idea for a birdcage cloche.
So I placed this pitcher of roses in this cage.
I think it makes a beautiful birdcage cloche!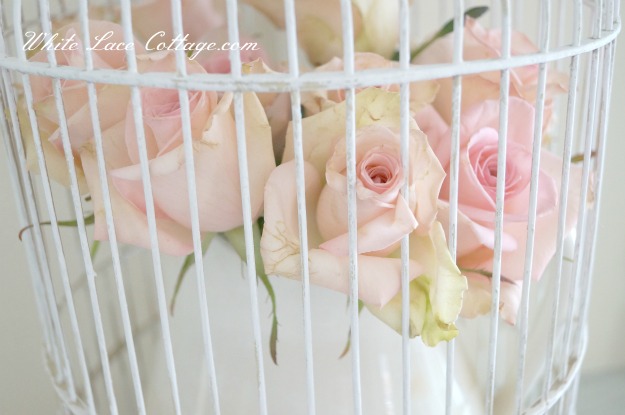 I love the look of these roses peeking through the cage.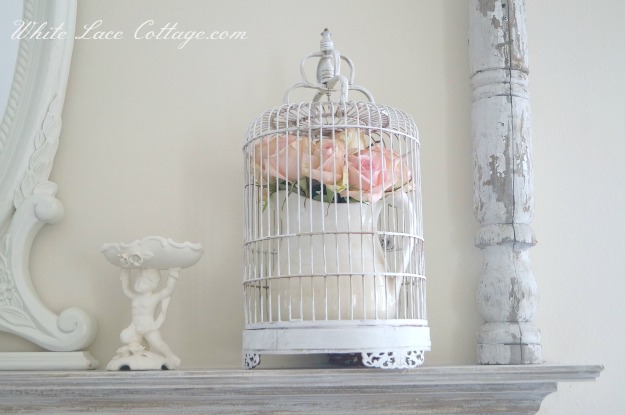 Do you see that post?
That wonderful chippy post?
Well originally I had a pair of these leaning against the wall.
You can see that here
That was just temporary.I knew what I wanted to do.
But I was not sure how to do it.So they stayed there.
Leaning against the wall.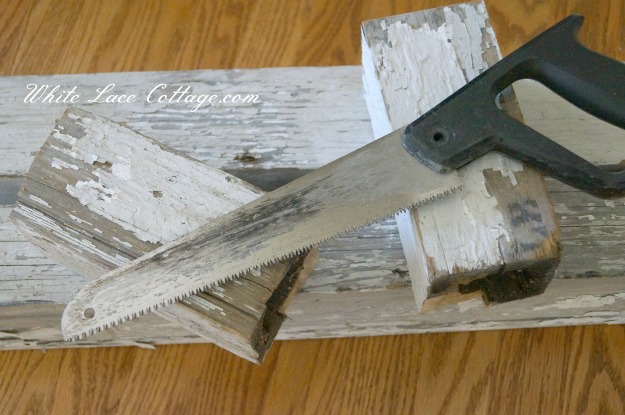 That's my tool! The shark saw!
I have used this on many projects.
Just a bit of elbow grease and you can get anything done!
I measured and started to cut.
It was not as hard as I thought it would be.
After 15 minutes of sawing my mantle looked like this.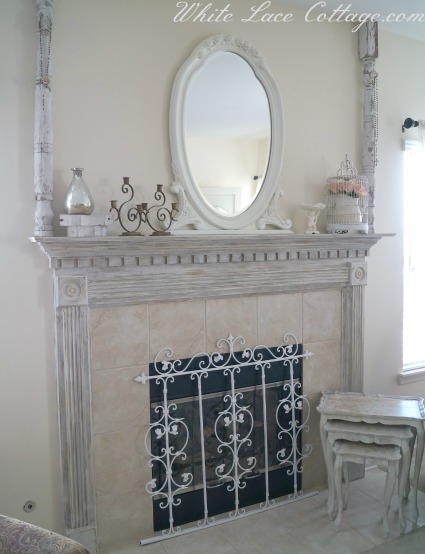 Oh and that gate is new too!
Well new to my mantle.I found that a couple of years ago at hobby lobby.
You know that yearly 80% off sale.It was 10.00.
I did have this behind my bed.
But after I changed my room I took it down.
I knew I would have somewhere else to put it.
And this is the perfect spot.
I just painted it white Annie Sloan pure white paint.
Perfect for spring and summer.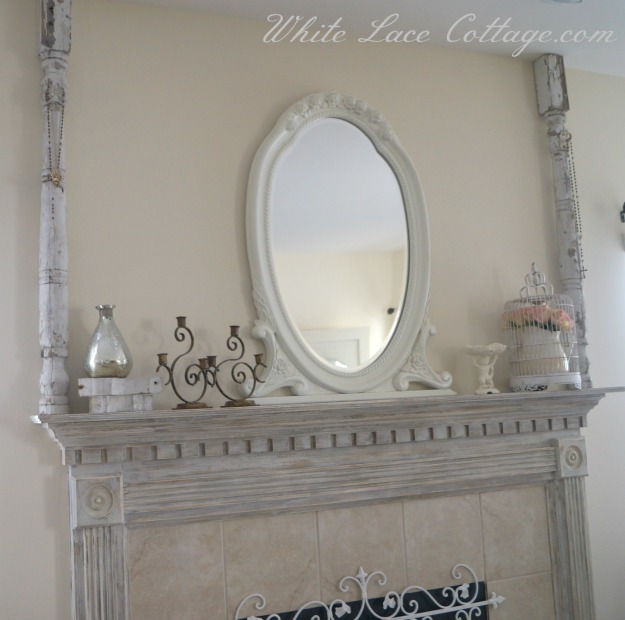 A fresh new look for the mantle.
I am getting that itch to change things around for the spring.
My wheels are turning.
Stay tuned……..

Don't miss a thing!Sign up to receive posts directly into your e-mail.
Subscribe to White Lace Cottage
Joining:
Common Ground Be Inspired Friday
Jennifer Rizzo Fabulously Creative Friday
The Humble Brag:The Better Half  link party