HOW TO TIGHTEN SKIN ON FACE
I recently discovered a fabulous product from Peter Thomas Roth called the instant firmx instant eye tightener and it actually really works on my under eyes. It gets rid of the puffiness, and lines. Since I had such amazing results I decided to try the face version of it. I found it when I was researching how to tighten skin on face. That's exactly what I typed up on  my google search. At 53 I don't have lots of lines but I do have some and I thought if I could find a product that would firm and tighten my skin on my face that would be fabulous! I really don't want to get botox or fillers. I'm not opposed to either but I'd rather do what I can with good skincare or at home treatments first. (this post contains affiliate links please see disclosure policy)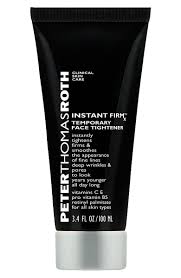 The product
The name of the product is from Peter Thomas Roth and is called the Instant firmx temporary face tightener. The product says that this can be used alone as a mask, with a moisturizer, or mixed in with a foundation. I thought this would be a fun tool to use just for a fresher look and to tighten skin. So I gave it a try. First I mixed it with several foundations and after testing each one applying it with my fingers, then a sponge, then a brush it was a total fail! It dried very quickly and patchy. The end result was not attractive at all and it did not tighten my skin.
This time I thought I would try it with several of my moisturizers. And each time I tried it I saw no results. The final test was using it as a mask. I applied to to my face as directed let it sit on for an hour and my face did get tight. It actually looked and felt like I had glue on my face. I went to rinse this off and was left with a very irritated looking face with a rash.
The final on this product is that it's a fail for me. If you'd like to see me test this out and see my skin close up you can watch this video on my channel. Make sure to subscribe I share new videos every single week.