HOW TO AVOID CREPEY EYES FOR MATURE WOMEN
If you've landed on this page you will see that I don't often share makeup tips. But that's about to change. This blog will have home decorating tips along with beauty tips for us mature women. I also have a Youtube channel that I share lots of beauty tips. I'll be sharing a video below with a step by step tutorial for this post. Today we're going to talk about under eye concealer and how to avoid  crepey eyes. I just turned 52 and the last thing I want is to look older than I am. Most concealers setting into my lines. I've tried many and I've also tried many different techniques. But the one that I'm going to share with you today has been a winner! I have no more settling in my fine lines aka wrinkles!(This post contains affiliate links. Please see disclosure policy)
FIRST THINGS FIRST
Let's talk about concealers first. If you have issues with concealers settling in your under eyes and causing crepey skin it may be the concealer you're using. Anything too thick or too thin settles into my lines making my skin look crepey. The one that's worked the best for me is from Lancome. And by the way this is not a sponsored post. Lancome doesn't even know I exist, how sad is that?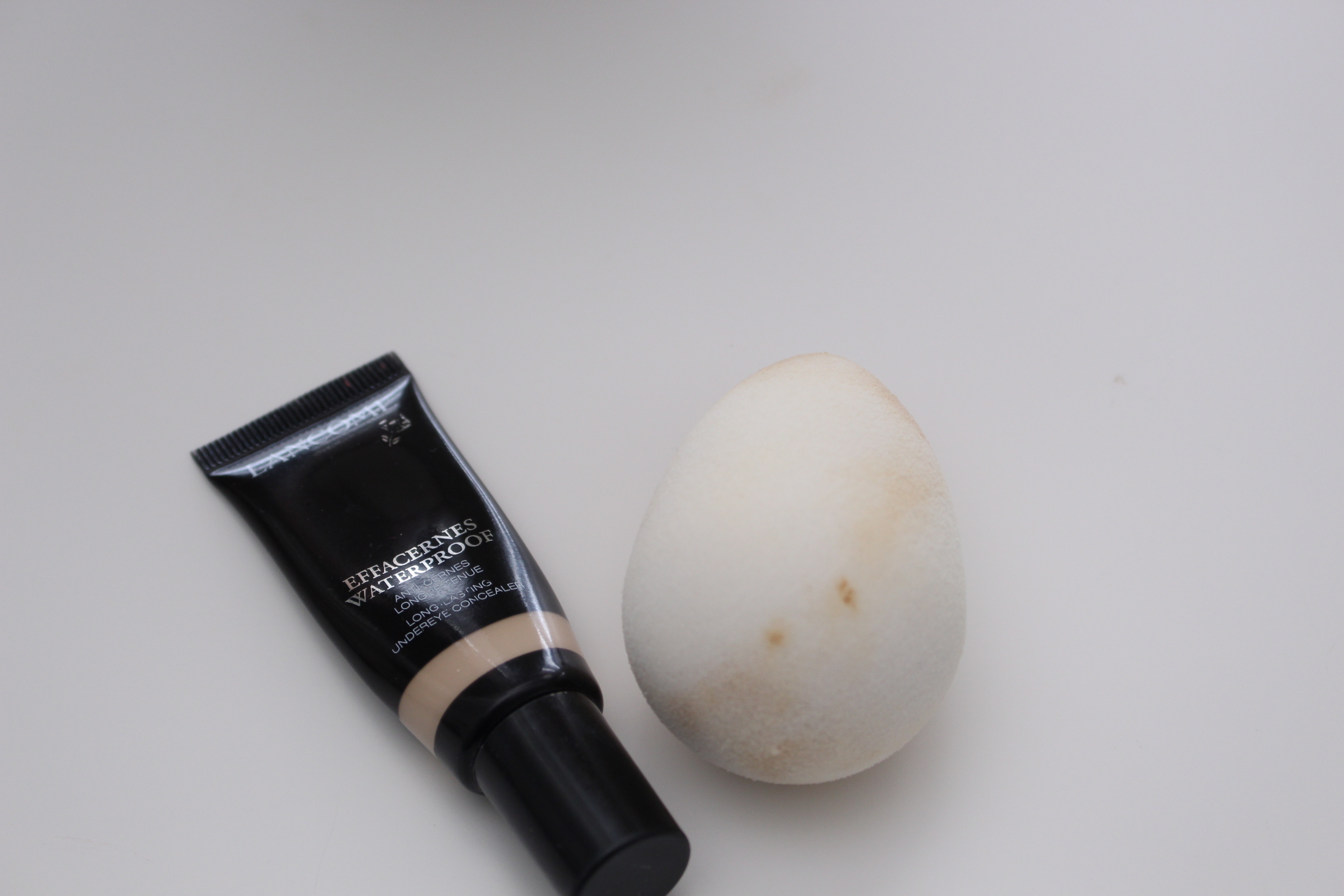 I have found that this concealer has the perfect consistency. It applies and blends beautifully. It's also waterproof which is fabulous! I haven't found a drug store option yet but I'll keep searching. This retails for $31.00. Before you panic at the price let me tell you that this little tube will last at least a year if not a little longer. You use very little.
Along with the Lancome concealer I use a beautyblender sponge. I know there are dupes out there but I haven't found one yet that works as good. But I will keep searching.
If your eyes seem dry before adding your concealer you can apply an undereye cream. I was never a believer in them. But since using retin-a my under eye skin is dry. I always apply my Bobbi Brown extra repair eye cream. I'm not going to lie this stuff is expensive. But a little goes a long, long way. And it's made a huge difference in my undereye skin. If you don't want to use this one just use one that works for you. I just wanted to share what I'm currently using.
THE TUTORIAL
Besides using the right concealer to avoid the dreaded crepey skin application is key.  You first want to use very little product. Putting too much on will make a huge mess under your eyes and it will settle. Sorry this photo is blurry but you can see how little you need of this concealer.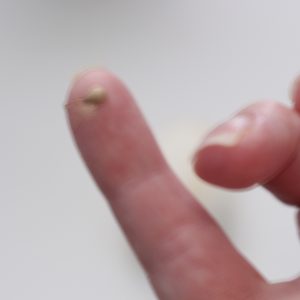 Here's the most important tip. Only apply the concealer where you really need it. Please don't follow the younger girls and apply it in a triangle shape or whatever. Just apply it to the dark circle on your eye. And by the way why do they call it a circle when it's really a crescent shape?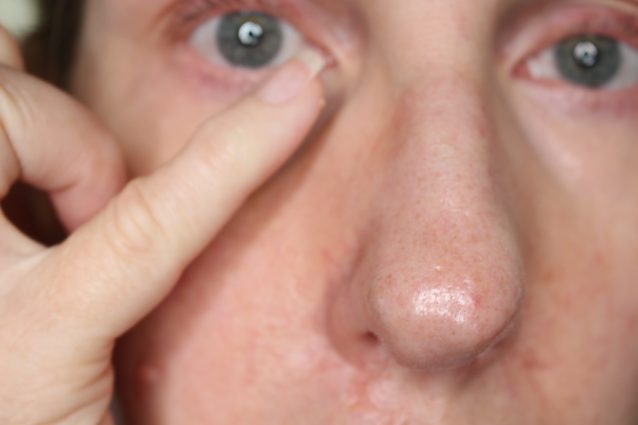 Then it's time to blend and just concentrate on blending it in where you applied it. If you have a little redness as I do on the outside corner of your eye you can blend a little on that area. But don't blend this concealer all over. It will only settle in those lines and we want to keep this right on the corner area where we want to conceal that purple.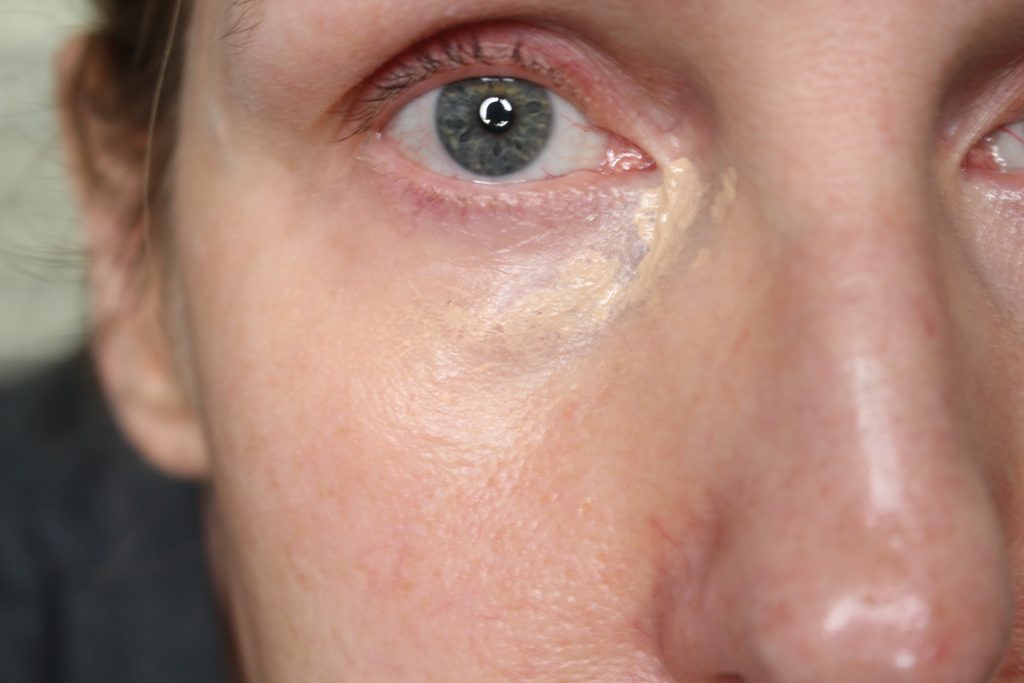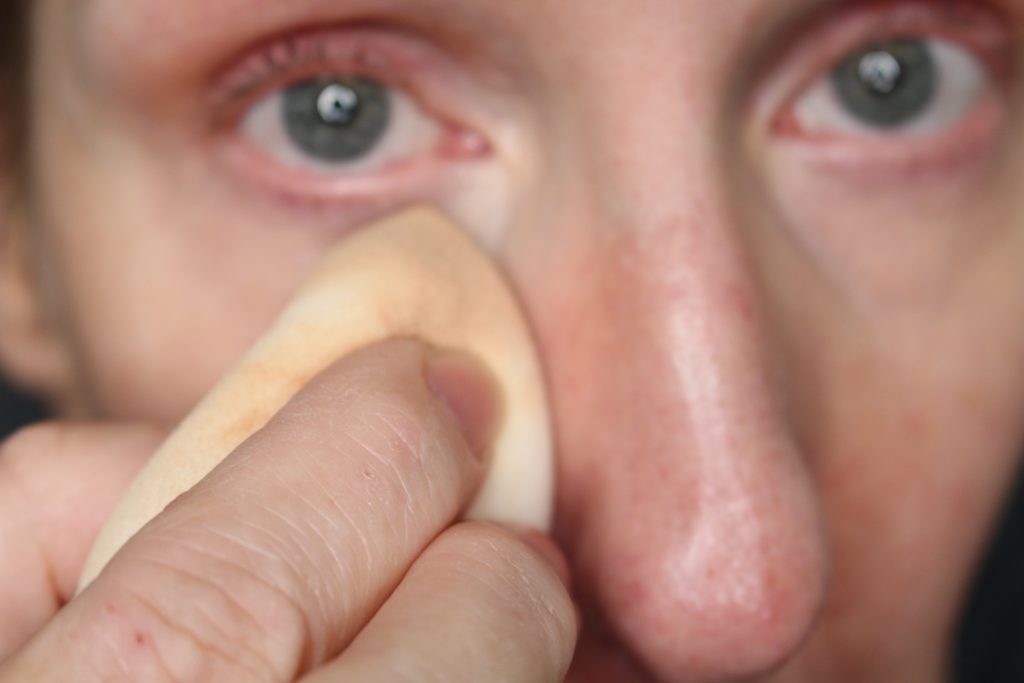 ONE MORE IMPORTANT TIP
Do not, I repeat do not powder under your eyes. If you have lines and wrinkles that powder is only going to settle into your lines. Instead if you're feeling like you look shiny under your eyes. Take a tissue and lightly blot it. That will take the shine down and keep your concealer on.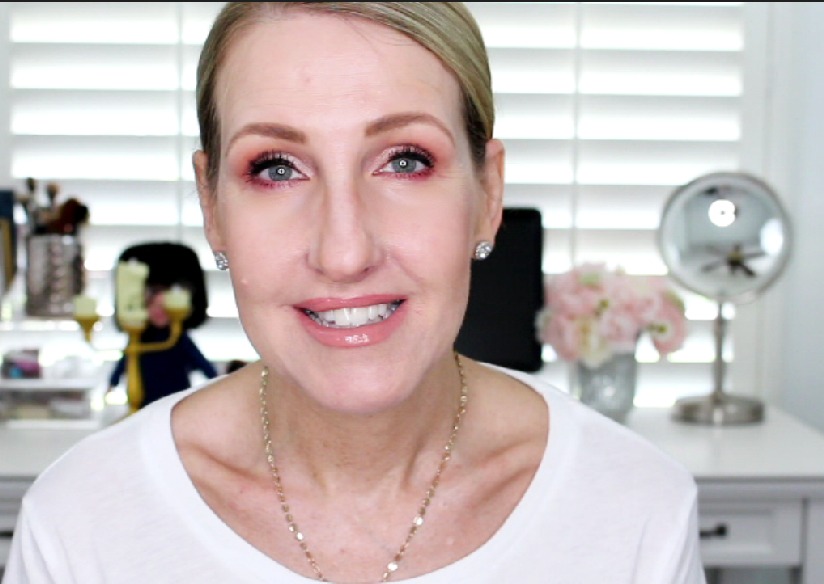 So here I am smiling and you can see that my wrinkles are no accentuated with my concealer. I really hope that this helps. I know how frustrating it is. I tried so many different concealers and techniques and this is the only concealer I use and the way I always apply my concealer.
The thing to remember about concealers is that some are great for concealing scars or flaws and some are perfect for under the eyes. As we age it's tricky to find the perfect one that works for us. Below is a video sharing more on how to do this. And you can follow along as I take you step by step in the process.
PRODUCTS MENTIONED
Bobbi Brown Extra Repair under eye cream