Rustic Farmhouse Style Christmas
My holiday home has gone rustic farmhouse style this year. Oh and I've teamed up with my blogging friends from Bhome to inspire you this season and we have a special giveaway so keep reading :-). Bhome is an app that you can download to your phone for free. It's a great way to keep up with all of your favorite blogs. My advice is to stay calm and don't stress out. This year I decided to scale way back on my holiday decor. Well, actually I've been scaling back on most of my decor seasonal or everyday. The older I get the less stuff I want in my home.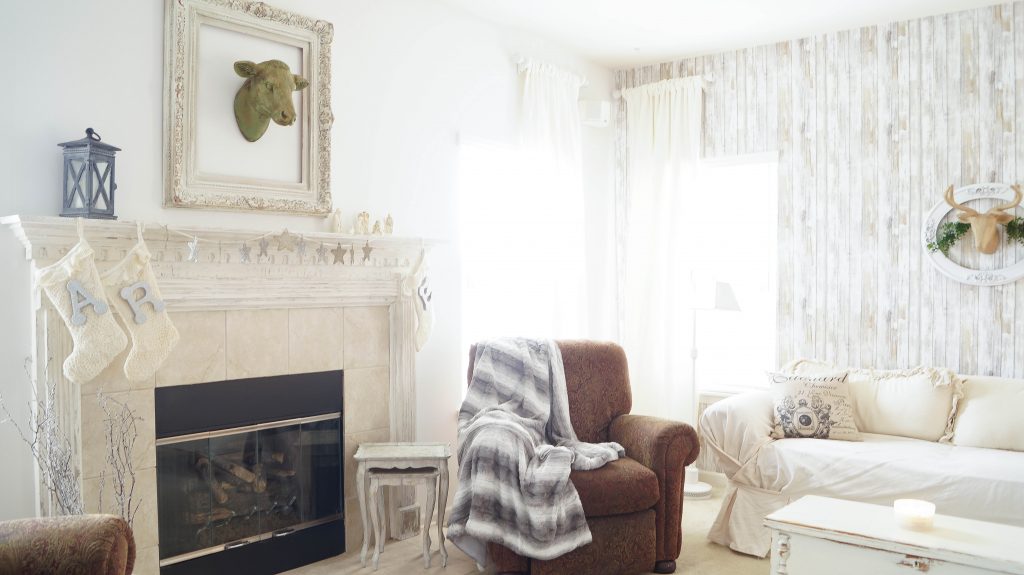 Last fall I purged most of my decor including some of my Christmas decor. I'm going for a simpler look. Please don't judge me on my ugly chairs. I'm going to be giving those a new update via slipcover. Well, I'm going to attempt to create slipcovers. I haven't used a sewing machine since my high school years. But I can't stand those chairs any longer and purchasing new chairs isn't in our budget.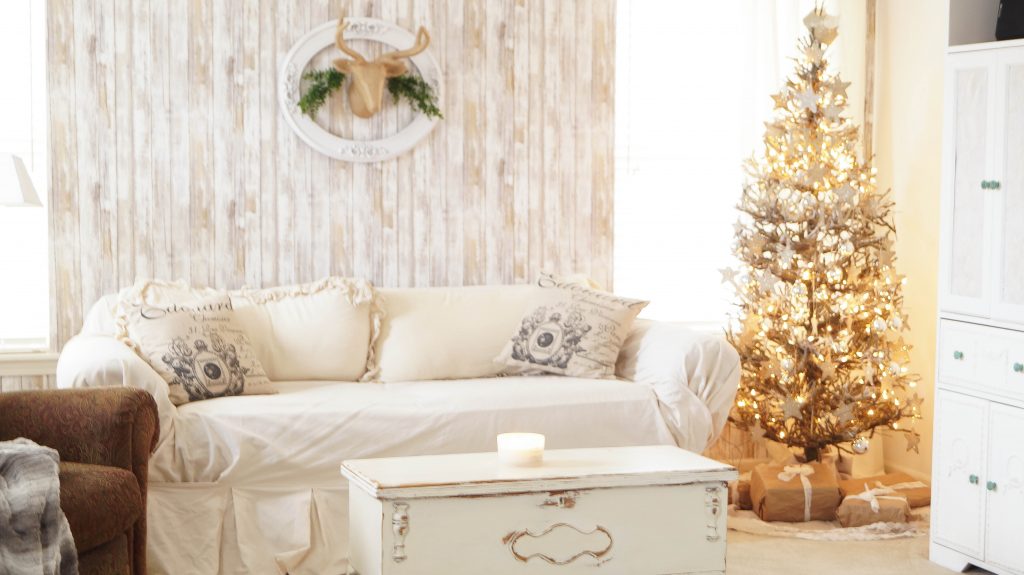 This is the first time in many years that I'm only putting up  one tree. I used to put up as many as five trees! We haven't hosted Christmas dinner in years. Mostly because my dining room is no longer a dining room. I transformed it into a craft studio. Honestly it's been nice having a break from hosting a dinner anyway. So why go crazy decorating just for the three of us?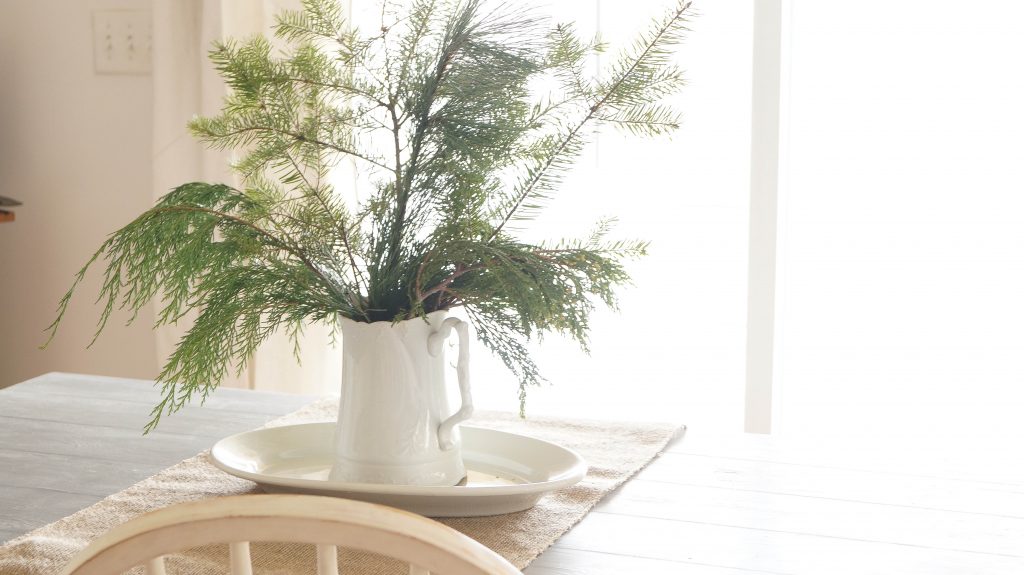 For the last 3 or 4 years I've been putting up a tree in our kitchen. But this year these greens are my only kitchen decor. Which I absolutely love. It's so nice to have things simpler this year.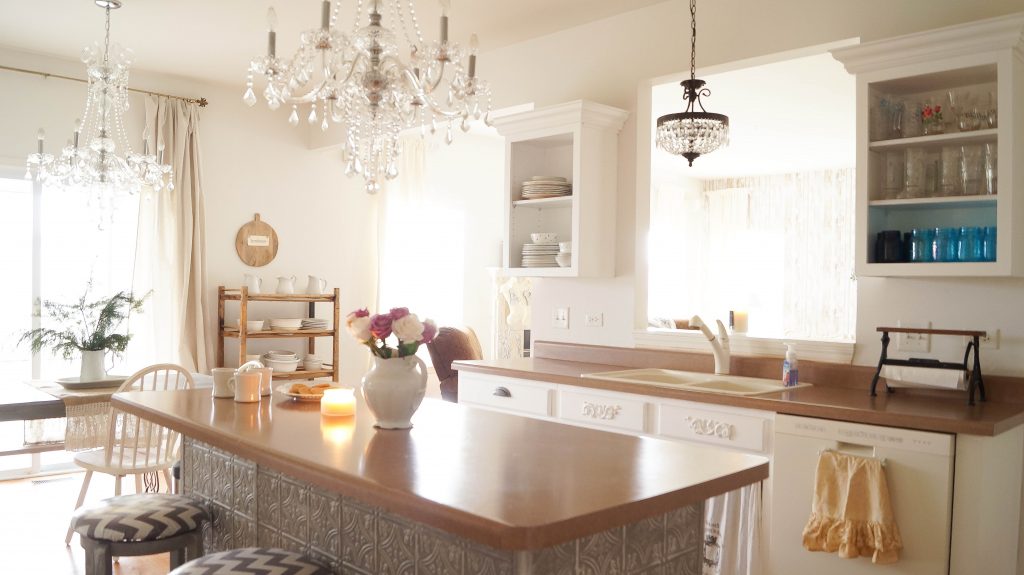 Since my family room and kitchen are connected it doesn't really feel like I've totally neglected my Christmas decor in my kitchen. Don't look too closely at my kitchen. I've been working on updating things. Next is my back splash.
On our mantel this year I didn't add fresh garland or a wreath. Instead I added my star garland I created a few years ago. These German glass glitter stars were easy to make.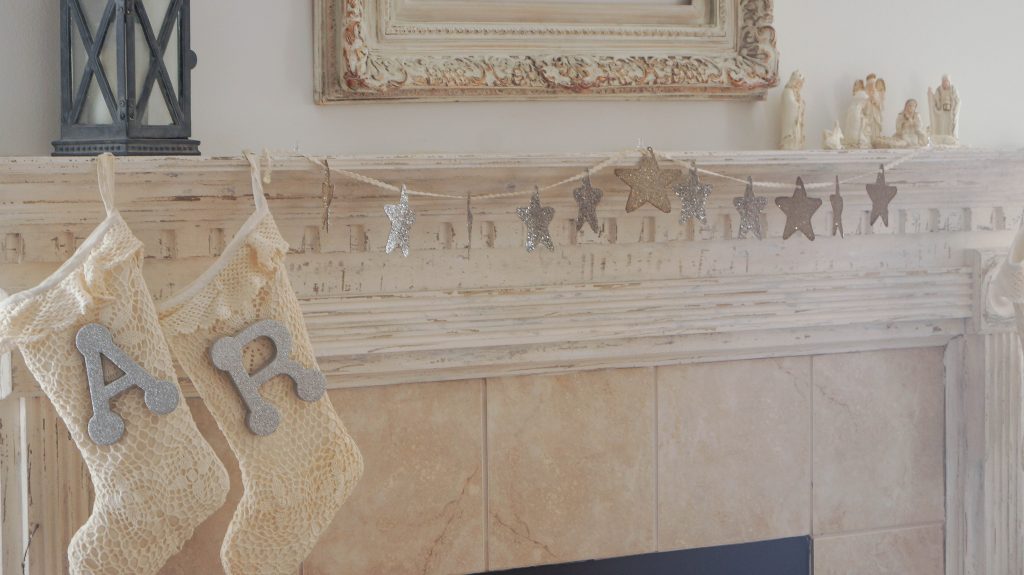 Last year I made a glitter garland and a crown using a similar method as the stars. These were fun to make and I've enjoyed them for several years now.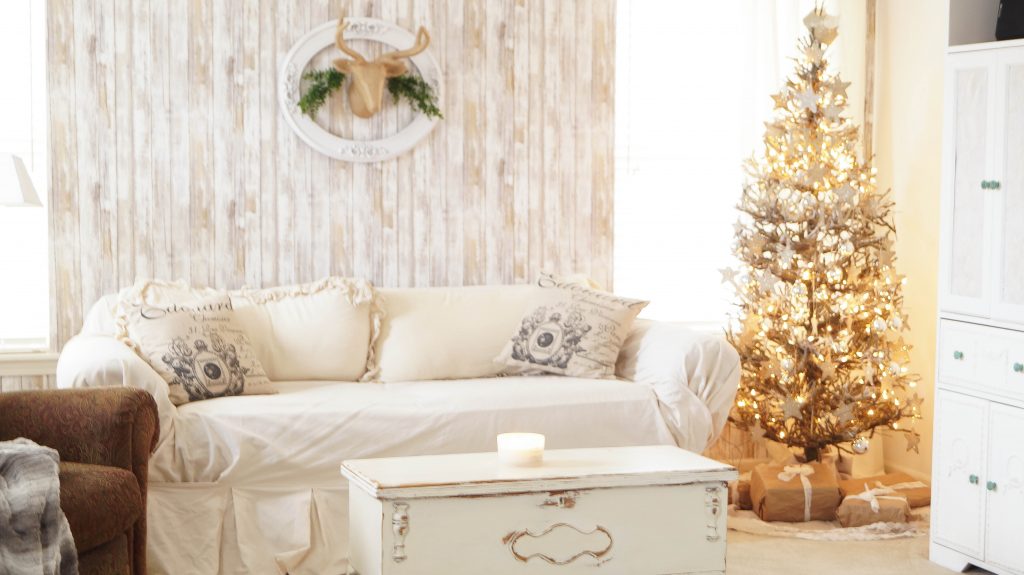 Make sure you visit all the other beautiful homes on this tour. Just click on the links below.
Here's a virtual tour of my home. Click on the video below to watch.

Save
Save
Save
Save
Save
GIVE AWAY:
~ Now to enter to win the $250 Git Card to Farmhouse Refined ~
Simply pop on to bHome and TAP the star for Farmhouse Refined you will be automatically entered.
You'll also get a message confirming you are entered. Even easier now – only one TAP to enter!
Don't have bHome yet? ( very naughty! ) Download it for free to your phone or ipad and then follow the simple step to enter.
Good Luck!
(USA residents only – winner randomly chosen on 12/9 and notified on app & email )
Enjoy bHome, enjoy the Tour and most of all enjoy the Holidays…
Friday
Starfish Cottage * Little Farmstead * So Much Better With Age Cedar Hill Farmhouse
Garden Therapy * Teaselwood Design * Shabby Art Boutique
SATURDAY:
Saturday
SUNDAY:
Sunday
Confessions of a Serial DIY'er