Window Treatment Ideas
Window treatment ideas that won't break the bank. Yeah, window treatments can be extremely expensive. And you all know that I'm cheap, frugal, whichever word you'd like to use. Bottom line is I love saving money. And I'm betting that you do too! There are somethings I spend a little more money on, like my skincare, and my makeup. Yeah, getting older will do that to you. Gone are my days of using anything on my skin. But when it comes to decorating  my home I know that I don't need lots of money to decorate my home. And neither do you.
Since I like changing things around often in my home, I really don't like spending a ton of money on a window treatment, or the hardware used to hang them. Here are a few of my favorite window treatment ideas.
( This post contains affiliate links, please see disclosure policy)
Turning a sheet into a window treatment
Okay, so you're probably thinking how do you turn a sheet into a window treatment. Well, I'm hear to tell you it's very simple and no sewing is involved!
As I was strolling through the resale shop, I came across a beautiful vintage sheet. As soon as I spotted it I thought of Rachel Ashwell and Shabby Chic! My kitchen curtains are actually a king size sheet that I transformed into curtains.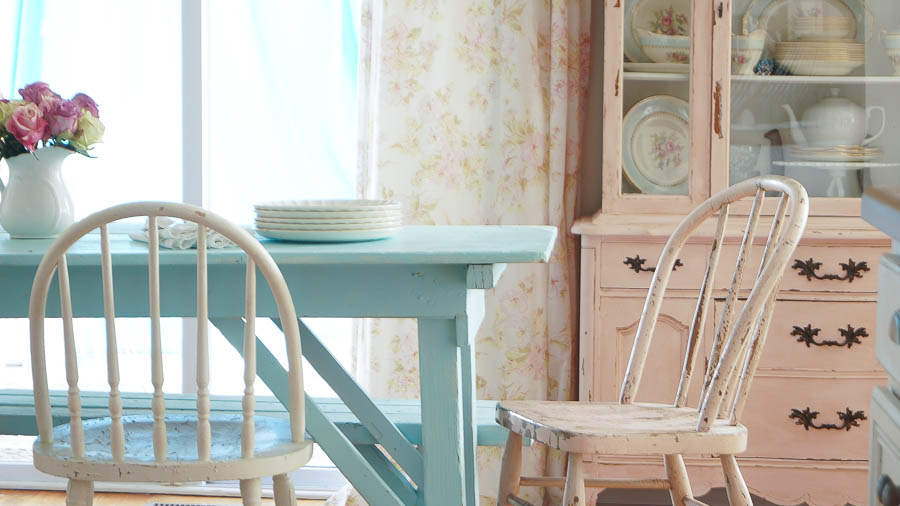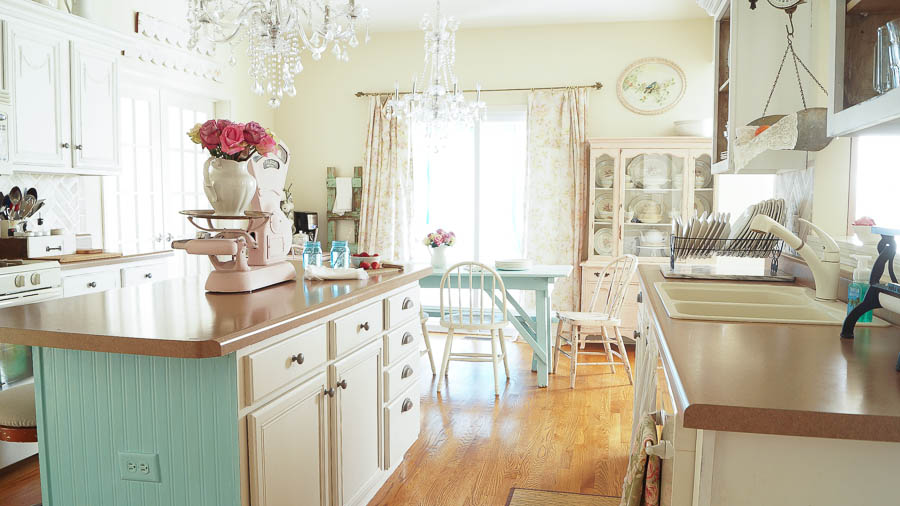 This was super easy to do, you can read the tutorial HERE.
I fell for the soft muted color on this sheet. It was in wonderful condition when I purchased it. And it was super cheap. I think it was $4.00 for the sheet. Hello…. where can you purchase a long curtain for $4.00? You can't! Well, maybe you can if you search the resale shops. But in general they're hard to find. I actually have these hung higher now, this photo was from a year ago.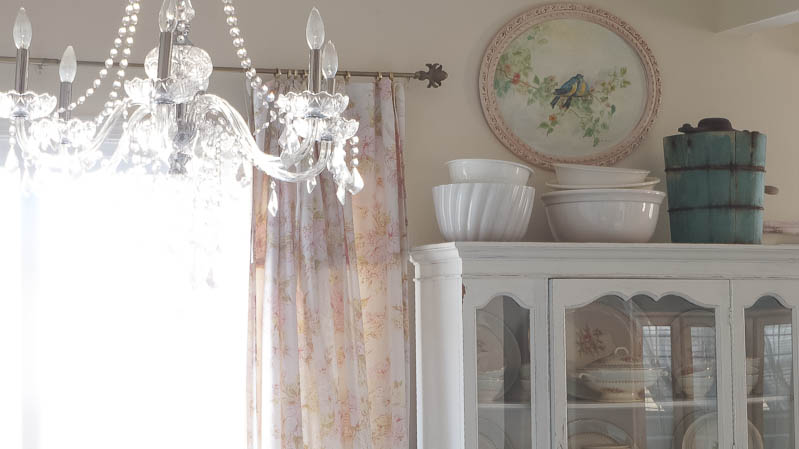 How To Make A Curtain Rod
My windows in my family room are a bit of a challenge. I have four windows in our family room. Two windows anchor our fireplace, the the other two windows fall on each side of our sofa. We also have 9ft ceilings.
I've hung my curtains several ways since living here but this has worked out the best.  I decided that because of my furniture placement and our fireplace, I needed to hang a curtain just at the edge of the windows, and not over the entire window.
But to do this I needed a shorter curtain rod, which I couldn't find. So, I decided to make one myself. I thought I wrote a post about this, but for the life of me I can't find it. So here's the short version. I searched for rods that were the right thickness for my curtain rod pocket. I measured my window, then cut the wood rod to half the length of my window. Once I was done cutting the rod using a hand saw, I drilled holes on each end of the rod so I could reuse the finials that I had on the previous rod. Then I painted them white. The wood curtain brackets were purchased on etsy. This is similar to the brackets I purchased, and a very good price too! BRACKET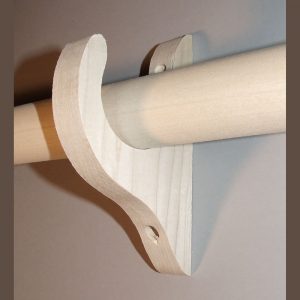 But if you're handy with a saw you can make your own.
My curtain rod is about half the size of my window. And I also hung this up higher on my wall, which makes this room look and feel a bigger. I think the cost to make these each were 7.00 since I had the finial already. And the rods and brackets were pretty cheap.
You can read more about these curtains HERE.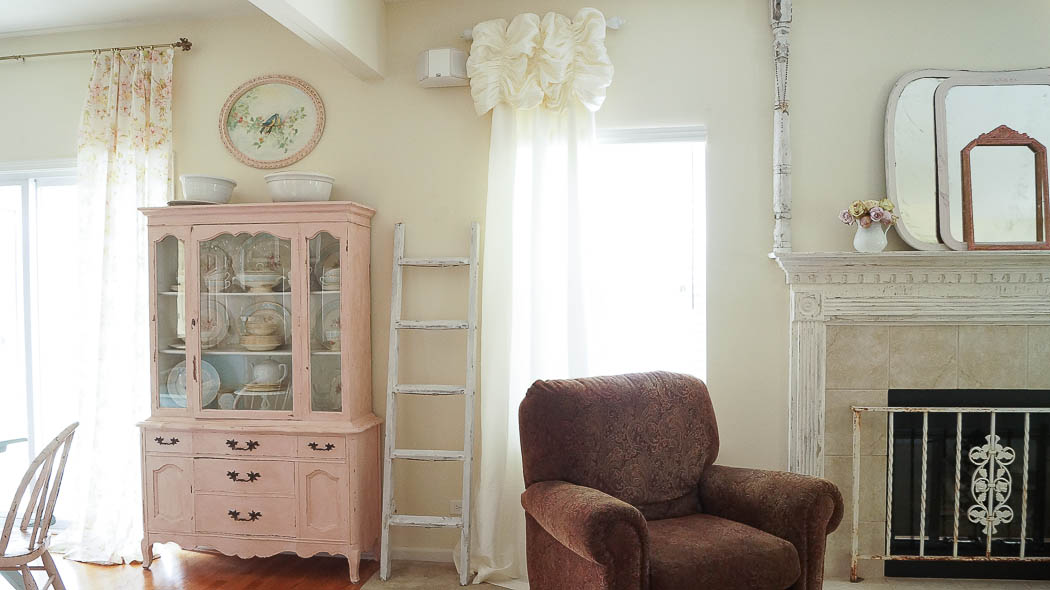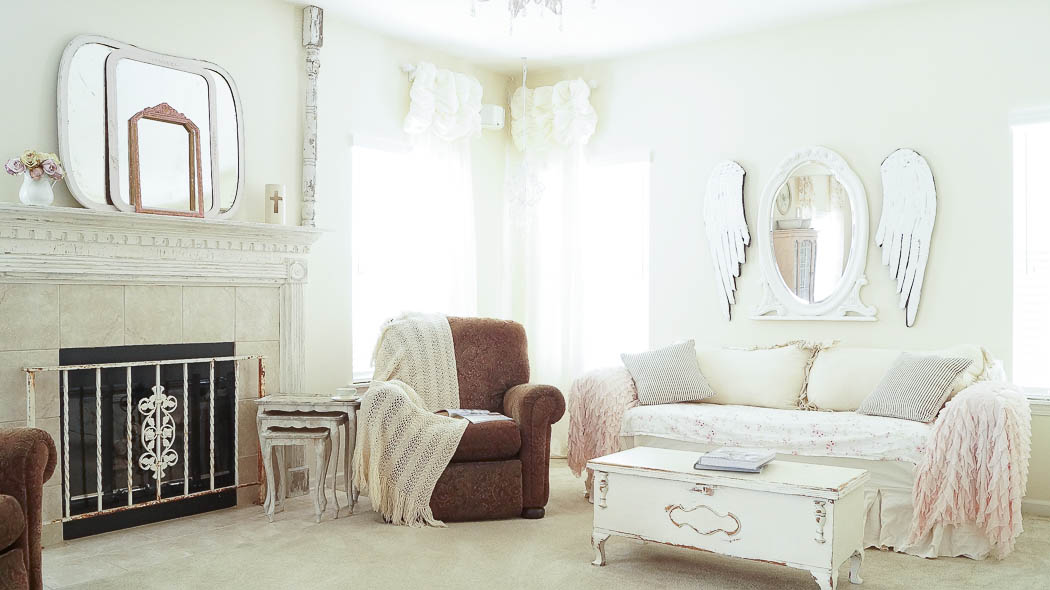 Where To Buy Cheap Curtains
If your searching for window treatments and your on a super tight budget, start searching at resale shops, and yard/garage sales.
I found these curtains from a resale shop for $5.00 a panel. I only found enough to add on panel to each window. So I hung them in the center of my window then tied them at the bottom using a little lace.
I see curtains all of the time at resale shops, and they're always super duper cheap! Here's what you need to make sure you always have with you before you go out searching at resale shops, yard or garage sales for curtains.
Make sure you measure you windows that you need window treatments for. Bring a tape measure with you, because these curtains rarely have the measurements marked on them. And take a photo of your room with your phone so you can visually see your room while looking at the curtain.  This makes it easier if you visualize what these will look like in your room. Most resale shops don't allow returns.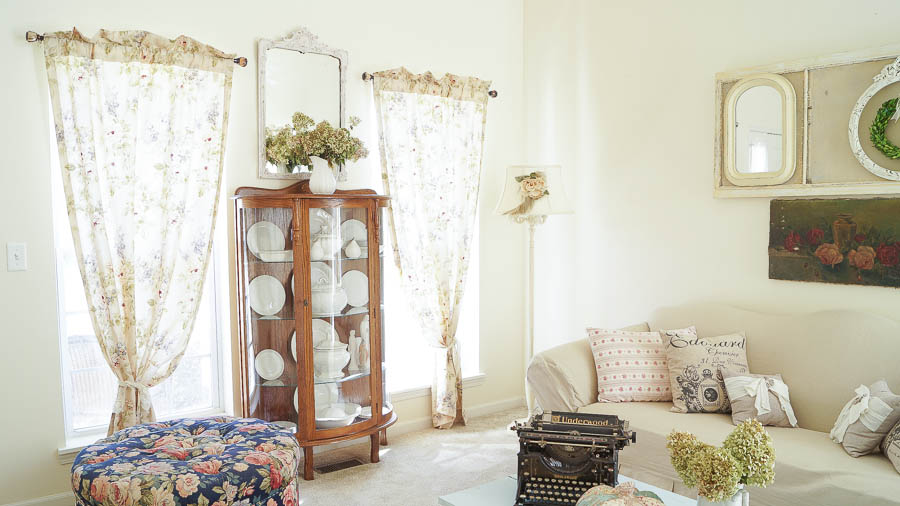 Easy No Sew Valance
Here's a simple way to add window treatments that are again no sew. I was updating my daughter's bedroom and found curtain valances that were the perfect color and size in width but not the length. This was super easy to fix, and cheap too! You can read more about this HERE.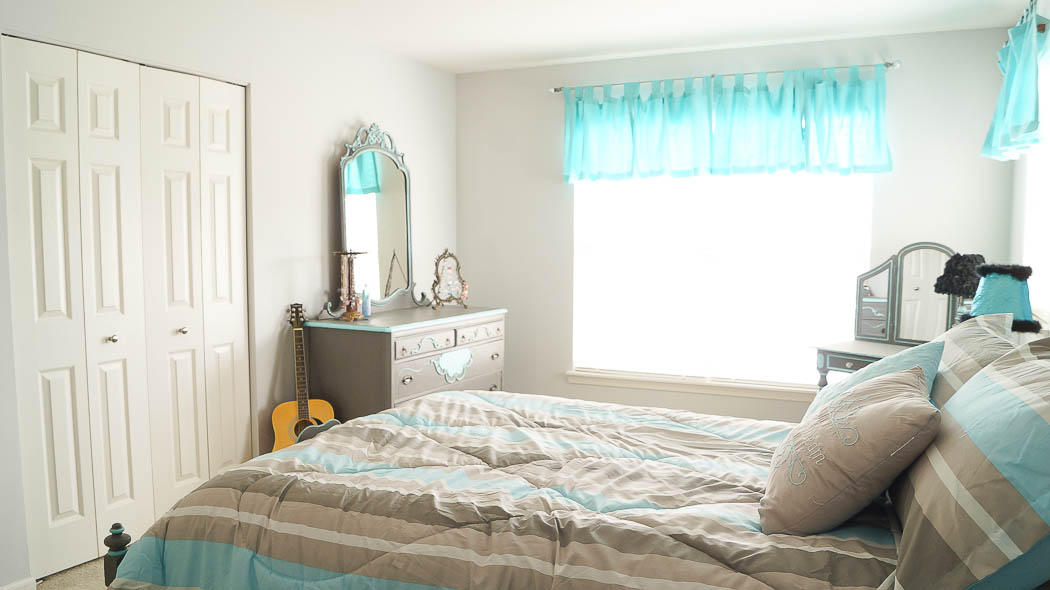 A Few More Ideas
Here are a few more ideas for cheap window treatments.
Shower curtains. I've seen beautiful shower curtains that would make a great window treatment if you just needed one window treatment. To hem them use my tutorial that I shared for no sew curtains HERE.
Love using these Clip Rings for hanging light weight curtains.
A window valance doesn't have to me made of fabric. Here's a window valance I used in my husbands office. It's an old metal dormer vent. I added fabric panels using painters tarp. No sewing was involved. I just cut the fabric in half, then using velcro, I attached the panels to the back of this vent.
Add a pair of  curtains to a sink. Again this was a no sew project.
Hope that these window treatment ideas have inspired you too look beyond running to the store to purchase curtains, or rods. There are many ways and places to find window treatments. As always I'm adding a shopping guide to the bottom of this page to make it easier for you if you decide to purchase anything that I shared.
Shopping Guide