Painting Kitchen Cabinets
Painting kitchen cabinets is a great way to update a kitchen. Even if your kitchen cabinets are really old and outdated, painting kitchen cabinets will bring new life to your kitchen.
Most people think of white cabinets when they think about painting kitchen cabinets, but your cabinets don't need to be painted white. I chose white because of the style of my home, but you can choose any color that you'd like.
Since I receive this question the most, I thought today I  would talk about the two ways of painting kitchen cabinets. Both take just as much work in my opinion, although I didn't realize it when I first decided to paint my cabinets.
(This post contains affiliate links, see disclosure policy)
Chalk painted cabinets
Chalk painted cabinets are the big thing in painting kitchen cabinets. The great thing about chalk paint is that you can easily distress your cabinets. So, if you looking to add a aged and chippy patina to your kitchen cabinets, then chalk paint is the answer.
(White Lace from Heirloom Traditions Paint)
(Use code WHITELACE to receive 10% off your order)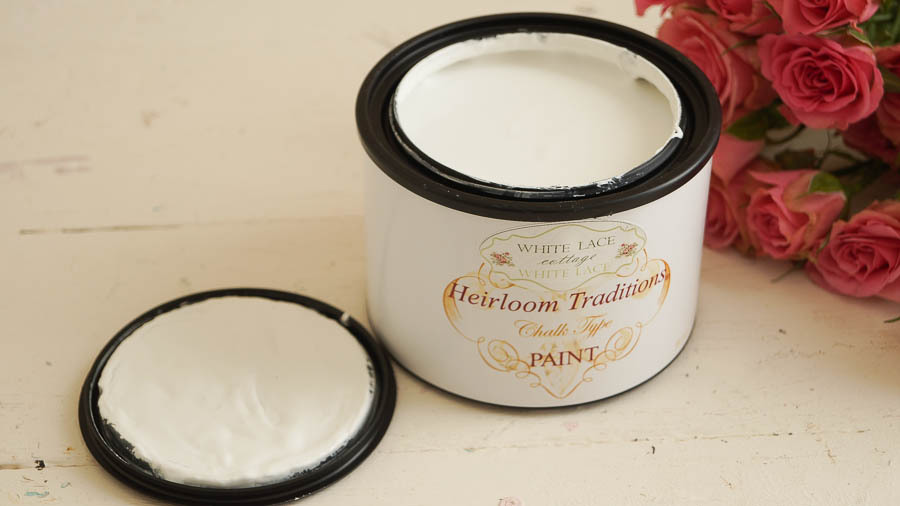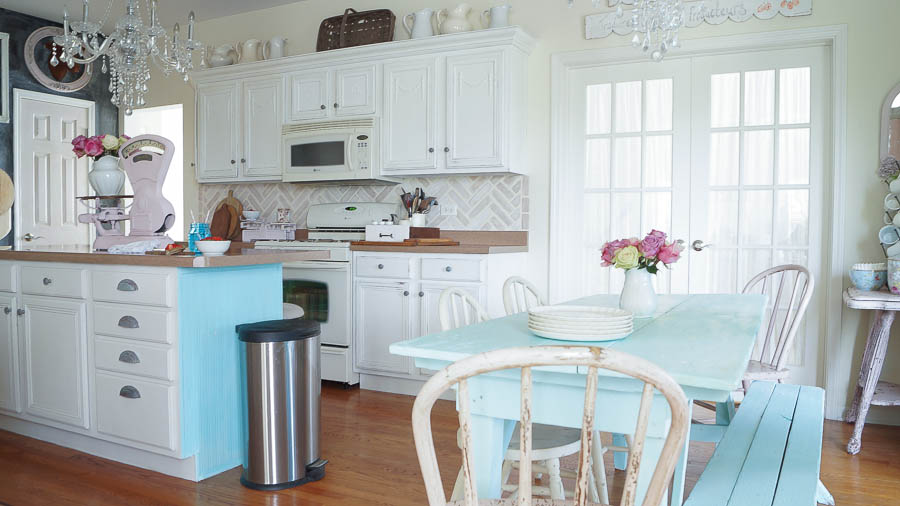 If you're going to apply chalk paint you'll need to make sure you clean your surface well. Meaning if there's grease or wax on your cabinets, they must be cleaned off before painting. But, with chalk paint you don't have to apply a primer or sand before painting. That's the great thing about chalk paint.
You will need to either wax your kitchen cabinets or use a clear coat sealer. I waxed my kitchen cabinets because I really like that hand buffed look. But, it is a little more work, especially if you have lots of cabinets, so keep that in mind.
If you're looking for a perfectly smooth look on your cabinets, without distressing or brush strokes than chalk paint is not for you.
Latex Paint/Primer method
This method does take a little more prep and work. But as I said, if you're not into brush stokes on your cabinets and you don't want a shabby or distressed look, than this method is for you. I would use a semi-gloss or gloss latex paint.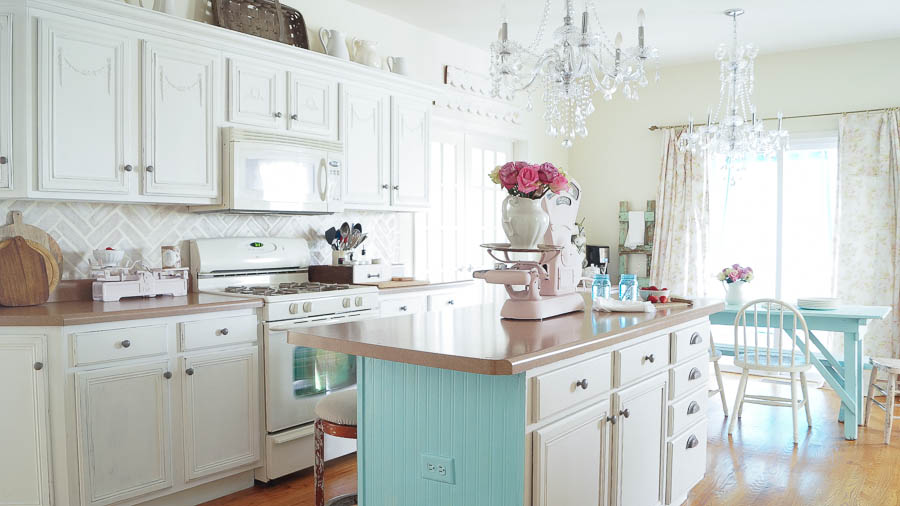 Before painting your cabinets using chalk or latex paint, make sure that prep well and clean your cabinets off. Don't skip this step, it's super important if you want your primer and paint to adhere. You'll also need to sand your cabinets, then clean off all that debris.
This is a great product for prepping your cabinets, make sure you fully read the directions before using Lift Off.

Next take your cabinet doors off, and label them. I'm going to admit, I did not take my kitchen doors off, and I didn't paint the inside of my doors. But I used chalk paint and it wasn't an issue for me. If I had been using latex, I would have taken my door off.
Once your cabinets have been cleaned and sanded, taken off and labeled, you're ready to add your primer. You'll need at least two coats of primer, letting it dry in between. Again, make sure the primer is fulled dried before going on to the next step. I've been told for better results that you must sand in between each coat of primer.
This primer Zinsser states that no sanding is required, I've used this brand myself and haven't had issues, so use your own discretion.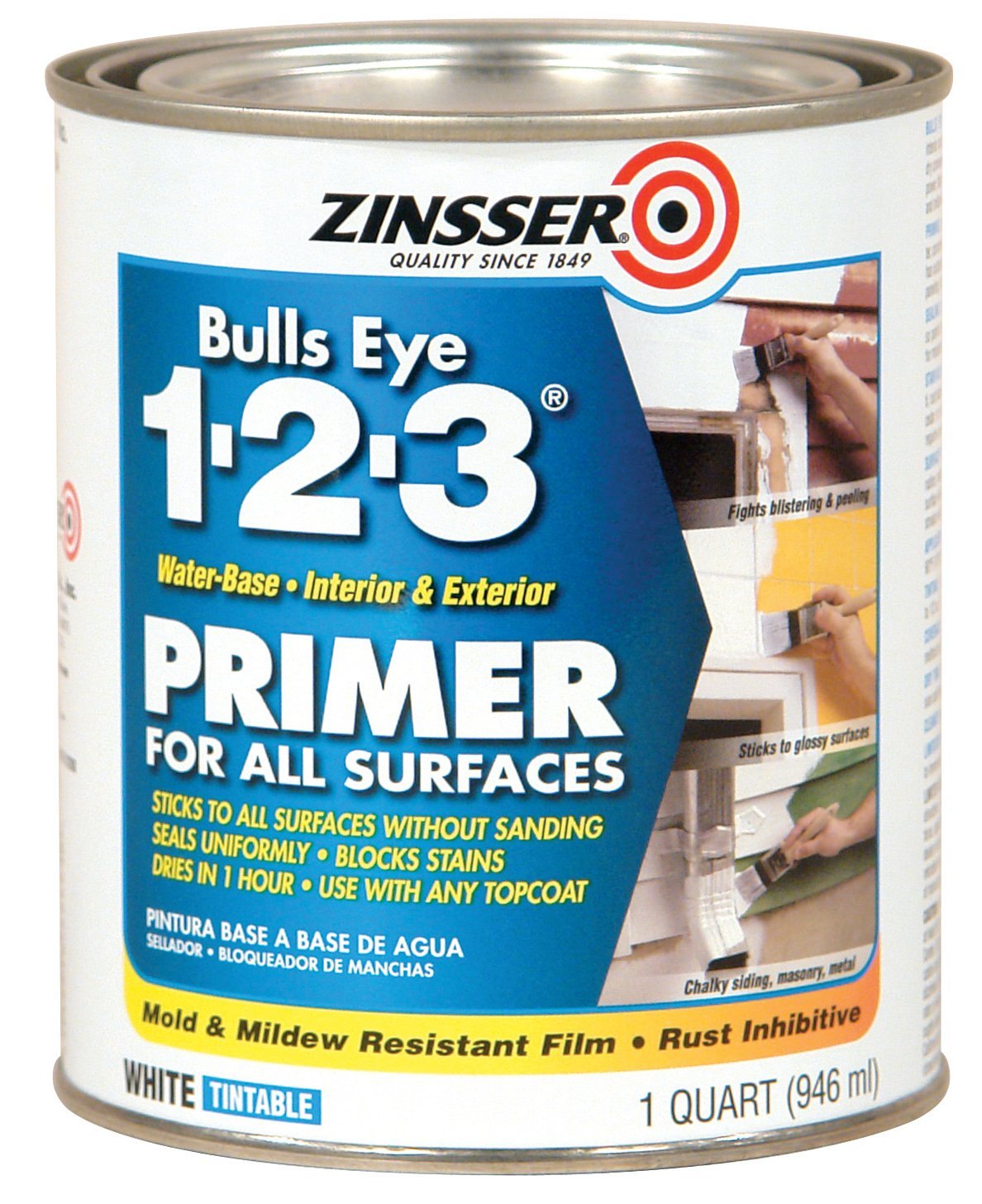 Next, you're ready to paint your cabinets, again after each coat is completely dry. If you don't allow the paint to fully dry in between each coat it will result in sticky cabinets. Since you primed first, this should only take two coats of paint.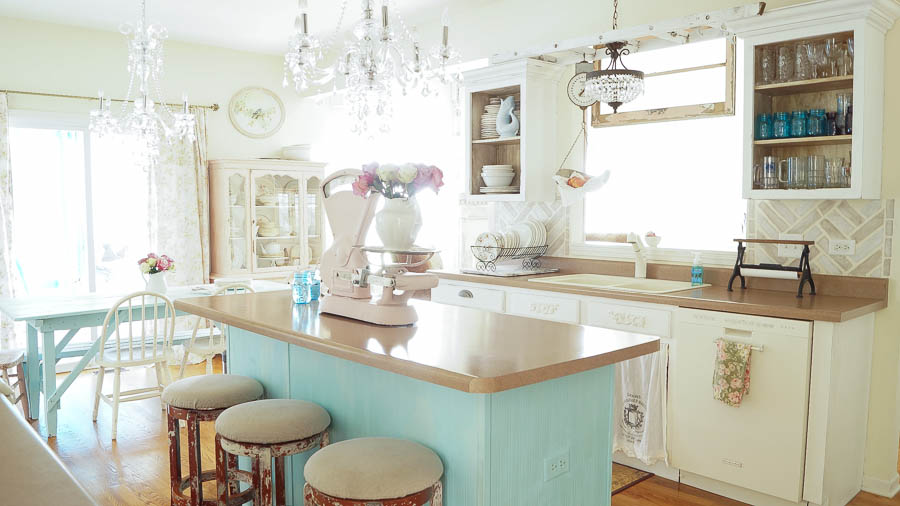 With either method you can also use a sprayer, which would eliminate any brush strokes. But it will be messy when you think of using a sprayer in your home. I'm not sure that I would personally do that, but you can if you choose. Just use common sense and caution. Cover up all areas that you don't want painted.
They recommend using a foam roller. I've used this method on my dining room table, and it's not smooth, it has a slight texture from the foam roller.
This product Flood is supposed to eliminate brush strokes, and gives you a bit more time to work with the paint before it dries. I haven't used this myself. But I know friends that have and swear that this really works.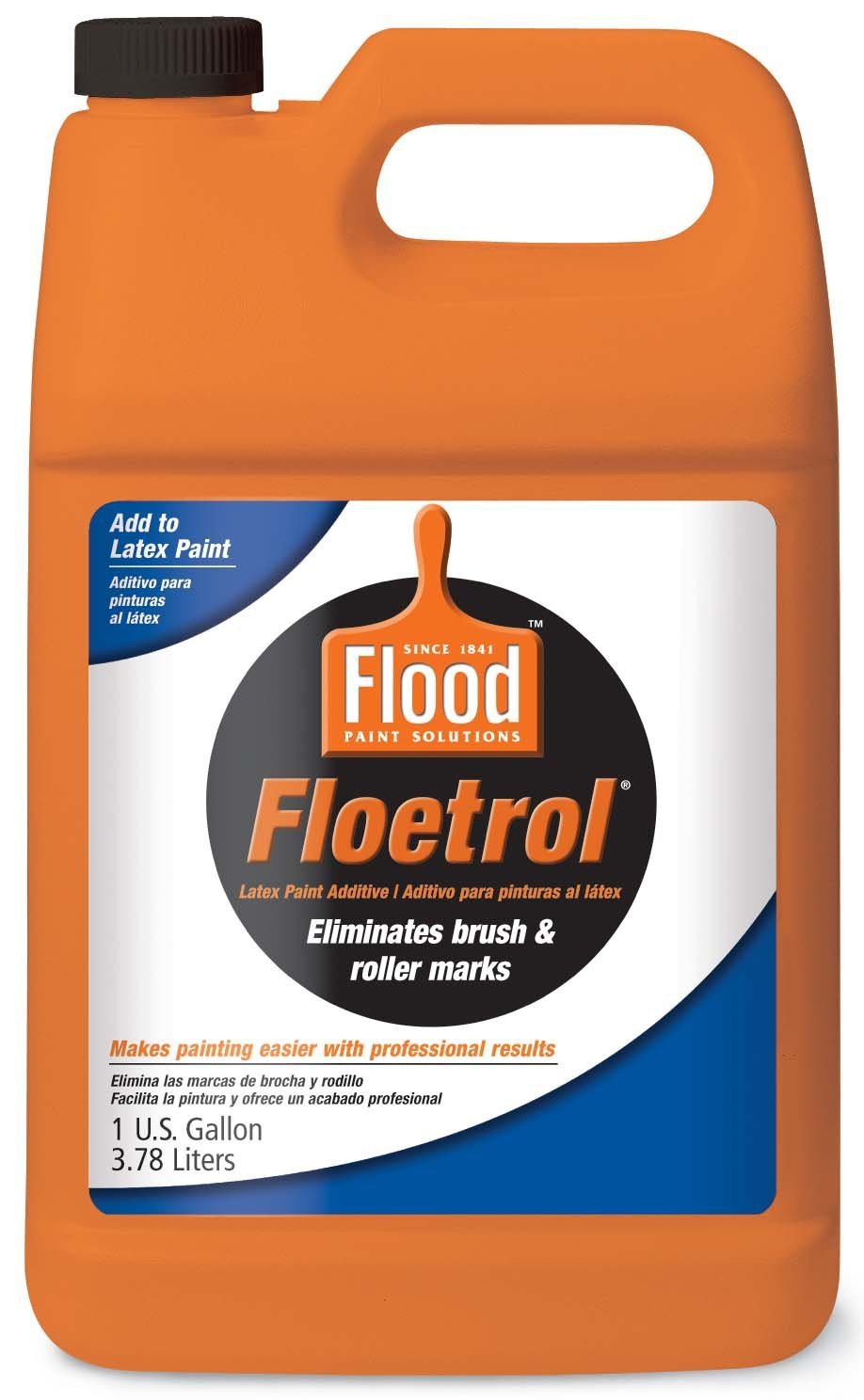 Either way, painting cabinets is a big job. Believe me I learned this when I painted mine using chalk type paint. But, even though it was a ton of work, I absolutely love my cabinets, and I would do it all over again.
So, how are my white cabinets holding up? Well, I do cook in my kitchen, and yes I do get splatters sometimes. But they wipe up well.
If you're thinking of painting kitchen cabinets keep these tips in mind.
Decide whether you want a distressed look or a smoother look
Choose a color that fits your lifestyle and home design
Remember that when painting kitchen cabinets there is no real easy way.
I've got lots of projects to share soon, can't wait to share!  But, it's summer break, so I'm moving at a snails pace.