Last week I shared my Grunge plant holder that I created.
Before shooting photos for that project, I decided to add a few flowering plants to make it look prettier.
These plants were going to be for photo purposes only, as I'm planning on selling this at my Vintage sale.
Yeah, I was going to keep it, but I've decided to let it go with lot's of my personal collection.
Anyway, while my daughter and I were out running errands, shopping thrift stores, I decided to stop by a local nursery to see what they had as far as flowers.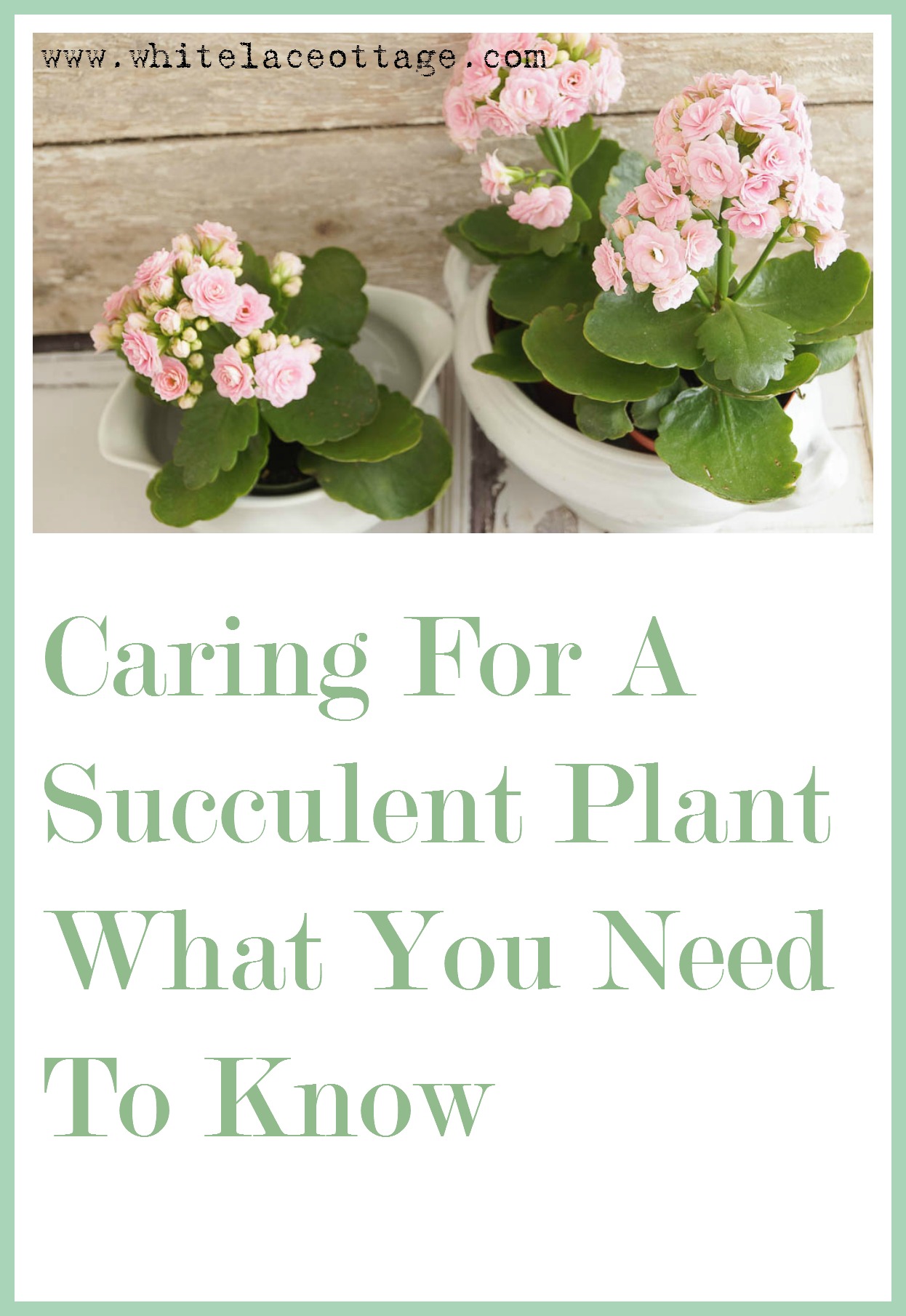 It's too early to think about outdoor flowers yet, but I was hoping to find something in there greenhouse.
As we were walking in the greenhouse I stumbled onto these beauties.
They're a succulent, the variety is called a double Kalanchoe.
The name Kalanchoe is Chinese word, It sounded like an Indian name.
This special variety was discovered in 1980 by Danish and Dutch growers.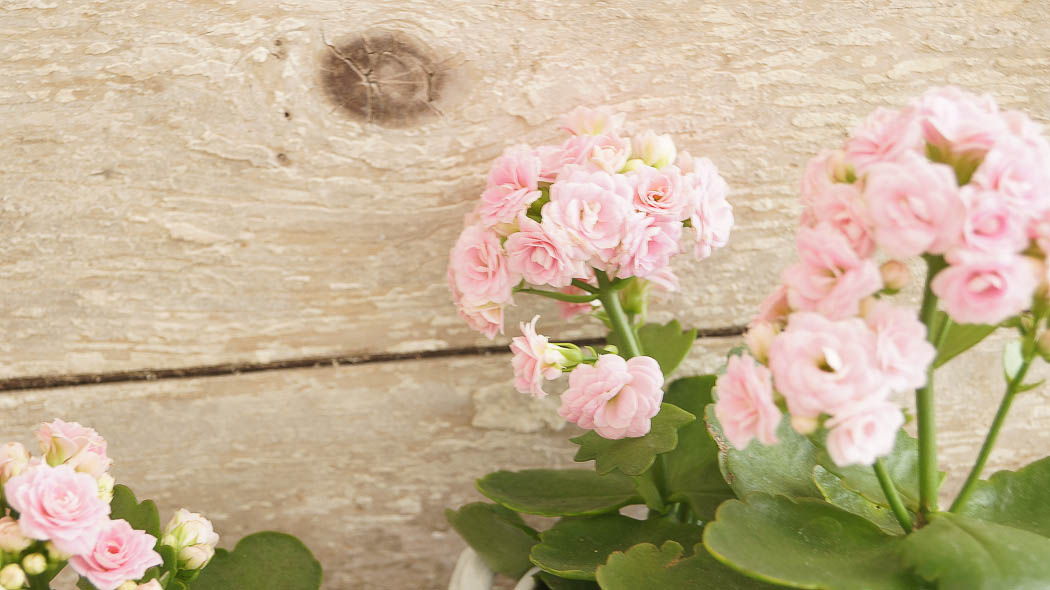 Well, you know what caught my eye didn't you,  they look like a petite rose and they're pink!
I asked the horticulturalist for advice on how to care for this.
She told me that this can be kept indoors or outdoors.
In our area of the country this would survive a winter, but could be placed outside in a planter for the summer months.
She told me that these succulent plants  should only be watered once every 5 days.
Then she told me that when I'm watering this plant, I need to water it until the starts draining out of the bottom of the planter.
This plant needs good drainage, and she suggested planting each them in clay pots, as you can see I still need to do that, and will be replanting them this week.
For now I've kept them tucked inside of these white ironstone containers.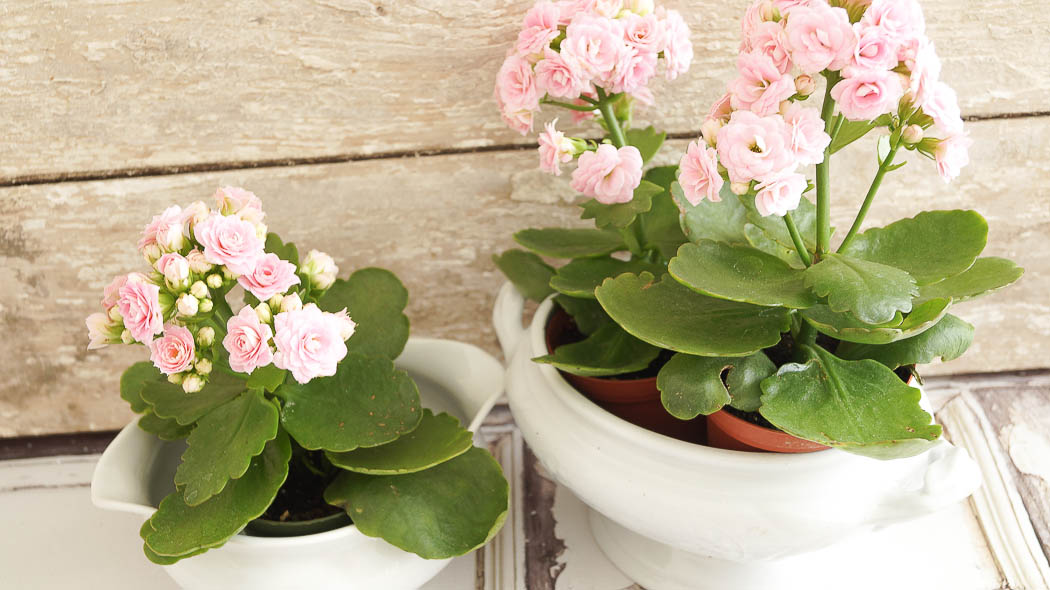 She added that I need to place pebbles at the bottom of the planter then use light soil for better drainage, this also helps the roots.
She warned me about how important drainage is, if this plant sits in water it will die.
But, she also said that I could keep each one in a small clay container.
If you plant this in a larger container the leaves will get larger.
This plant will need to be replanted each spring, which scares me a bit, hope I don't kill it.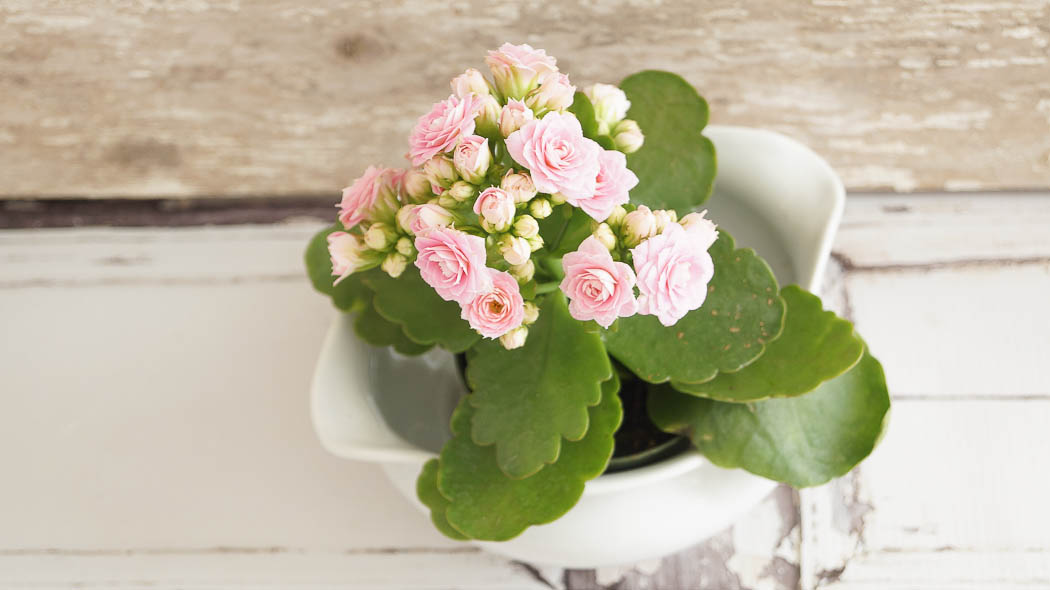 She warned me about how important drainage is, if this plant sits in water it will die.
Let's hope I don't kill this, I'm not the best at indoor plants.
Kalanchoe can be placed outside (only during summer months here), but they are sensitive to the cold, wow, sounds like me 😉
If you do keep this indoors, make sure that you keep it away from any drafts.
The perfect temperature for this plant is between 60-85.
This plant needs lots of natural light to grow, but she also said not direct sunlight, especially in the summer.
Which can be a bit confusing, because it does need light, but not direct light.
Too much sun the leaves will burn, not enough light, the outer part of the leaves will turn a brownish color.
Here's the interesting part, the less light this plant receives, the more it will bloom.
The more light this plant receives , the less it blooms.
So, you know what I'll be doing, since I fell for the blooms on this.
Once the flowers start to die off, cut them back, and water less, this will re-flower.
Do you like succulents?
What indoor plants to you have in your home?
Please share, I'd love to know.