Adding Fall Decorations To Your Home
You don't have to break the bank adding fall decorations to your home. And you will see that most of my fall decorations are from the great outdoors, and not from a craft store. I have nothing against craft stores, but if you're on a tight budget it can be expensive.
When it comes to decorating for the holidays I keep it pretty simple. I don 't like clutter everywhere. My fall decorations will be kept out until the end of November. So I don't like putting Halloween decor up. And in my home we're out of that phase now that my daughter is grown. Thank goodness, because I was tired of that look too!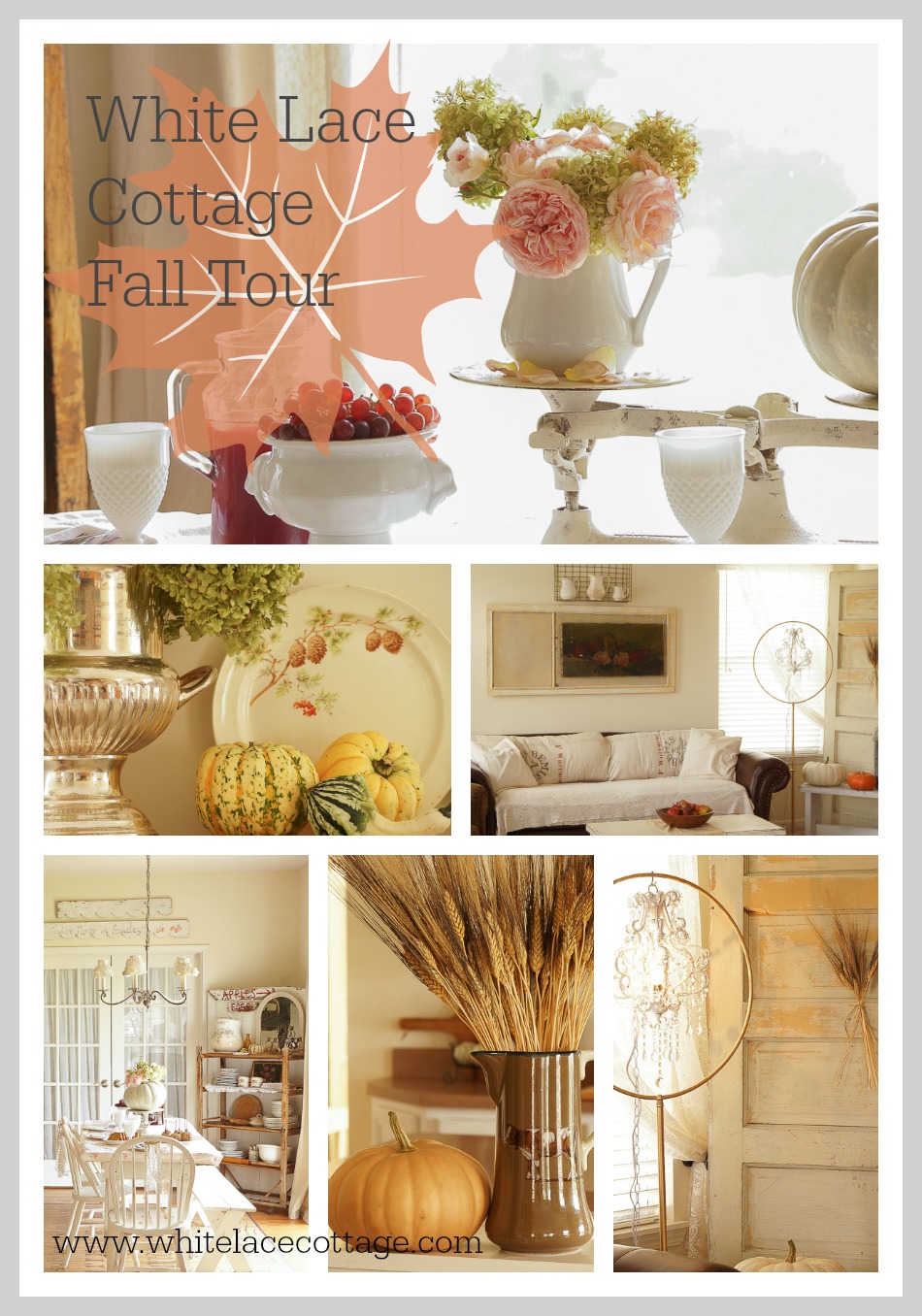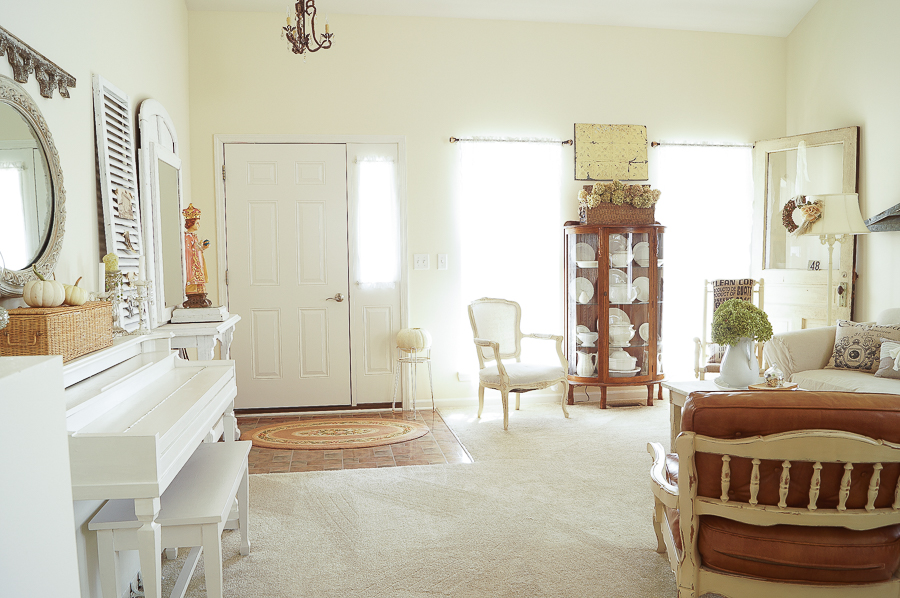 As you can see I am keeping it pretty simple. I love using real pumpkins and heirloom varieties are my favorite! Simple little vignettes around my home. I don't like moving things or changing things around for the seasons.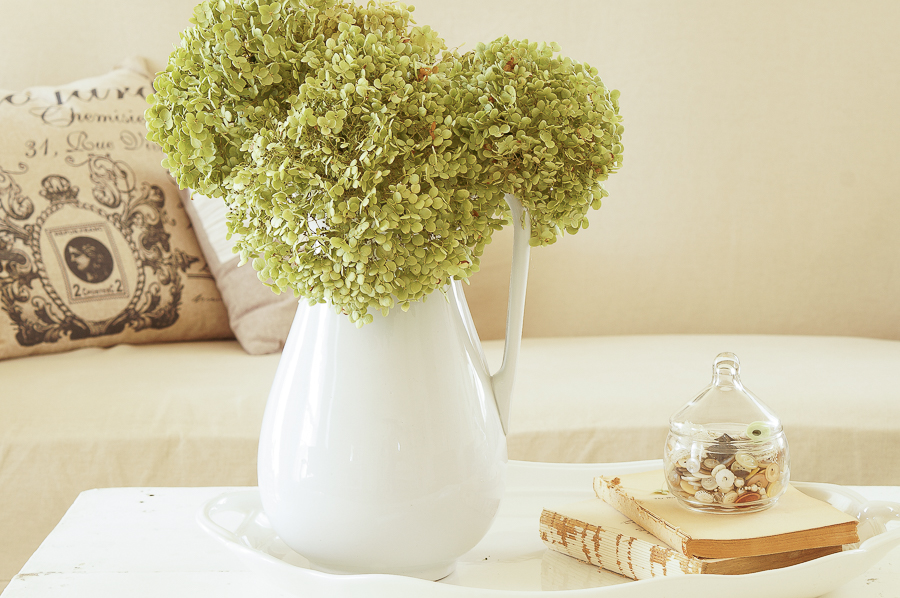 A bunch of dried hydrangeas in my white ironstone pitcher looks great for any season. This is a beautiful punch of color for this room.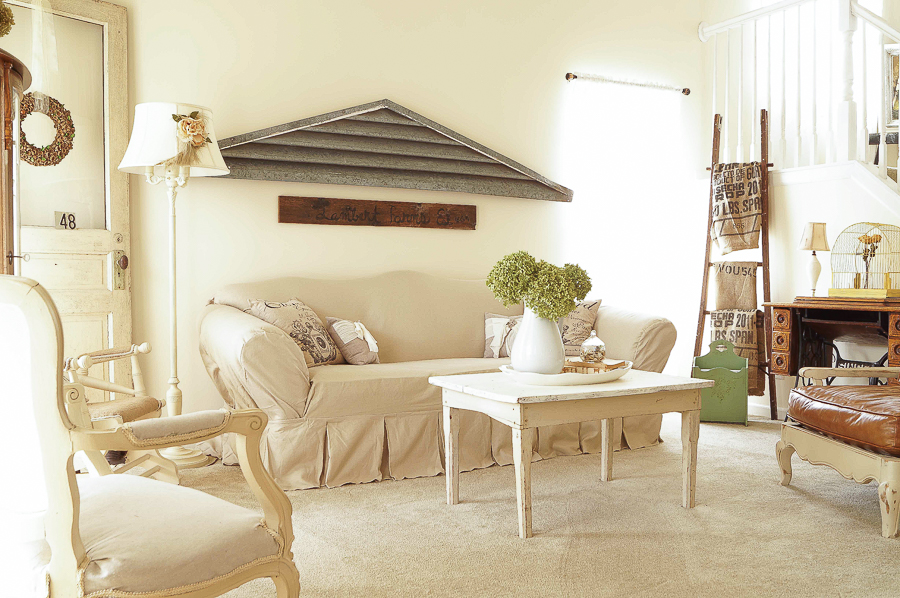 A acorn wreath is hung on my vintage door.I simply added a bit of ribbon to this wreath to hang it. The wreath was purchased from decor steals. You can make your own just be careful. I gathered some acorns one year and added them to a jar. A couple of days ladder I had white insects crawling out of the jar. I bet you know what insect I am talking about….YUCK!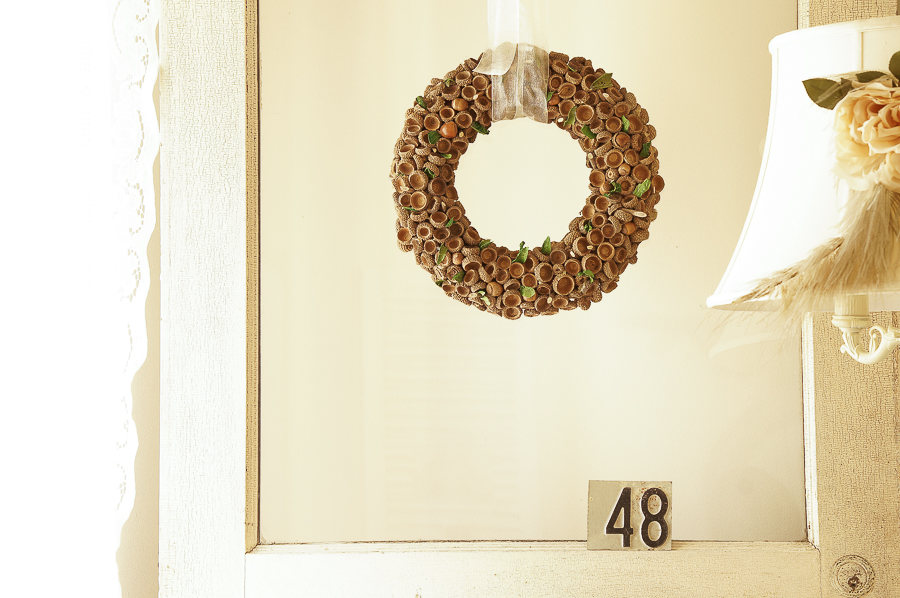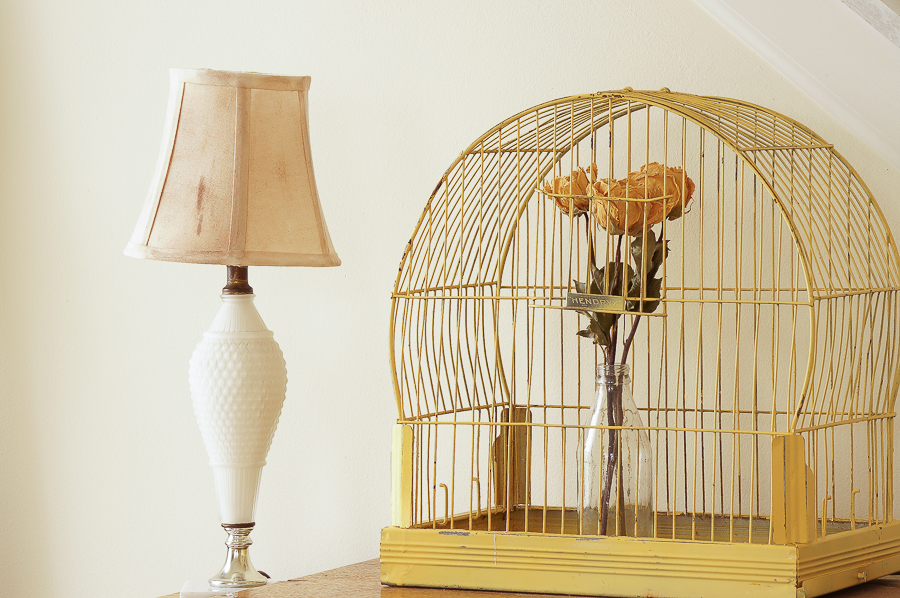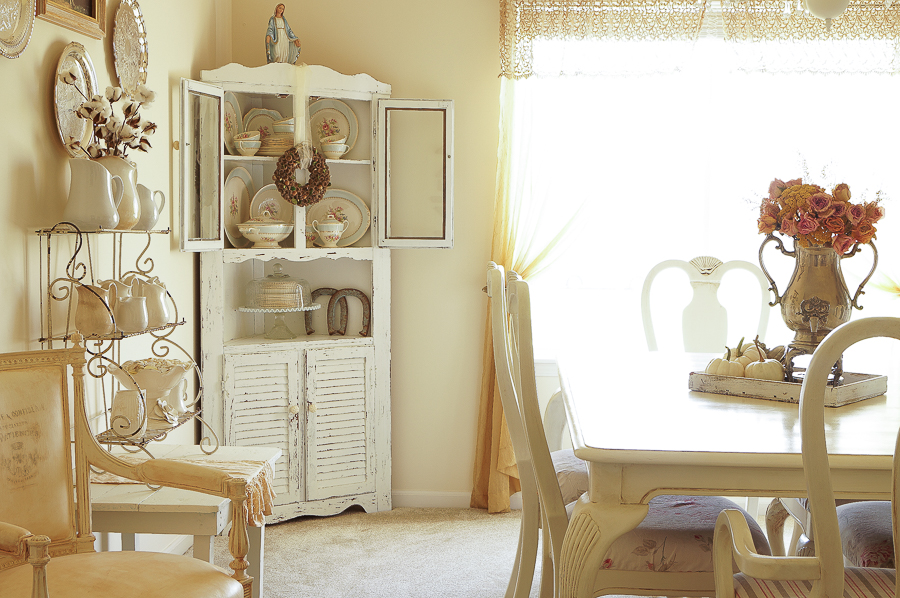 In my dining room I hung another acorn wreath from my corner cabinet. As my centerpiece for the table I added a wood tray and placed some mini white pumpkins on top with my silver coffee server. And added some dried flowers inside the server.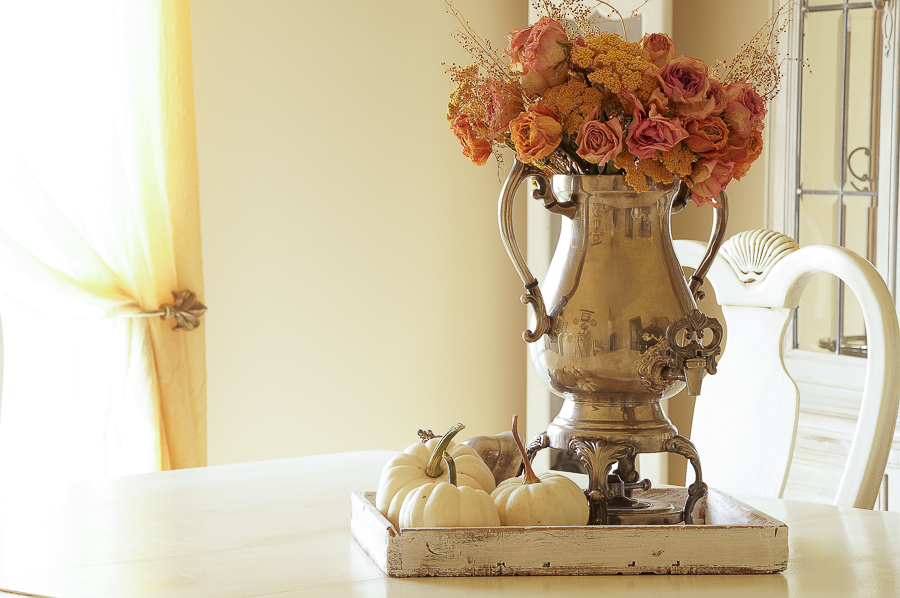 On my credenza I placed an old serving dish with pretty soft fall colors and bunches of tied salt cedar branches.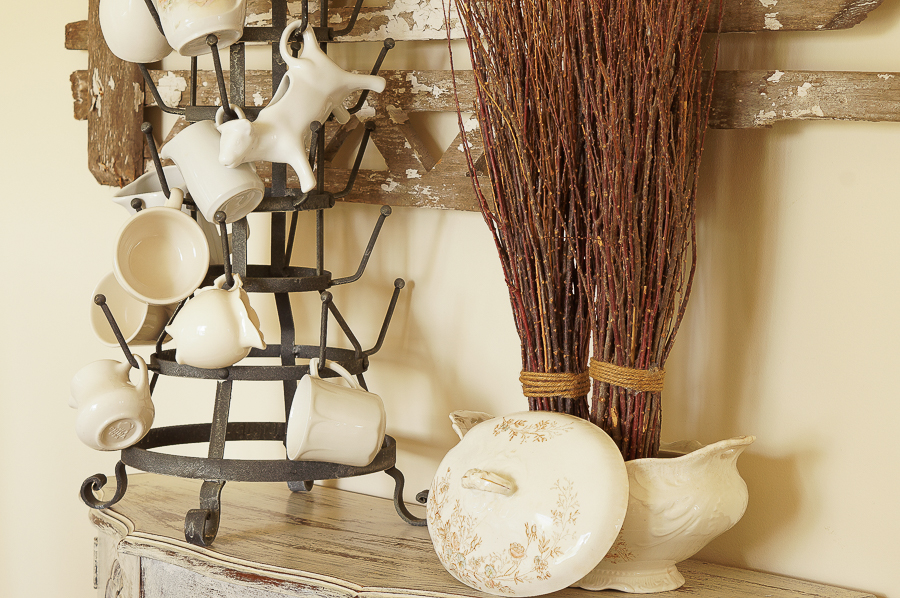 In my kitchen and family room I am keeping my pink accent pieces out. Yes you can keep your pink pieces out. Just use softer fall colors when you are decorating.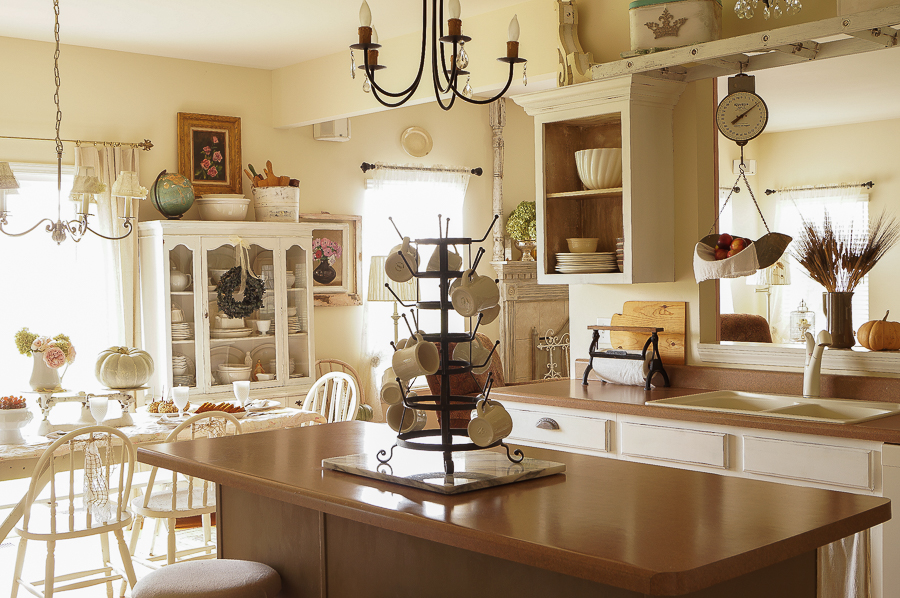 A green Eucalyptus wreath hangs from my French Cabinet. I love placing fresh fruit out. Not only is it decorative but good for you too!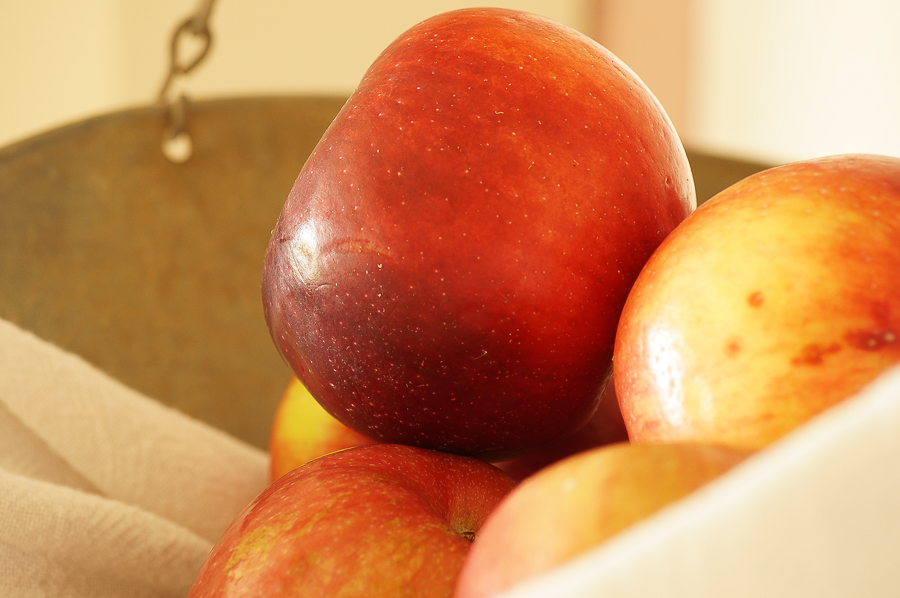 I decided to share a tablescape with you today. As you can see it is a dessert table…..my favorite!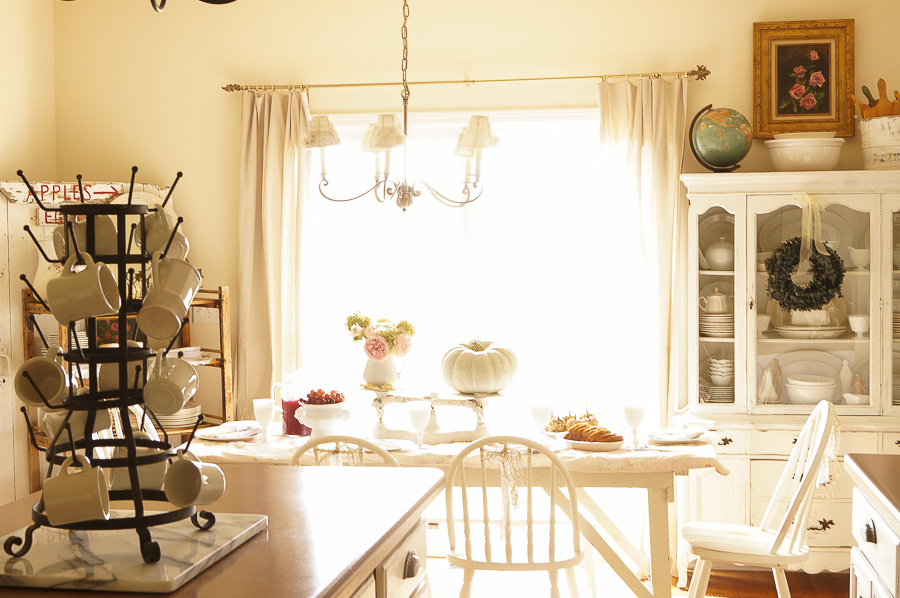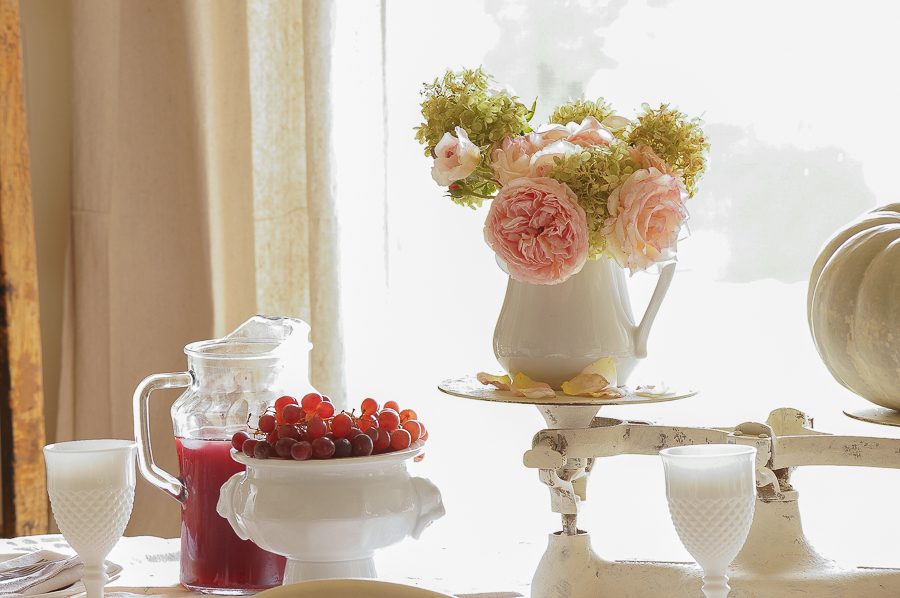 Fresh flowers from my garden. Some grapes and iced tea for a punch of color to my table. A new favorite of mine is collecting milk glass. These goblets were the recent addition to my collection.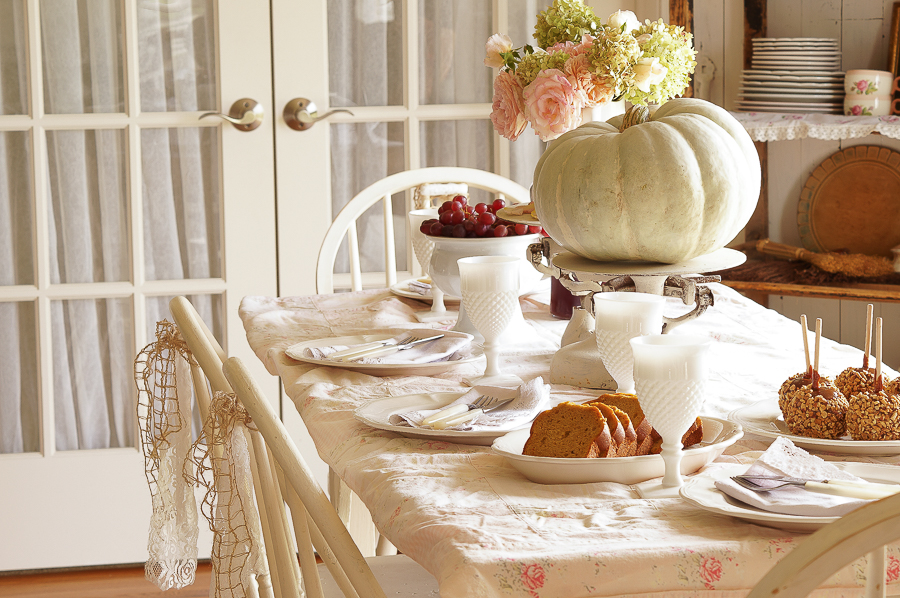 And no I did not make these. I am just using them as props for my photos. But my daughter sure is enjoying them!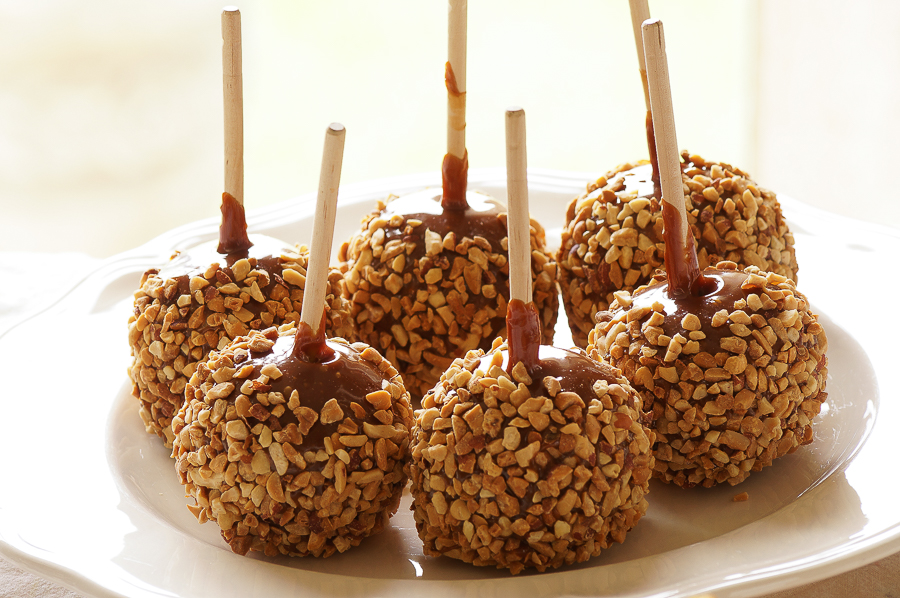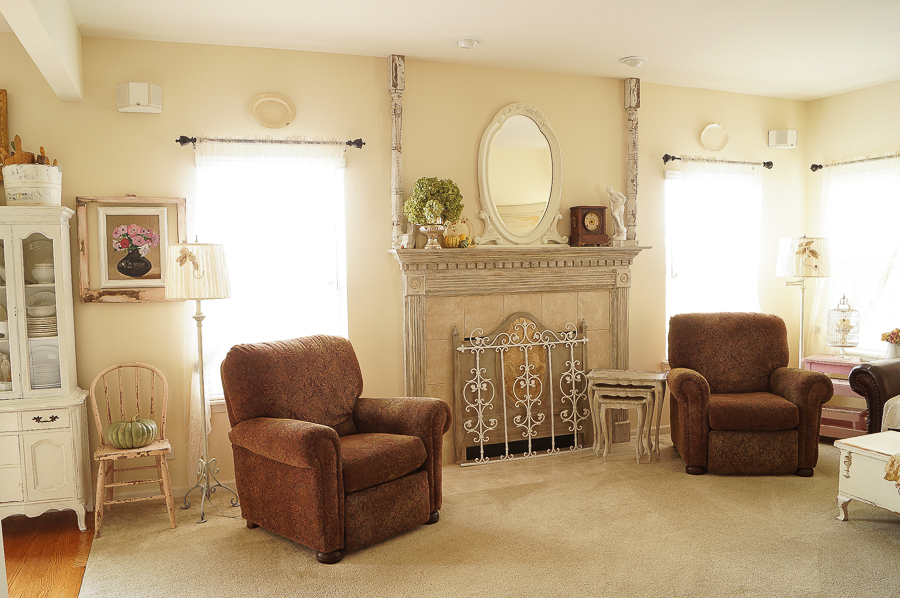 On my mantle I added more dried hydrangeas. This time I added them to my silver ice bucket. I also added a few squash and a vintage plate to this vignette.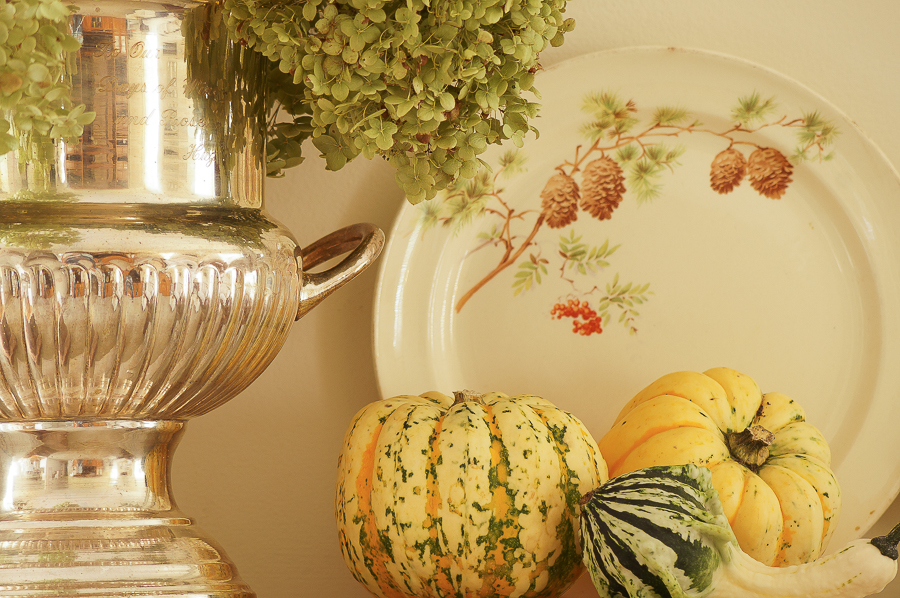 I added a new door to my room. Love the chippy patina, and the colors work perfectly with my fall decor.
 I added a bunch of wheat to the front…..I just nailed it on. This chandelier is new I found it at Hobby Lobby they are having a 50 % off  sale on lamps and lights this week. I knew this would look great next to this door. I love the bit of sparkle in this room. This chandelier is hung from a vintage bird cage stand that was in my daughters room. I added some gold gilding wax to it. The colors work great for fall and I like the sparkle and gold together….lots of bling! This light only uses a 25v bulb. It does not create allot of light which is perfect the corner of this room.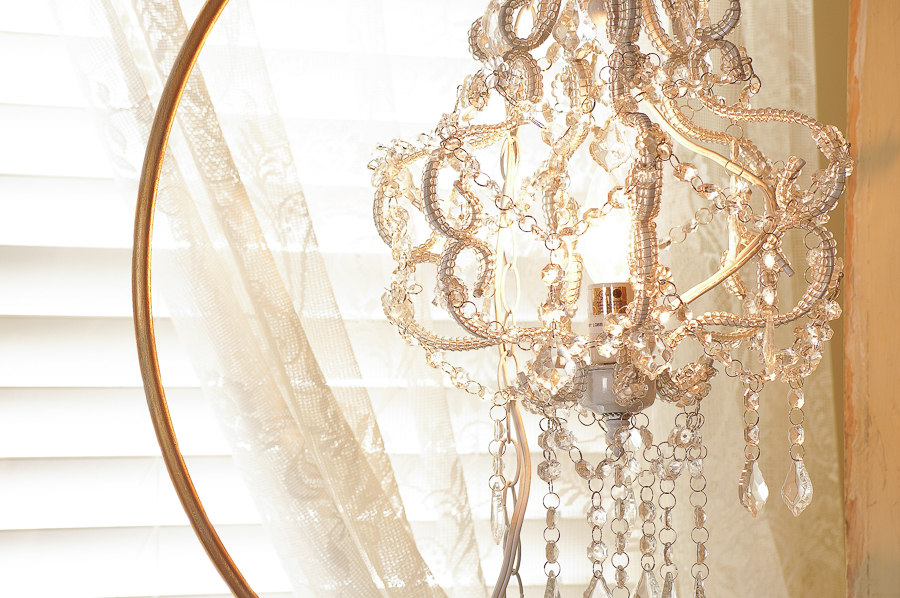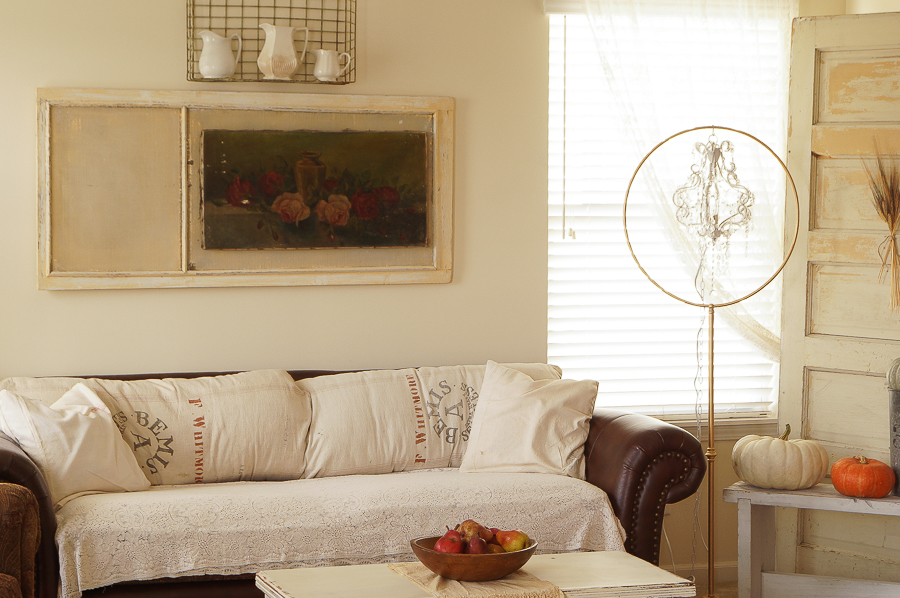 As you can see I added a bowl of fruit to my table. I love this look and it I were having company I would leave this out. But with a curious cat I am only using this for my photos.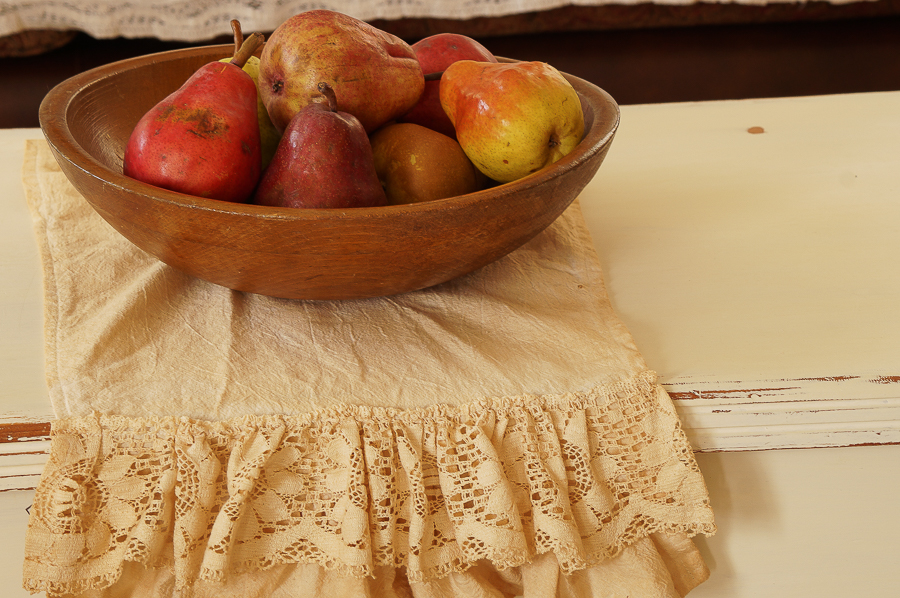 These are perfect fall colors. In the corner of my room I still have my pink chippy table. I did not change this other than add a petite pumpkin to that sweet little cherub inside my birdcage cloche.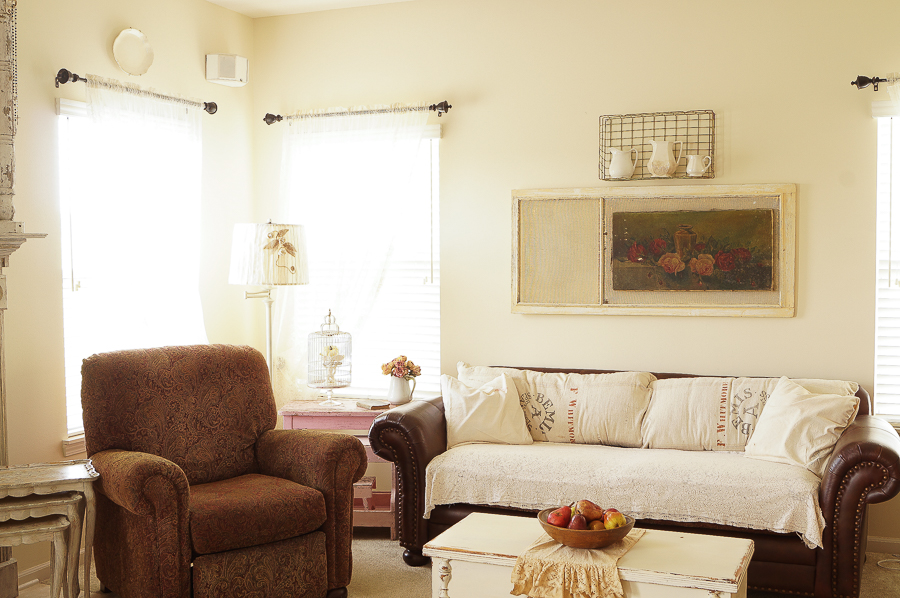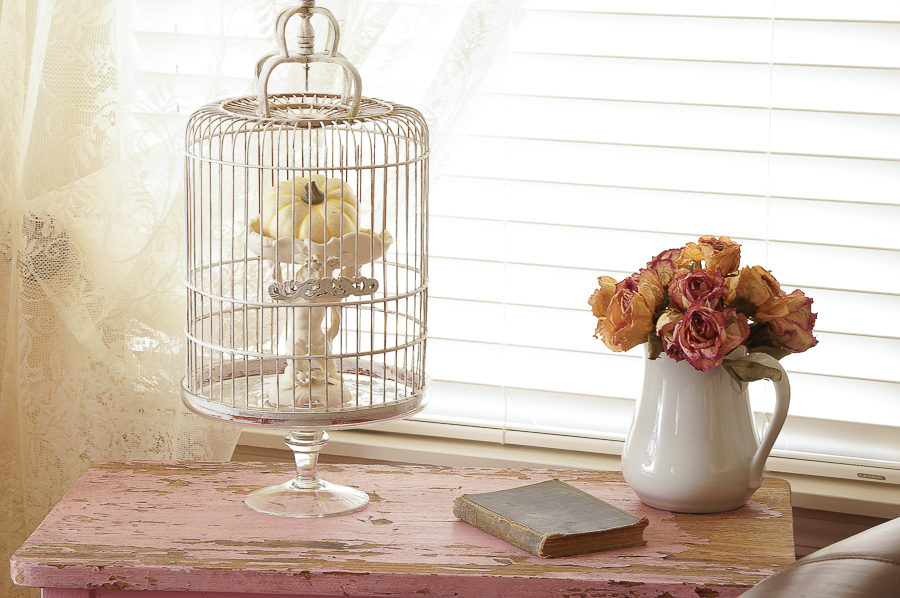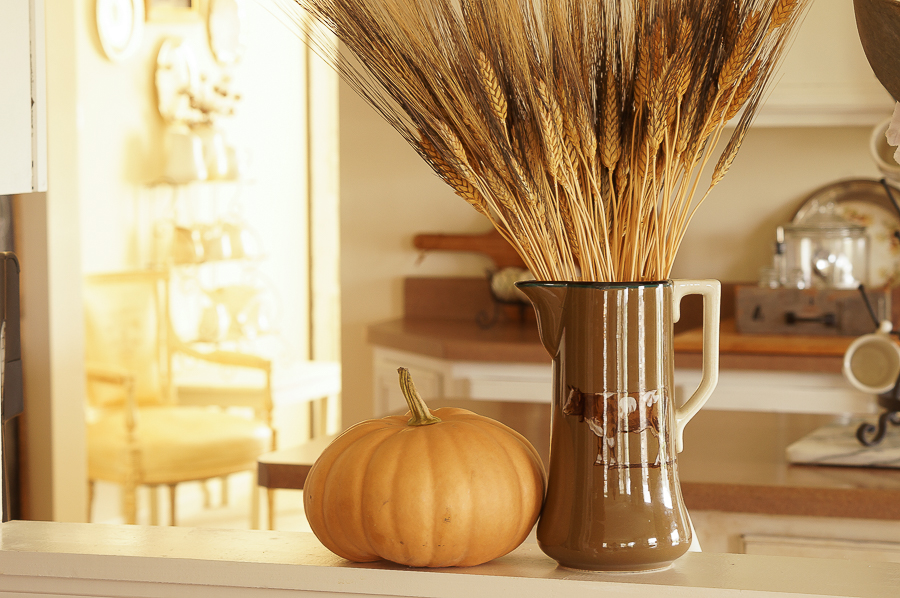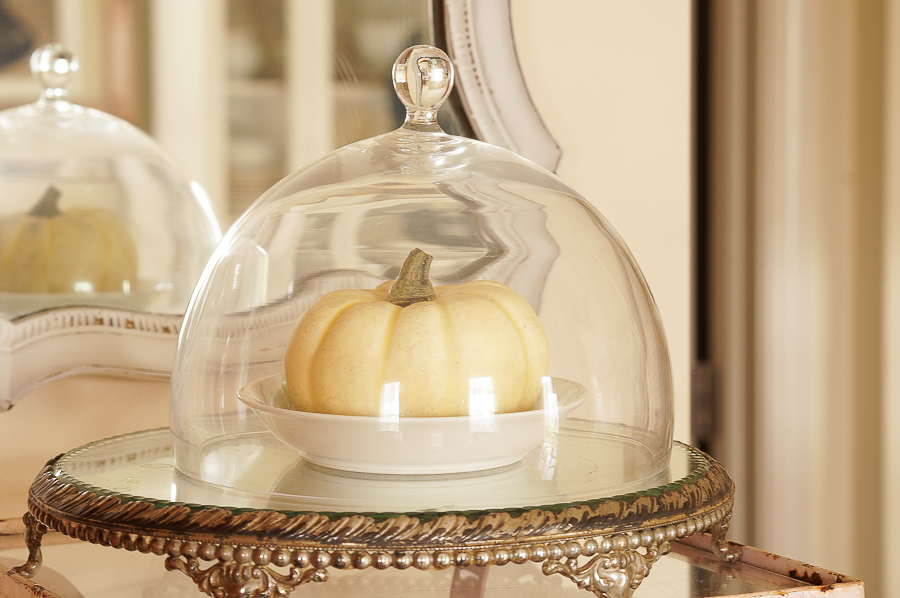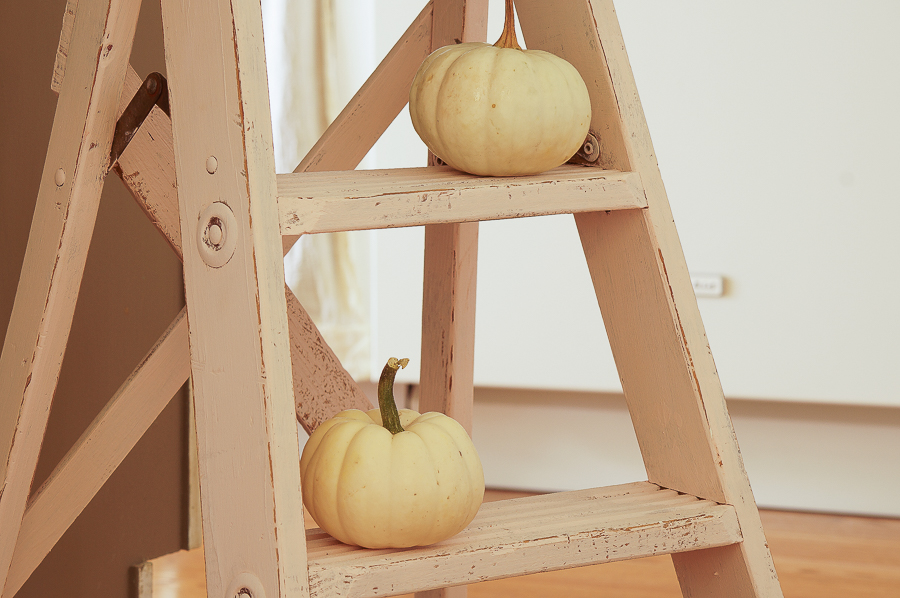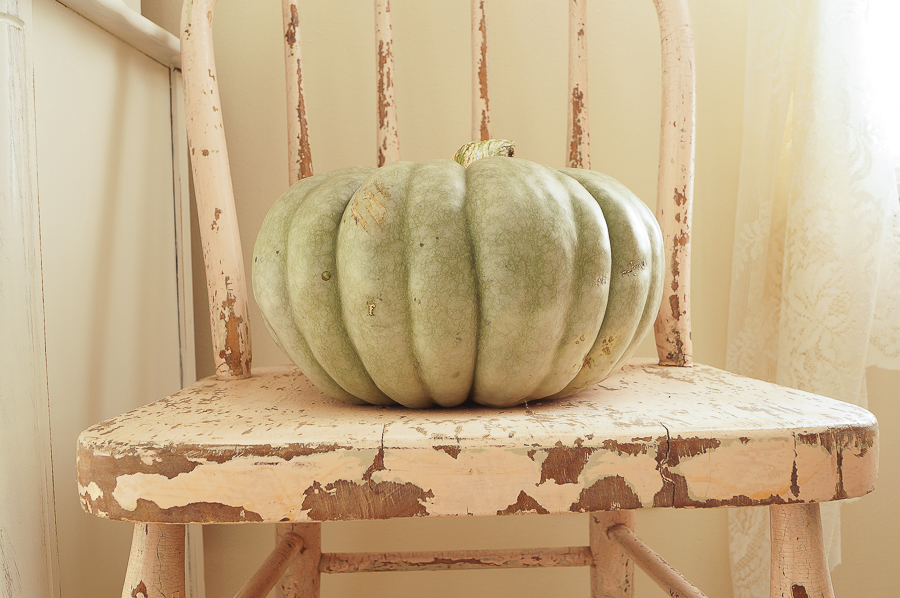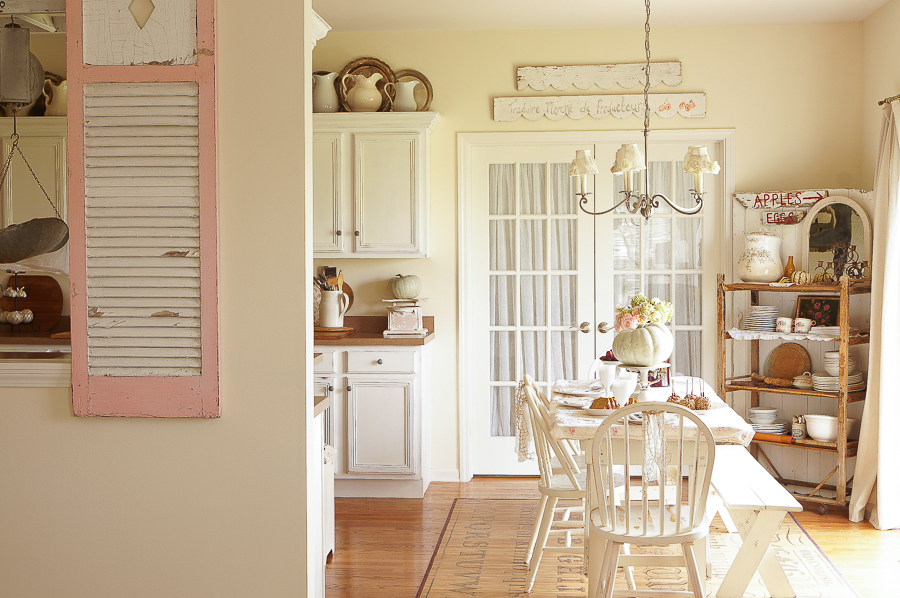 As you can see my pink is still out. I am working with what I have instead of putting it all away.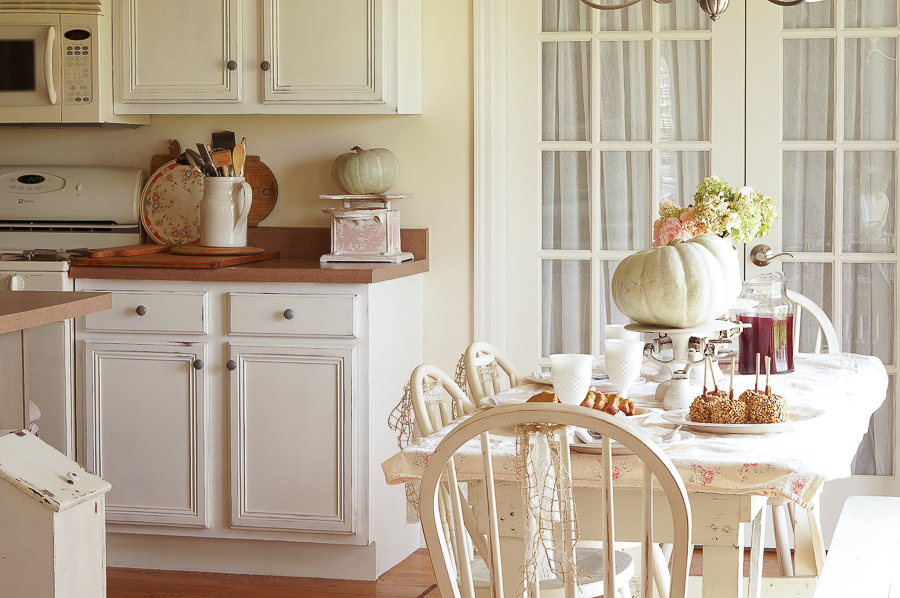 I leave you with this challenge. This fall, look for ways to incorporate fall decor to your home, without purchasing things from a craft store. Unless you would rather have those faux pumpkins which is fine. But add other elements to your home without spending money. See what you have in your garden and bring those elements into your home. I bet you could create a beautiful fall home without spending any money or very little money.
Let me know in the comments how you decorate your home for fall, I'd love to hear 🙂
Save