When I am out treasure hunting, I am always looking out for unique pieces to paint.
I'm not looking for anything new for my home, but I am slowly picking up pieces for my sale next spring.
I found this cabinet, I think it was used as a t.v. cabinet.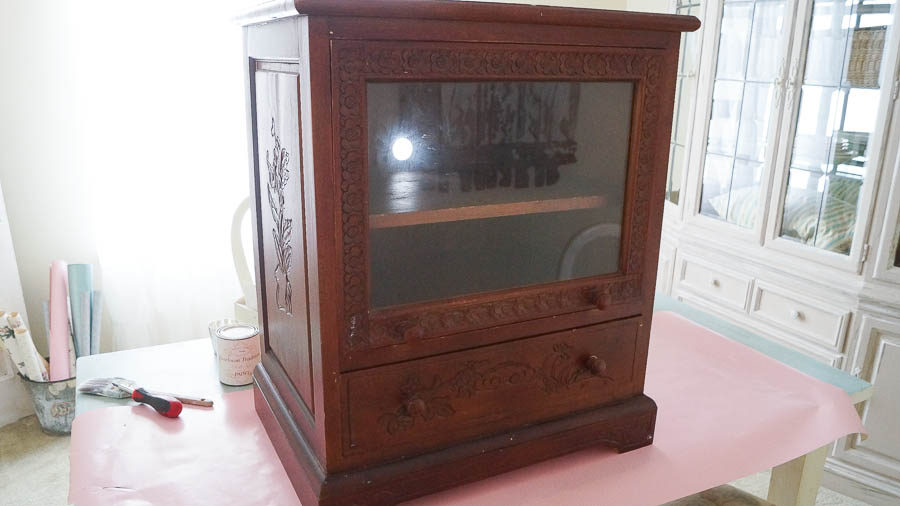 What I love about this cabinet is all the details on it.
I knew that with a coat of paint I could transform this piece, and give it new life.
Although tv set's have changed since this cabinet was made.
I am thinking this one was from the early 2000.
I pulled out my Heirloom Traditions paint in Nickle.
Nickle is a silver, blue.
It's one of those colors that when you look at it, the color looks white, silver or blue depending on the light.
It was painted with two coats of paint, then used my distressing with vinegar method.
You can read about that HERE.
After I finished distressed it, I decided the glass needed an update as well.
I took my piece outside, and sprayed on Krylon frosted glass finish spray.
Unfortunately I could not take this glass door out, so it was a little tricky.
But I was able to give it two coats of spray, on the inside part of the glass.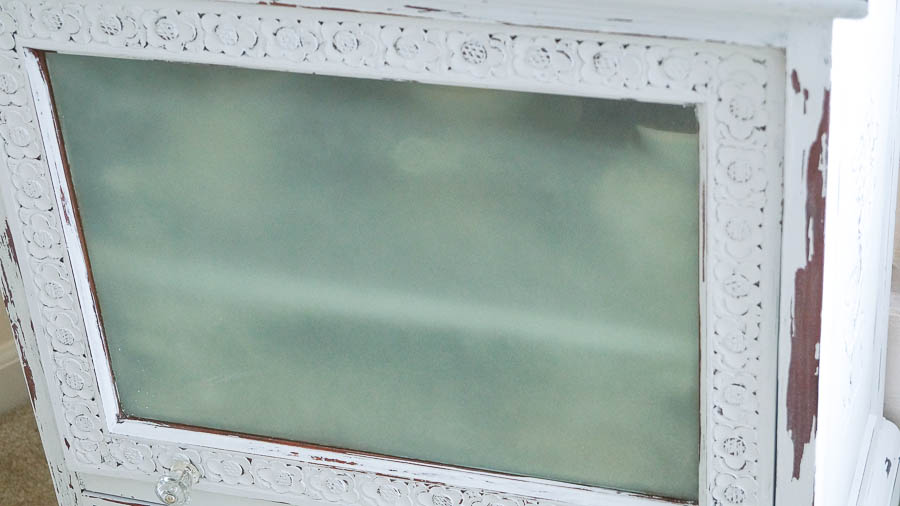 And here is my finished cabinet.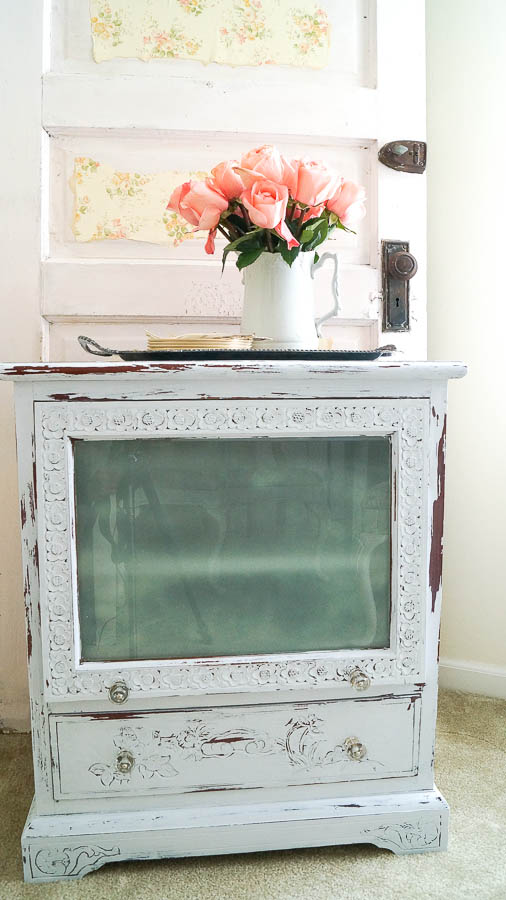 Isn't this cabinet sweet.
I am just photographing this in my dining room, but it will be put away until the sale…I think 😉
I love the details and can you see the glass knobs?
Those are icing to the cake, they really give this piece a vintage look.
Let's see what you can use this piece for.
How about a wine cabinet?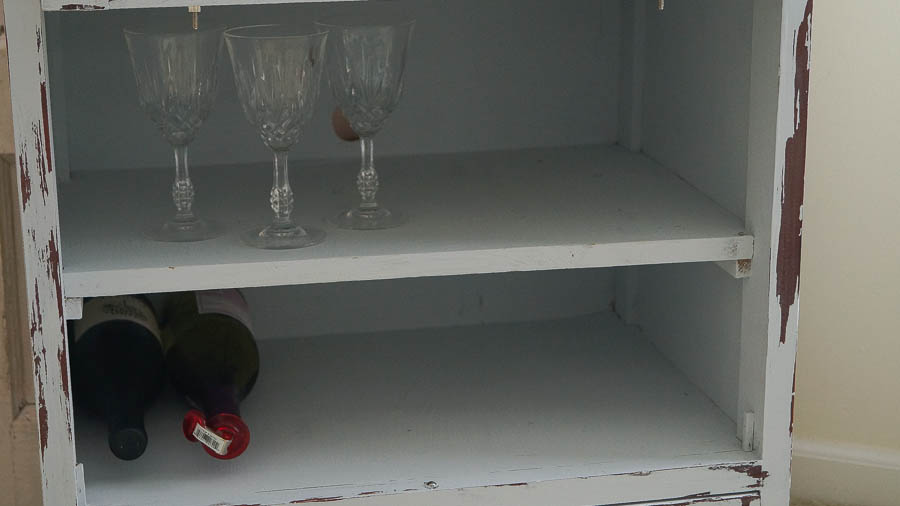 I just placed a few wine bottles and glasses to give you an idea.
But this would make a fun wine cabinet.
There's a drawer on the bottom that makes great storage too.
See that hole in the back?
That's where the cords for the cable box and VCR probably went as this was used as a tv cabinet.
What about a small china cabinet?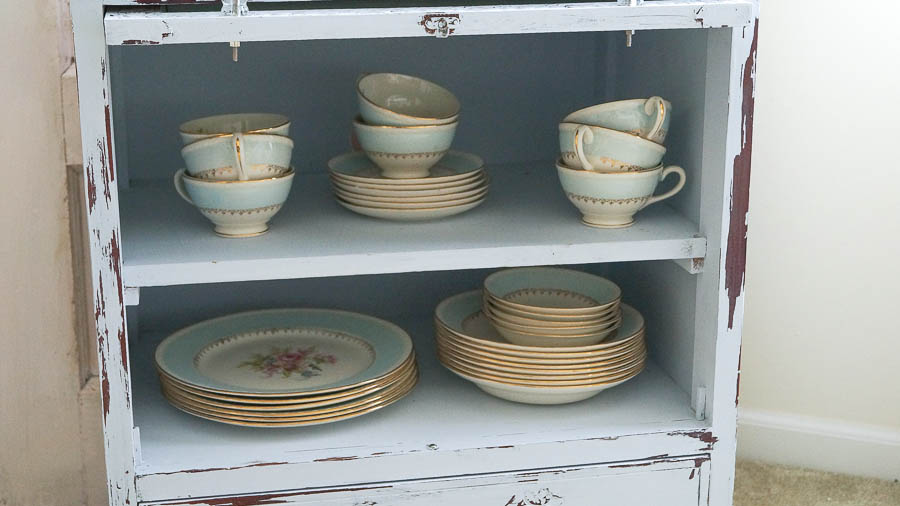 Again, I am not placing all of my collection inside, but you can see that you could place many pieces in this cabinet.
Or what about using this for an office?
A copy machine could be placed at the top, and the inside could be used for a fax machine.
You could also store paper and misc office supplies.
So what I am trying to tell you is, if you find a cool piece but,  you think….I can't really use this as is.
Think of how you can use it, repurpose and reuse it.
Try to think outside of the box.
This piece was an easy example of how you can take a piece, give it new life with a little paint.
And reuse it.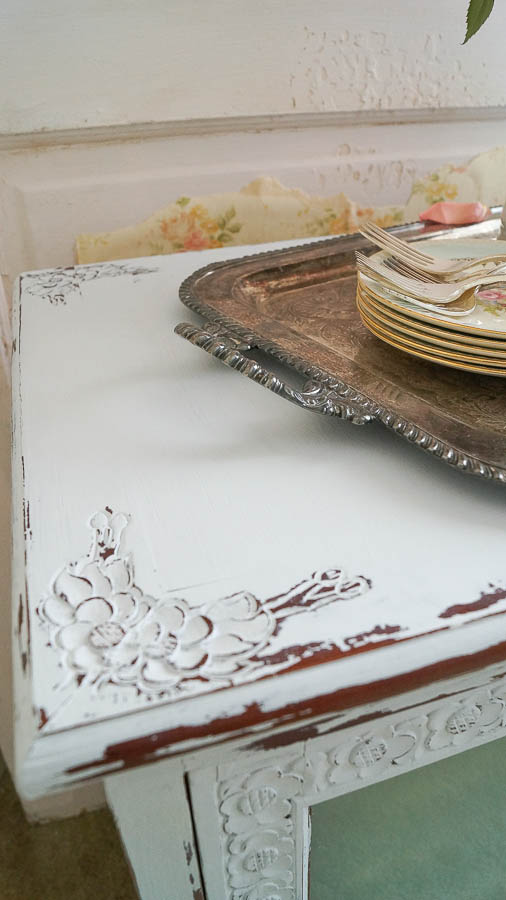 I could have added more color to this piece, and in fact I was thinking of doing that.
But I love the simplicity of this piece.
Just a lite distressing is all that was needed to bring out the details on this piece.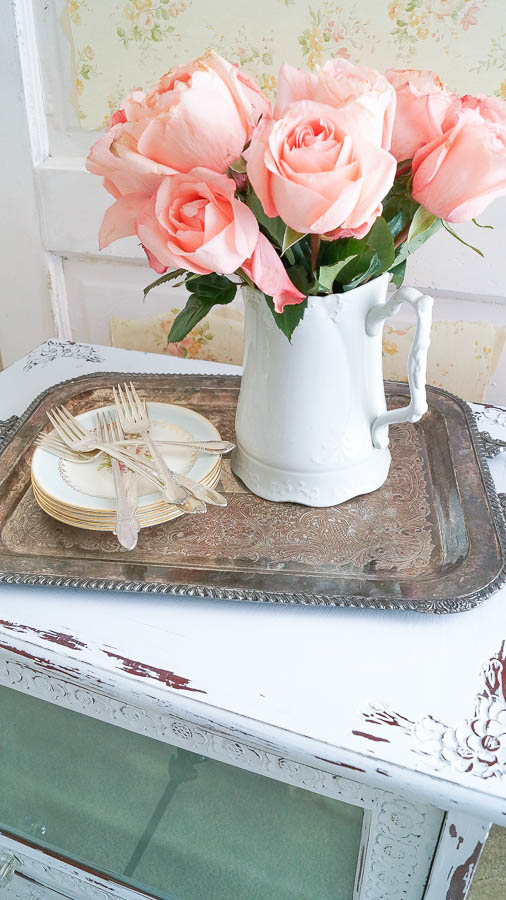 This is such a great piece for a large or small space.
And the transformation was so easy too!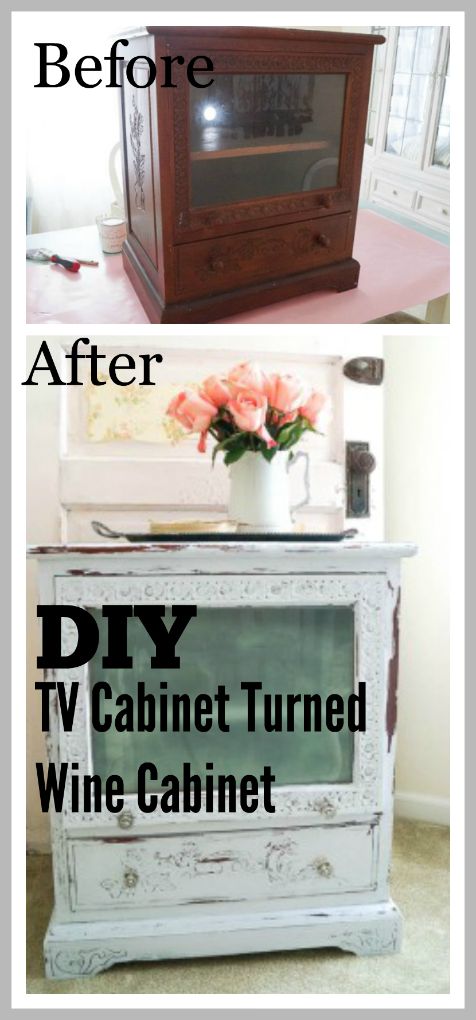 ****************************************
I'm going to change the subject here.
I don't often talk about personal, I mean really personal things on my blog.
But after battling a long list of illnesses , yesterday my husbands Father passed.
He was strong man, but had been ill for sometime.
As strong as he was, he just couldn't fight any longer.
We are sad that he is no longer with us, but we are glad that he is no longer suffering.
Shortly after my husband and I were married, we found out my MIL had cancer.
She suffered for five months.
It was painful to see her whither away to nothing.
The person I knew no longer existed as the cancer spread throughout her body.
And we felt the same way when she passed.
We loved her so much, but we were glad that she no longer was in pain.
It's so hard to see someone you love suffer, and there is nothing you can do to help them.
So we reflect and remember the good times, the laughter and the joy that they brought to our lives.
And an interesting fact about my MIL and FIL.
My daughter was born on the date, November 17th, that my MIL passed.
In fact it was 10 years to the date also.
She died 1989, my daughter was born 1999.
Yesterday my FIL passed on my birthday, strange isn't it.
Yes, yesterday was my birthday.
Another strange thing, is that early yesterday morning I woke up to the weather channel playing on our t.v.
It was about 4:00 a.m. in the morning, they were talking about the tropical storm that was going to hit Florida.
Well, that's all I can remember, I woke up, saw the tv on, turned it off and went back to bed.
The next morning, I told my husband about the t.v. being on.
He told me that he didn't leave it on, he knew that he turned if off before he went to bed.
And the weather channel was not on, he was watching a baseball game on another channel.
My FIL lived in Florida and it's where he passed.
It's almost like he wanted our attention and wanted to say goodbye before he left this world.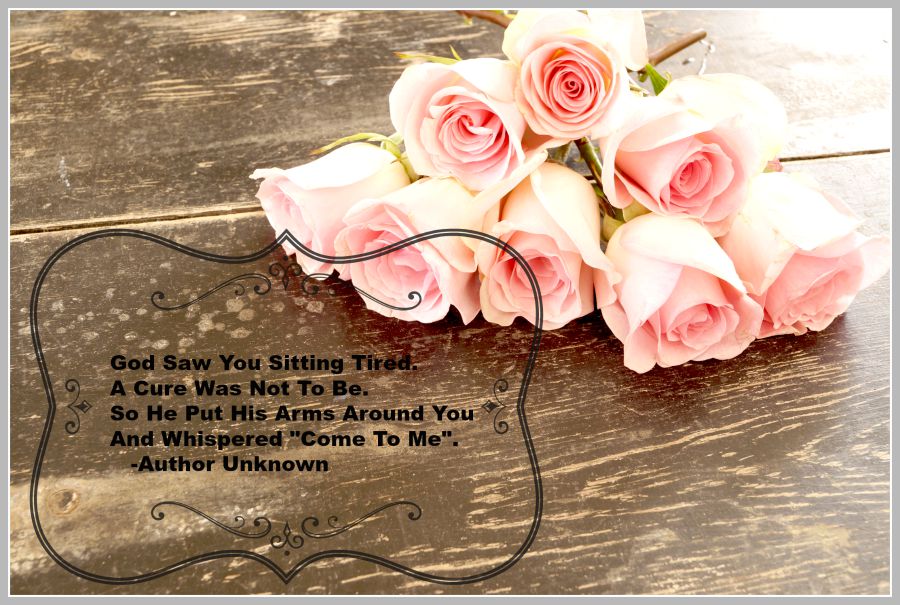 ****************
Resources:
Nickle Heirloom Traditions Paint
*********************
This post contains affiliate links. See disclosure policy.