I never know when inspiration will strike.
Like last night while I was laying in bed I thought of what I could create using my hurricane candle holder that I recently found while thrift shopping.
Seriously, tell me you do that too.
I was thinking tissue paper and my hurricane lamp.
This morning after dropping my daughter off at school I ran out to our craft store and picked up some pretty pink tissue paper.
You knew this was going to be pink right?
You can use any color you want.
This is what you will need to make your DIY Spring hurricane candle holder.
Supplies
– Hurricane candle holder (look at thrift shops, I found mine for 3.00 but you can purchase these at craft stores for 10.00)
– Tissue paper ( pick at least two colors, any color)
– Foam brush
– Modpodge
– Plastic cup or paper plate for your Modpodge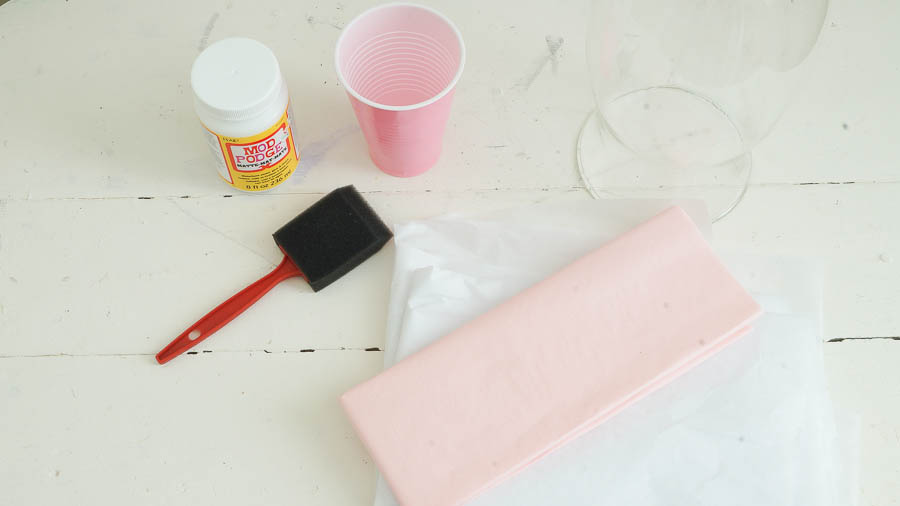 This is super easy!
Take your tissue paper and rip it into pieces.
It doesn't matter what sizes you rip them, for this project I used about a half sheet of tissue paper in each color.
I am using pink and white, big surprise 😉
After you rip those pieces of tissue paper, apply your Modpodge to your hurricane candle holder.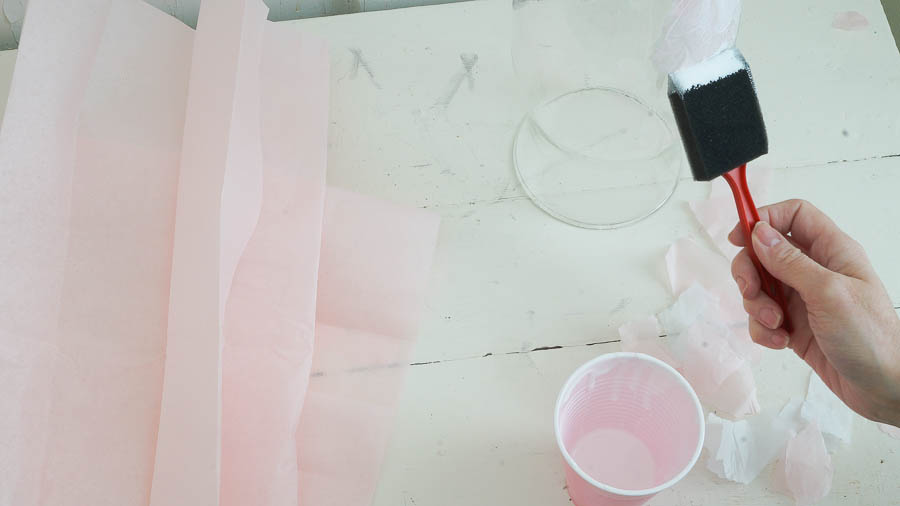 Next start applying your pieces of tissue paper.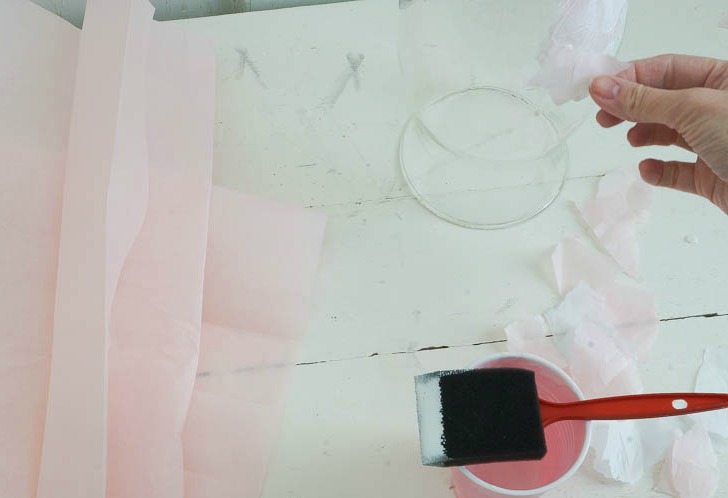 As I applied my tissue paper I rotated the colors so I would not have too many of  one color together.
After applying each piece I brushed a little Modpodge on top.
Keep working around your piece until it is complete.
After this is dry you may need to go back and fill in empty spots.
When the glue is wet it's hard to see empty spots.
And here's my finished piece.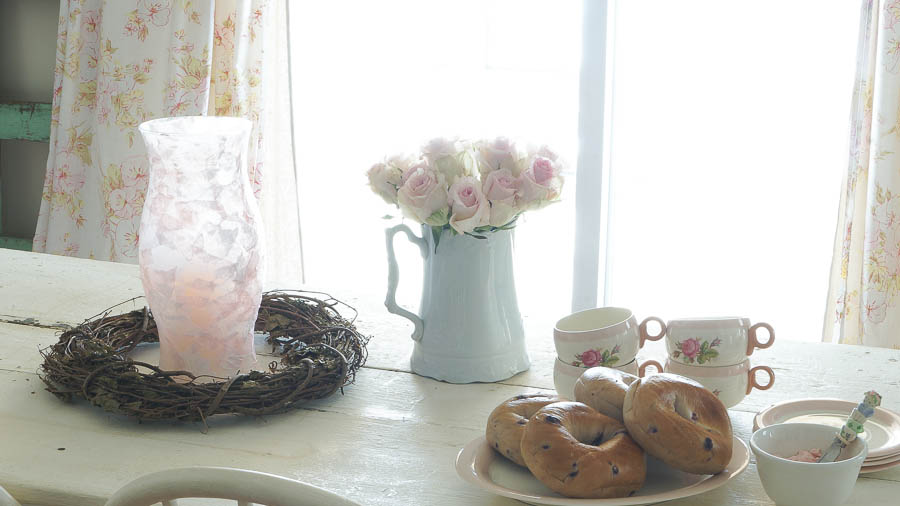 Isn't this pretty!
And super easy to make too!
I am giving my farmhouse table a little spring look,  so I added that vine wreath around my hurricane lamp.
Inside I am using a battery operated candle.
I am not sure if the heat from a candle would do anything to the paper on this lamp.
** Read disclosure policy**
As I said this was super easy to make, and very cheap too!
I already had Modpodge and white tissue paper.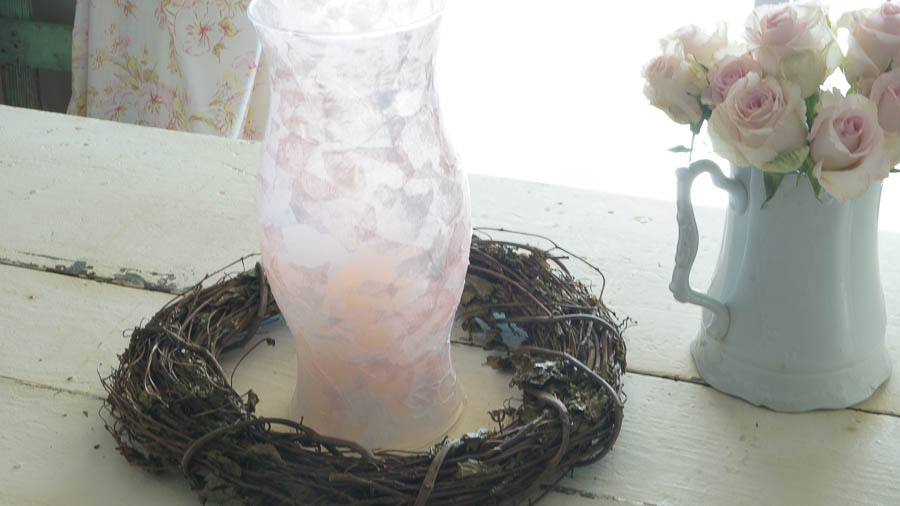 This has a pretty soft glow as the faux candle flickers.
And think of the possibilities!
You can use all one color, or do a mosaic pattern with tissue paper.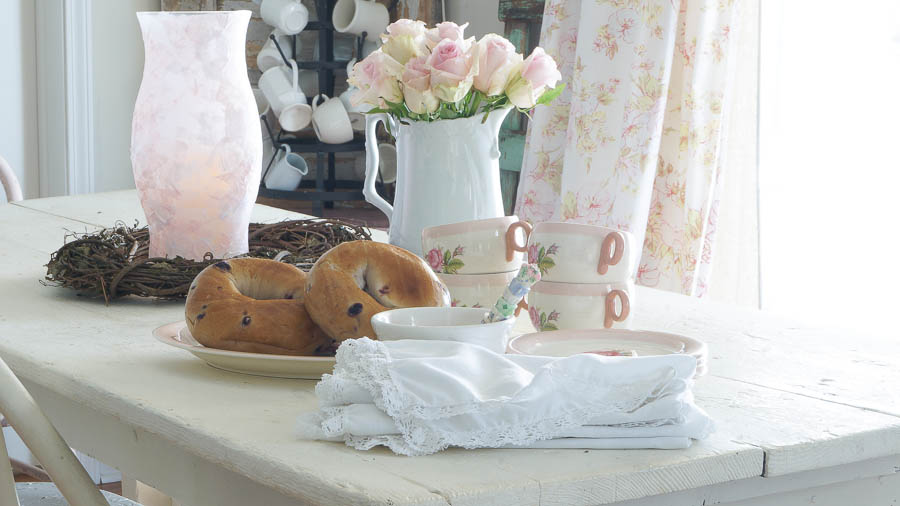 I staged my table so you can see how pretty this would look on a table when you are entertaining.
I am sure this will be going out on our porch as soon as the weather warms up.
This shabby hurricane candle holder will bring a lovely glow at night, while sitting outside!
And what about weddings, this would be so pretty on tables for a wedding.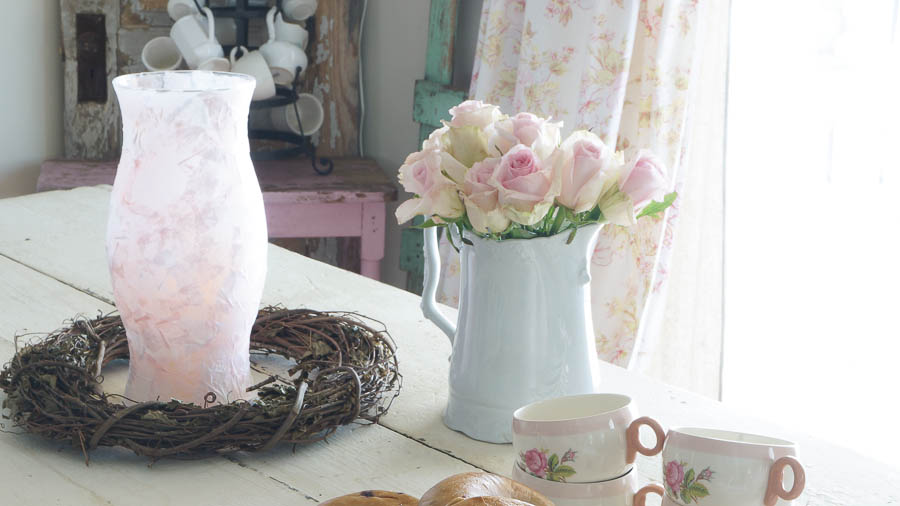 Of course I had to pick up a bouquet of roses.
I was having a hard time finding pink roses, everywhere I went they only had yellow, red, or orange.
Those colors don't work well with my decor, besides pink is my favorite color if you haven't guessed yet!
Are you starting to add touches of spring to your house?