I must admit I don't really decorate for spring, I mean my home is Shabby Chic inspired.
So all year long I keep my pastel pinks, greens, and blue's out.
I may tweak things, and move things around, or put something away and make room for a new piece.
But I don't dismantle my house to change a season.
For fun I decided to make a hanging butterfly art from vintage wallpaper.
That's sounds weird but I really don't know what else to call it, and oh, it's Shabby Chic inspired of course 😉
I am going to hang this near my spring inspired mantel.
Let me show you, are ya ready?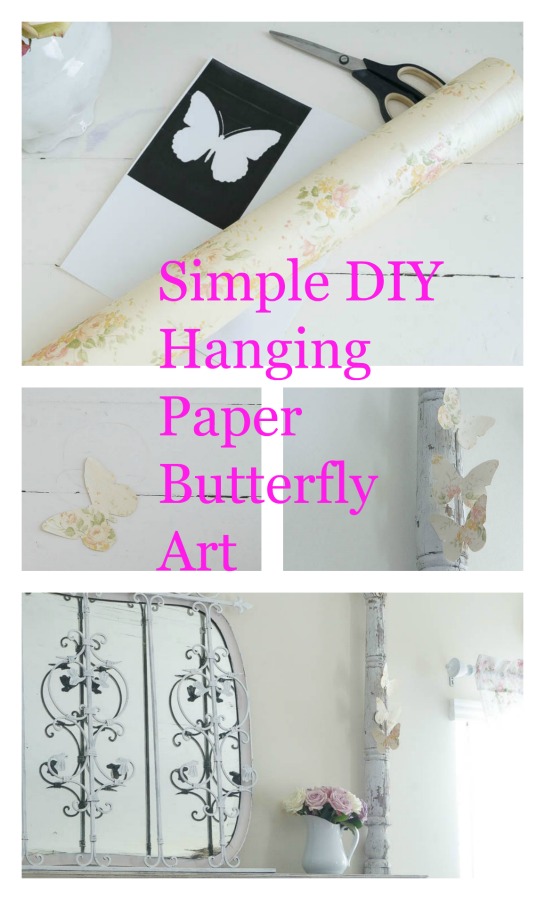 Supplies
– Wall paper , vintage if you can find it
– Photo of a butterfly
– Pencil
– Tacky Glue
– Invisible wire
– Scissors
– Thumb tack for hanging , if needed.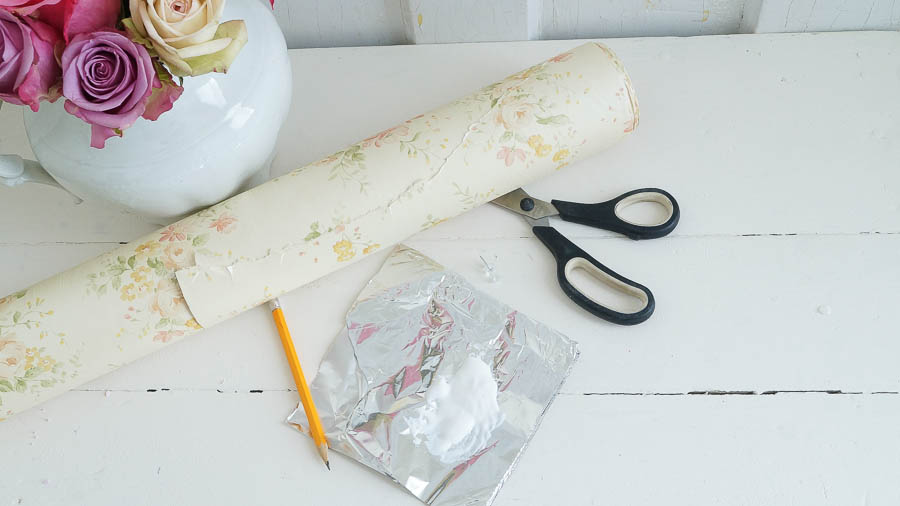 First let me share how I created this simple butterfly photo.
For this we need to go into Picmonkey.
There may be an easier way, but I am sharing how I did this.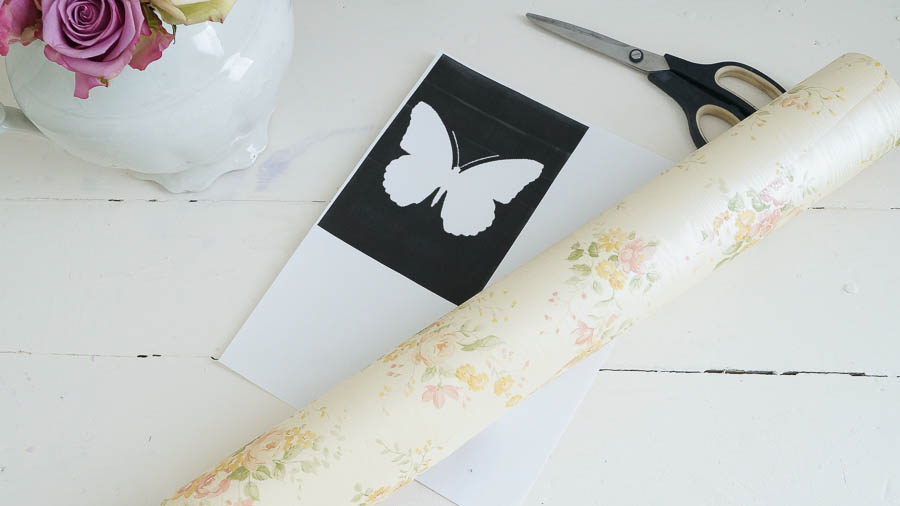 Once in Picmonkey click on Edit.
Picmonkey will open up your the files that have your photos.
Click on a photo, any photo.
Once that photo is open we need to create a blank space.
Were sort of cheating 😉
Next click on Overlays, then click on Geometric.
Click on the square, rectangle or any one of those that you think will completely cover your photo.
Make sure to use the arrows to completely cover your photo.
You should have a black space.
Next click on Butterflies, I chose the first one.
You will see a box, but not the butterfly.
That's because we need to add color to our butterfly in order to see it.
Next to your box you will see a pop up that says overlay and shows color choices.
Click on dot and scroll to the top, it will turn white.
Now you should be able to see your butterfly.
Save this and print it out.
Chose the size  of the butterfly that you would like before you print this out.
After you print out your butterfly, cut it out.
Don't worry about cutting around the details, we just want the shape of this.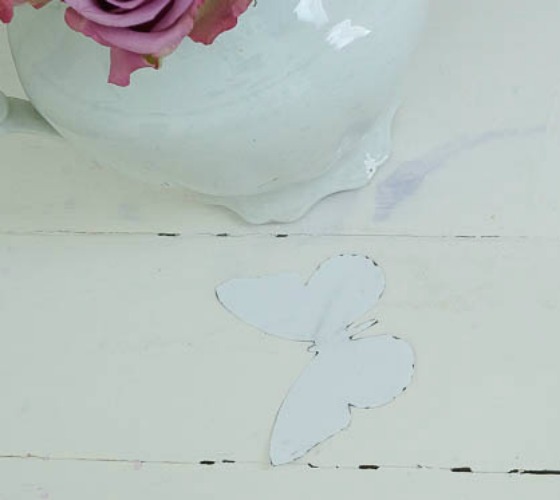 Next it's time to trace this on our wallpaper.
 As you can see I traced this on the back of my paper, that way you won't see the pencil lines when you are done.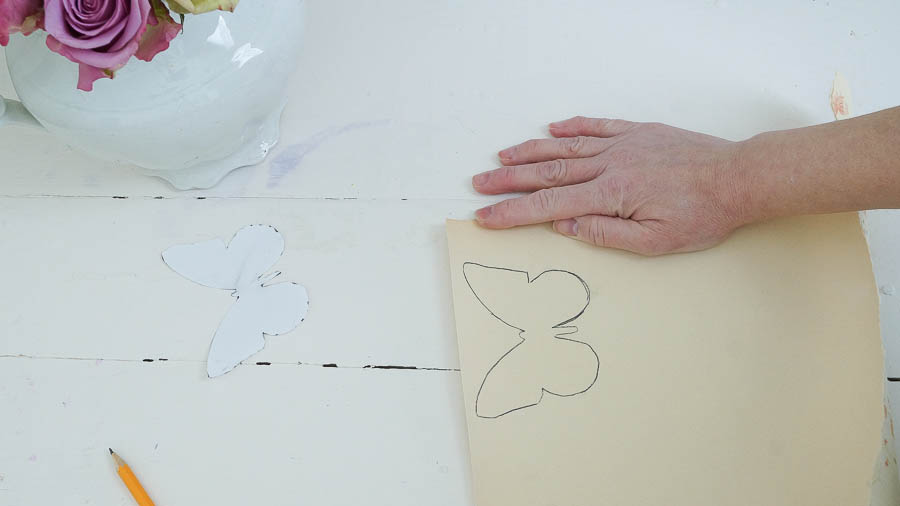 To make both sides exactly the same, we are going to fold our paper in half, pretty sides together.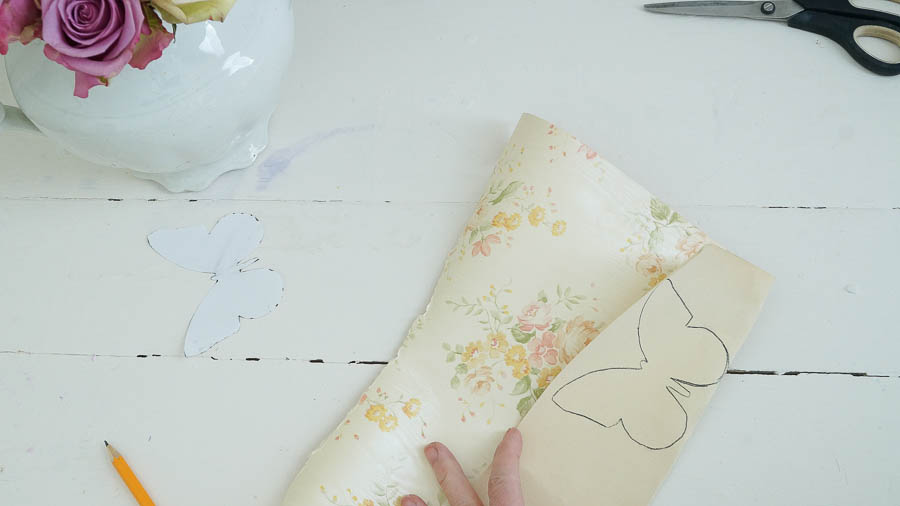 Then cut out your shape.
Now you have two butterfly shapes.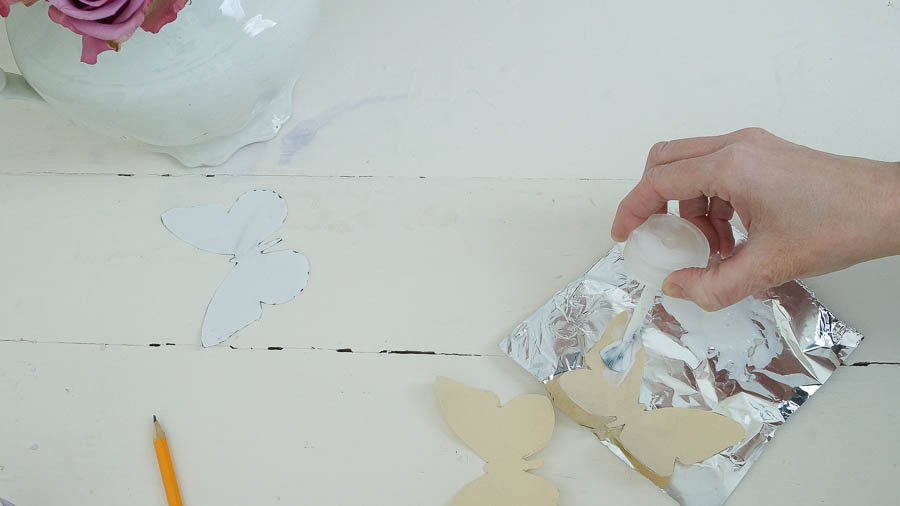 After your butterfly shapes are cut out, it's time to glue and add your invisible string.
I applied tacky glue to one of my butterflies, then added my invisible string in the center top part of my butterfly.
Next, I placed the other cut out piece on top of it.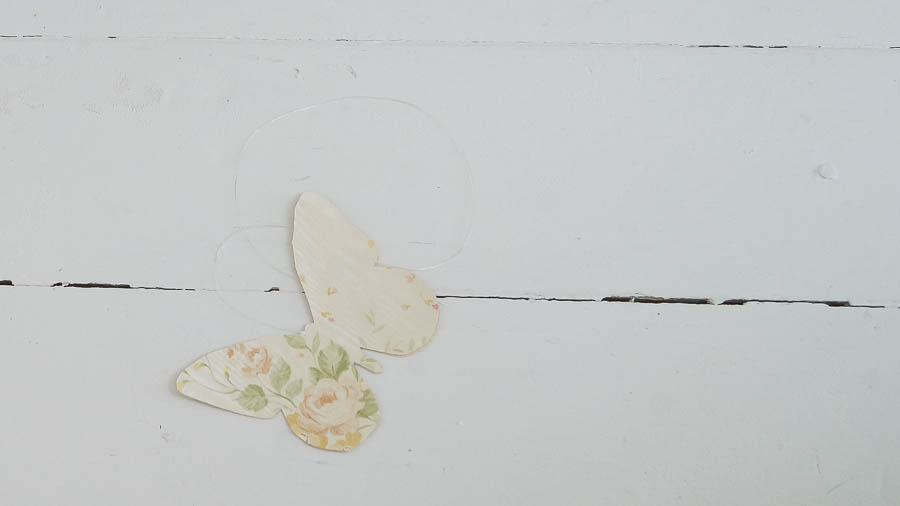 Here is one of my finished butterflies.
I made three of these, but I used different length pieces of invisible wire, you will see why.
See how they hang?
That's because I have these at different lengths.
You can use a thumb tack and hang it from the ceiling, or hang it from a hook like I did.
I added these to one of my posts on my fireplace mantel.
This is near a vent, so as the heat or air turns on these sway gently, and are really pretty!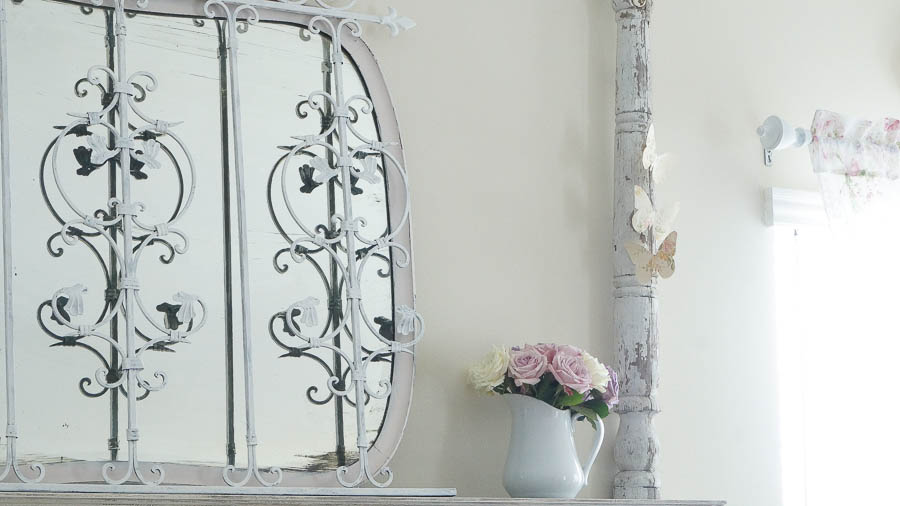 See I have not changed my mantel, you don't have to change things in your home all of the time.
I like to tweak things, but I am enjoying my home as it is right now.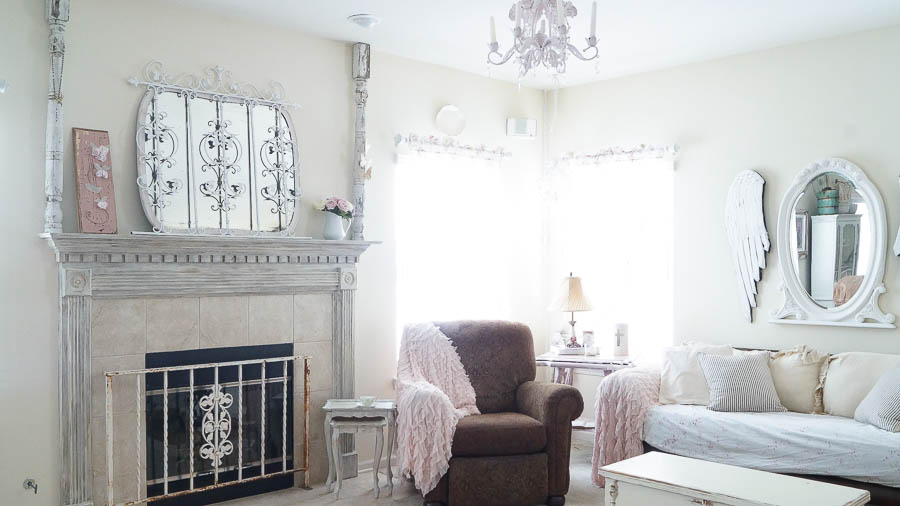 I have my vintage Shabby repurposed art that I made recently on my mantel too.
And you can see my candle chandelier that I featured recently with my faux tole roses.
I love my beautiful pink ruffled throw that I purchased from Shabbyfufu.
I love it so much that I have two now, and may be adding another.
Just for photo purposes I added one on this chair.
Below is a photo of  how I normally have them.
One flanked on each end of my sofa.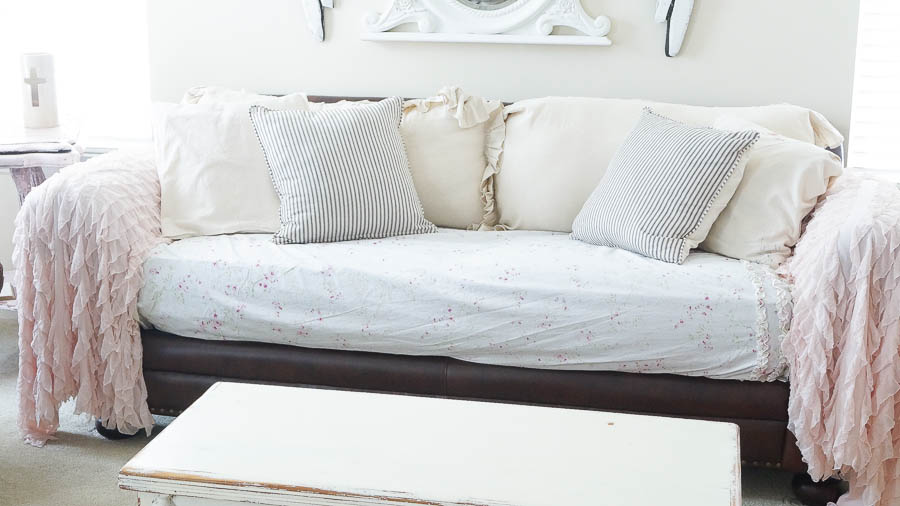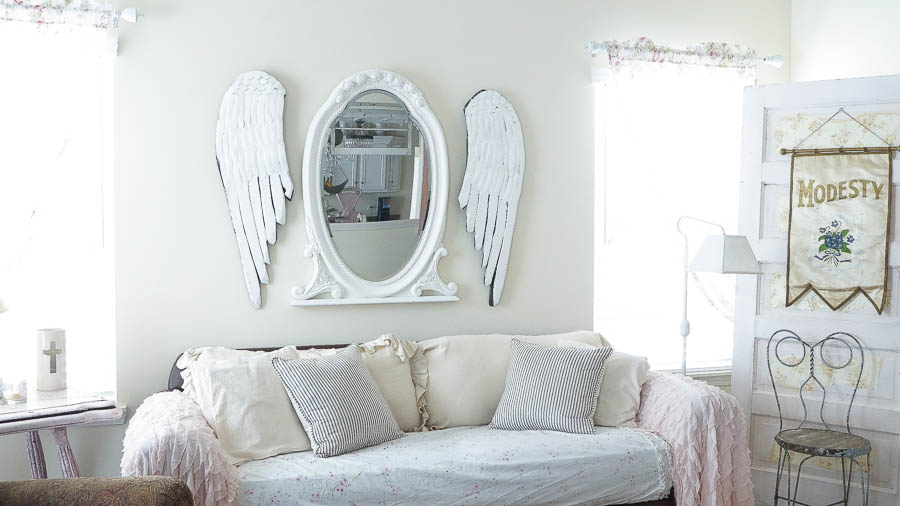 That fabric on my sofa cushion is a Simply Shabby Chic shower curtain.
I just placed it on my sofa and tucked it in.
This stays pretty neat on my sofa, and does not get messed up much once it's been sat on.
And if it does get a little messed up, that's okay.
I don't like everything perfect.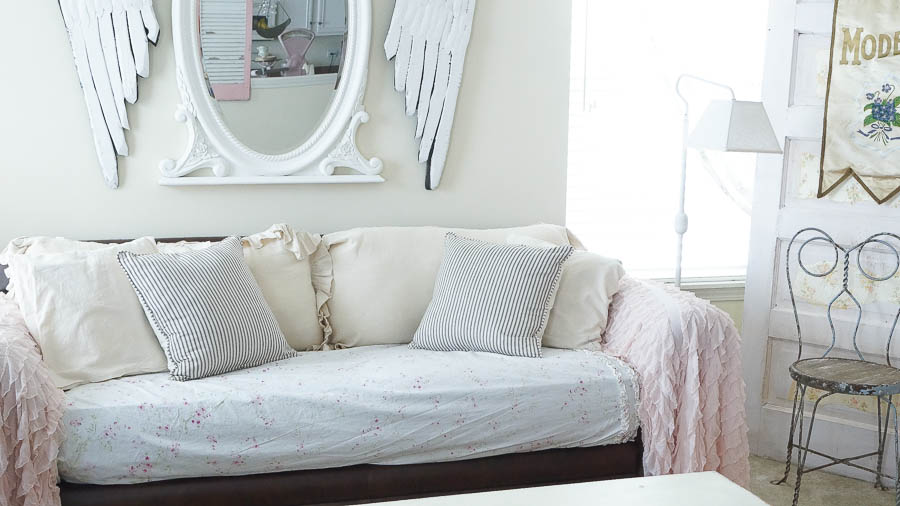 My ruffled pillow covers are king sized pillow shams also from the Simply Shabby Chic line,
The pillow shams and shower curtain were all found at a thrift store.
And as I am typing this, I see it's snowing outside.
Now you know why I love adding soft pinks and pastels to my home.
We have long dreary winters here, that seem to never end.
And yes my fresh roses are a must!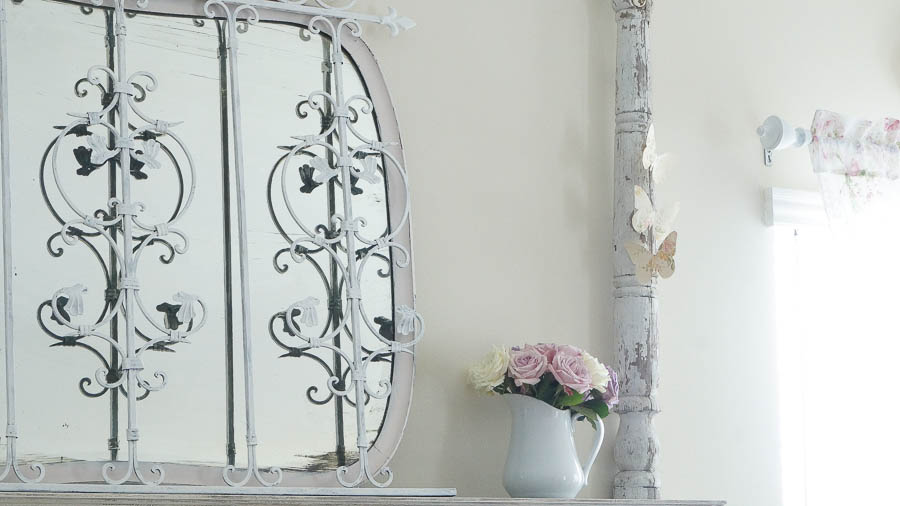 I think I may have to add a few more rose bushes to my garden this spring!
I am so ready for spring, are you?
**************************************
I would love to introduce you to one of our new sponsors!
Make sure to visit Kathy at White Swan Market.
********************
New treasures will be added to the shop shortly.
To make sure you get first dibs, make sure to follow me on Facebook and Instagram.
I will be announcing on Facebook and Instagram.