Craft Idea For Your Shabby Inspired Home
Today I'm sharing this simple craft idea to add a little shabby style to your home. I've shared this before, but I'll say it again. I always look for pieces to add in my home that are not only decorative, but also have a purpose and use.  Let's take a look at this old wood tote.
I found this tote at a thrift store. It's pretty as it has a lovely patina. But I wanted to add a little shabby style to it that would reflect the look of my home. This tote can be used for a bathroom to store little extras. It can be used on a makeup table for storing makeup and brushes. I can see this being used to store extra brushes and hair products. Yeah this can be used for many purposes. But today I wanted to show you how to add shabby style and create a little craft tote.
( This post contains affiliate links, see disclosure policy)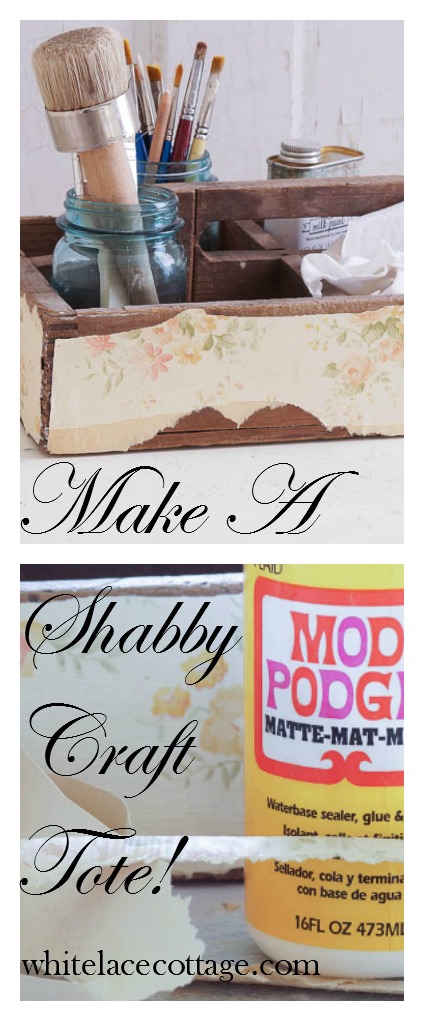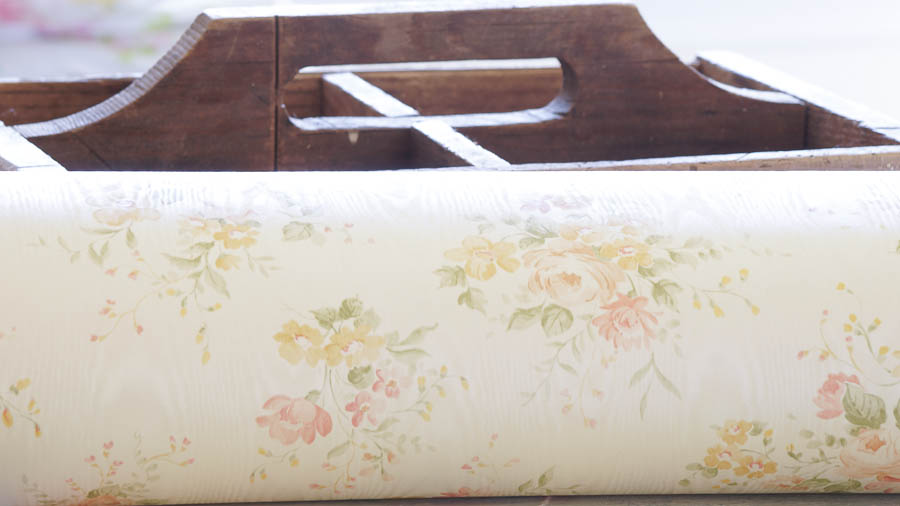 Supplies for this project.
Wallpaper, it can be vintage or have a vintage look
Wood tote ( you might find a new one at a craft store or home improvement center)
I promise that this craft idea is super easy. To for a  make this Shabby inspired vintage wallpaper tote you will need a wood tote I prefer vintage but if you don't have a vintage tote you can find a new tote and make it look old. Do you remember when I shared how to make a corbel look aged? You can read about it HERE.
Vintage wallpaper if you can find it or wallpaper that looks vintage. A friend of mine is an antique dealer, I told her I was looking for vintage wallpaper for a craft idea,  and when she came upon some she thought of me. If you are looking for some vintage wallpaper, a great resource is an antique dealer at a shop or at a flea market. Let them know you are searching for some,they can be part of your search 🙂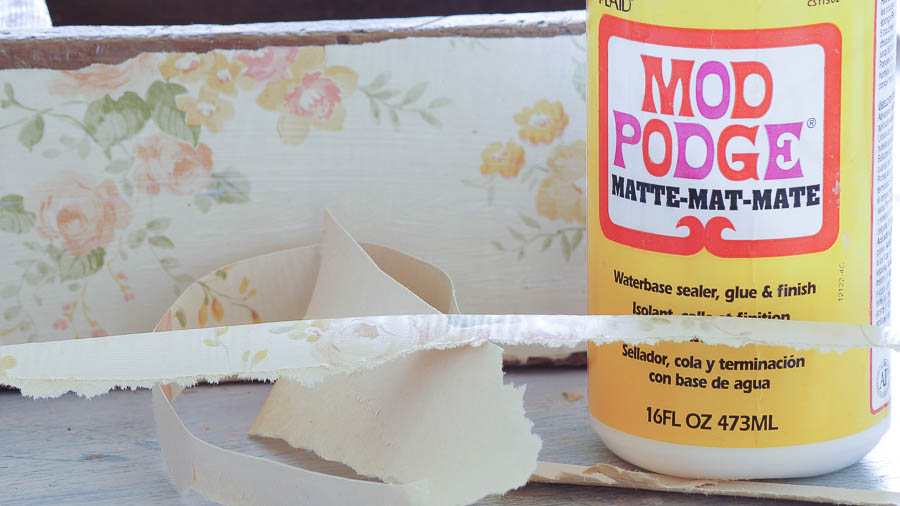 I pulled out my Mod podge and a craft brush and got to work. As you can see I decided to tear pieces of wallpaper for this project. I was not looking for perfection as I never am. I wanted this piece too look as though someone tried taking the paper off but was unable to leaving this torn look on this tote.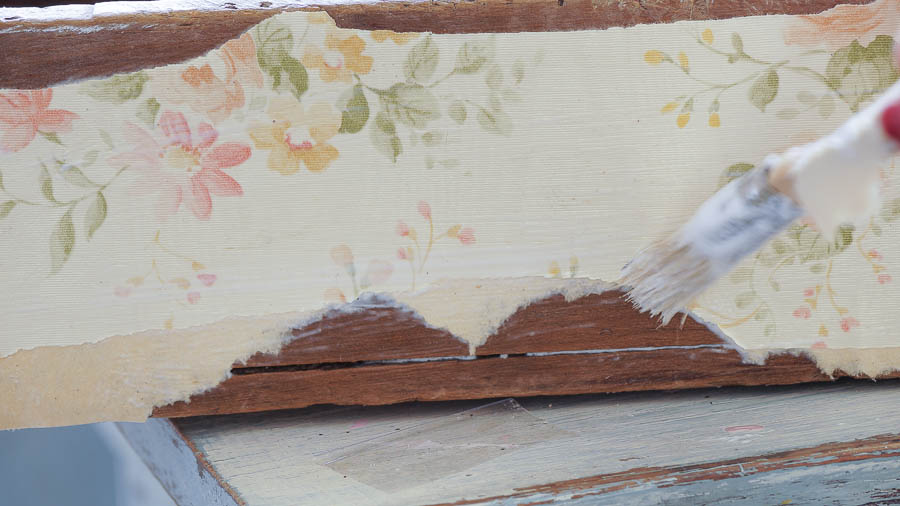 Mod Podge was added to the back of the wallpaper first,then I put the wallpaper on the tote,then adding another coat of Mod Podge on top.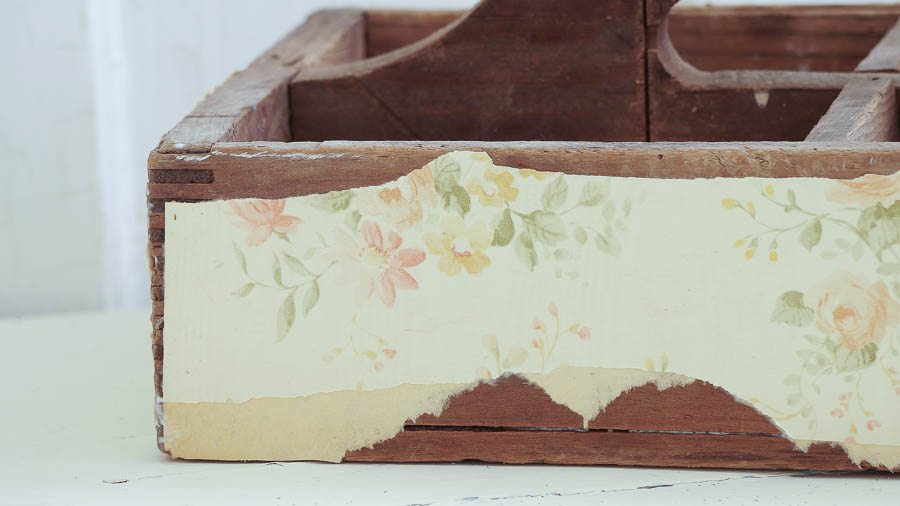 You can see how perfectly imperfect this application of the wallpaper is. And you can see the glue was still drying a bit as I shot these photos,but once it's completely dry you wont see that at all.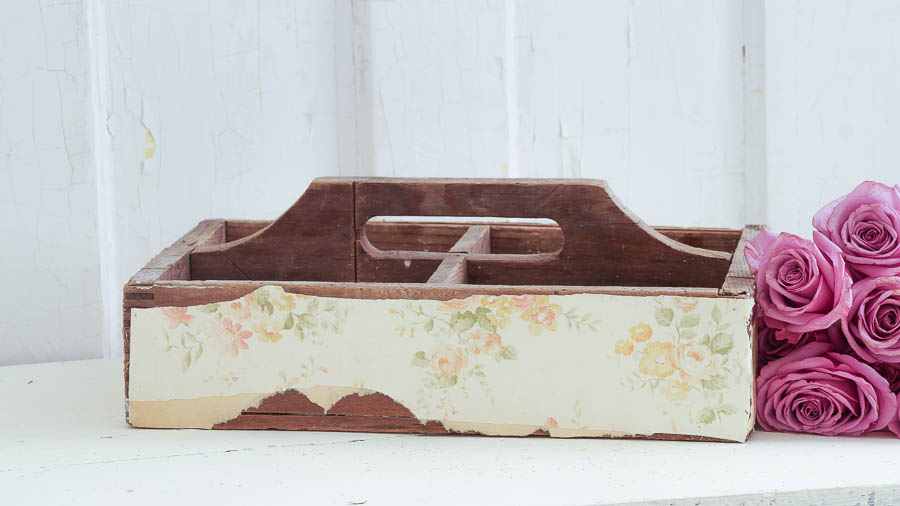 I decided to only at one layer of Mod Podge to this Shabby inspired vintage wallpaper tote. I am hoping this will wear even more naturally and look even shabbier! See I told you this was a simple craft idea! It's super cheap and easy!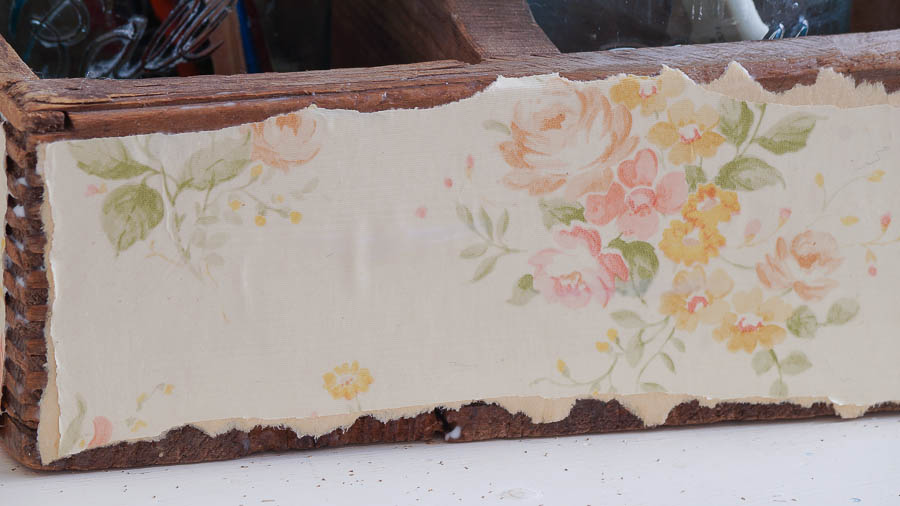 You know I love using these decoratively by adding mason jars or white pitchers with flowers. But this would be a pretty tote to add to your craft studio to keep your supplies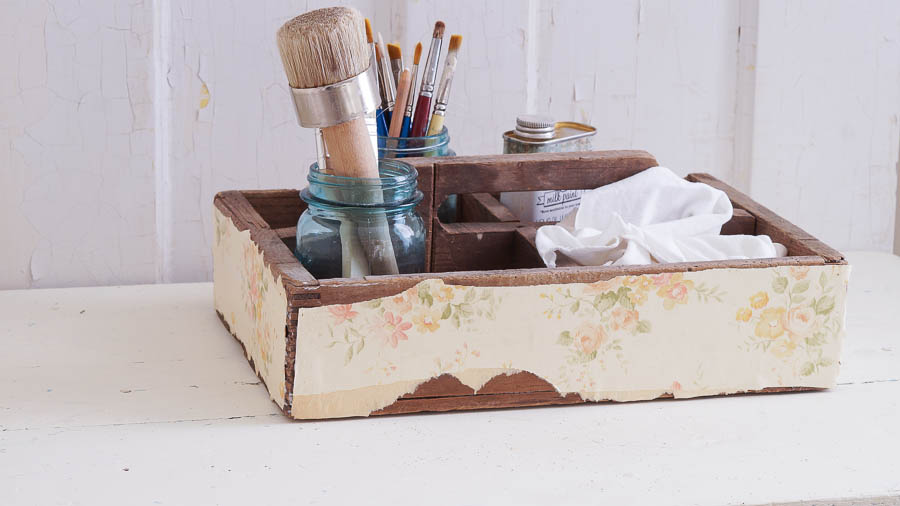 Or a great tote to use to keep your makeup or skin care displayed beautifully in your bathroom. I know we are on crunch time right now,but this would make a lovely gift and it's pretty easy to whip  one up if you have one of these handy.
The next time you are at the thrift shop keep your eyes open for these items.
1). Vintage wallpaper or pretty paper(Always great to have on hand for craft projects,wrapping gifts or making gift tags)
2).Wood totes,vintage or not.(These are great to use for organizing)
3). Ball jars(They make great vases and also work great for organizing.
Shopping Source: