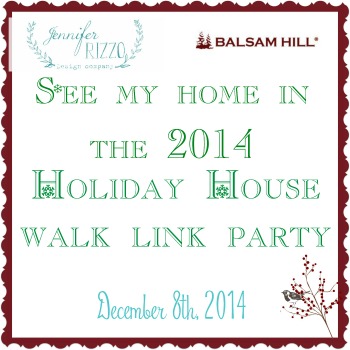 Ever since I started blogging and sharing my home via holiday tour I have linked up to Jennifer Rizzo's house walk.
I am a part of many home tours this year so many of you have probably seen my home.
But I also know that many of you may not have and I am sharing another room today.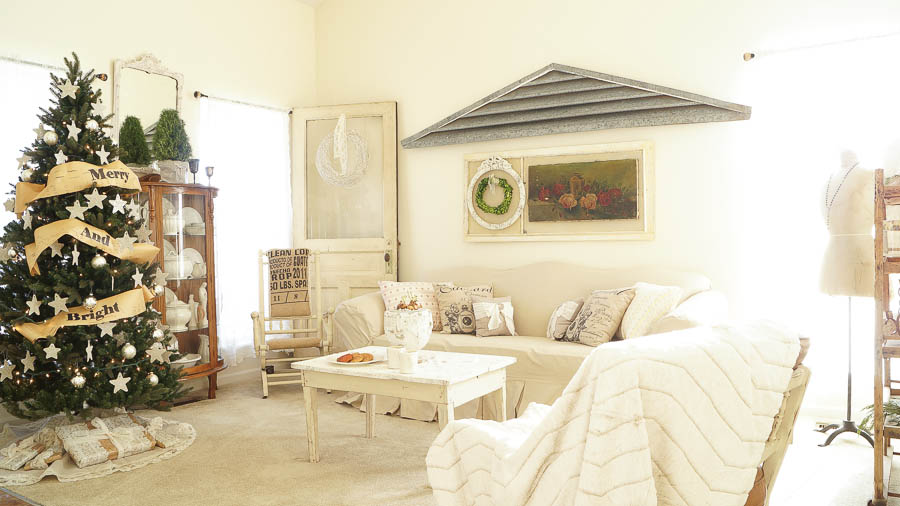 This year I decided to many of my ornaments starting with this tree.
Stars were traced using a cookie cutter on a sheet of silver poster board,and sprinkled with German glass glitter.
I also made the paper tree garland,and no sew tree skirt.
You will notice on my holiday home decor is pretty simple.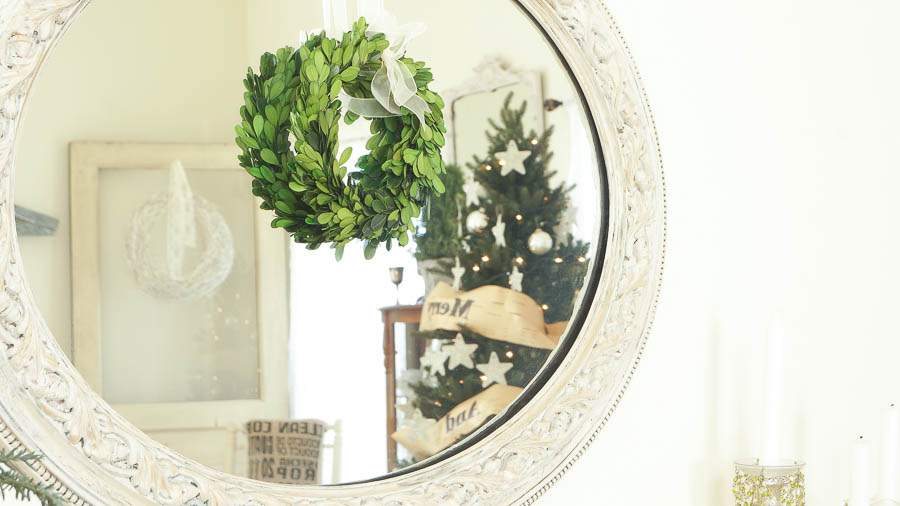 My tree's are the main attraction,then I add fresh wreaths and greens into the mix too!
I don't like rearranging and putting my favorite pieces away,instead I add key pieces to my decor.
This vintage mannequin has a beautiful pair of Angel wings that are not only kept out for the holidays but always.
My preserved boxwood wreaths are also kept out after Christmas,even into the summer months.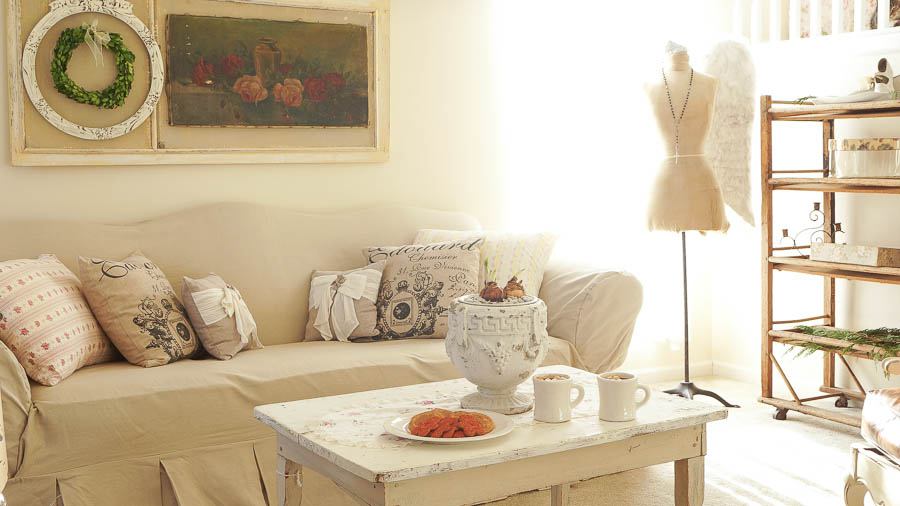 My tree in this room really sparkles at night it really looks magical.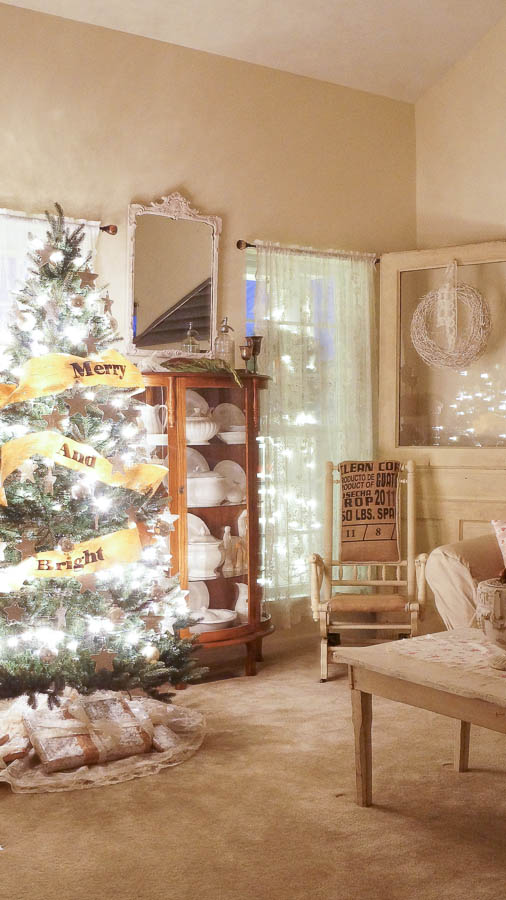 In my dining room I added my silver tinsel tree,along with a fresh wreath from Lynch Creek Farms,and fresh greens.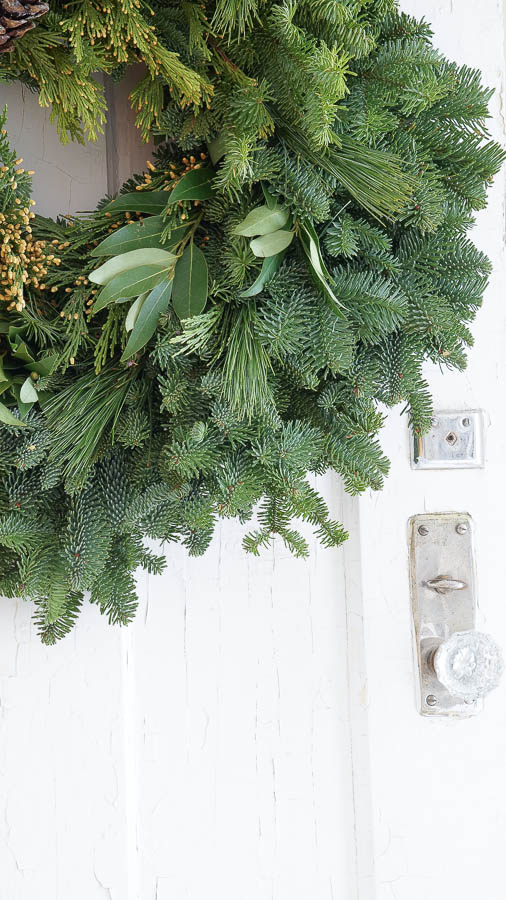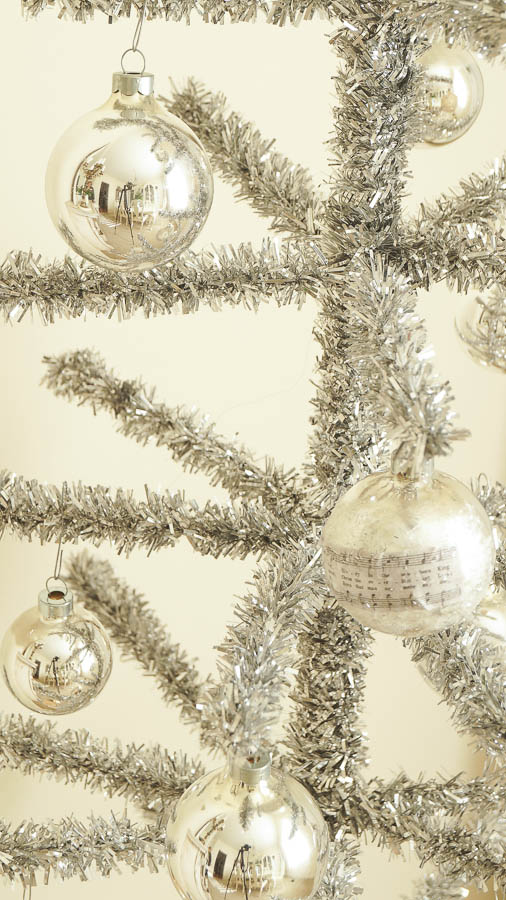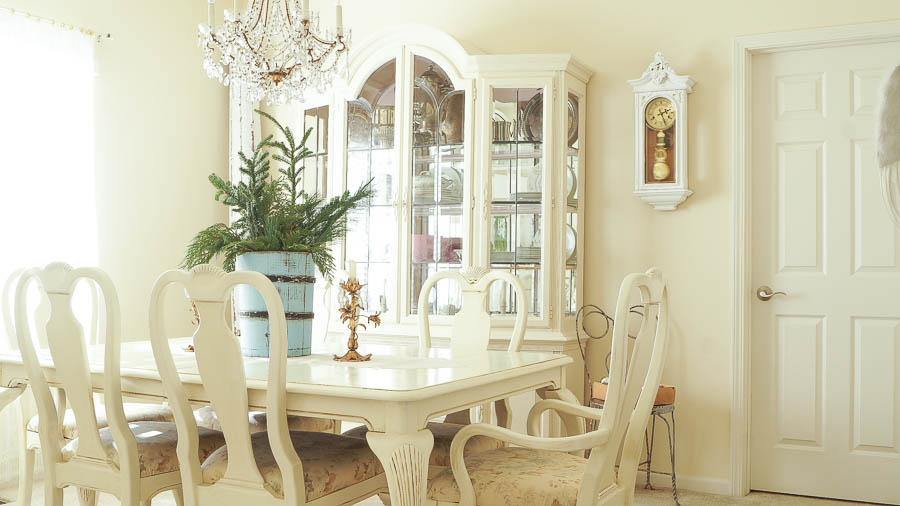 This vintage ice cream bucket works perfectly as a vase for my table.
Several months ago I added a touch of blue in this room.
I love vintage ornaments,even when they don't all fit on the tree I love keeping them out.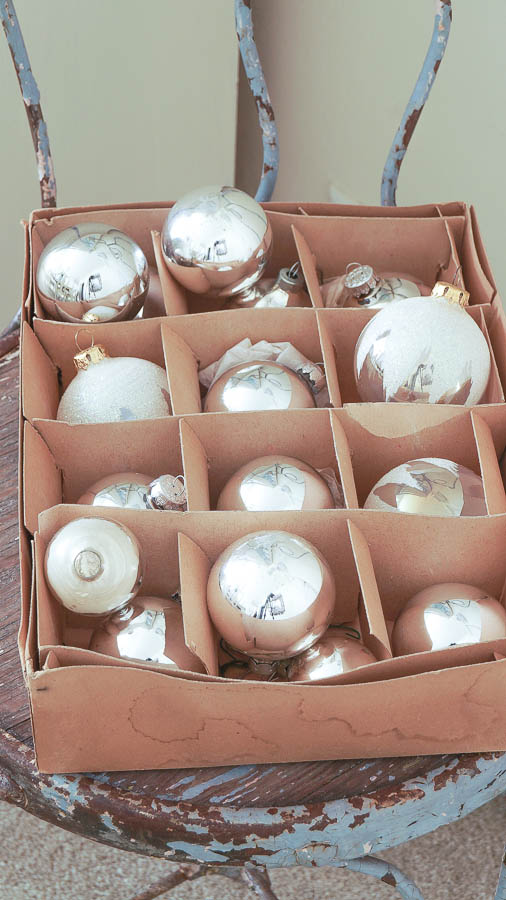 Another pair of Angel wings adorn my wall,this time on an old gate.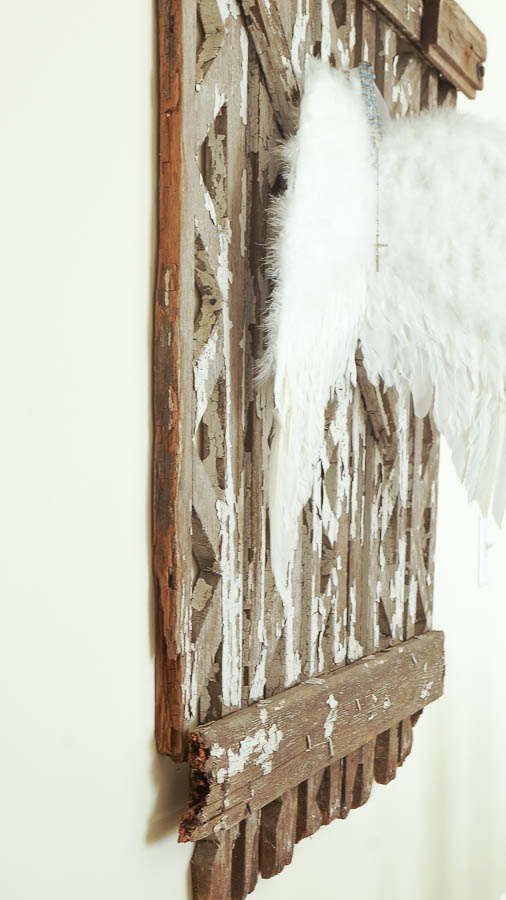 A string of German glass glitter stars stream on my mantle.
Just a little sparkle added to this room.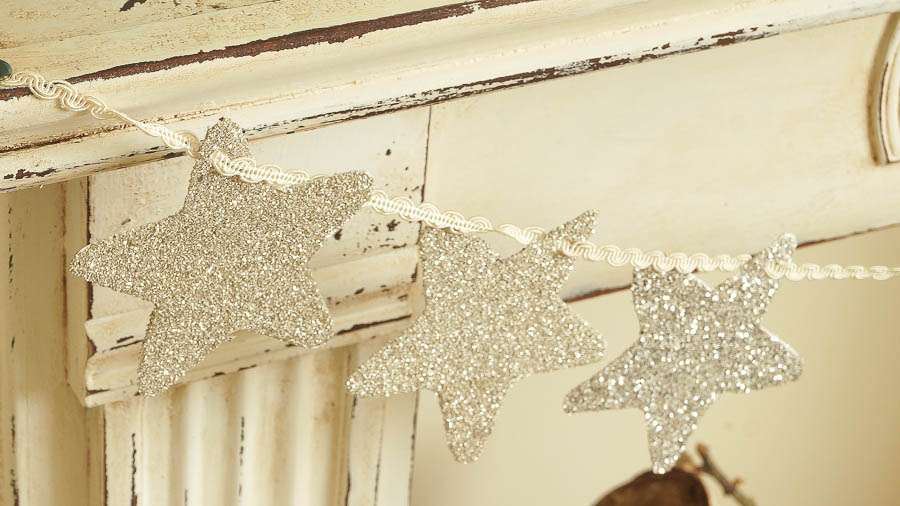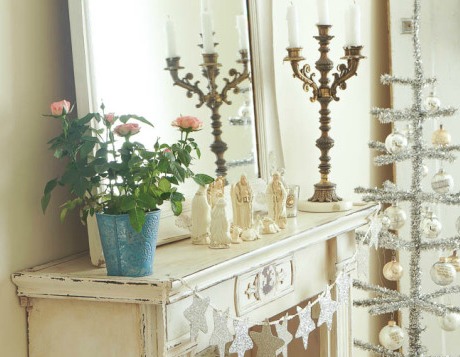 This mantle is a newer piece since last Christmas,just adding that sweet Nativity set and a recent purchase from Trader Joe"s that petite rose plant.
In the kitchen I once again added a tree to my corner,this year I used a few old drawers from a dresser I am not currently using as my tree skirt.
I just placed one drawer on top of the other and placed the tree inside.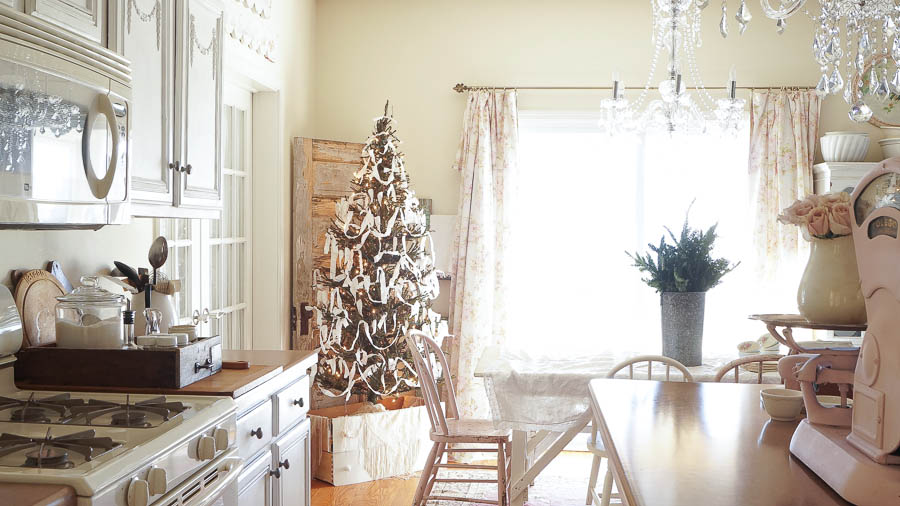 I wanted a Shabby Chic tree this year so I took Simply Shabby chic sheets that were round while thrift shopping,I cut and ripped them into strips tying them together to make a garland.
Some were added to the tips,just tying them to the ends of branches.
Angel wings were made cutting out Angel wing shapes onto vintage wall paper and then adding a big of German Glass glitter for a bit of sparkle.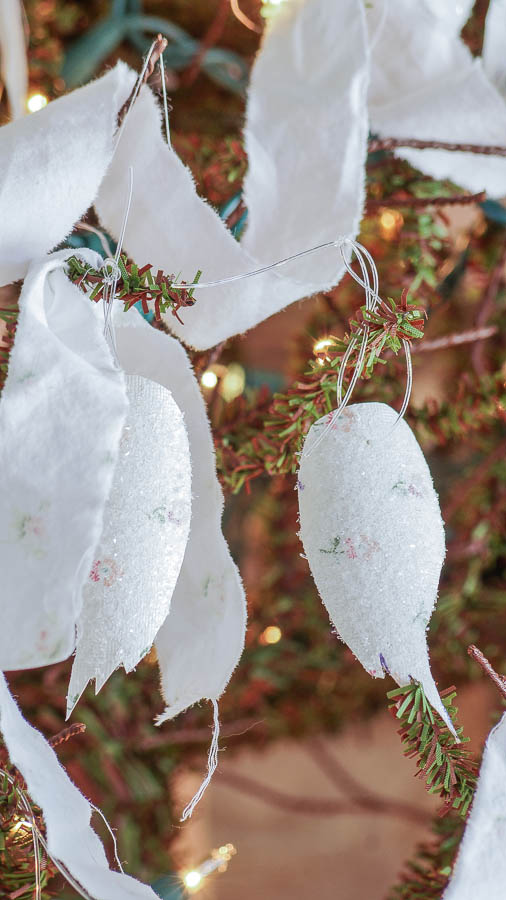 I love the bits of shredded pieces hanging,it's so soft,romantic and very shabby.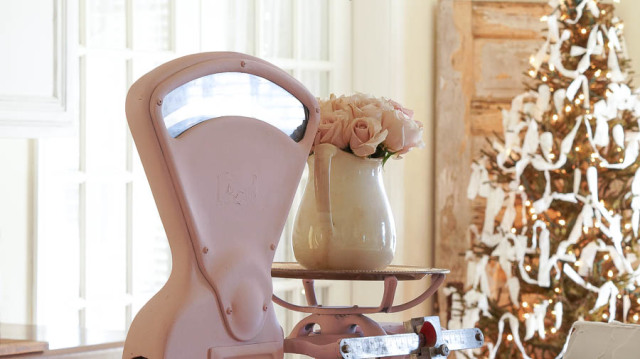 I always keep fresh rose's in my house,and my favorite place is on my old pink scale.
I know this does not have a holiday look,but it works and shows you don't have to put all of your things away just for the holidays.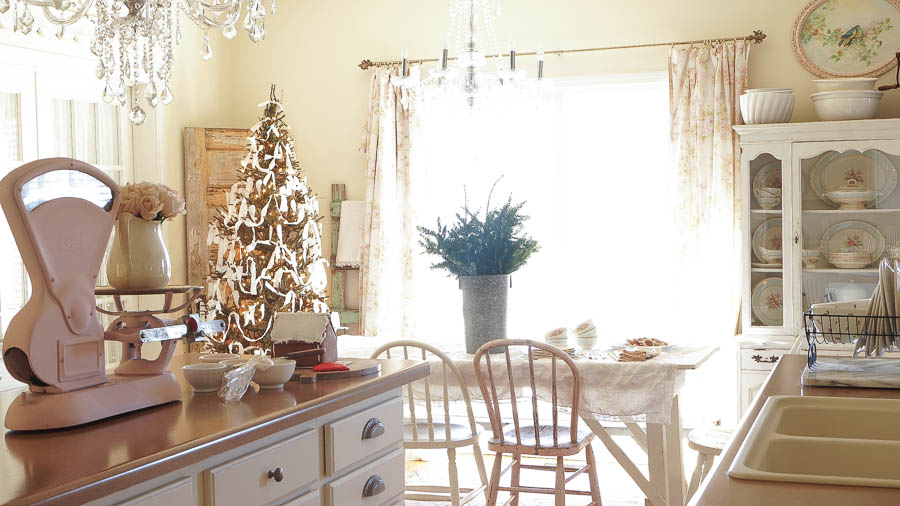 My table is always kept pretty simple,I always like something in the center of the table.
This is a little tall to keep while dining,but it's also very easy to remove when we are sitting here for dinner.
I don't collect Christmas dishes,I use what I would use anytime.
This is one of my favorite patterns.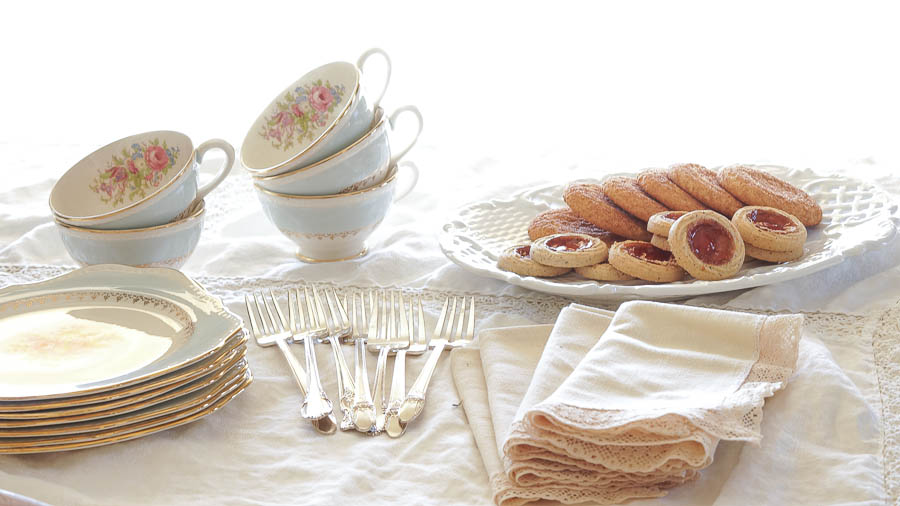 Since my tree is in my kitchen and my kitchen is open to my family room I just added a few holiday touches.
On my mantel is a beautiful fresh garland from Lynch Creek farms.
And my wreath was inspired from Jennifer Rizzo's book Creatively Christmas.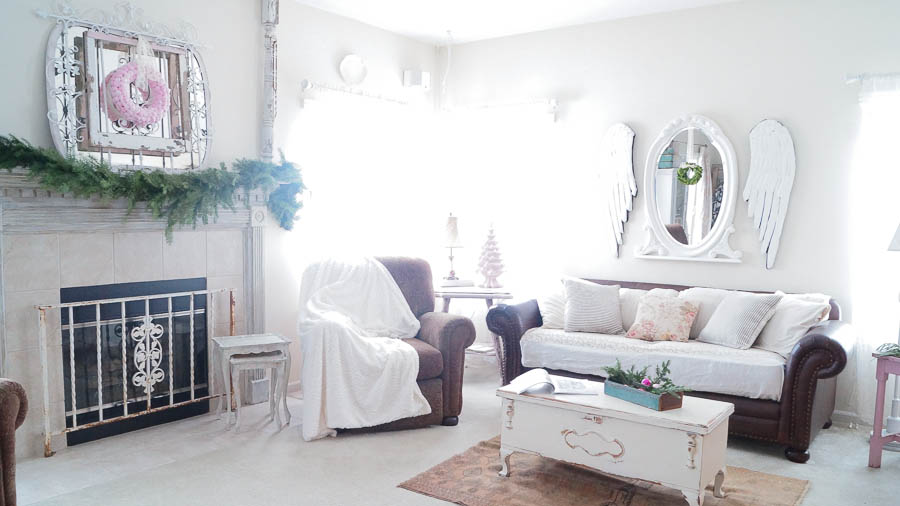 Pink pom-poms were used to make this Shabby Chic inspired wreath.
Jennifer inspired me with her Pom-pom tree in her book.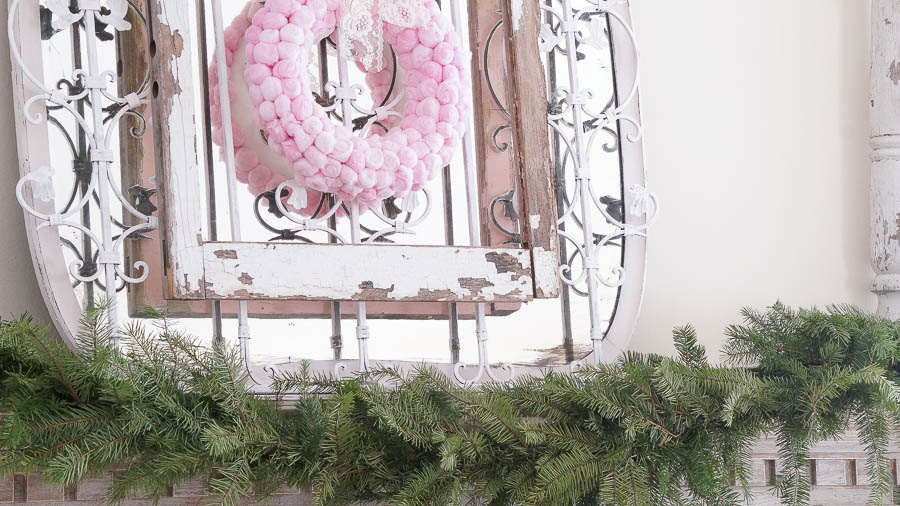 I added just a bit of greens to an old chippy tote.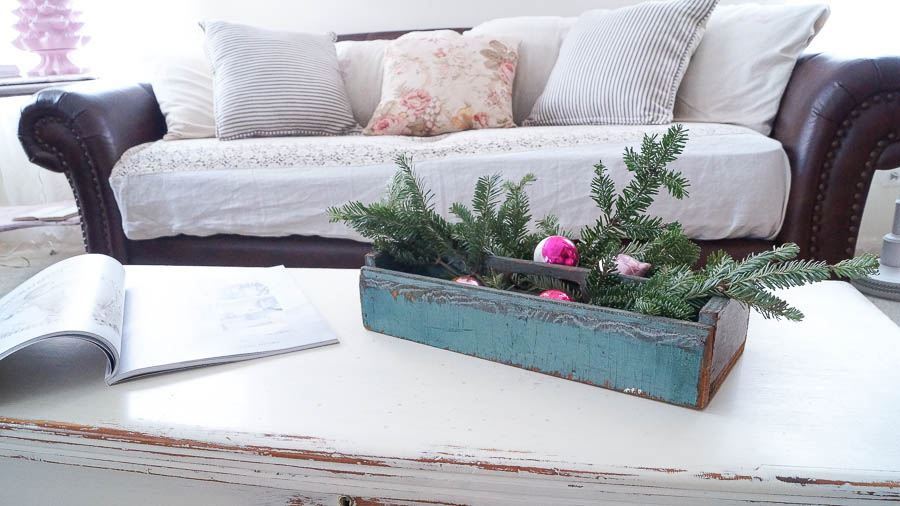 And a large stocking hangs on an old chippy door.
Bits of shredded paper are tucked inside.
It's actually the way I bought it,and decided to display it that way in my home.
A sweet friend Polly from Counting Your Blessings made this,I am thrilled to have it in my home!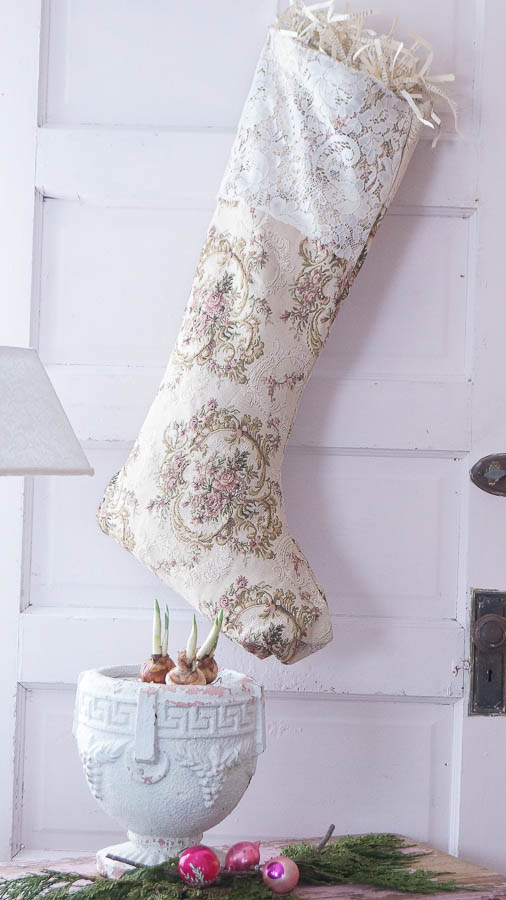 My chippy garden urn is filled with paper whites.
Since this photo was taken they are growing quite tall and are about to open!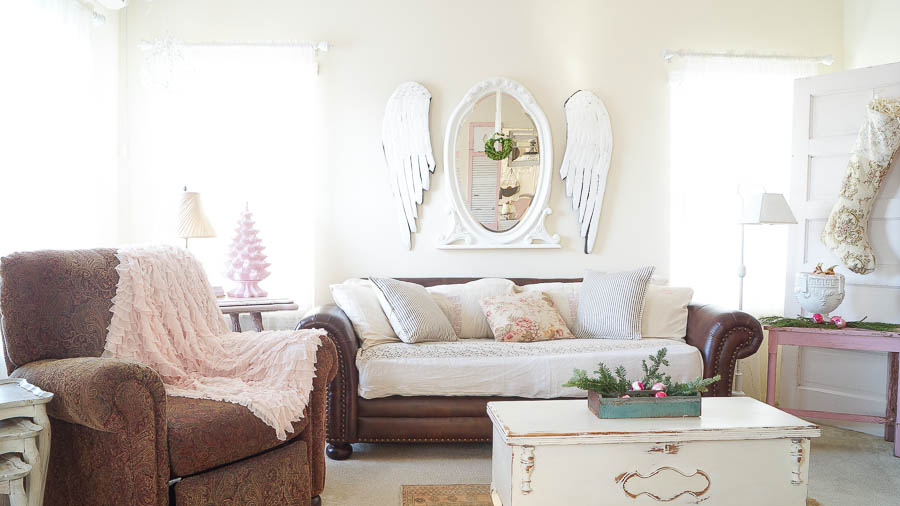 The only tree in this room is my pink ceramic tree placed on my shabby chic chippy table.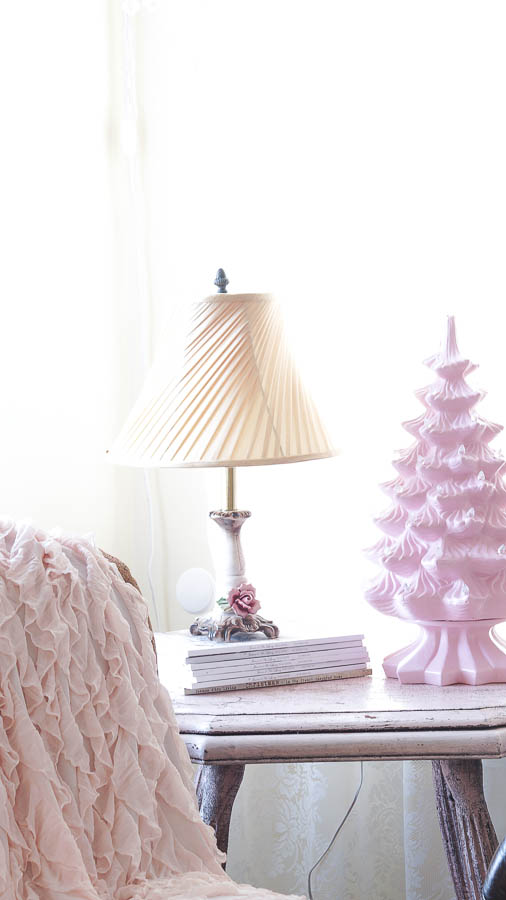 This year in our master bedroom I decided to add white tree,which I have wanted for the past few years.
I found mine at walmart.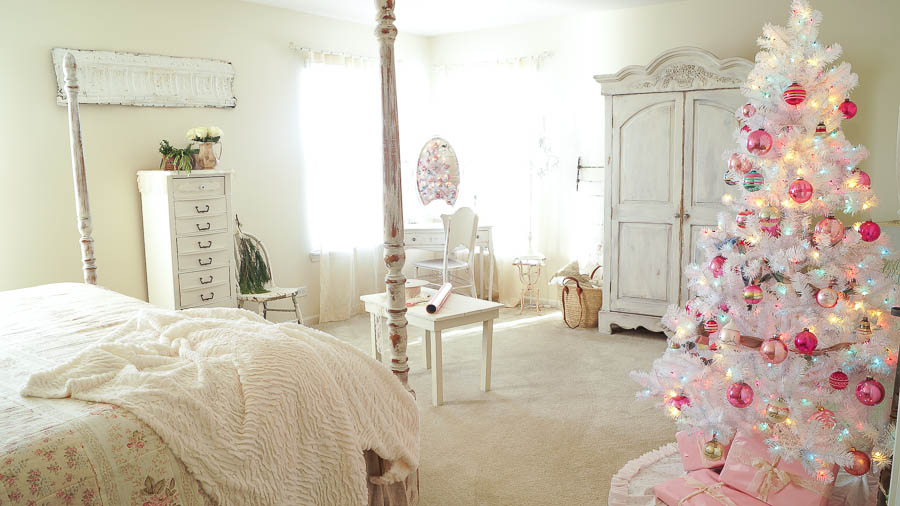 My vintage ornaments work perfectly with this white tree and the soft pastel colors of the lights.
The tree skirt was made using a Simply Shabby Chic sheet that I found at a thrift shop.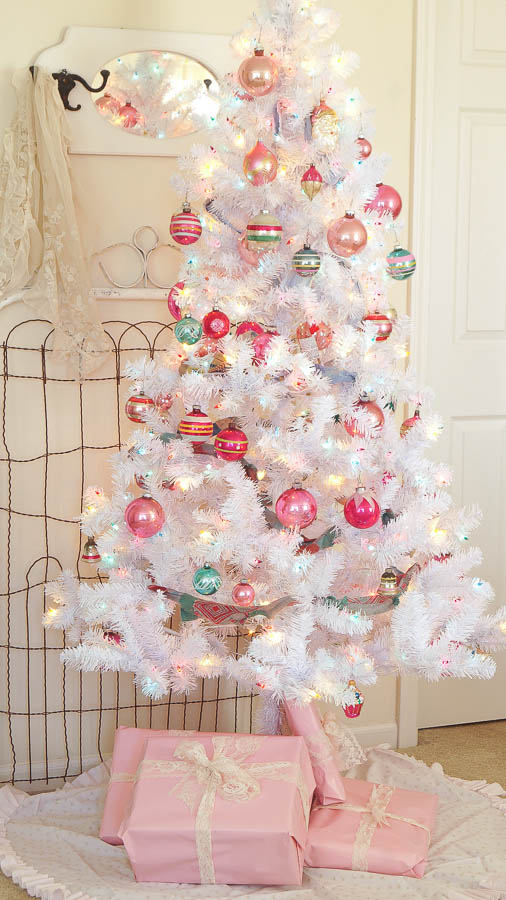 If you look closely you will spot an unusual tree garland.
It's made from vintage socks and sewn together,I love the colors on these socks and they work perfectly with this tree.
I like keeping things pretty simple in our bedroom too  as far as decorating.
I just added these vintage ornaments inside this cloche that's placed on top of a vintage silver platter,and anchored by a few fresh greens.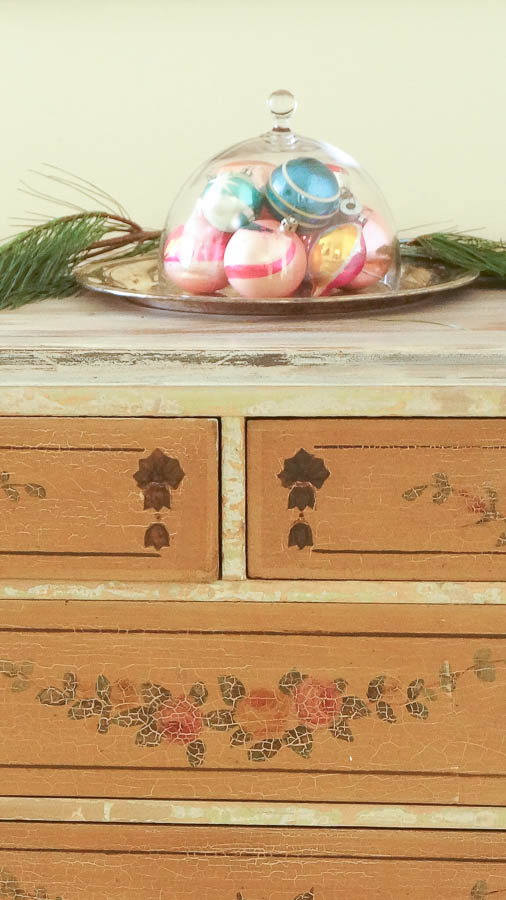 Another project inspired by Jennifer Rizzo's book.
This pom-pom tree is given a little shabby look by adding these pink cotton balls instead of the white.
The bells are mismatched and found while treasure hunting.
But you can see this fits in well with my room.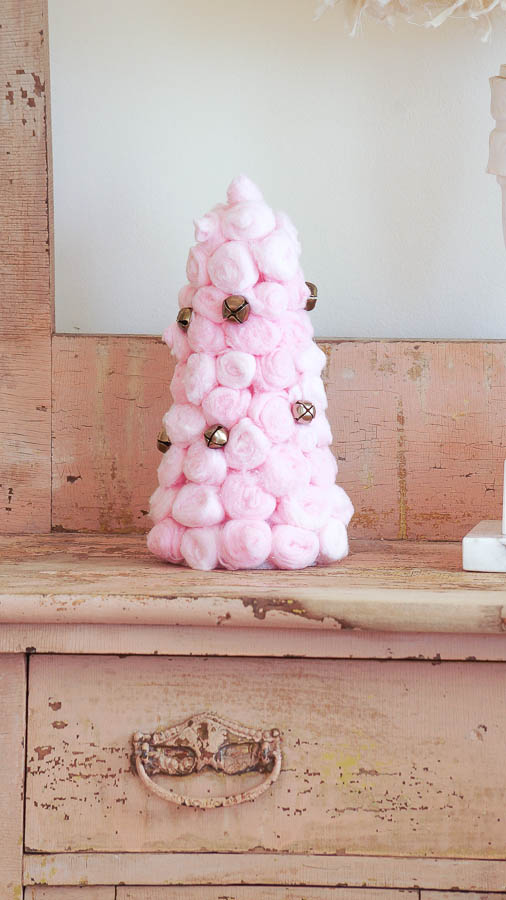 I love the reflection of the tree in my mirror.
At night the room has a soft pretty glow.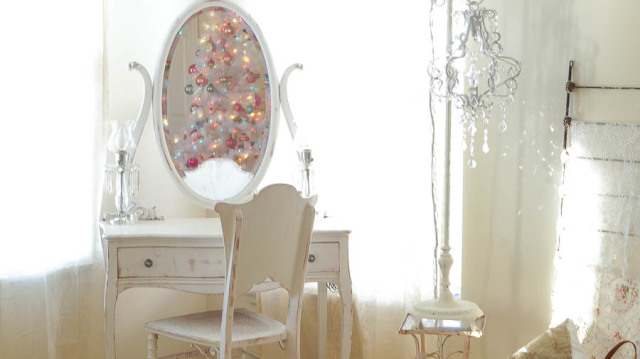 A few fresh greens tucked in this old sewing drawer and a bouquet of white roses.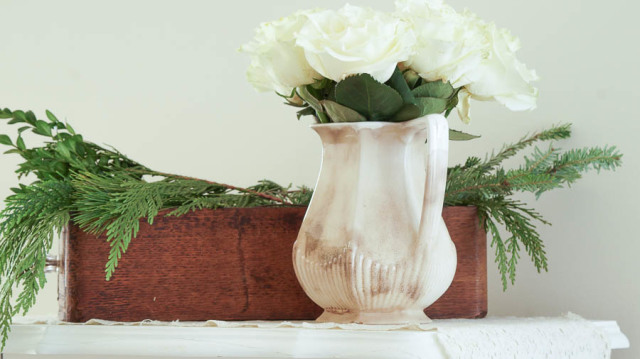 I don't know about you but I wrap my gifts in our bedroom.
Setting up a small table helps a bit so I am not sitting on the floor.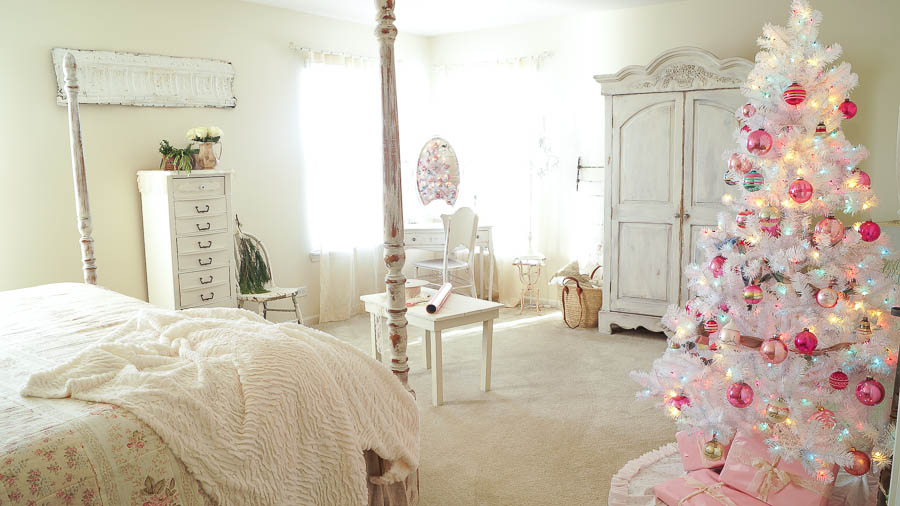 A bench at the end of my bed provides a little seating as I wrap gifts.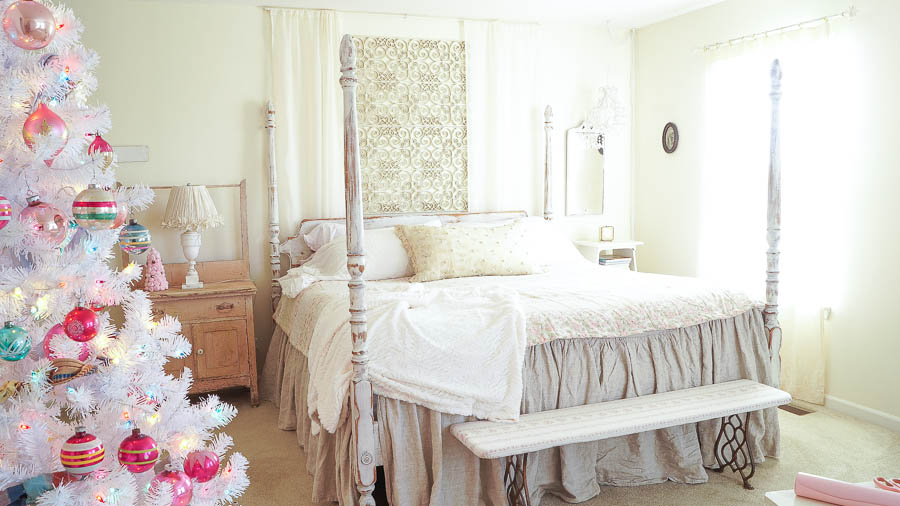 Thanks so much for stopping by!