Recently while I was out treasure hunting I came across this gorgeous vintage Shabby Chic style dresser.
I never know what I will come across when I am out treasure hunting.
As I have shared before I mostly shop thrift stores and I am really lucky coming across cool vintage pieces.
But this one is probably one of my favorite finds ever!
This piece screams Shabby Chic!
I think if Rachel Ashwell saw it she would be quite happy too!
Now I really did not need another piece of furniture for my home.
But how could I pass up a gorgeous piece like this?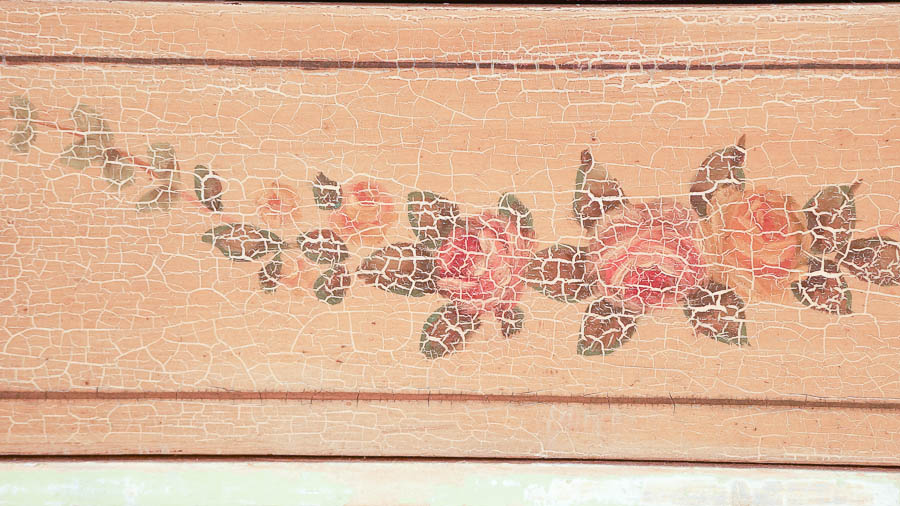 It's hand painted and the patina is absolutely amazing!
I paid very little for this piece.lets just say it was under $20.00!
Inside this gorgeous piece of furniture it is marked Berkey & Gay which is a very good furniture company.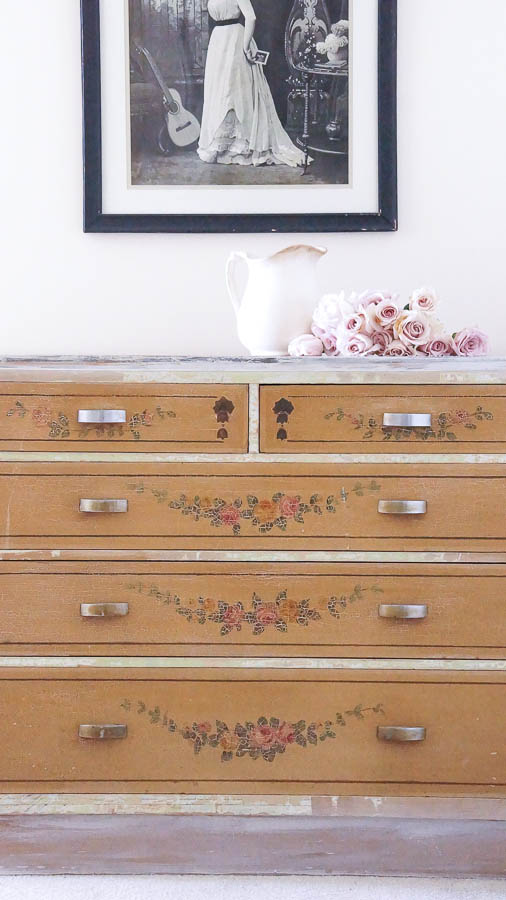 This company goes back to the 1800's!
But I think this piece was from the 1940's?
I really am not for sure of the date.
My husband and daughter both thought I was nuts bringing this into our home.
They both asked if I was going to paint this…….for real….are they crazy!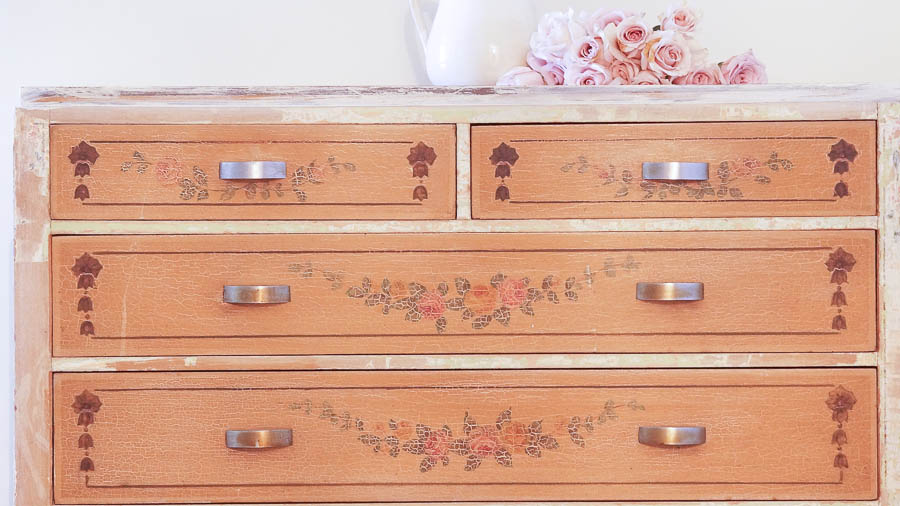 I love my family,but come on you do not paint over a gorgeous piece like this!
You just cannot replicate the patina on a piece like this!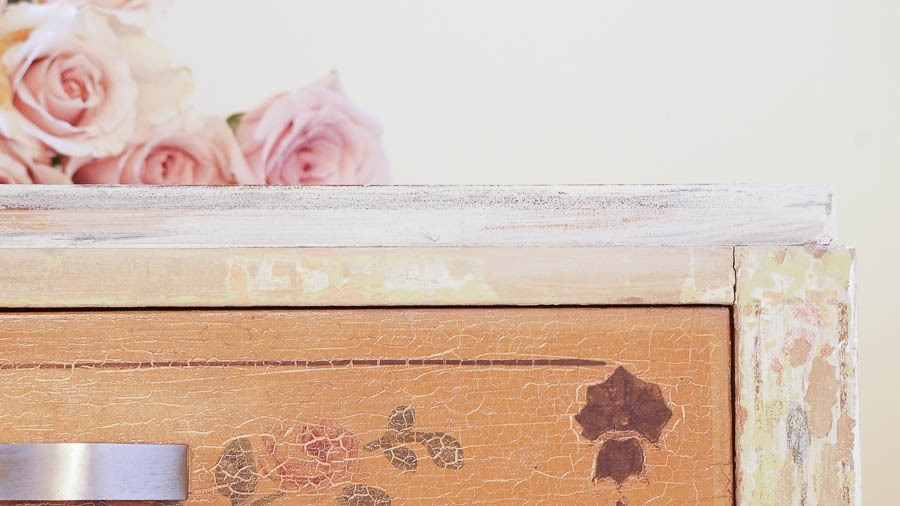 If you look closely though it does appear that someone at some point did paint the edges.
They appear to have layers of paint,a little green chippy paint that looked like it covered up hand painted roses.
So glad they did not touch the front of this.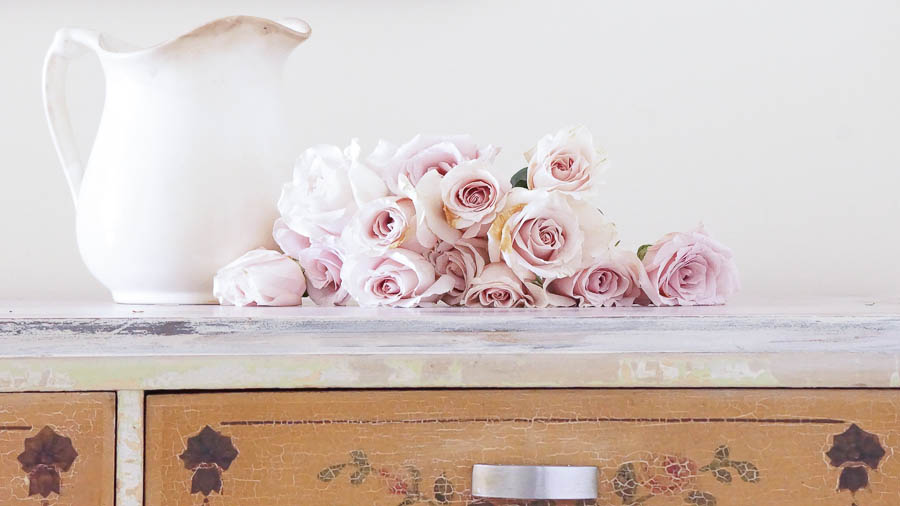 I must admit I am not fond of this hardware,it's sort of bland to me.
I would like to search for another set that would look a little more delicate and feminine.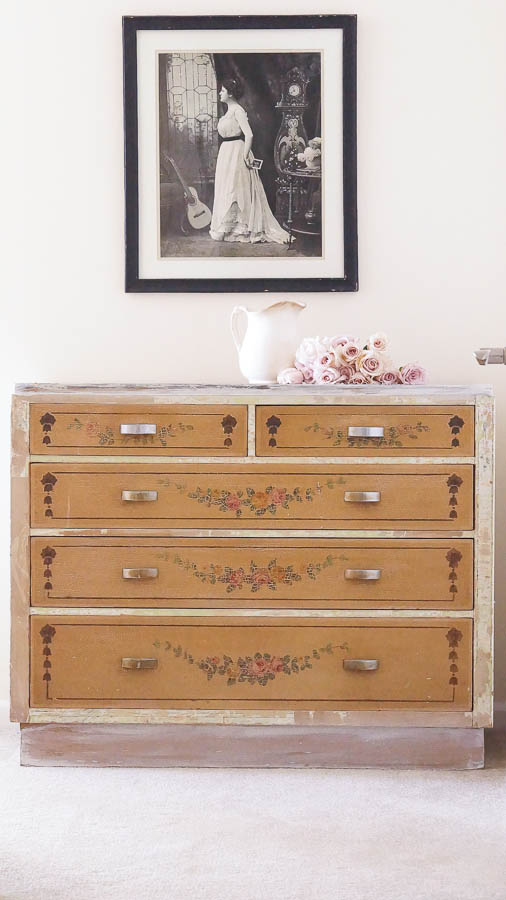 I also had to get used to a piece of furniture with out legs.
The style is a little contemporary,but the patina on this piece is so stunning and amazing I can let go of the fact that the hardware is not my taste.
Or the fact that it does not have feet is okay too.
I am absolutely in love with this Shabby Chic style dresser.
My first intention was to sell this piece at my sale in the spring.
But I think it's going to stay here with me.
It's not often that I find a Shabby Chic Style dresser like this one for such a thrifty price too.
Now I need to decide what to do with the piece I had here…well if I can't decide where to put it,I guess I will sell it.
Oh that's the fun part of selling vintage treasures.
You find something you like you can enjoy it until something better comes along.
And something better always comes along!

Joining: