No Sew Tree Skirt Tutorial
In case you didn't know, well I don't sew. That's not totally true. I could sew if I had a sewing machine. The last time I used a sewing machine was 1980 something when I was in high school. I can get pretty pretty creative without using a sewing machine. This new sew tree skirt is super easy and thrifty to make.
Supplies needed:
Painters canvas
Decorative trim
Glue gun
Scissors
You will need to know the width of your tree before starting. I know not everyone has a faux tree like I do. Take a tape measure and measure from the trunk of your tree to the outer part of your tree. You can also cheat if a friend has a tree skirt or if you have an old one that you are replacing because that can be your template. If you have an existing tree skirt you can use it as a template and just trace it. If not measure as I shared above. I hope that this makes sense as I explain.
Next take your piece of fabric and fold it into a square then fold it into a rectangle. Cut the base of your circle the widest end in a semi-circle. Then on the tip or the pointy part of your triangle cut out a semi-circle. Don't make this too large. This will base of your tree trunk opening. Unfold your skirt and cut an opening.
If you're using an old skirt as a template you just need to trace it as I did with mine. Make sure you have enough fabric as in the same size as your tree skirt template. Then cute around the tree skirt shape. I didn't pin my template to my piece of fabric, I just placed the tree skirt on top of the fabric and cut out the shape.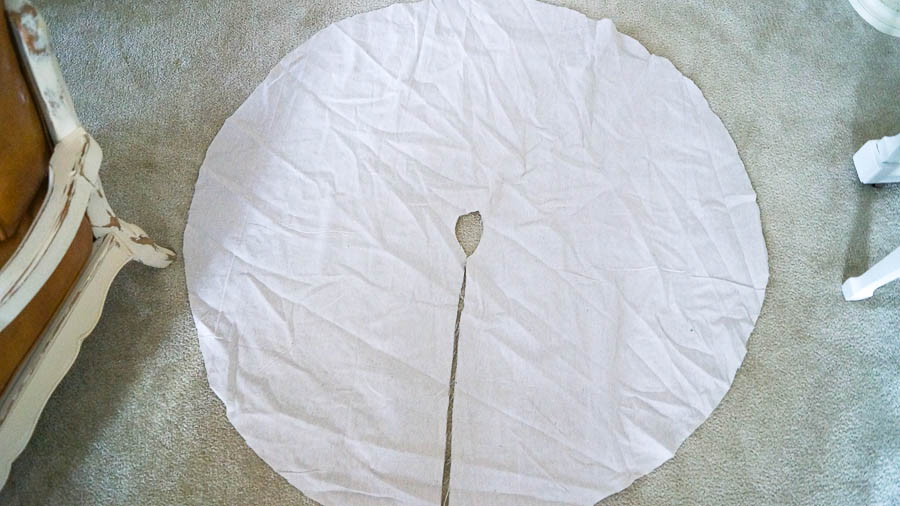 As you can see it's not perfect and that's okay. Can you see the opening and slit? Make sure you do this so you can fit it around your tree. Now it's time to embellish our no sew tree skirt.
Using your hot glue gun apply glue to the edge of your tree skirt and start applying your lace. Keep working around your entire tree skirt.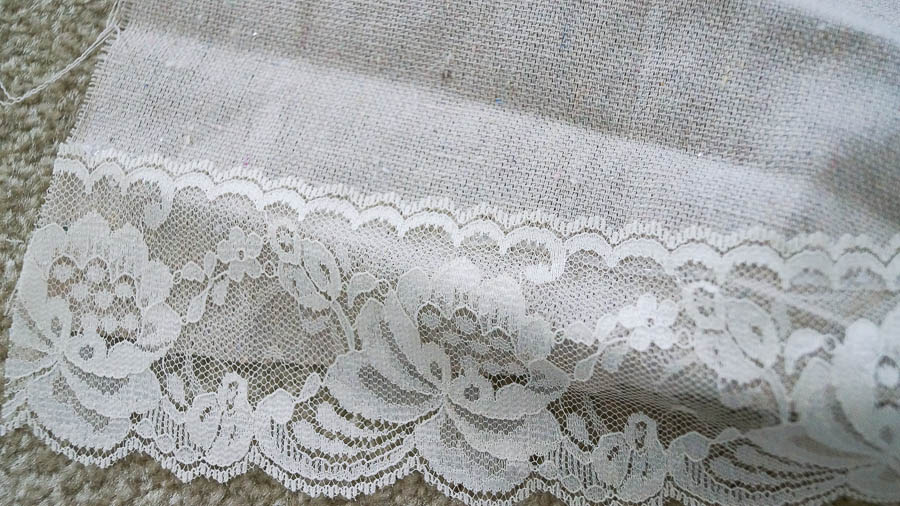 You can add one layer or two. It depends on the trim that you have and the look that you want. This is super easy to make. If you are on a tight budget check out the fabrics at a thrift store and even look at the sheets or tablecloths. Hope you find this helpful if you are without a sewing machine as I am.
Save
Save
Save
Save
Save
Save