This week is going to be a busy one,the countdown is on to the sale.I am transforming our garage into a shop.
I will be sharing photos soon so you can get a sneak peak at how it looks and what will be at the sale.
Because I have a busy week and I did not have any planned or scheduled posts,I thought I would share a post from a year ago when I painted my staircase.
Besides painting my kitchen cabinets,this is one of the best decisions I have made.
Love how nice and bright it is in our living room,no more orange stain,yay!
~~~~~~~~~~~~~~~~~~~~~~~~~~~~~~~~~~~~~~~~~~~~~~
We have been in our home for seven years.And since that time the stain on my stairs has changed from a warm glow to orange.
If I could have done it all over again I would have never stained my stairs but had them painted white.
Lately I have had the itch to paint them and so I did.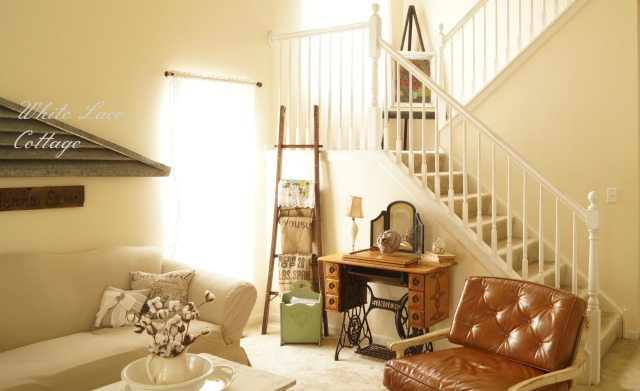 I asked my husband if he would mind if I painted the stairs.
Yes I know a silly question right! I knew he would be find with it but I wanted to ask anyway.
I decided to use Annie Sloan chalk paint in pure white.
The same color I painted my cabinets HERE
Since my wall color is a warm white it makes a nice contrast between the bright white and warm white.
I love how this has brightened up this room!
Yes I know my walls are already white but it does look more pulled together now with the rails white.
I still have a few wood pieces in this room which adds a bit of warmth.
No photos were taken just before I started to paint but I have something even better.A little glimpse of what this room looked like a few years ago.
Are you ready to see the before?
Click HERE if you dare!
Pretty amazing transformation don't you think!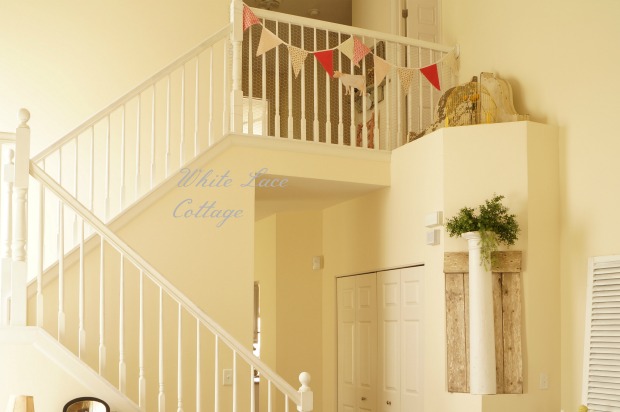 That pretty bunting is a recent find at Tattered-tiques.
I wanted to add just a bit of color in here so I added that bunting and a few other recent finds!
I recently visited one of my favorite antique shops.
One of the dealers there always has the coolest treasures.
On the shelf is a pair of vintage corbels and a bird cage that I bought from her.
Love that chippy patina…and that pop of color from the birdcage and dried roses.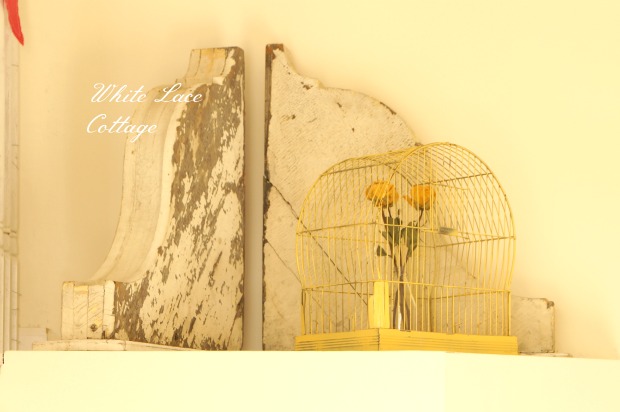 Another treasure I found in her booth is this chippy ceiling tin.
It has yellow and a bit of green which works perfectly with my hydrangeas.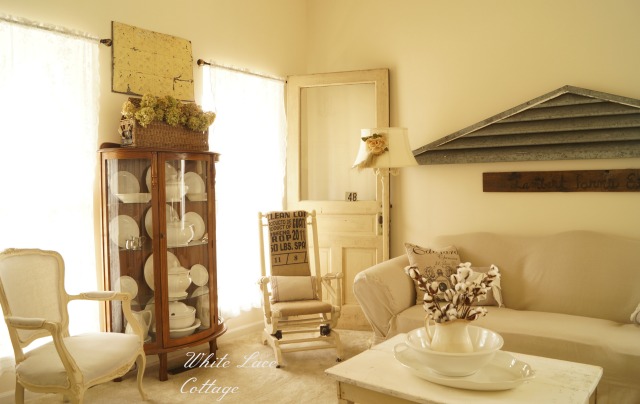 In my ironstone pitcher I added a bouquet of cotton.A recent Decor Steals find!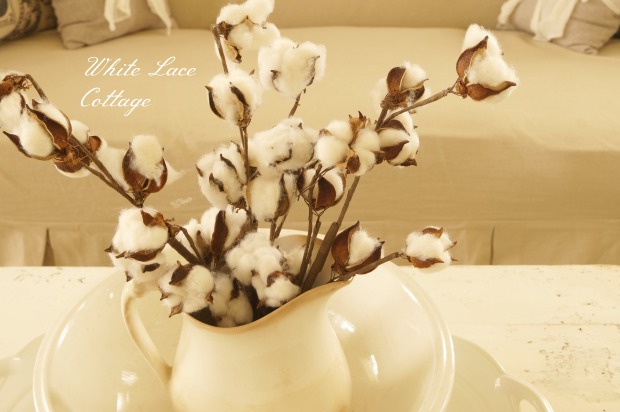 Aren't these pretty!I am in love with the neutral colors and texture of this cotton bouquet!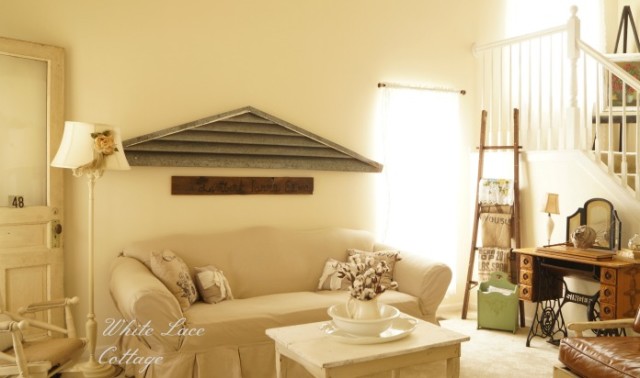 You know how much I love those old wood farm tables.
Well on Friday my daughter and I went out shopping at a few garage sales and I came home with a new treasure!
I just finished it up and I will be sharing it tomorrow!

Joining: