So I told you that I was cleaning,organizing and changing things around right?
Well the dining room was a piece of cake,my studio was another matter!
It was pretty torn apart……literally,my friend was the only person I let see my room is disarray.
And no I am not sharing those photos,I am trying to erase that memory from my mind!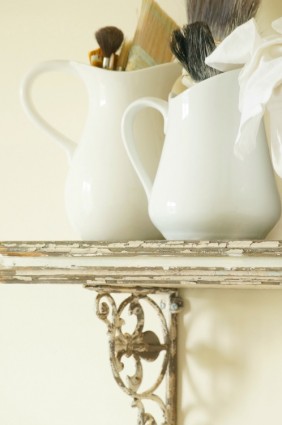 My studio is one of the most changed rooms in my house.
It's actually a bedroom and so it's not really large.
I am not complaining I am thankful to have even a small space.
But I never seem to get this room right and I probably never will.
And just so you know this room never stays this neat.
I have tried but it's impossible.
But I do my best cleaning  it up when I am finished with a project.
That shelf was a recent find and the only new vintage piece I have in this room.
Everything else was in here or moved from another room in my house.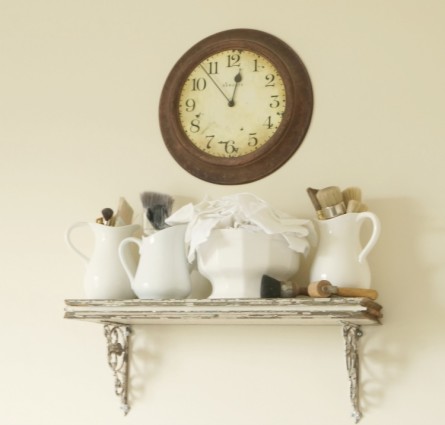 I thought this shelf would work great for storing my paint and wax brushes.
And those rags are old t-shirts I use for waxing too!
I buy them buy the bag full at thrift shops already cut up for a 1.00.
Love the chippy patina on this shelf!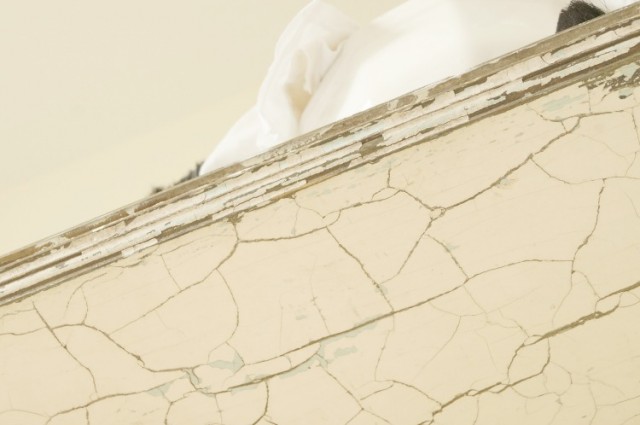 This room took a week to clean and organize!
Because I have changed it so many times I just did not know what else to do.
And I did not want to go out and buy new pieces,instead use what I already have.
Since I added that door to my dining room,you can see that HERE
And I took out the corner china cabinet,I decided to try it in this room.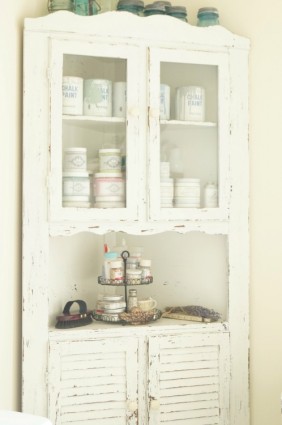 I found that cabinet several years ago and painted it with old fashioned milk paint.
It was one of my first pieces that I used milk paint on.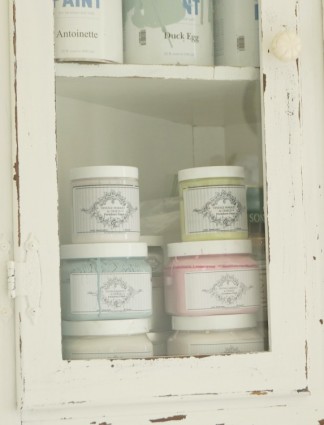 I am cringing at some of my photos today,my camera is acting a little wonky!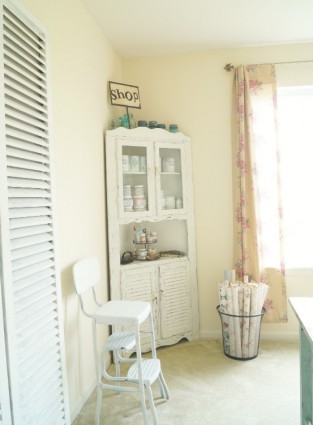 And I added those shutters to the side wall because it was lacking something.
Not sure if these will stay for sure but they will stay for now.
I am keeping that step stool as I do use it.
The rolled up pieces of wall paper are not only pretty but also functional,because I do use these for crafts.
My desk is now not just a desk but I am also going to use it for packing and shipping.
But truth be told,I need to organize and straighten my desk,yes that is next on my to do list which keeps growing!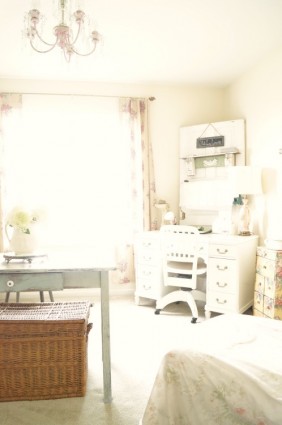 Something unexpected in this room is my chaise.
I had this in my bedroom,but I really have not used it in awhile.
I wanted a comfy chair for this room,and thought why not move that into my space,so I did!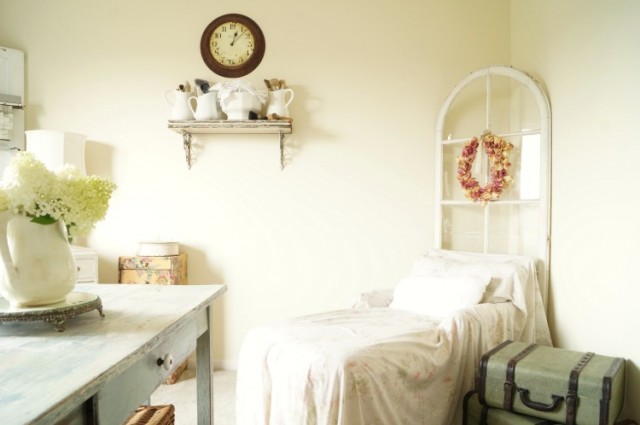 I love that old window,funny it sort of looks like a headboard here!
The dried roses wreath was from a previous project.
I still like this old shabby sheet draped over this chaise.
The suitcases store supplies,and also work well as a table to hold a cup of coffee or tea.
And just so you know as I am typing this I am sitting here on my chaise 🙂
I also added a vintage chandelier to the ceiling,it's not working yet I need to get it checked out first and see if I can hang it the way I had my other chandelier.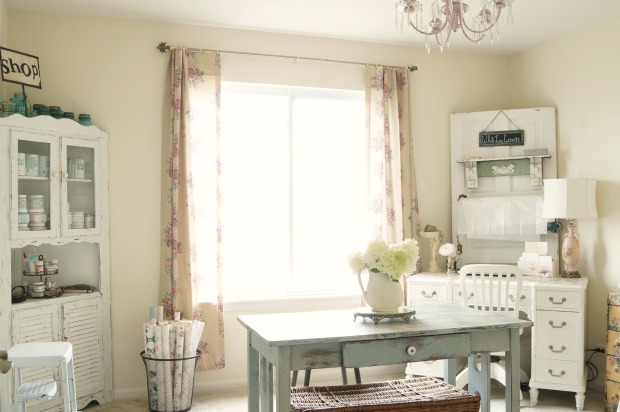 That French basket is filled with my scraps of fabric that I use for projects.
It was for sale but glad I still have it because I needed it and I like the way it looks.
My vintage wallpaper dresser will come in handy too.
Storing bits of lace and ribbons for wrapping packages.
And some fresh hydrangeas from my garden,yes they finally bloomed!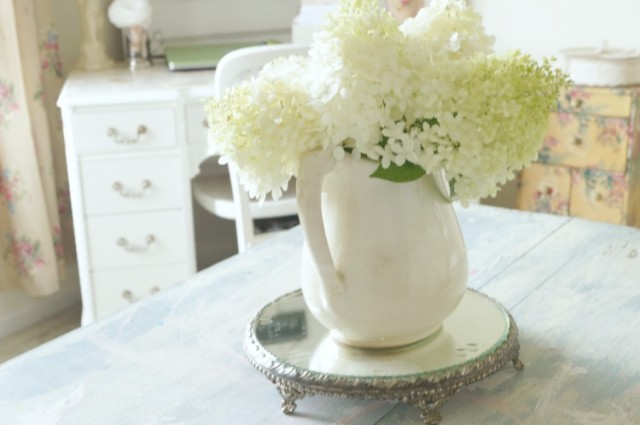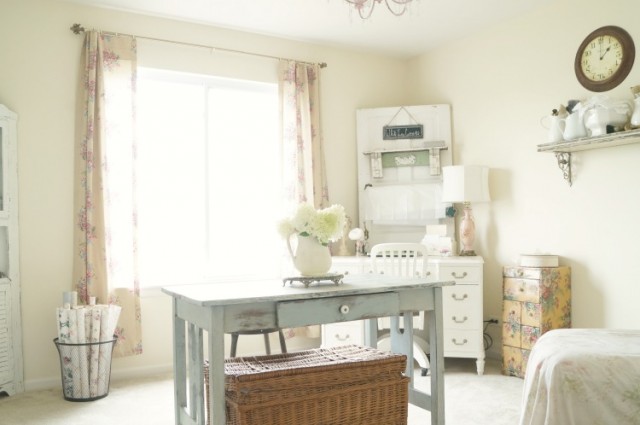 Let's see if I can keep this room clean!
And as they say one thing leads to another.
Since I added my chaise in this room I had to make some changes in my bedroom,sharing changes soon!
Here are a few before photos from a year ago,although this room went through a few changes even after these photos.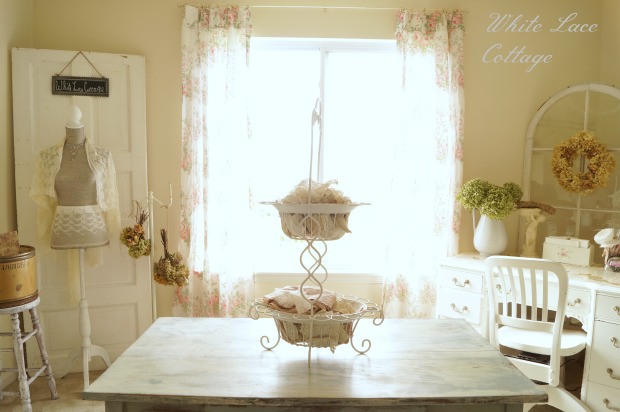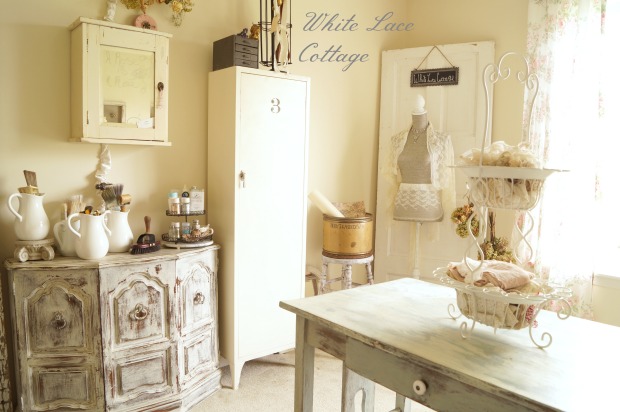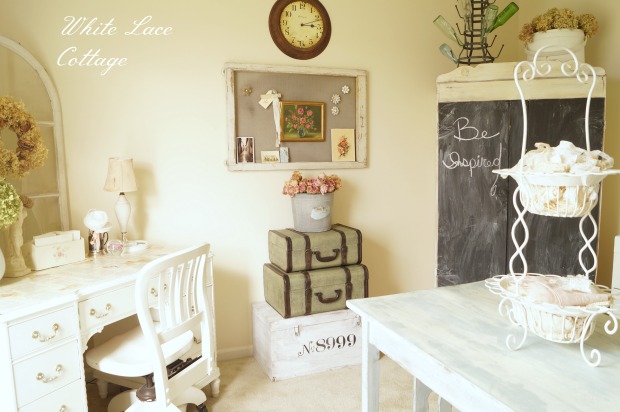 Joining: