Sometimes I start a project and then months later I finally finish it and sometimes it takes a little longer to photograph it.I am sure you remember my master bathroom reveal I shared of my mini makeover.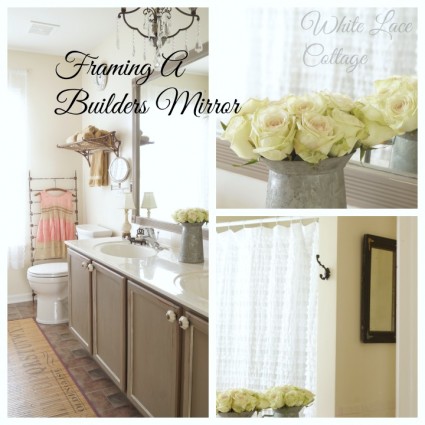 All was finished except for the mirror,it took a little longer because it was back in February and we had bitter cold temperatures.
I was not ready to go out into the cold.
But I recently shared my daughters bathroom reveal,you can view it HERE.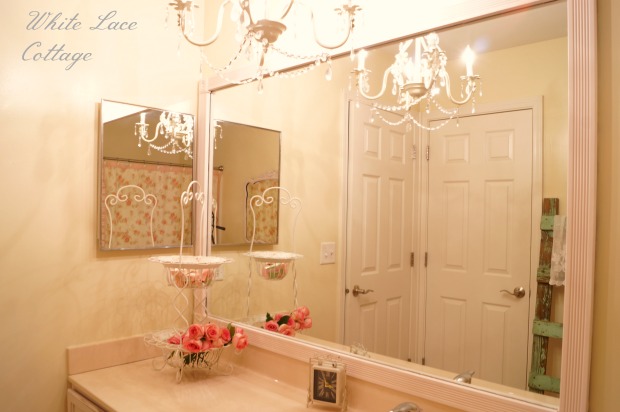 When I did her bathroom I framed out her bathroom mirror,I mentioned that I as also going to do the same in my bathroom.
Here is the before shot of my bathroom mirror.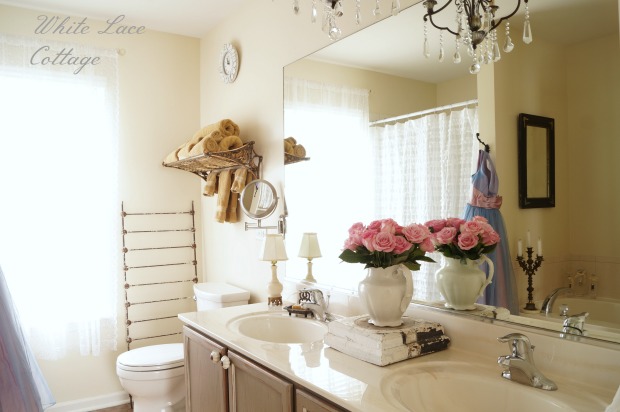 Pretty blah looking as one big boring mirror.
This is a photo of the mirror after framing it out.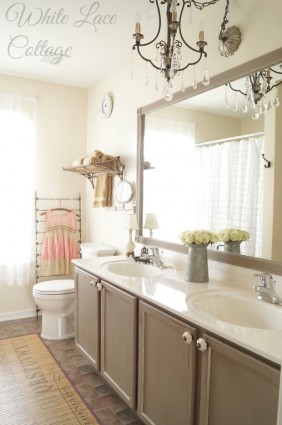 Quite a difference!
That very helpful Home Depot associate helped cut all the trim pieces for me so I did not have to do that.
As I explained on my post about my daughters bathroom , I just painted these pieces first then added a glue adhesive and applied the trim pieces to my mirror.
Now at first I was going to do a white mirror frame,but after I added it I decided that I should have painted the pieces to match my cabinets.
The cabinets were painted using Annie Sloan Coco,and that is what I used on my mirror frame.
Only one problem if you remember that I shared that you should paint the frame first then apply it to the mirror.
Why because you will see the reflection of the color in the mirror.
Well because I changed this after I hung it I had a white back and a coco color front.
So to make it a little shabby looking I sanded it just a bit so you could see some white peeking through which looks much nicer!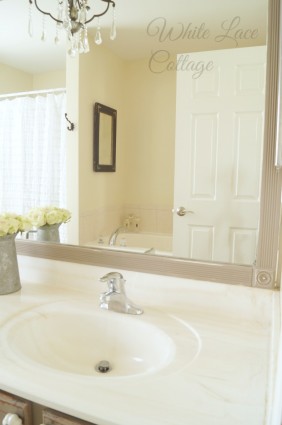 This makeover was so simple,just changing a light fixture,some paint and accessories,oh and a bit of trim too!
But it just shows you don't need to knock out walls or anything to change a room.
I did not touch the floors,someday I would love to remodel this bathroom.
But it's just not in our budget right now.
Here is a before shot of the bathroom.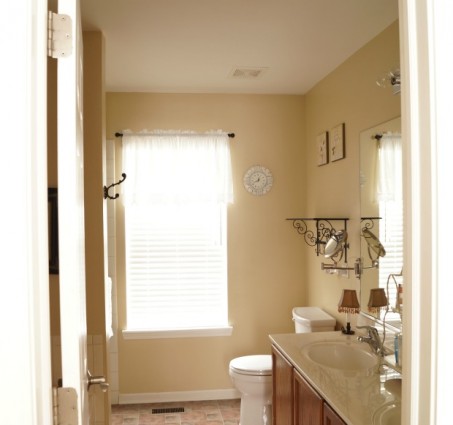 And here is what it looks like now.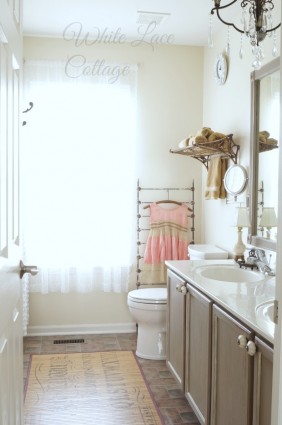 That bamboo mat is from Decor Steals.
Fresh flowers are always pretty in a bathroom.
Just like I shared yesterday you don't need a fancy vase.
This is an old zinc pitcher that I believe was used for oil,as in car oil.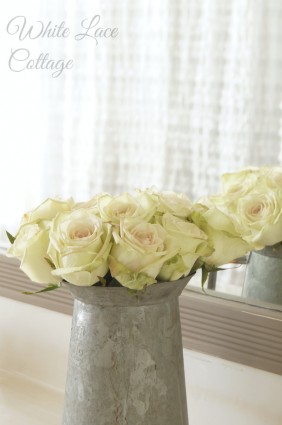 I added just a touch of color to my vintage iron crib rail with that lace satin piece.
Not sure if it is an old baby dress or a top,but it has been altered a little and is very small.
But it adds just a touch of femininity to the bathroom without going overboard.

Joining: