Besides finding inspiration in magazines and blogs I find lots of inspiration in decorating books,I wanted to share some of my favorite decorating books with you.
Some of these books I have had for many years,and a few of them I bought recently.
One thing they all have in common is vintage style.
With vintage style it really never goes away,it may change slightly but as I said some of these I have had for many years and they are still very fresh.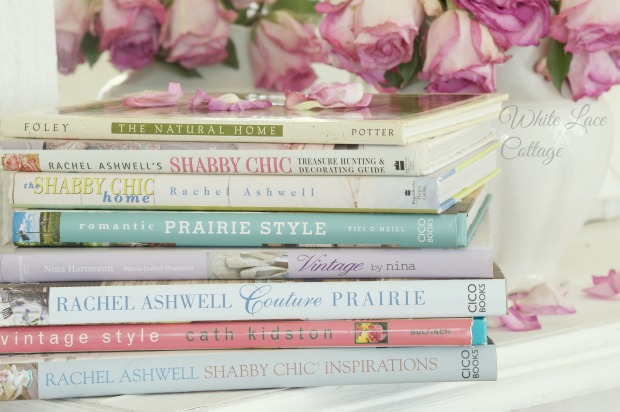 These are all filled with beautiful photos and they all inspire me.
Lets start out with The Natural Home by Tricia Foley.
Love this book,wonderful ideas of using bits of nature in your home.
As you know I love using bits of nature whether it's a bouquet of flowers,a bunch of branches or a bee hive.
The photos are beautiful isn't that pitcher of hydrangeas gorgeous!
Love the simplicity too!
Yes and here are my roses,starting to droop and fad but still beautiful to me.
Rachel Ashwell's style has always been a favorite of mine,I remember reading her first book and I was hooked!
This book my first Rachel Ashwell book Shabby Chic Treasure Hunting & Decorating Guide  is filled with beautiful chippy finds, and great tips on flea market shopping.
It also shares great tips on cleaning vintage pieces and how to fad fabric to make it look older than it is.
I cannot tell you how many times I have looked at this beautiful book and it still inspires me.
Shortly after that book I fell for Rachel's book The Shabby Chic Home.
This book is filled with photos of her lovely home,and that's when I really started to fall for vintage fabrics.
And her beautiful line of fabrics too!
This photo is one of my favorites,I would love to sit and have a cup of tea with this sweet set!
This may seem hard to believe but just recently I bought this book Romantic Prairie Style by Fifi O'Neill.
Oh yes I heard about it but never broke down to buy it because when I discovered this book I was starting to read lots of blogs.
I was so inspired reading so many lovely blogs that I just never ordered it.
But I am so glad I finally did,this is filled with beautiful photos.
This room really speaks to me,that beautiful chippy paint….sigh it's absolutely dreamy!
Fifi did a beautiful job styling this lovely home.
Another book I bought recently,well within the last year is Vintage By Nina Hartmann.
This book I was hesitant to get because of the huge price tag,so I waited and then a fellow blogger mentioned that she bought hers at an online shop for a very thrifty price.
I think it was 25.00 I can't remember for sure,but it's written  in German,I don't read German but I did not care I just wanted to see the lovely photos.
Yes it would be nice if I could read it but I still enjoy looking at the beautiful photos.
I love the soft whites and simplicity of this style,and it still works with my look too.
That Chaise is gorgeous,rustic and yet elegant.
Okay I am going to share one of my very favorite books ever.
It's Rachel Ashwell's book Couture Prairie.
I cannot put this book down,filled with the most gorgeous photos ever!
I love how beautiful each room looks,yet is simplistic.
Not much on the walls,and not very many collections of any sort scattered,just very simple and pretty.
This beautiful pink mirror and chippy pink desk are lovely paired together.
And the patina is simply amazing!
Many years ago I received this book from my niece,It's by Cath Kidston Vintage Style is the title.
Her fabrics are gorgeous,I am in love with all the photos but the laundry is my favorite.
That photo inspired me to one day have a laundry room that is pretty,with a pretty ironing board cover.
Oh yes one more book I found recently it's not new and has been around for a few years.
Rachel Ashwell Shabby Chic Inspirations.
She shares beautiful homes all shabby chic but slightly different.
All of these books will always remain in my home as my go to books for beautiful inspiration.