I don't know if I have ever shared this with you but I have a think for oval shaped frames.
It does not matter if it is mirror or a picture frame,I am drawn to the soft look of an oval shaped frame.
I came across this frame very recently.
For sometime I have been wanting to add just a touch of pink to my chalkboard wall in my kitchen.
At first I was thinking of making a wreath to add around my Heifer head.
But when I saw this I decided this would work perfectly too.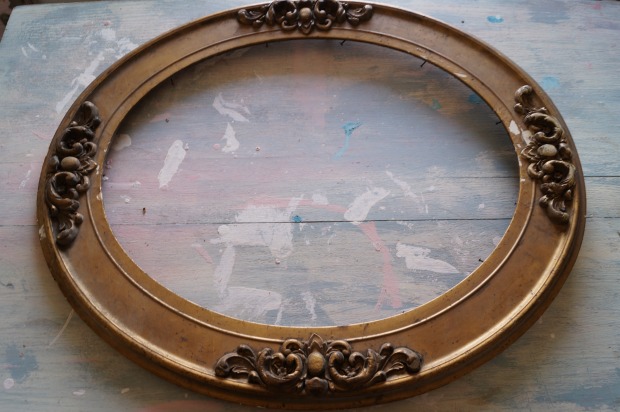 I love the details on this frame but not the gold.
I am not big on the color gold,I do have a little gold in my home, but I don't like to go overboard with it .
It's a little too fancy for my home.
I am just using the paint I already had, so I pulled out Annie Sloan Antoinette.
It is a little more of a purple color than I normally am attracted to lately but I thought I would give it a try on this frame.
If I decide I don't like it I can always paint over it.
I actually like this color next to the black chalkboard wall so it will stay this color….for now.
Hmmm but I may just need to lower it just a bit.
Isn't it funny, taking a photo I thought I lined it up perfectly.
But looking at the photo now I think it will need to be adjusted.
Just a touch of pink on my chalkboard wall and Bessie, Yes I named my Heifer head Bessie.
Bessie seems to like the pink too 🙂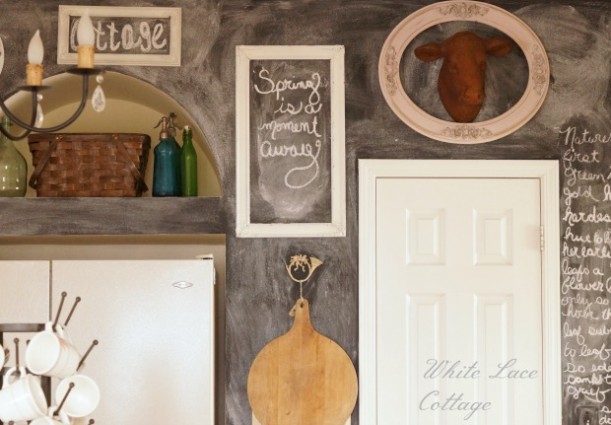 Still enjoying this chalkboard wall.
I get so many compliments on this wall,not my original idea.
I first saw this on Marian's blog Miss Mustard Seed.
Even the contractor for our Porch did a double take and asked me if my wall was a chalk wall.
And then told me how cool he thought it was.
Thanks Marian for the inspiration.
********************************************
Today was a beautiful spring day,even though it was a bit windy.
I am looking forward to getting out in the yard.
It is quite a mess , and with the porch I will have to re-design my garden.
I still have some things to do to our porch before I am ready to reveal it.
One thing that needs to wait until the fall is finishing the floors.
The wood needs to totally dry out before I can paint them.
Yes I am planning on painting them,but you will have to wait and see just how I am going to paint them.
So for now I decided to add this beautiful rug to our porch.
It needed something to pull the room together and I love the color.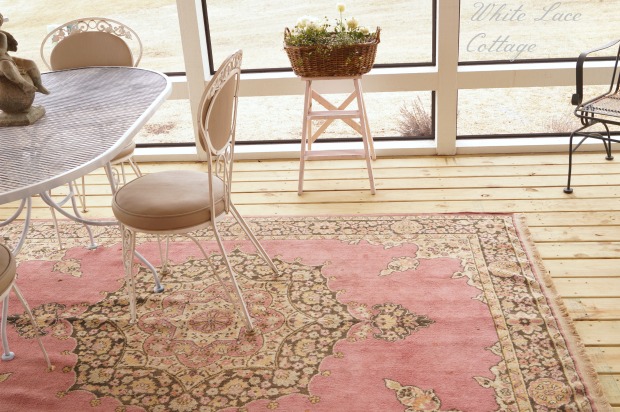 It's very light so it can be easily rolled up if we get blowing rain.
You can see that chair in the corner,it's not staying black.
The patio furniture was found last fall.
You can read about it HERE.
***************************
Quick question can anyone recommend a hand lotion for severely dry hands?
This winter really took a beating on my hands.
They have never been this dry and chapped before.
I have tried sleeping with gloves and vaseline and it's not working.
Any Suggestions?
What's your favorite hand cream?

Joining: