Staying indoors  has me busy with projects,organizing and cleaning is at the top.And when I came across this French Country dish drying rack I knew it would look perfect in my kitchen and help keep my dishes a bit more organized.
Yes I am addicted to dishes,but I have sorted through much of my collection keeping only what I truly love.
I use my white dishes everyday,and I needed a little more room for larger bowls.
This looks great in my kitchen,I love having my  soup bowls,cereal bowls and dinner dishes close at hand.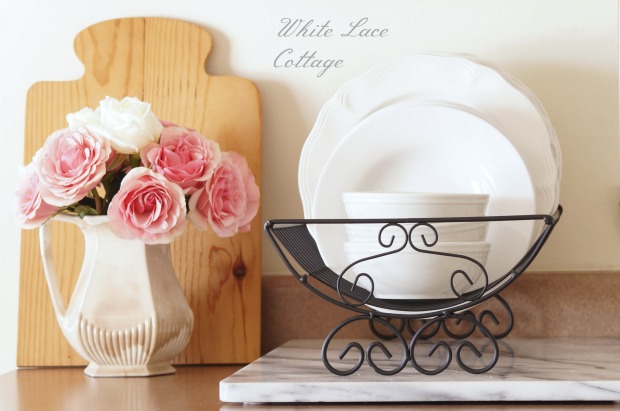 I found this French Country dish drying rack while shopping on line at The  Burlington Coat factory.
This was a very thrifty price at 7.99.
This also came with a utensil basket,but I decided not to use this yet.
That marble board was on my kitchen island,but I think it works well with my French Country dish drying rack.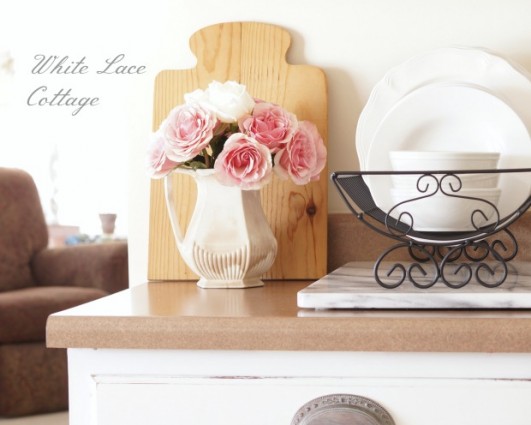 This holds up to 20 dishes although I don't need to store that many in here.just what we need for everyday.
It's nice to have extra room now in the cabinet above.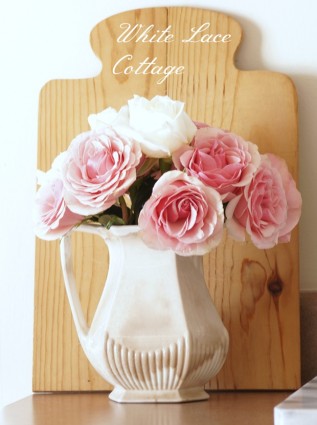 I have to tell you I recently found a beautiful Vintage French dish drying rack.
It's absolutely gorgeous,but I just can't fit that price into my budget.
I was on a hunt to find something similar and I was lucky to find this one.
~~~~~~~~~~~~~~~~~~~~~~~~~~~~~~~~~~~~~~~~~~~
I am finishing up my projects in my master bathroom.
The painting is done,now I am in the process of  cleaning up and accessorizing.
I still have a few things to add,and soon I may share what is completed so far.
~~~~~~~~~~~~~~~~~~~~~~~~~~~~~~~~~~~~~~~~~~~~~
Yesterday I shared my Valentine wreath.
If you missed that post you can read it HERE
And make sure to visit the other blogs listed on at the end of that post,lots of creative ideas and inspiration!

Joining: