One of my challenging pieces to decorate is my mantle.
I change this the most often in my home depending on the seasons.
Recently I found a pretty statue Venus de Milo 
While I was shopping in Door County a few weeks ago I came across this sweet painting that had to come home with me.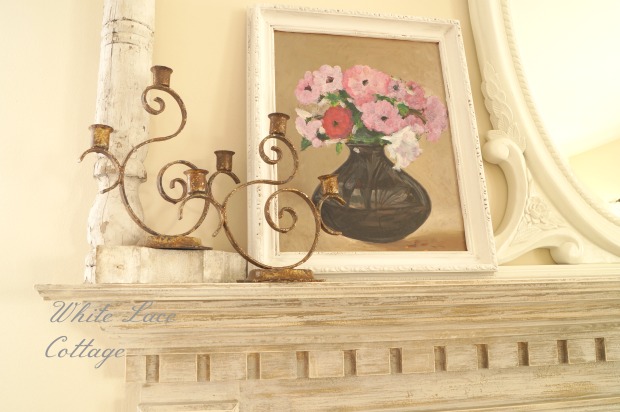 The frame was gold I just painted it white.I love the added color to this room.
Instead of hanging it I decided to lean it against  the wall.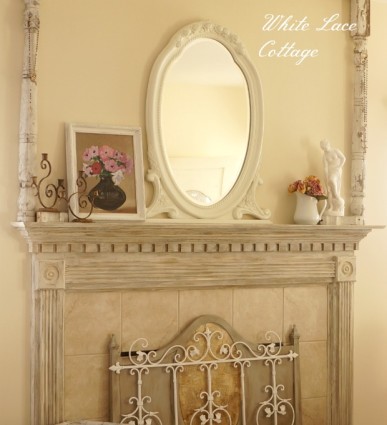 I kept my statue on the other side with my white ironstone pitcher of dried roses.
My French headboard was added to the front of my fireplace and I layered it with my metal gate piece.
When I found out the photographers were coming  to shoot photos of my home I decided to put that creamy white slip cover back on my sofa.
It is not  perfect fit I am still looking for another one.But it looks great in photos.White breaks up the brown of my sofa and chairs.And let's not forget about  my entertainment center.Yes I know I have not shown that on photos and I won't be sharing it either.
It is quite large and well……brown…wood.And I don't really mind the wood but……there is so much on it on that piece.And the stain is more of an orange than a brown color.It is what it is!
I am not planning on painting it that would be way too much to tackle moving the tv off and it is really heavy piece of furniture  too!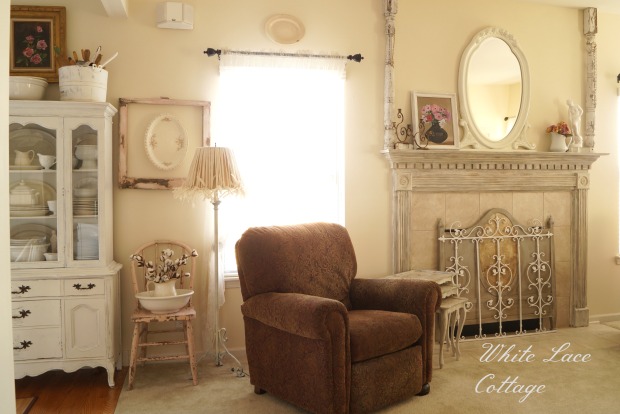 That window frame on the wall was purchased from one of my favorite dealers she always has the coolest treasures!
The platter works great with the oval shape and colors.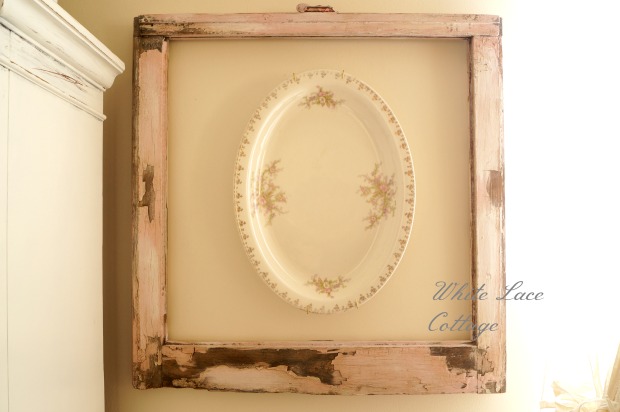 I love the patina on this piece!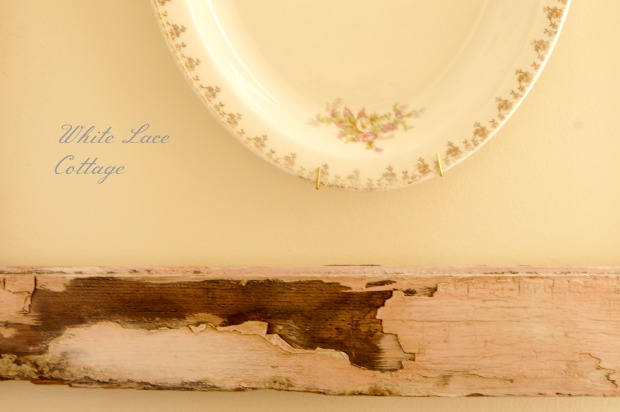 She also had a sweet little table.It looks as though this was made from a vintage mirror.
I love the details and it appeared to be a mosaic.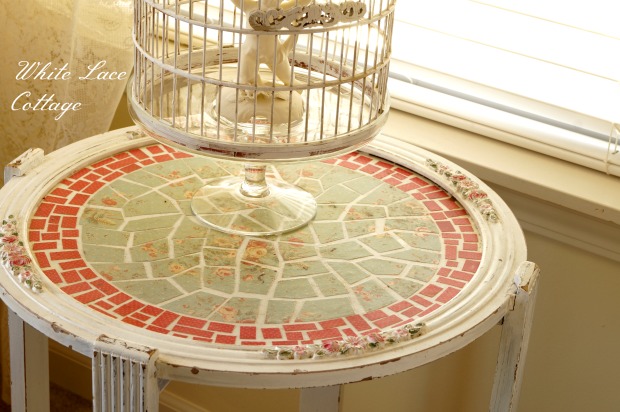 But it is actually a faux mosaic table!
Bits of cut pieces of pretty paper decopauged on this sweet table.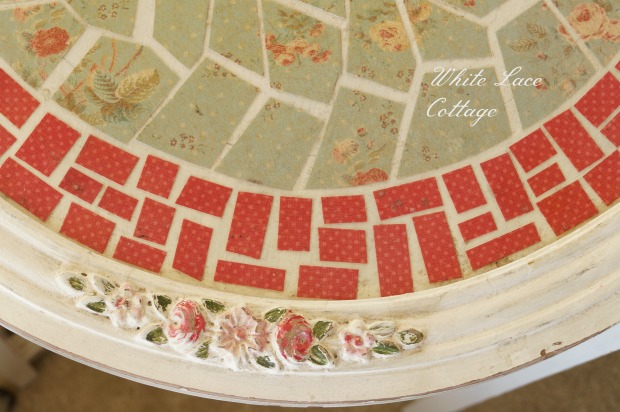 Love that sweet detail on the sides.It makes me think this was possibly a mirror and it was married together with the table legs.
That sounds sort of funny!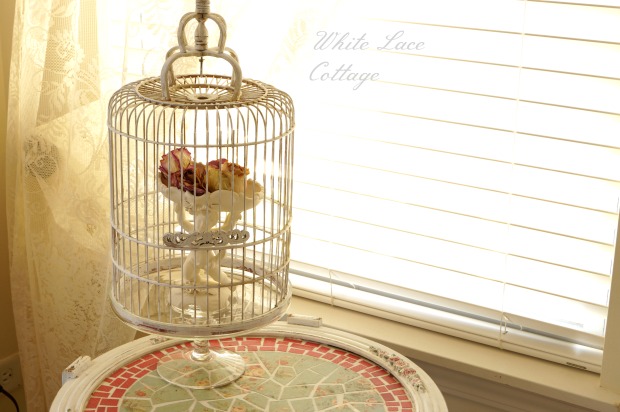 I wanted a little height in this corner so I place my petite birdcage on a cake stand and added a sweet little cherub with some dried roses.
I use cake stands all the time to add height to vignettes!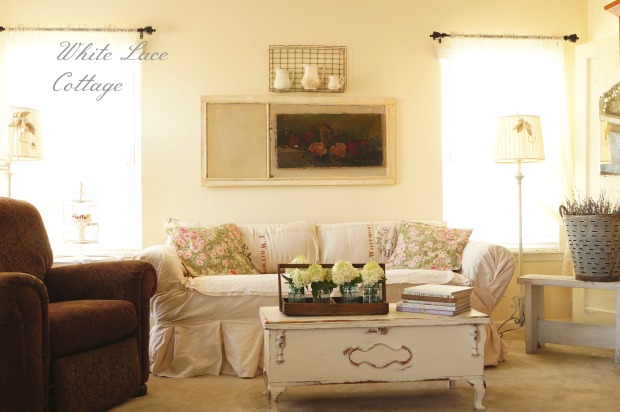 I moved that white bench to the corner for now and added my olive bucket that I bought from decor steals!
Those floral pillows on my sofa are not really floral pillows.They are pillows but that is actually a piece of square fabric that I  placed on top of the pillows.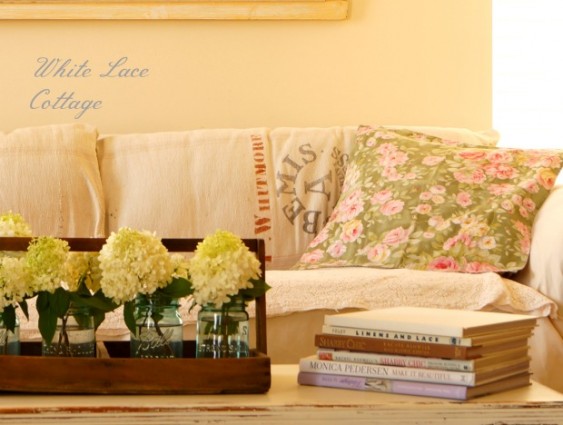 Those are hydrangeas from my garden.I love when they turn colors and they should be doing that soon!

Joining: