Who Am I ?
Good question!
Let me introduce myself…..
Hi,I am Anne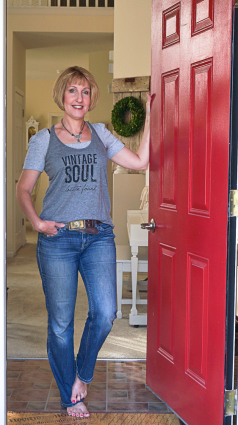 And as you can see I am pretty casual,and so is our home.
Wearing one of my favorite t-shirts and it describes me to the T…no pun intended.
Yes I have a Vintage soul!
I love all things vintage.
If it ain't chippy,worn,or tattered…..if it's perfect in any way…I am not interested in it.
Are you still with me?
Great!
Then you came to the right place!
We could be soul sisters!
I love shopping at thrift shops,and garage sales.
The hunt is part of the fun!
Why are you here?
Well let me tell you why,It's because I will share with you ideas,tips,and tricks for adding vintage charm to your home on a budget.
How does that sound?
Oh you would like to hear more about moi?
Okay, well I love warm sunny days.
I don't like the snow….like at all!
Give me a beach and palm trees on a warm summer day and I am one happy girl!
I have an amazing and handsome husband,we have been married for over 25 years!
I know I don't look old enough to have been married that long..right

We have a beautiful and smart daughter that loves animals especially our family cat.
You may see our cat in some of our photos.
It's not because I am a crazy cat lady…..it's because she is sort of a ham!
And thinks that she is all that…and well…you know….she has a little attitude…okay enough of that.
What else do you want to know?
I love chocolate.
Do you?
Good because it is one of my favorite things!
And I eat it everyday!
Oh and I must have a cup or two of coffee everyday day!
It's how I start my day!
Doesn't everyone?
What will you show me?
I will share with you some painting techniques,craft ideas,decorating tips.
Okay you got me…..I will show you how I move my furniture around from room to room,change my mantle…yada..yada…yada…but I am hoping when I do it will inspire you.
Are you still with me?
Great!
So glad that you are!
Please feel free to look around .
As you can see I set up a few menus at the top of the page.
These menus will take you to places you have never been.
Well maybe you have been there if you read the post.
Okay let me explain,just click on one of the menu's.
You will be taken on a tour of my home.
And you can also view past craft and DIY projects.
Read more about my family in some of the trips we have taken.
And so on and so on….
Can I call you?
No,but you can contact me anytime!
If you have a question about decorating,or something that I posted please feel free to contact me at my email.
whitelacecottage@hotmail.com
I will answer your question as soon as possible.
And I do read and respond to all questions on my blog so please feel free to leave a comment there too!