Transforming a master bedroom,you are probably thinking what again?Didn't you just do this?
Why yes I did!
In fact it was almost a year ago that my bedroom went through it's first transformation.
You can read about it  HERE.
I know it has not been quite a year yet but I was ready for a little change.
After reading Rachel Ashwell's book I got inspired to make a few changes.
Putting some things away and not leaving so much out,a cleaner look.
I am trying to focus on pieces I really love and that really make a statement in my rooms.
This may come as a shock to you but I wanted to add a little color too!
I know…..I know I still love my white.
Which is the reason why I love white you can add touches of color to a room filled with white.
When I first started transforming this room again , I decided I wanted to paint a few pieces of my room adding some color.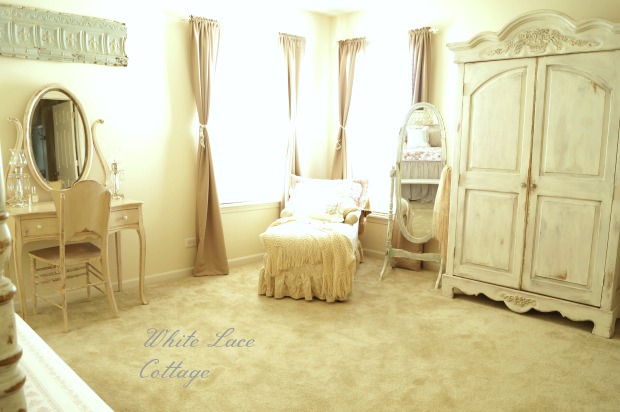 The first piece I painted was  my vanity table.
It received a coat  of  Annie Sloan Antoinette and a coat of Old Orchre.
Hmmm not sure about this look but lets continue.
Next I painted my metal piece above my vanity Annie Sloan duck egg blue.
It's feeling a little…..dark…not sure but let's move on.
My full length mirror was also painted Annie Sloan duck egg blue.I distressed this showing some white.
I started looking at my French Chair and decided that too needed some color.It was painted grey so I painted that duck egg blue.
And I added some gold wax to highlight some of the details.
Oh yes I forgot to mention, I decided to add that French chair to my bedroom.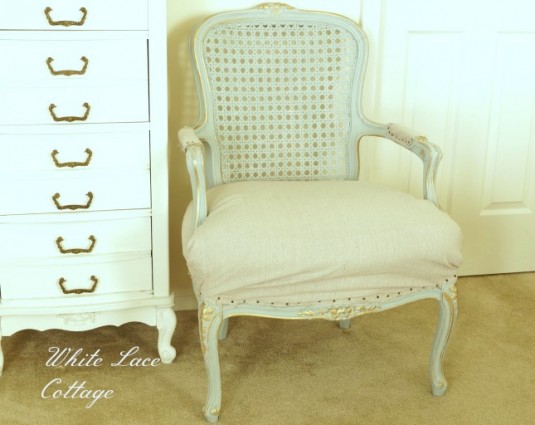 I added that painting above our bed.It was a recent find at a thrift shop.
It has some greens,blues and pinks in the painting and I thought it would work well in my room.
That throw at the end of my bed was added for more color to this room.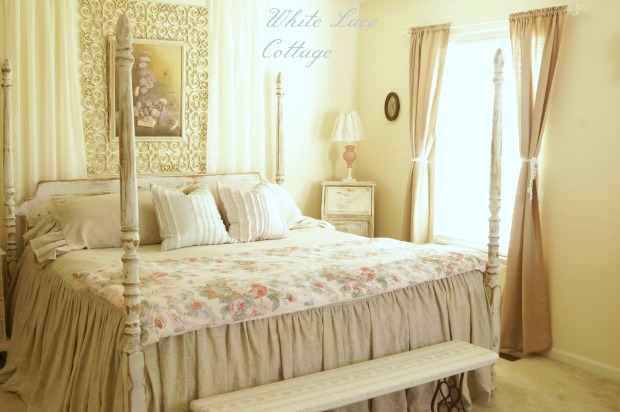 My curtains were tied with a little lace,just to give them a different look.
An antique photo was also added to my wall.
On my side table I added a vintage pink lamp and made a lace shade from scraps of lace I had already on hand.
My bench at the end of my bed was covered with Rachel Ashwell fabric,which was a curtain panel I found while out thrift shopping.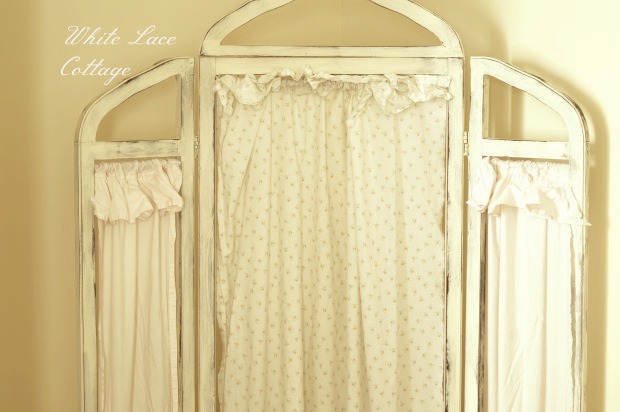 I switched out the burlap for some Rachel Ashwell fabric,also thrift shop finds they are sheets from her simply chic line.
No sewing involved just measuring and gluing.
This was going to be my reveal to you all.
But I hated it!
This was not as I envisioned it.
So I stepped back walked away and thought about why I wanted to make a change and what did I really want to see.
The paint can came back out and I re-painted my vanity.
Why because Old Ochre is very similar to my wall color and did nothing for my vanity.It just made it look….blah.
And Antoinette did not help at all either.
I picked up some Glidden Flat Paint in bubble gum,I wanted a bright pink to show through the white.
One coat of bubble gum and one coat of Glidden white on white.
Perfect just as I wanted it! Showing a bit of pink through the white.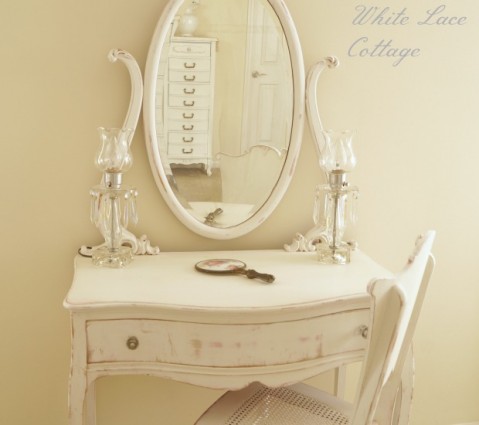 I did distress this but not allot.A little goes a long way!
That sweet little mirror was found on my recent trip to Galena and really inspired me into the direction I really wanted to go with this room.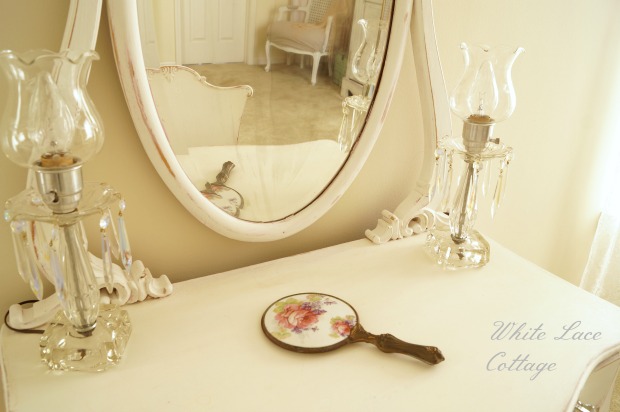 My French chair was now re-painted Glidden white on white.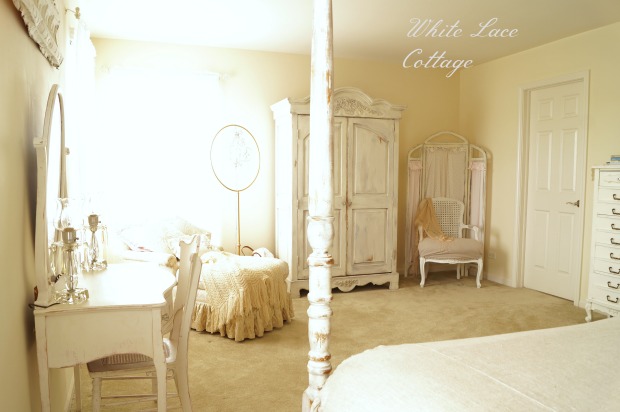 The French Chair was moved in front of my screen. This looks much better than the table did!
You know I love my bling so I brought my chandelier that I had in my family room and moved it into my master bedroom.
It adds a perfect bit of sparkle to this corner.
The full length mirror that was here  is now in my daughters bedroom.
Next time Hobby Lobby has a sale on there Chandeliers I am going to pick up another one and add it to my family room because I do like it in there.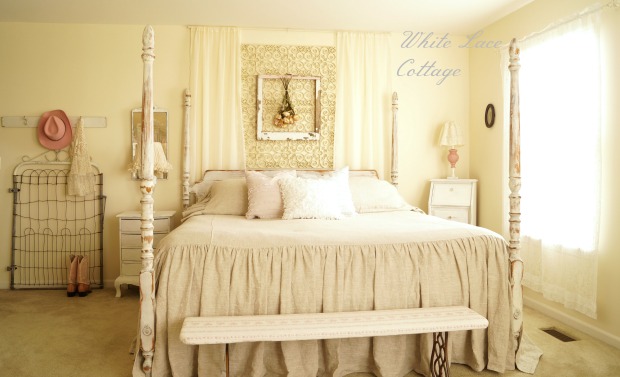 I found a some new pillows that I added to my bed.
It's hard to see it in photos because they are so light in color but one is a soft pink,another is a soft green and the other is white.
I removed that floral throw that I had on  the end of my bed.
That throw  is pretty but does not work for this room.
I removed that painting that was here  and added this chippy old window frame with some hanging dried roses.
I bet you spotted my pink cow girl boots and hat,both are recent thrift shop finds.
My side tables were also repainted with Glidden white on white,but I did not distress either.
I will be replacing the shorter side table for a piece I recently found.
I will be picking it up in a week or two.It is an old chippy piece that will work perfectly in here!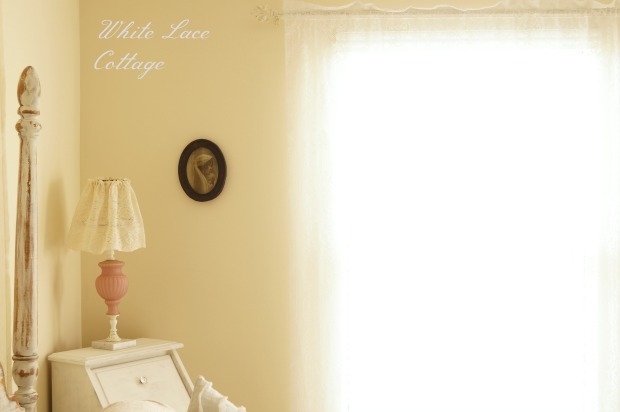 I kept this area as it was,I love that sweet vintage photo.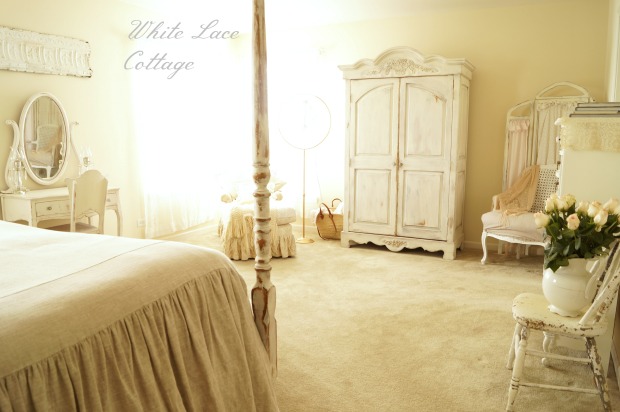 I am sure you noticed how bright it is in this room now.
Lace curtains have been added and I took down the brown panels.
Just doing this added a beautiful soft glow in this room.
The room has a dream like feel too it,and I absolutely love it!
Some feminine touches without being overly feminine.
Hope to see you back here tomorrow for The Scoop!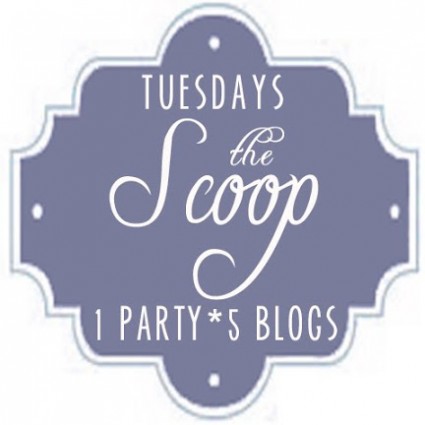 Joining: