This leather chair was found recently.As soon as I saw it I new I would be painting a leather chair.
Something I have not painted yet is leather.
I did paint a fabric chair that now feels like leather thanks to Annie Sloan paint and a little wax!
You can read about that HERE
This chair is for our desk in our den.
A room I really don't show,because it is a work in progress.
This photo was taken with my phone hence it being a little grainy.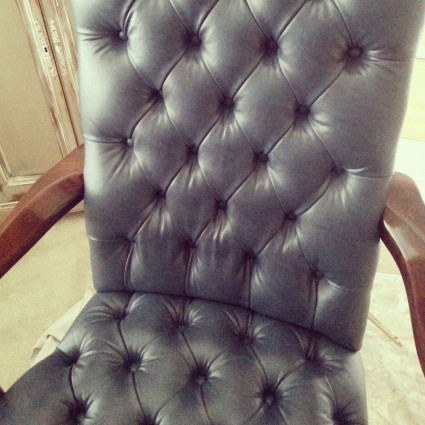 We had a leather chair in this room already but it was badly ripped,and was much too large for this room.
This chair was 10.00 it does have a few small tears but I thought being so cheap maybe I could find a way to salvage it.
I am a risk taker I have told you that before,never afraid to try something different I decided to go for it!
First cleaning this chair off really well.
I am sure you are wondering why I did not just leave it and not paint it. I  wanted a different color for this room.
And I was hoping maybe…..just maybe the chalk paint may help sealing the rips.
I was never expecting this to look perfect and I never look for perfection in anything I use to decorate with.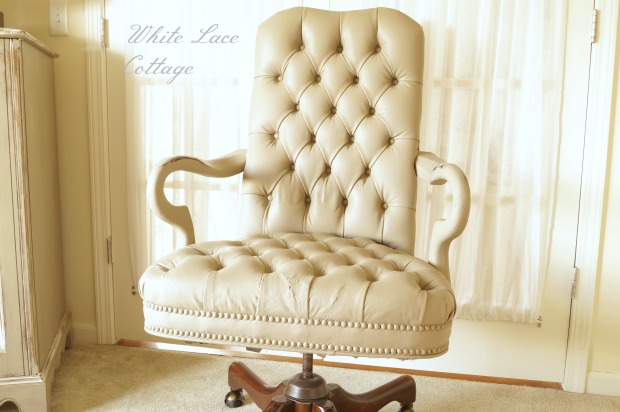 This took three coats of Annie Sloan Coco and three coats of wax.I prefer to use Miss Mustard Seed's wax,if you have not tried it you must!
It seals pieces perfectly and gives a nice shine.
I also love that it does not have much of a smell at all!
Lets look a little closer.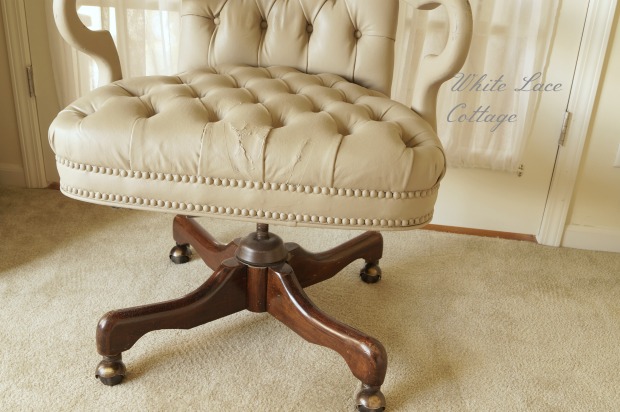 Keeping it real here,you can see by close inspection that little area that is a little cracked still.
I have tried fixing leather with repair kits before but they never really worked for me.
I will have to get experimental and see if something will work.
No worries this is going in our den and no one but my family will see this.
I opted not to paint the bottom but I did paint the arms.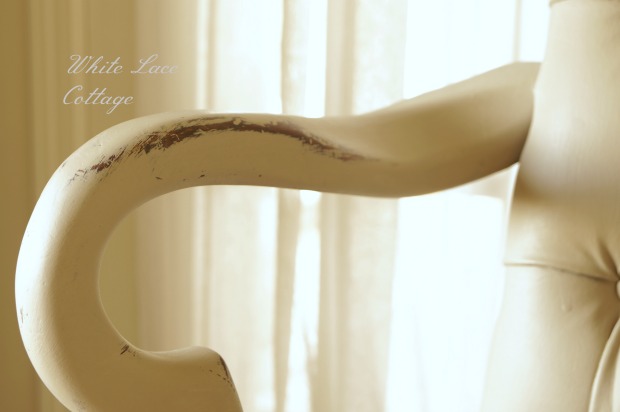 I just sanded the arms slightly where I thought it would have wear on it.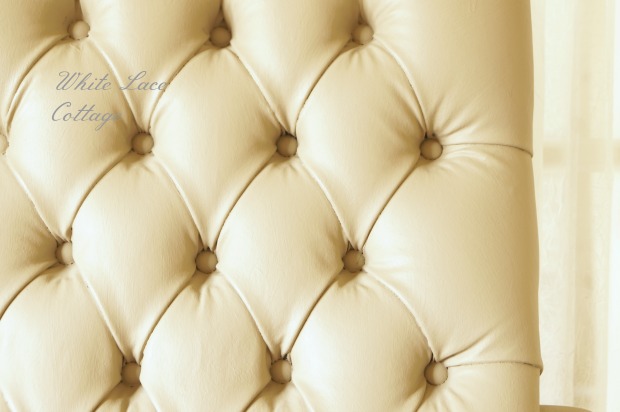 Our den is located right off of our kitchen,it is not finished yet but I will give you a little peek at what's in this room.
Trying to keep this neutral and a little masculine for my husband.
You could say this is a mini man cave.
Believe it or not our family room is a man cave,well sort of .
You see I never share our large tv.
It's not very pretty so you won't be seeing it in any photos.
But I am sure you have seen our speakers on the walls of our family room,surround sound.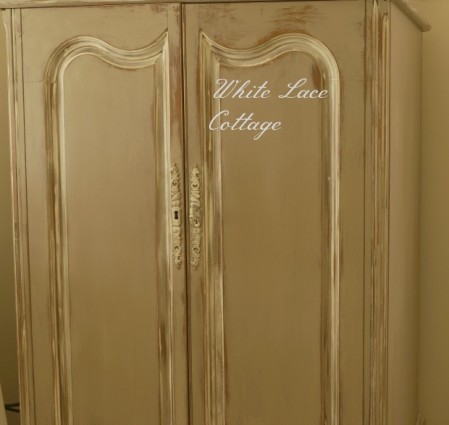 This cabinet was painted a year ago.
Hmmm….. I don't think I shared this before,probably because it is in this unfinished room.
Painted with Coco and highlighted with old white.
This stores our office supplies and is used as a tv stand too!
My husband enjoys watching a game while working on the computer.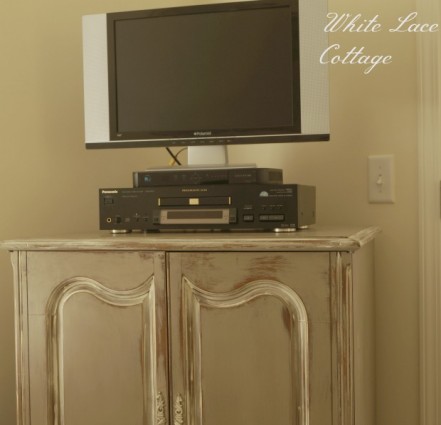 This is to the side of the door and you can't see this from the kitchen even with the doors open,yay for me!
I have been collecting some fun pieces for this room.
Like globes,books and some vintage camera's.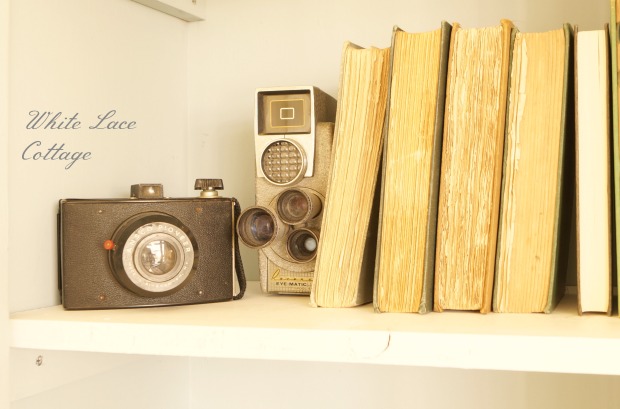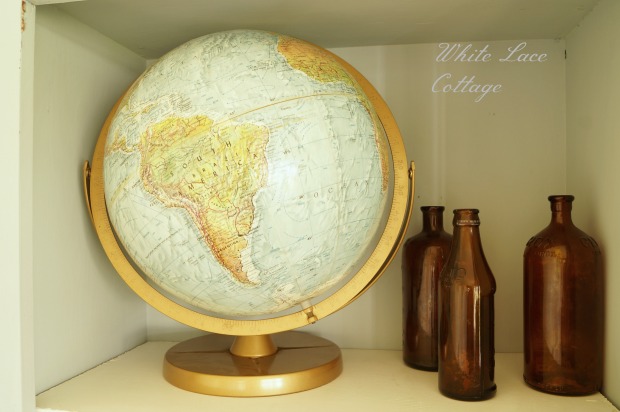 Oh yes and vintage brown bottles.
Do you like collecting bottles?
I find myself picking these up whenever I find them.
Not just the brown ones either.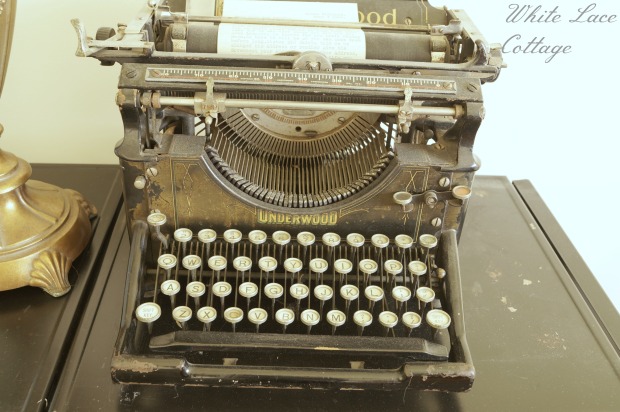 Do you remember my typewriter I found a few years ago?
Well this is it's new home.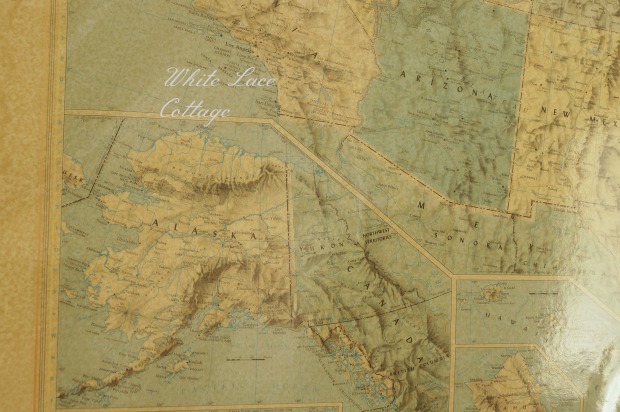 A little peek at a map I have on the wall.
Eventually this room will be done and I may share it.
This is the room with our large computer and printer.
It is looking better but still not a pretty room.
I am still deciding on window treatments,right now I just have blinds hanging.
I feel very confident that this paint will work great on this chair.
My fabric chair is holding up well and not a single crack on the finish even after sitting on it.
I am sure if this chair did not have a rip it would be perfect!
I will keep you posted in how this is holding up.
This chair will be used often.

Joining: