I thought I would re- share this post about my metal gym lockers that I added in my mudroom.I am still waiting for our computer to arrive.I have been busy working on lots of projects.Can't wait to share with you what I have been up too.If you follow me on instagram and facebook you have an idea of what I have been up to.I have been sharing bits and pieces.So make sure to follow me on facebook and instagram.
This post originally debut on May 12,2013.
I have been searching for a while to find metal gym lockers for our mud room/laundry room.
It is quite narrow and I needed a better solution for our coats and shoes.
Although there are only three of us in this house it still can get very messy.
Plain and simple it was driving me nuts!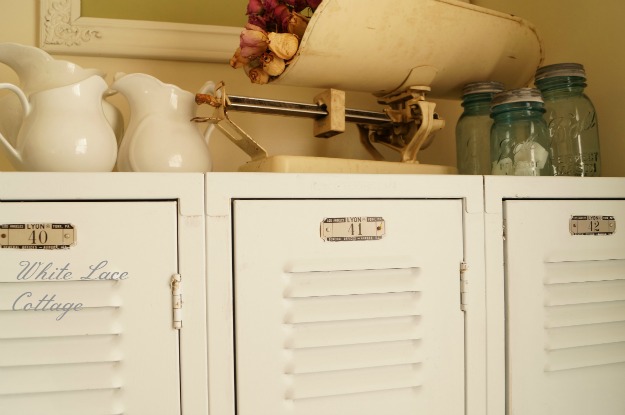 Shoes were piled on a shoe tray and coats hung on a coat rack that was mounted to the wall.
It never looked neat it was always an unorganized mess.
Does this sound familiar to any of you?
As I was searching for vintage metal gym lockers they were either way out of my price range or I would only find one or two.
Just recently while out shopping with a friend at a garage sale I found this set of vintage metal gym lockers for 50.00!
Actually they were 60.00 but I talked him down to 50.00.
The color was all wrong and they were filthy dirty and I mean grimy nasty dirty.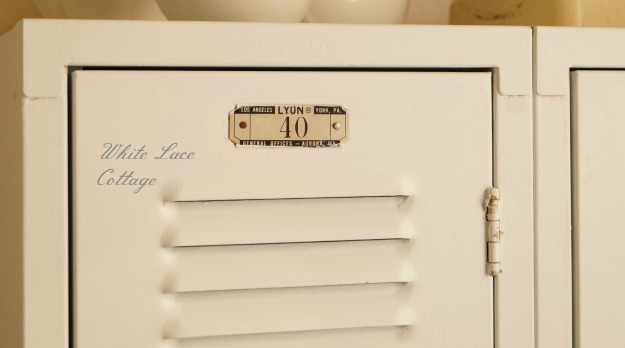 First I cleaned them up with oxy clean .
After I cleaned up these metal gym lockers I had to decide how I wanted to paint these.
They are very heavy and taking them outdoors to spray paint was not an option.
So I thought do I spray paint them inside?
But the mess that it would make not to mention the smell the answer was no!
And I had a color in mind.Using spray paint you can really can't mix a custom color.
I decided I would use a paint that had a primer in it and use a few paint colors I already had on hand to make a custom color.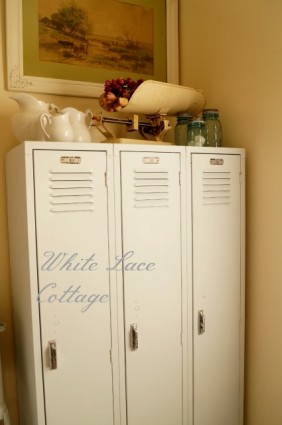 I wanted the color to look vintage and a bit faded.
A color that when you looked at it you could not tell if it was white or gray or blue.
I went to walmart and bought glidden 2in1 paint and primer in egg shell finish.
When I was ready to paint I mixed the 2 in 1 glidden paint with Annie Sloan duck egg blue and Louis blue until I got the color I wanted.
I was not looking for perfection.If this chips it chips and will look more authentic and vintage.
Another reason I did not want to use spray paint is that I was not looking for a factory finish look.
Remember I love that chippy vintage look and I am hoping in time it will begin to chip and look authentic.
I only painted it because I did not like the color.
This is what these metal gym lockers looked like before I painted them.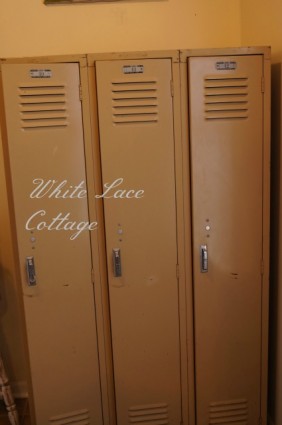 Not very pretty.
And here is another photo of how these metal gym lockers look now.
I don't know why my walls look yellow it is the same color I have in all of my house.
That metal bread box stores our cat food.
We now all have a locker to keep our coats,hats,and shoes in.
And the best part for me is that my daughter can also keep her back pack in here!
It is so nice not to have clutter in here!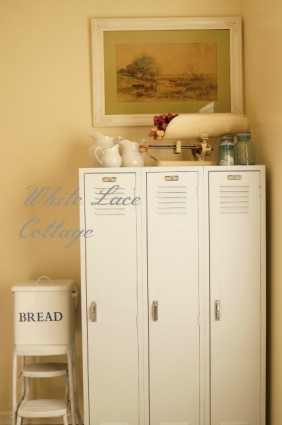 I added a few of my white ironstone pitchers , a vintage baby scale and those blue ball jars on top.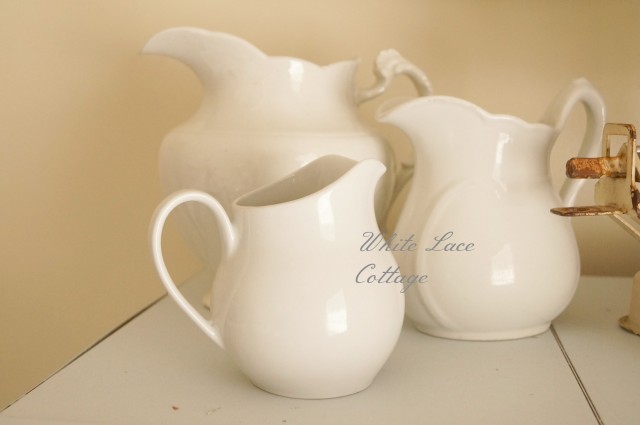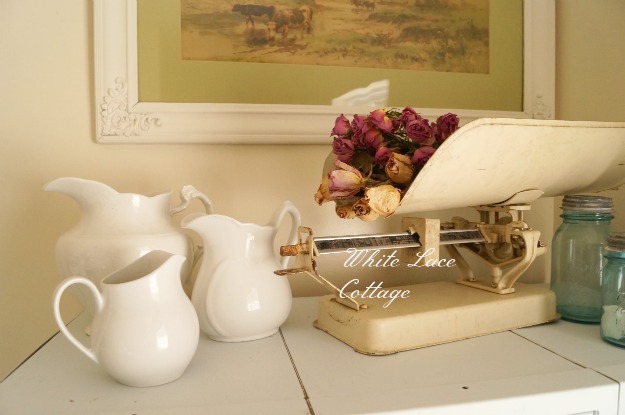 I am sure this will get changed often.
That cow print above was a recent find.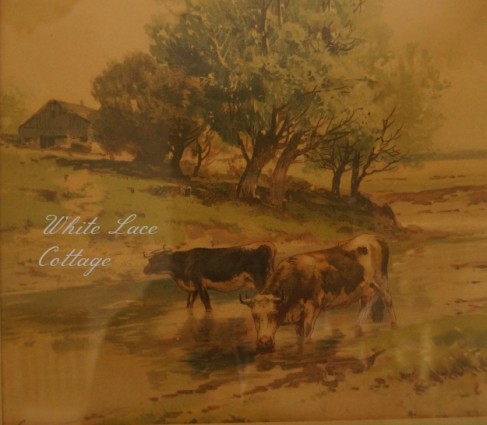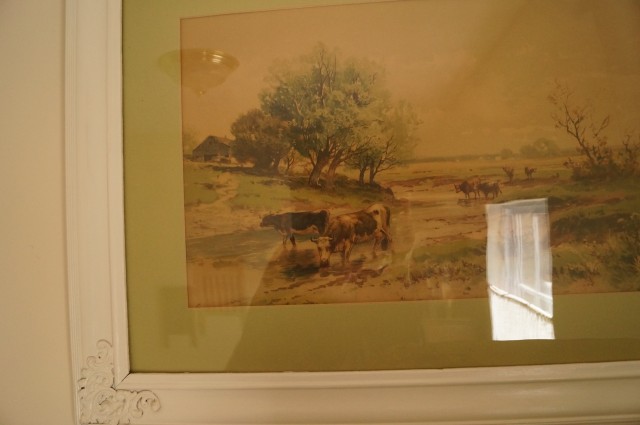 Love the detail on this frame it was already painted white.I may sand it down a bit to age it as it is a vintage frame.
It's hard getting a shot with out the reflection of myself or the window.This room gets lots of light with only a partial lace curtain.
These lockers have been the best thing we have ever added to our home! My husband and daughter have been great putting there things inside there lockers.It keeps it nice and neat in my laundry toom.
This will be the first winter using these.I don't have it pictured here but I added a French basket to the top just for all of our winter gear,gloves,scarves,hats.It could get a little messy with all of our winter gear  inside the lockers.
I will add a boot mat to this room for wet and messy boots.
A bit of advice something I learned the hard way.If you are painting lockers with spray paint or brush on paint make sure you DON"T paint over the mechanical part of the door.
I did not realize I was doing that and they were painted over.At first I could not use the handle.I had to use a razor blade to slice through the paint.All is well now but I should have been more careful.

Follow white lace cottage just click on the link below to have it delivered to your email.
Subscribe to White Lace Cottage