I have wanted one of these rusty brown cow heads ever since Marian AKA Miss Mustard Seed shared hers in her kitchen.
Kim from Savvy Southern Style has this same cow head in her kitchen too! She has her displayed on her beautiful stove hood HERE.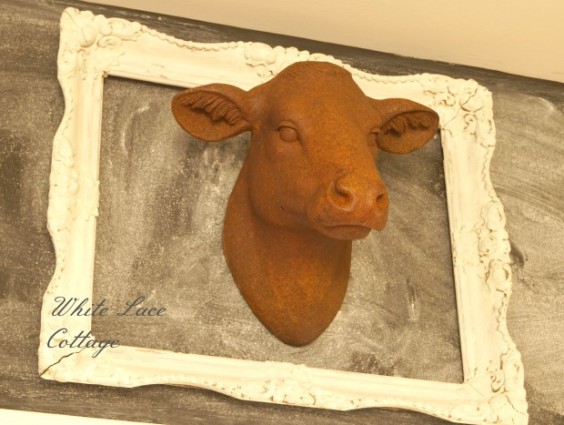 I missed this on Decor Steals the first couple of times around and honestly thought it would not be available again.
And then one day there is was!
As you can see Marian totally inspired this look.
When she first added it to her kitchen she had it on her chalk board wall.
Now she has it on her beautiful stove hood.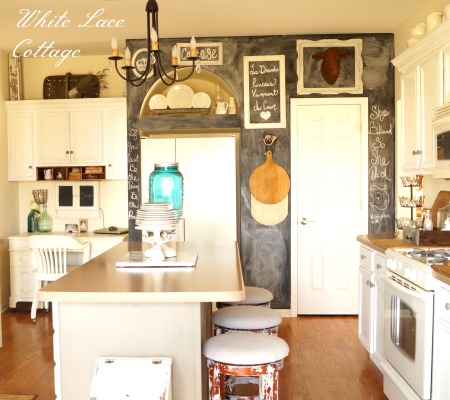 After I painted my wall inspired by Miss Mustard seed I added those frames and I was hoping that rusty brown cow head would  soon come back as a deal on Decor Steals.
I love this brown cow head! It looks like metal but it is a very heavy pottery type of  material.
This is hung up with a very durable anchor.
My husband thought it was strange but he is now getting used to it.
I think it looks charming and a  bit French too!
My kitchen has come a long way in a little over a year.I thought I would share a few photos of how it looks today.
I may have to share a post with some before photos of my kitchen.It really has transformed and looks nothing like it did a year ago.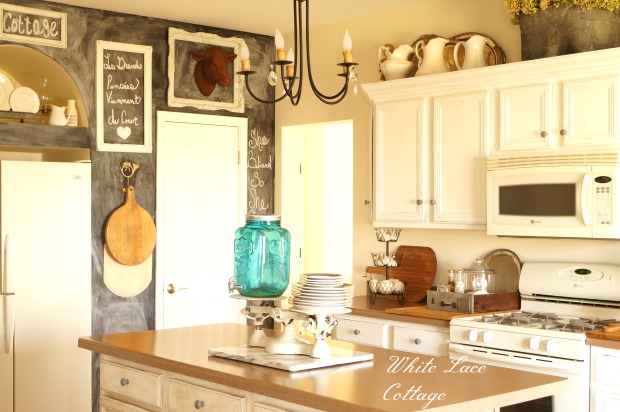 I am always changing and tweaking it but it still has that farmhouse look that I love.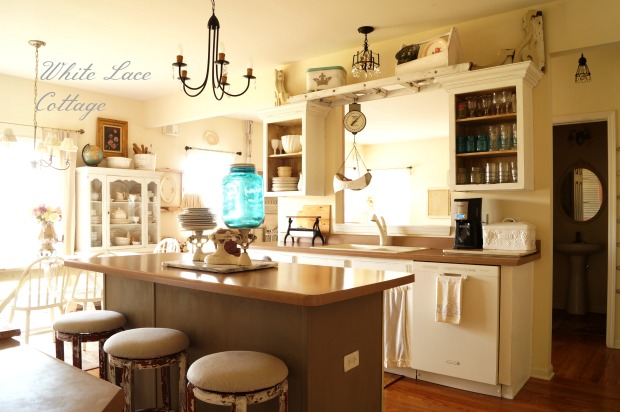 Very soon I will be changing things …..just slightly again as I decorate for fall.
Have you thought about decorating for fall yet?
I am very minimal and use as much from nature as I can.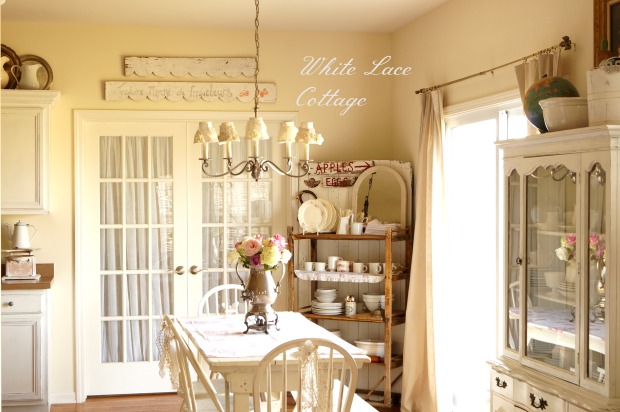 If you look closely at my antique baking rack  you will see I changed things slightly already.
I turned the cups facing up and I added a few of my vintage rose cups.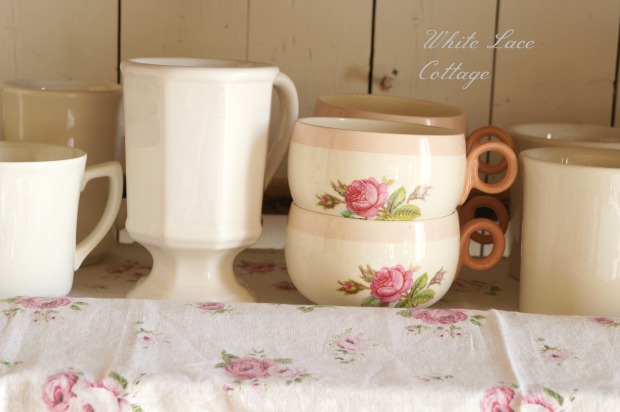 This is so charming and completely functional!
We can grab dishes or mugs off of this rack as needed.
Yes I know I do have quite a dish collection!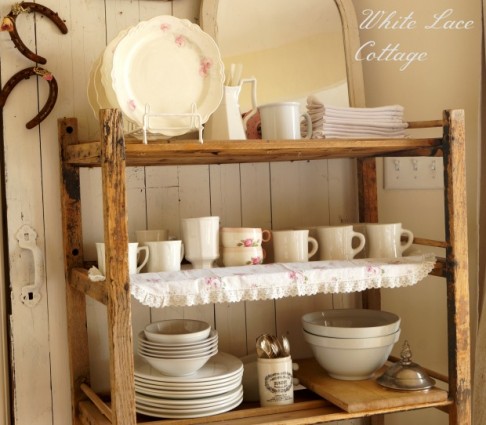 My roses still look amazing.It is hard to see but I added a vintage table cloth to my table top.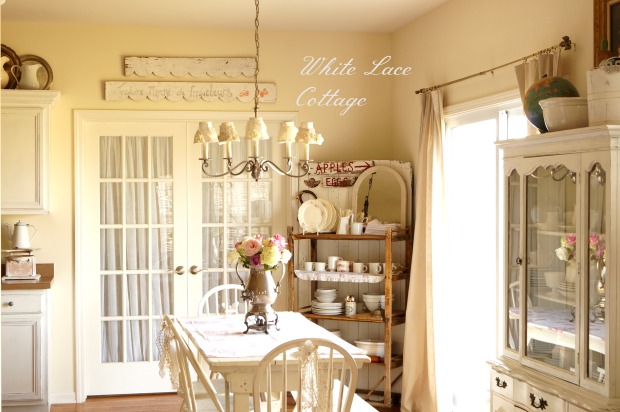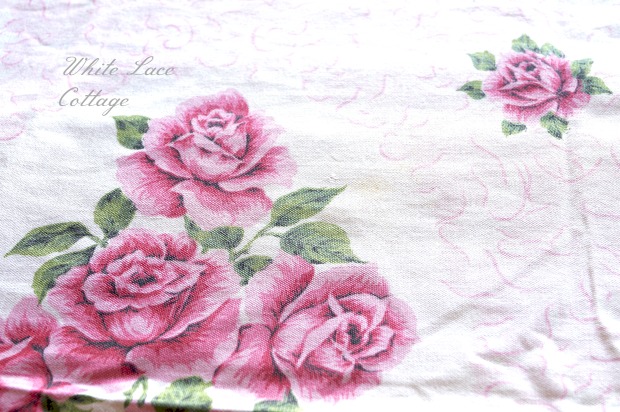 This mat also from Decor Steals really pulled this area together! So much nicer than a rug.You can easily slide your chairs on this and it looks amazing too!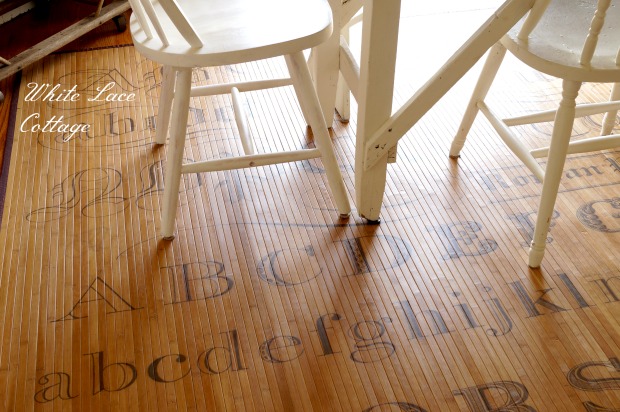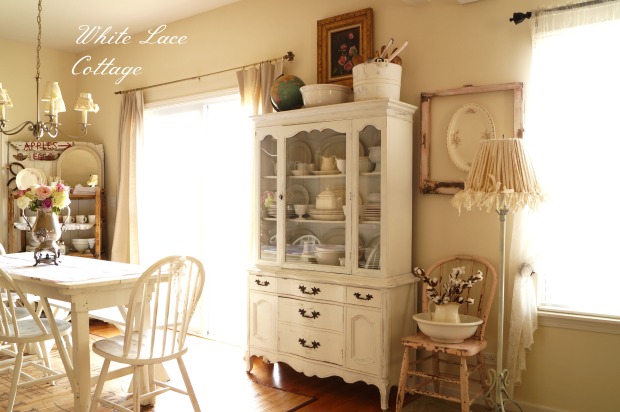 I am going to be busy canning tomorrow.I have never done this before but I have always wanted to try it.
We eat allot of tomatoes and I am sick of the taste of canned tomatoes and the price of them too!
I visited our farmers market today and bought a bushel of tomatoes.
Next year I may try to grow my own.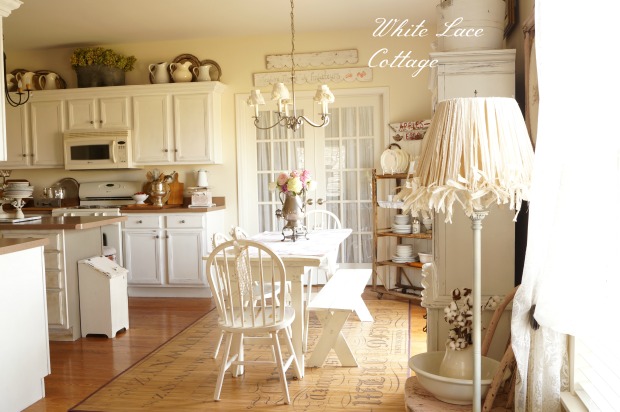 I have had people ask me if I  actually cook in my kitchen because I have white cabinets some think it would get dirty.
Well I cook in this kitchen every day.And these cabinets have held up beautifully!
It was allot of work but I would do it all over again!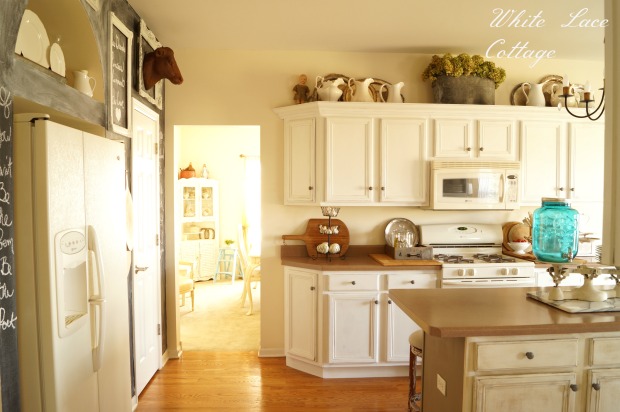 One more slight change I did was add silver platters to the top of my cabinets with my ironstone collection.
A fresh batch of dried hydrangeas was added to my vintage wash tub.When the photographers were here they thought mine were too brown.
I had to take them out and well …. it was a mess I ended up throwing them out.
The added green color does look fresh!
I wanted to thank Kim from Savvy Southern Style for featuring my kitchen HERE.
Thank you so much Kim!

Joining: