Yesterday was Groundhog day.Seems like a silly celebration really.All the commotion over a furry animal that supposedly predicts if it will be an early spring or not.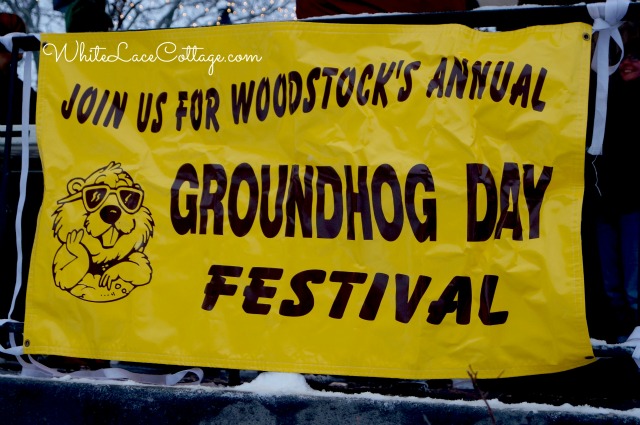 But in 1993 a film crew came to Woodstock Illinois to  film the movie Groundhog day.And ever since they left this town has been celebrating  groundhog day in a big way!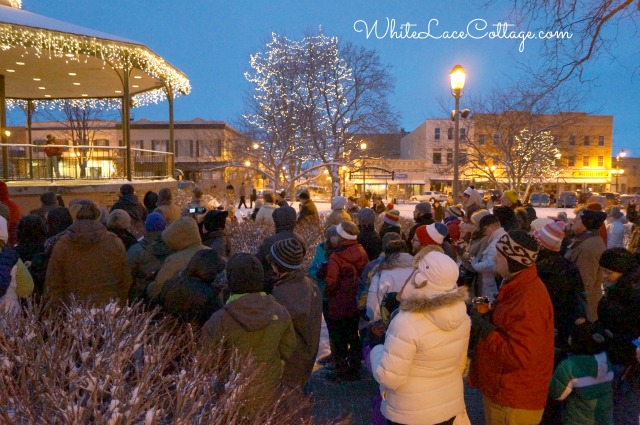 People anxiously awaiting the announcement.We arrived there bright and early in the morning.The temperature was 18.It was quite cold.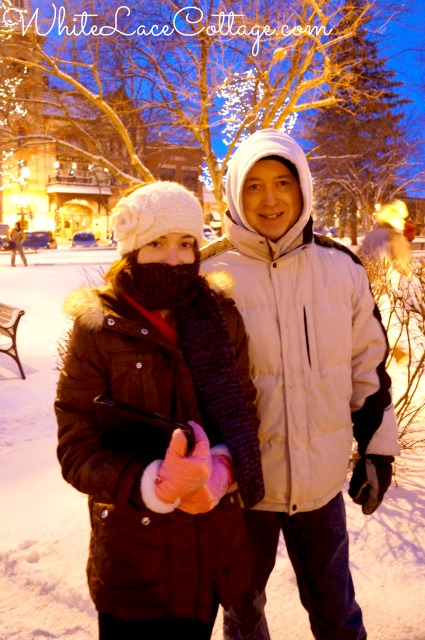 Bright and early all bundled up.
Not pictured here is a photo local paper took .
Can't see my face but you can see me standing with a gold coat,sporting my camera and Jeanne Oliver camera bag you can see that if you visit HERE
This is where Scooter the groundhog makes his appearance.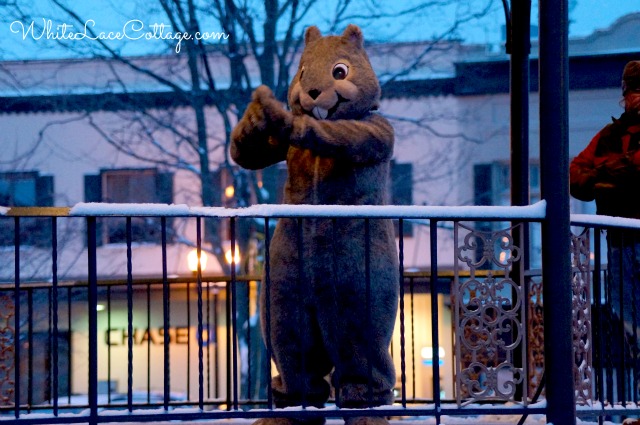 Woodstock Willie get's the crowd ready for the announcement.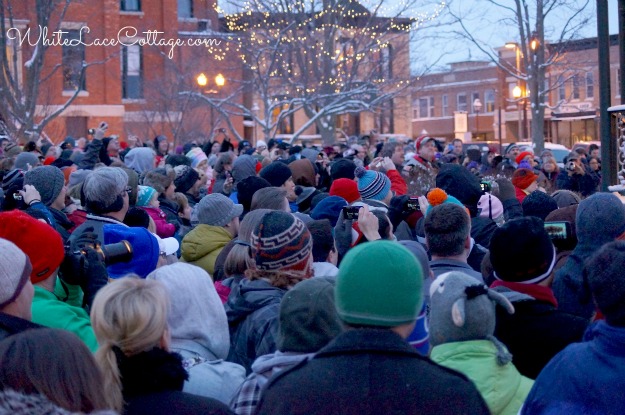 The crowd is really starting to grow!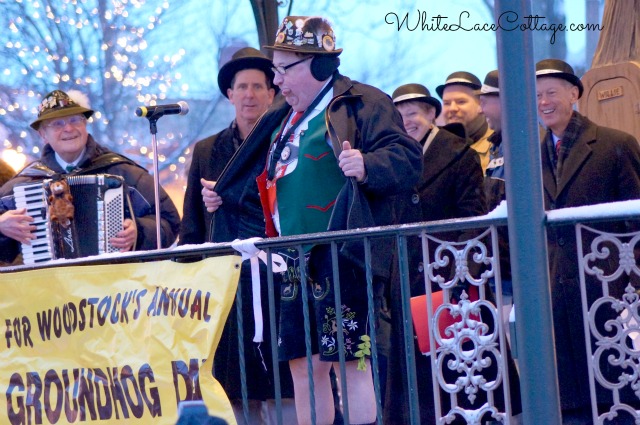 This gentleman is wearing a German dance attire.Baring his bare legs.Let me tell you my toes were frozen as my hands were too!
I can't believe he had his legs and hands exposed!
Those are tough men!
I am a wimp!
There were people from all over the country and out of the country.Some came from Spain and Austria!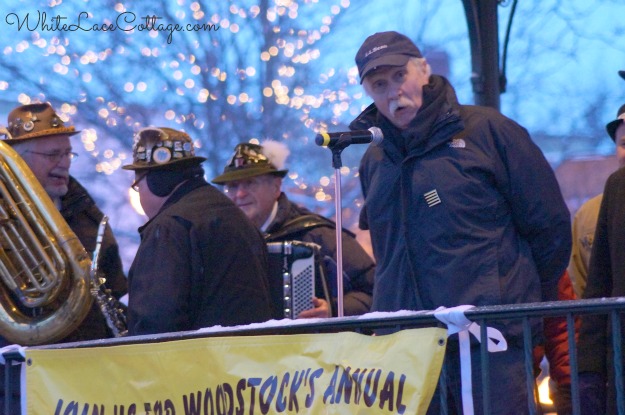 This is Richard Henzel he is the voice of the radio dj from the movie.Do you remember??Rise and shine campers…….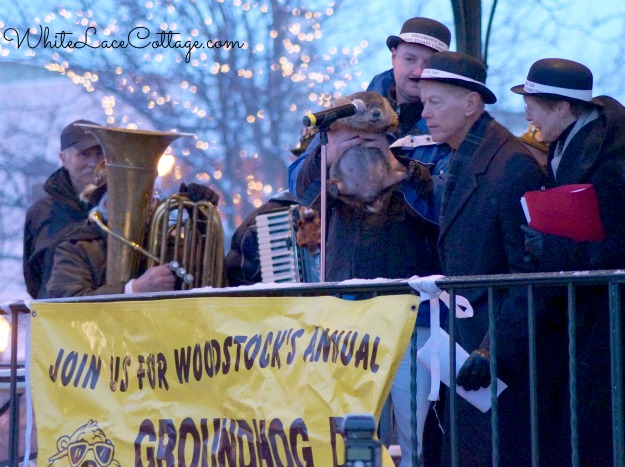 Scooter the groundhog is now making his prediction as the mayor listens.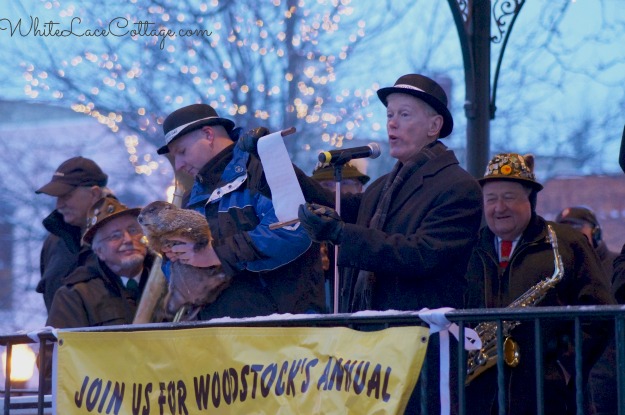 And he makes his announcement scooter does not see his shadow so we will have an early spring!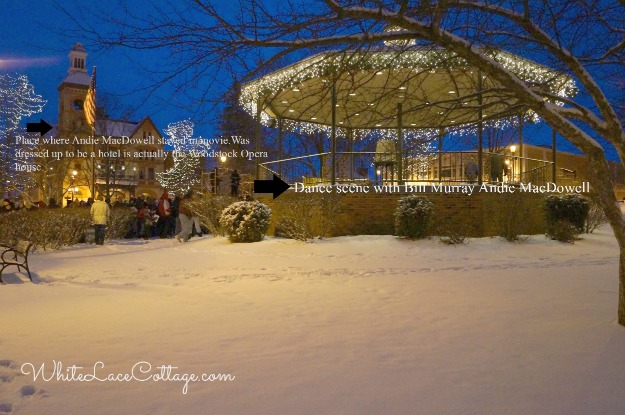 This is the gazebo that Bill Murray and Andie MacDowell dance.
And in the background you see the "Hotel" that Andie stays in.But it is actually a opera house.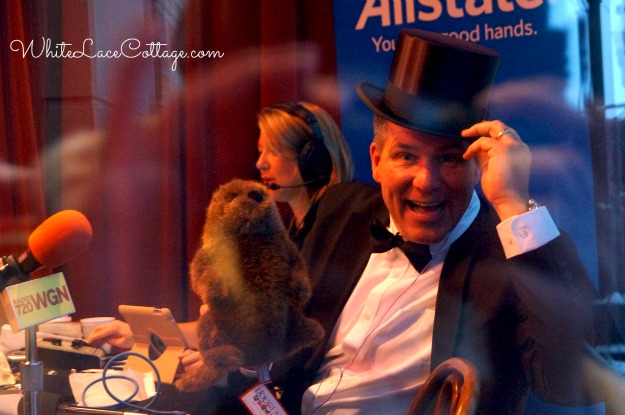 After the celebration we walked around the square and saw a local radio personality Lou Manfredini doing a live radio show in a local bar.
He decided to do a little pose for me when he saw my camera.
He really dressed up for the occasion! A tux and top hat!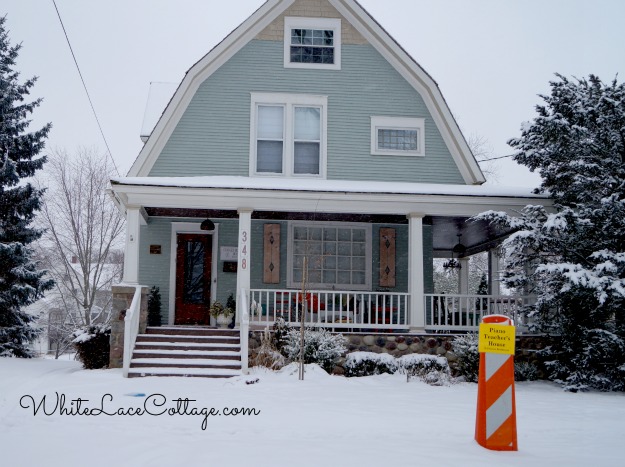 While on our way home we drove past some of the homes that were used in the movie.
This is the piano teachers home from the movie.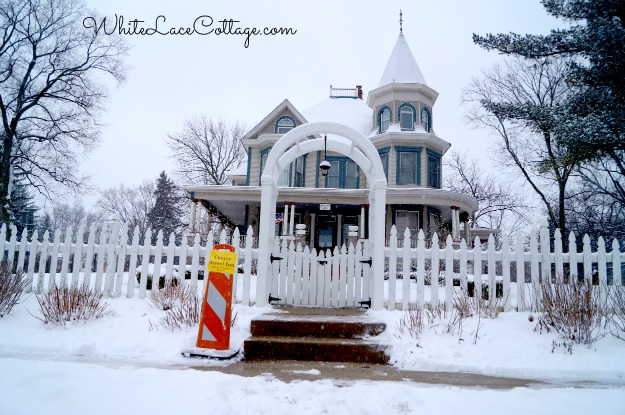 This was the bed and breakfast Bill Murray stayed at.They just used the exterior for the movie.
At the time a family was living here.But today it is a bed and breakfast you can actually stay here now!
We made one more quick stop before going home.The local bakery was selling Groundhog day cookies.And we could not resist!
This does not look like a groundhog but it was really good!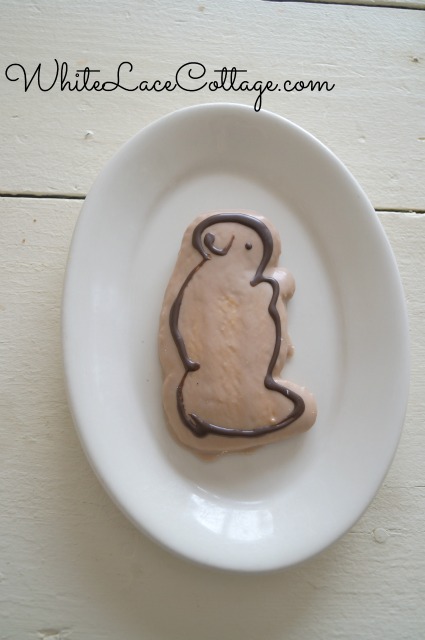 When we came home my daughter wanted to go out and play in the snow it was her only time since we have hardly had any snow all winter.But this morning she woke up sick.I was planning on taking some photos of her new room.But that will have to wait until she is feeling better.
Today I am trying to catch up on my blog reading and emails.
****Don't forget there is still time to enter my Valentine Giveaway HERE 
Don't want to miss a post? Why not subscribe by email. Just go to the link below.
Subscribe in a reader